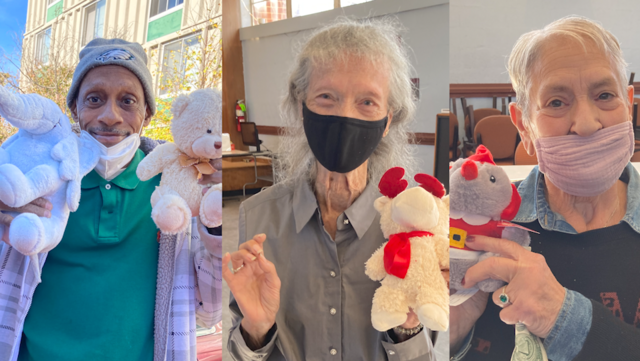 Seniors and Stuffed Animals – Who Would Have Thought?
For years in Philadelphia, Patricia worked every holiday providing and giving stuffed animals. Her list finally go so big one day, she had to start asking for donations. That little request ended up turning into a massive 11,000 toy donation drive, that even included local grade schools generating donation drives for her.
In one case, she had a creative young fellow who was having his bar mitzvah, and the mother asked if it was okay for the boy to collect 100 stuffed toys for Patricia. She was fine with the help but didn't expect the results. He collected over 400 stuffed animals. Not to be outdone, another synagogue ended up doubling that number, and a middle school tied with them or just beat out the figure with something close to 900.
In some cases, the donated dolls and animals had sad stories attached to them. In one case, a mother donated her daughter's collection of dolls; the girl had passed away prematurely, and the mother kept them in her room for years afterwards. Finally, she felt it was time to let go of the memories when the mother saw Patricia's Craigslist ad asking for donated stuffed animals and similar.
Once a collection gets big enough, Patricia then goes to work. All the donated toys then go to a list of senior homes, retired nun and veteran homes.
A typical trip transfers probably 250 different stuffed animals to senior recipients during the holidays. It's one of those odd needs; nobody would have thought on the average that seniors want stuffed animals as much as kids do. However, the toys bring back long-term memories for many of the patients, some who can still remember their earlier years even if they have no short-term memory anymore and suffer from dementia.
Interestingly, Patricia doesn't stop with stuffed animals. She also has a Philadelphia reputation for taking old flowers from stores and relocating them to people who want them. For Patricia, however, it all means she has a purpose to wake up for every day. Whether it's stuffed animals or flowers, Patricia is at work steadily making progress on her holiday campaign.
The work has been amazing, year after year, finding an effective way of recycling things that people don't want to make life a bit easier or more enjoyable for those who do want them again. Patricia's work is a bit like the train for unwanted toys going to their final stop. If they can have one more chance to make a person happy, it's worth the effort.
Brave 12-Year-Old Girl Saves Family from Carbon Monoxide Poisoning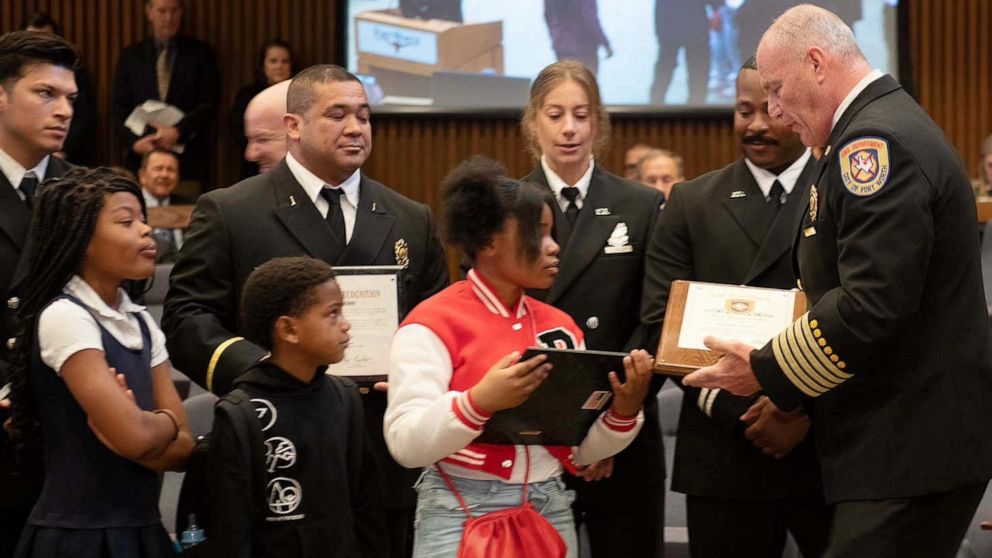 In a remarkable act of courage and quick thinking, 12-year-old Jaziyah Parker from Fort Worth, Texas, became a true hero when she saved her family from a dangerous situation. Jaziyah's keen observation and immediate action prevented a potential tragedy from unfolding.
One day, while Jaziyah was at home, she noticed something was wrong. Her mother and younger brother began to feel sick and lose consciousness. Jaziyah didn't panic but instead sprang into action. She grabbed the phone and dialed 911, desperately seeking help. In the recording of the 911 call, Jaziyah can be heard saying, "Something wrong with my mama. Can you hurry up and come?" Her plea for assistance was a crucial step that would ultimately save her entire family.
Little did Jaziyah know, her family's home was filling up with a silent but deadly gas called carbon monoxide. This odorless and colorless gas can be extremely harmful and even fatal when inhaled. But Jaziyah's sharp instincts and timely call for help prevented a tragic outcome. Her actions ensured that her family received the necessary assistance in time.
The Fort Worth Fire Department recognized Jaziyah's bravery and quick thinking during a special ceremony held on May 23, 2023. The firefighters honored her for her heroic act, commending her for the bravery she displayed in a challenging situation. Jaziyah's actions exemplify the importance of staying calm and taking action during emergencies.
Carbon monoxide poisoning is a serious concern, as it can occur in any home due to faulty appliances, heating systems, or ventilation issues. This incident serves as a reminder for everyone to have carbon monoxide detectors installed in their homes and to be aware of the signs and symptoms of poisoning. Symptoms such as dizziness, headaches, nausea, and confusion should never be ignored, as they could indicate carbon monoxide exposure.
Jaziyah's story is an inspiration to us all. Her courage and quick response saved her family from a potentially fatal situation. She serves as a shining example of how even young individuals can make a significant impact and help those in need. Her actions remind us that heroes can emerge at any age, and we should always be prepared to lend a helping hand in times of crisis.