Scientists Tell Us Dogs Are Officially Smarter Than Cats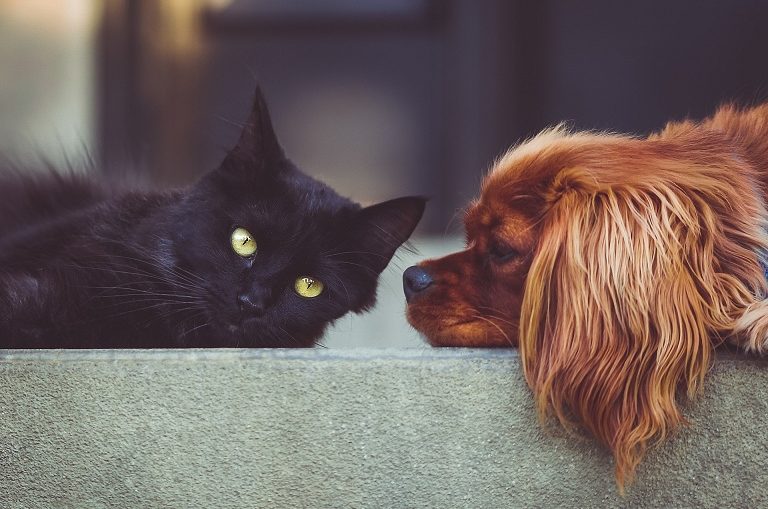 Dog people and cat people have long argued over a basic question:
Which pet is smarter, dogs or cats?
We may finally have an answer to this enduring question. A new study from Vanderbilt University confirms that dogs are brainier than cats. In fact, dogs have more neurons in their brains than animals with much larger brains, including lions and tigers and bears. Researchers have found that among carnivorous animals, the larger the brain, the "brainier" the animal. Dogs have larger brains than cats, and more thinking power. But animals that are larger than dogs, with much bigger heads, don't have more brain power.
Why should that be?
Animals that have to outsmart other animals to eat them, such as both dogs and cats in the wild, tend to be naturally intelligent. A cat has more neurons than a turtle. A dog has more neurons than a koala.
But brain power in the animal kingdom, aside from humans and other primates, tends to max out with dogs. That's probably because most dogs have humans who hunt for them. They have reliable sources of food. They don't undergo starvation. They don't experience any kind of canine anxiety over where their next meal is coming from. Having lower levels of stress from puppyhood to old age, they develop more connections in their brains.
Dogs have brains that could make them fierce hunters, but they develop even better brains when they have humans to take care of them.
It's natural to ask if maybe one of the reasons that dogs have such highly developed brains is that they have to devote a lot of brainpower to pleasing their humans. In terms of evolutionary biology, this is highly probable. Smart dogs are a less likely to get spayed or neutered, so they are more likely to pass down their big-brain genes to offspring.
Cats, on the other hand, aren't temperamentally inclined to think of ways to please their humans. A cat usually thinks it owns you, rather than the other way around. Cats don't need the learning ability of dogs because their humans value them for their good looks. Beautiful cats are far less likely than ugly cats to avoid being spayed or neutered, so they can pass their good looks down to their kittens, but just about nobody is trying to breed cats that do circus tricks.
Dr. Suzana Herculano-Houzel of Vanderbilt University has taken on the task of actually counting the number of neurons in dog and cat brains. Dogs have about 530 million neurons. Cats usually have about 250 million. (Humans, by comparison, usually have about 16 billion neurons, 30 times as many as their dogs, and 60 times as many as their cats.) Dr. Herculano-Houzel offers the observation that more neurons in the brain offers more brain power to respond to changing conditions in the world.
Dogs are just smarter than cats. They can adjust to new conditions more easily. They can learn tricks. They find novel ways to express affection to their owners.
But cats may still have the upper hand. What they lack in brainpower they make up with, well attitude. Dogs are smarter than cats, and far more able to bond to humans than cats, but cats have the personality that clearly establishes them as the rulers of their household domains.

Man's Best Friend, Except When It's Time for the Weather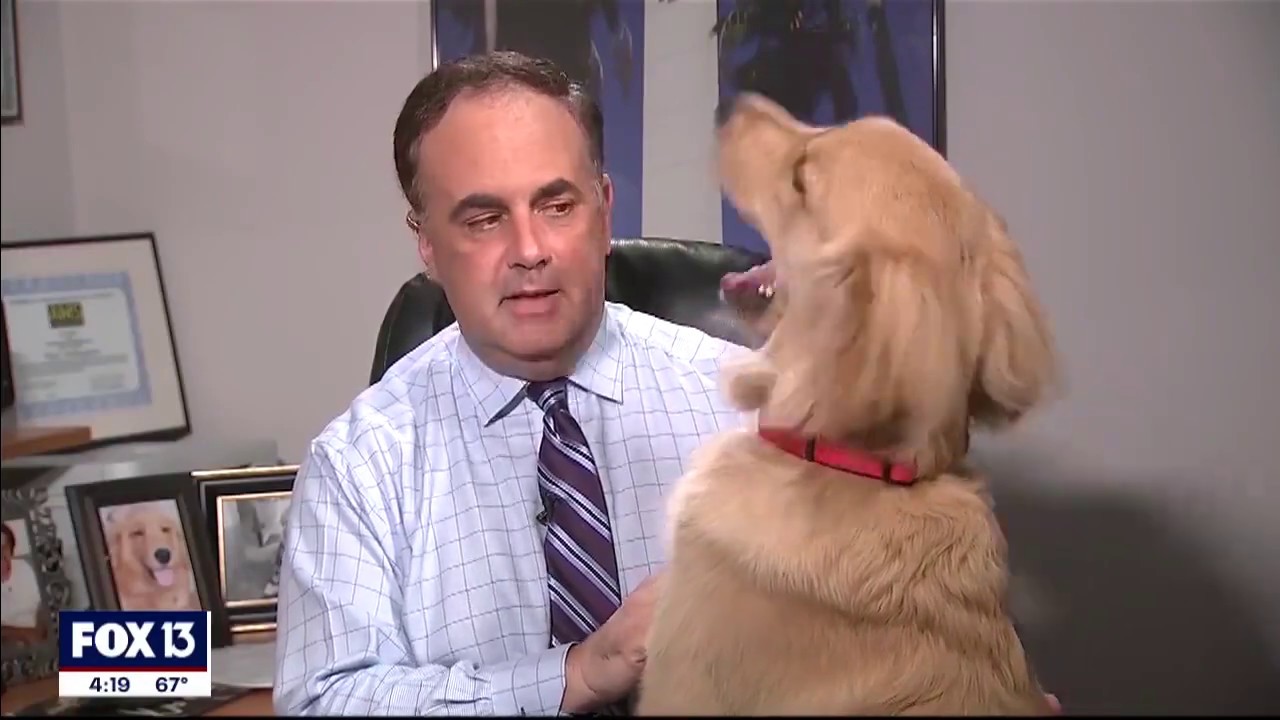 Working from home these days comes with a number of new challenges and risks that most never expected to deal with in their careers. But when the computer camera or conference video is placed in one's private accommodations, all sorts of issues can pop up that folks normally don't deal with in the office setting. Everything from what kind of photos, art or prints one has in the background to their furniture in a personal room to everything else the home is shared with becomes potentially exposed. And in the case of a particular weatherman trying to provide his meteorologist work online, man's best friend can be a notable interruption.
Paul Dellegato regularly works as meteorologist for Fox 13 based in Florida. However, like many others, Paul had to figure out in short notice how to relocate his work and his broadcast to his home to maintain social distance and health safety. While the access to his work networks and computer setups wasn't too hard, the readjustment to a home office and presentation place for his work took a bit of additional thinking. He had to pick a place in the house that would be free of distractions, walk-in surprises, problematic backgrounds, and not be invasive to his own home as well. What Paul didn't count on was that his own extended family might end up being the real disruption to Paul's broadcast.
In the clip provided, Paul is working as usual on his life TV broadcast and covering the weather for the day and the next few days' expectation. As he's going through the details and the changes in high and low pressures as well as the temperature predictions, someone doesn't want to let the weatherman continue. Paul's golden retriever, Brody, has decided to be a gate crasher and literally jump up in Paul's face and personal space. No matter how much Paul tries, his dog just keeps being persistent for his master's attention. Chances are the dog is probably hungry for dinner and is making a point about it. Doing so, however, Paul's dog is not only making a presence on the screen, the canine is goofing up the weather graphics on the nearby computer, making a ton of noise, and showing how useless it is for Paul to try to and stop the chaos. The audience loves it and Brody, and Paul's dog became the new digital mascot for Fox 13.
The weatherman's crisis resonates with all of us. We're all going through a big disruption, trying to reconstruct our professional work lives from home all over the country. So, to find a bit of humor in Paul's online dilemma with Brody provides a cathartic effect, helping us all find some humor and a bit of lightness in watching. Once you watch the show clip, you'll understand why Paul's situation went viral so fast.
Things didn't turn out bad for Paul. He earned big commendations for how patient he was able to stay under duress from Brody and the dog's insistent interruptions of his weather show. And it was clear Paul loves his furry buddy. So, the feeling now is the heck with the weather maps. How Brody behaves on camera will indicate if tomorrow will be a good weather day or otherwise.