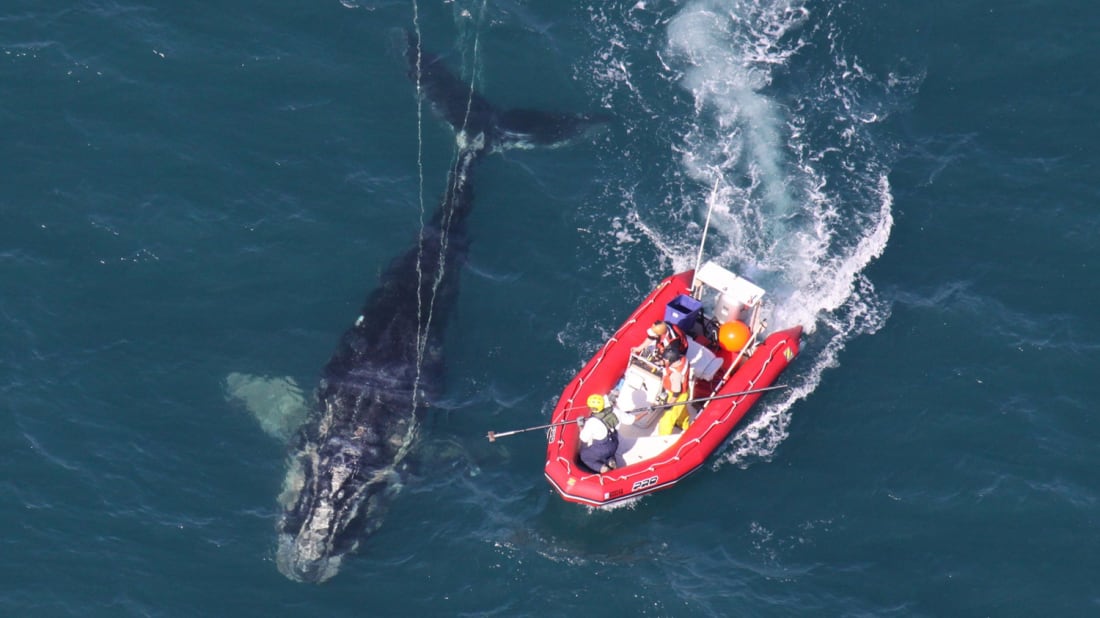 Saving Whales Entangled In Human Trash
Marine and fishing trash tends to be extremely disruptive in the ocean and, if left to itself, oftentimes causes the death of far more sea life than intended. Netting and ropes in particular are extremely problematic, continuing to catch larger fish on a regular basis without anyone usually available to fix the problem. The result ends up being thousands of carcasses floating in the ocean from animals trapped and ultimately helpless to free themselves.
As an agency of the federal government, the National Oceanic and Atmospheric Administration, or NOAA, also retains a team specific to helping large sea life escape debris traps created by human technology. In one particular case, that effort involved helping a fullsize female humpback whale.
In February, the NOAA team spotted the humpback and her calf swimming near Maui in the Hawaiian Islands Humpback Whale National Marine Sanctuary. Given the speed and force of the animal, it had somehow managed to get tied up with an extensive rope line running over 150 meters in length. However, for the whale, it was slowing garroting her. The rope had wrapped around the whale from the force of her swimming and was catching other debris as well. The job for the team was to get near enough to the whale to cut the line and free it from the mess.
After a good amount of effort and work, the team was finally able to cut the rope around the whale enough that it released and the humpback could swim again without all the drag and related entanglement. The remaining debris was cleaned up and removed from the water, and the whale moved on with her calf, likely more relaxed and finding it easier to swim again.
Unfortunately, for larger fish and mammals, entanglement in the ocean is a real threat. From leftover fishing nets to rope lines, buoys, foam, trash and other items that don't degrade easily in the water, these animals end up snagging the material and dragging it along with them. The accumulation not only tightly wraps around the animal, it also makes it more and more difficult to swim and move, making the victim an easy target for predators or exhausted from the additional work and difficulty. By some scientific estimates, human-generated debris kills over 300,000 dolphins, porpoises and whales annually. Even one-fourth of that figure is a tremendous amount of sea life lost needlessly.
Safe Haven for Pets Who's Owners Enter Rehab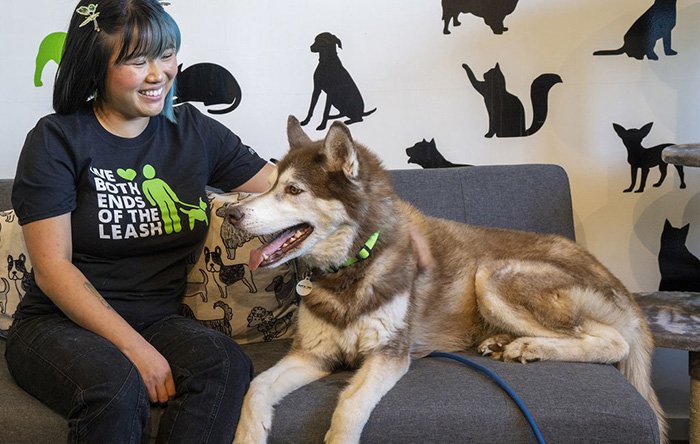 No pet owner likes to leave their pets for extended periods, no matter the reason for leaving. It's no different for people who may have drug or alcohol issues and might need to go for rehabilitation.
Not knowing who to leave the pet with or the level of care it will receive can lead to anxiety. However, there's a new resolve for people faced with that situation. Read on…
Bella was skeptical as she put her head up from inside the carrier she was being transported on to the boarding house.
A volunteer massaged the little black-and-white cat's hair to calm her fear of the dogs barking at the boarding facility's back.
The cat goes by the alias Bella since her owner, who's dealing with a tough time at home, wants to keep her cat's real name a secret. Pets in need of emergency shelter can stay with a foster family at Ruff Haven Crisis Sheltering, which provides short-term, no-cost accommodation for animals whose owners are homeless or fleeing domestic abuse.
Odyssey House, Utah's largest integrated addiction treatment center, and the foundation have just teamed up to offer three months of no-fee pet lodging to those who need it most.
"This is truly person-based, like person-led," said Beth Henry, Ruff Haven's foster coordinator. Pets are returned to their owners once treatment is complete and they have achieved a sense of security and well-being.
Enrollment and documenting of the owner's present status, followed by a brief examination of the pet (weight and overall health), immunizations, and ensuring that the animal is either fixed or is scheduled to be treated, are the first steps in the process of adoption.
The pet then gets connected with a foster home, and the owner receives weekly SMS updates on the progress of their animal. When a client and their pet are apart, Ruff Haven's fosters send videos and pictures of the pet to the client.
Several clients have the option of having their dogs dropped off for the Dogs All Day program by their foster parents, and their owners can come to meet them.
Henry stated, "It's a terrific confidence boost for them." In some cases, dogs are kept at the Dogs All Day center since their owners prefer to be able to visit them every day… It's rare for them to be greeted by their loved ones every single day. The stress of living with a cat is very hard on them.
In a press release, Adam Cohen, CEO of Odyssey, stated that pets can be a motivation for people to stay in difficult situations because they are worried about how their animals will be cared for if they are not there.
However, Ruff Haven Crisis Sheltering, which launched in June 2020, has already aided 320 families and almost hundreds of animals since then.
Owners often worry that they'll forget their pets during this time, but "the pets don't ever forget their owner," according to Kristina Pulsipher, the executive director at Ruff Havens. We do this for the reunions. And many of our former clients are now either volunteers or foster parents for us.