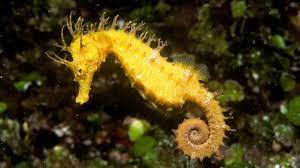 Saving the Sea Horses – One Women's Mission
The myth of the solo fisherman catching fish one by one or with a small net has been idolized first in literature and then in classic movies. However, in reality, modern fishing and seafood harvesting is anything but simple. Similar to land agriculture, modern fishing practically rakes entire ocean regions of sea life with massive nets that scoop up so much seal life, the boats themselves almost reach the waterline with weight. In doing so, this broad-based "scraping" of the ocean daily is wiping out entire ecosystems.
Most of the sealife caught in a net tends to be a primary fish caught. But a good percentage may also be other sealife crushed in the mass of food and protein to be harvested. Instead of finding a use for these portions or saving them from harm, they are killed in the netting process and then simply discarded like weeds picked out of a lawn. The technical method of this fishing, "bottom trawling," leaves the ocean floor sterile of any life that might swim and not cling or hide in coral or the sand below. It's not a new method of fishing, but the 20th century version is extremely effective at capture.
For the seahorse, a common sea floor creature found in different parts of the ocean worldwide, bottom trawling has been devastating. In that regard, Project Seahorse was begun in 1996 to help stop further destruction of the species as well as provide education on what needs to be done to change fishing for the future. The group and its issue gained significant recognition when seahorses, among other marine fish, were included in the list of needed protection maintained by the International Union for Conservation of Nature. And, Project Seahorse was also able to highlight a previously unknown market that was specifically harvesting seahorses for a dietary specialty in Chinese cuisine.
It is estimated that well over 70 million individual seahorses are killed annually by various forms of sea life harvesting. Bottom trawling is the primary means of catching the species, even if a single haul only produces a handful of seahorses per pull. The fact that the deathrate is in the dozens of millions only speaks to the volume of sea life harvested from the ocean in the same time period.
Wildlife protection groups and university research have both combined to try to educate government leaders on the need for change, cutting off fishing industry subsidies to reduce the number of players, and to ban bottom trawling where possible. While some countries have been responsive, others are more of a challenge given so much of their food industry and markets depend on the ocean. A specific target sought includes the creation of Marine Protected Areas, basically sanctuary zones where fishing is not allowed at all and violators are criminally punished. However, given that much of the ocean is in international waters, enforcement is minimal at best.
The above said, groups like Project Seahorse continue to try. The sea horse itself is a canary in the coal mine from their perspective. If the oceans are completely depleted, a lot more is going to go wrong with the planet than just the loss of a sea horse species, and humanity will pay that cost in dividends.
A Conservation Dog in NZ known for Saving Countless Kiwis, Retires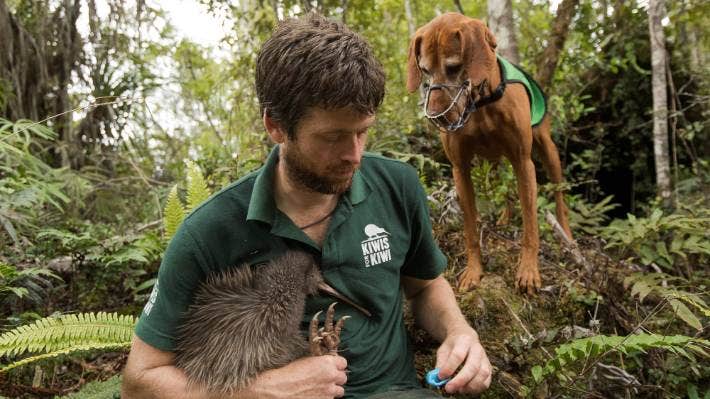 Now that Rein, the conservation dog, has spent the better part of a decade searching for kiwis to keep them from going extinct, it's time for her to retire.
DOC's conservation dog Rein, a Hungarian Vizsla, will retire at the end of the month after more than a decade of service.
With the support of her handler Iain Graham, they work to protect the rarest kind of kiwi, row, as part of a multi-agency initiative to increase the kiwi population.
There are now 600 rows in the wild, up from 160 in the critically endangered category in 2016, and the species became downlisted to "nationally vulnerable" in 2017. Graham credits Rein with finding 1700 kiwis during her time with the program.
Motuara, a predator-free Creche Island in the Marlborough Sounds, will be her final stop before retirement from her job.
Graham has been a biodiversity ranger with the DOC's Franz Josef kiwi team for four years. A colleague in Hamilton gave Rein to him as a puppy in early 2010, and he immediately saw the potential in her becoming a conservation dog.
As a conservation dog, she would need a strong sense of self-control, so he named her Rain.
To help with Operation Nest Egg, Graham wanted Rein to find kiwis in the wild.
In a slight stretch of low-lying forest inland near Quito in South Westland, Operation Nest Egg has successfully saved the rowing community from oblivion.
Since kiwi chicks are vulnerable to stoats and other predators, the environmentalists take the eggs from the woods for secure hatching.
After hatching at the West Coast Wildlife Sanctuary, the chicks spend roughly two months at the Willowbank Wildlife Reserve in Christchurch before being transported to Motuara Island for their final destination.
On the West Coast, they get released after they are mature enough to defend themselves from predators.
In the Omoeroa ranges, north of Franz Josef, kiwis have been relocated from the keto forest.
By utilizing treats and feathers from the kiwis, Graham taught Rein essential dog training and how to act around birds.
"It was already clear that she had a strong drive." In the beginning, training is primarily about building a relationship with the dog's owner. When she was seven months old, "early for any protection dog," he noted, "she had her first test."
Each bird that gets released has a transmitter attached to it that monitors its movements. A 50% decrease in feeding activity signifies that the birds are nesting. "We realize they have an egg when the row females and males scavenging hours reduce from 10 to 5 hours a nightly," he stated.
A little over a month later, Graham and Rein are on their way to search for the eggs. The moment she discovers the nest, she comes to a complete halt and starts pointing with her front paws.
When the breeding season is over, Rein doesn't take a break for the rest of the year. Every 12 to 14 months, she makes the trip to Motuara Island to check on the chicks and change the transmitter batteries on the island's resident kiwis.
"When the transmitters malfunction, that's when she performs assisting us in locating the chicks who don't have tags," Graham said.
Haast Tokoeka's new population was one of her most significant accomplishments.
After working in the sector for ten years, Graham felt Rein should take a break. Brew, a second vizsla, has gradually taken over the workload over the last few months.