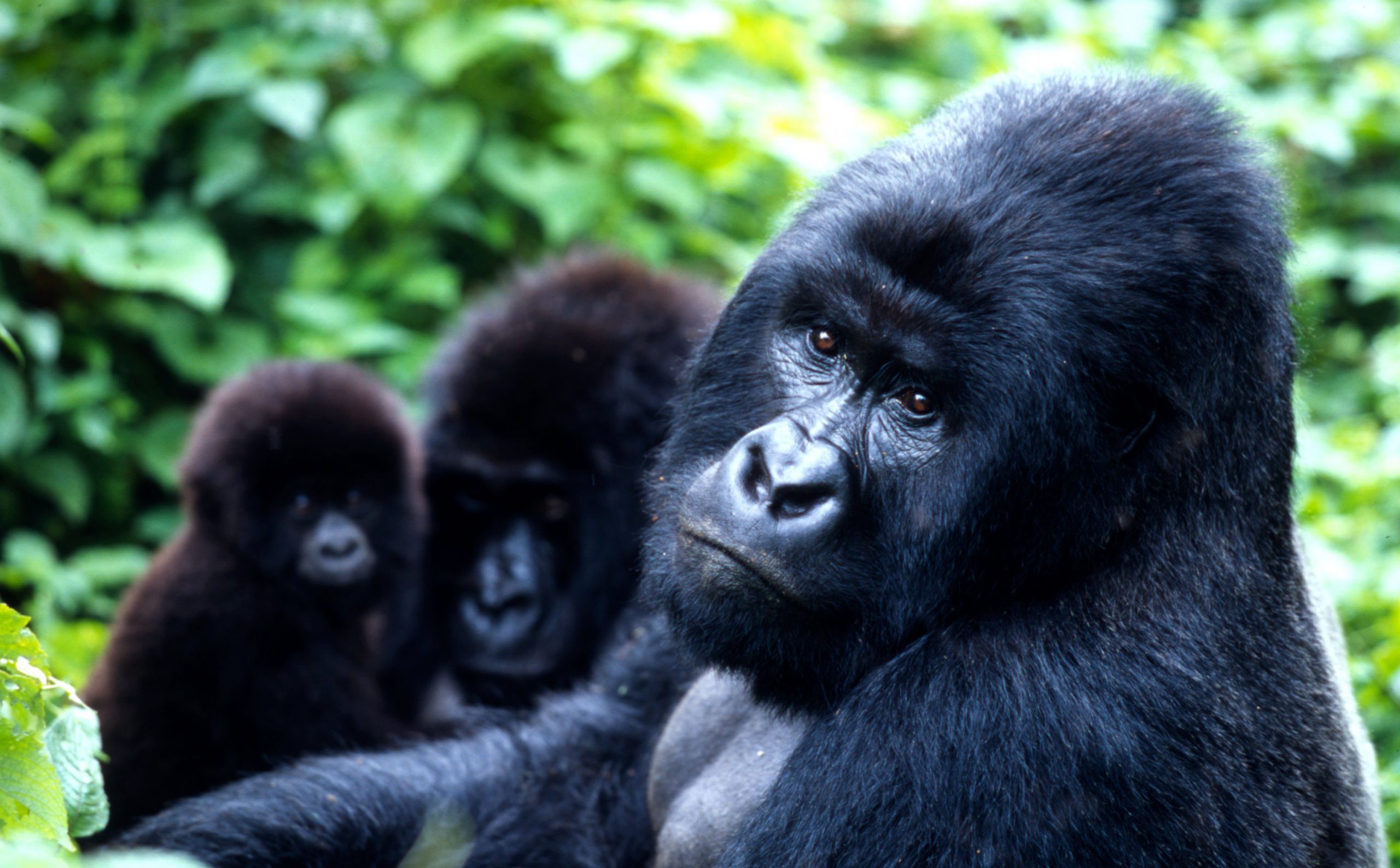 Rwanda's Mountain Gorillas Population Is Growing
People oftentimes hear about various species becoming endangered and great lengths being taken to protect the numbers that are left. However, because such instances tend to be so distant and far away, many think that the efforts are useless. That's why the mountain gorillas of Rwanda have been such a different case.
For generations, the gorillas have been profiled in National Geographic magazines, nature shows, TV specials, books, magazines and more. And as a result, unlike many other threatened species, the Rwandan gorillas have been watched and seen, year after year. Much of that exposure has been due to the work of Dian Fossey, a naturalist and scientist who put herself with the threatened gorillas, both to study them and protect the animals. Because of her work, Rwandan gorillas became visible and, more importantly, became a priority for the world. That made a difference.
When Fossey first started, the gorillas were down to 254 individuals, a miniscule number given they were the last of their species in the entire world. Amazingly, that number has now almost tripled. Further, there is now an additional 400 more in adjacent Uganda as well. It has taken decades, and Fossey's work triggered a massive response partnership with government, scientists, conservationists, and human communities in the vicinity. The results have produced a chance of survival for the gorillas, something they didn't have when Dian Fossey got started.
Locally, the mountain range that makes up the home area for the gorillas is known as Virunga Volcanoes. However, it was Fossey who gave them the title of the Gorillas in the Mist, a name that stuck and became popular in spreading awareness about the endangered animals.
Dian Fossey has since passed, but many dedicated personnel continue her work locally with the Dian Fossey Gorilla Fund, a non-profit committed to the gorilla's research and protection. That was well after Fossey herself spent 18 years plus working practically alone before her work gained attention. She was part of a critical group in anthropology, and shared work with names like Jane Goodall as well.
Today, the gorillas are part of a government-protected sanctuary. And they are not isolated in obscurity. Instead, the government allows groups of visitors, limited to a handful per trip, to travel with an expert and see the gorillas in person. The experience is both an income generator for additional protection as well as a chance for people to be educated in person about the Rwandan gorilla colony in its home. Additionally, the income helps the local villages as well, which goes a tremendous way in preventing poaching, a key activity locals were engaged in to make money when there was no protection and black market demand for gorilla body parts was in high demand.
There's no question that the gorillas would not have survived had it not been for the popularity popular attention towards the animals. And, while some will complain that the monetization of the animals is just capitalism corrupting things again, the same income has been providing the resources to both protect the gorillas as well as help them grow in numbers.
Dutch Artist Pays Off Student Loan Debt with Unique Tapestry Creation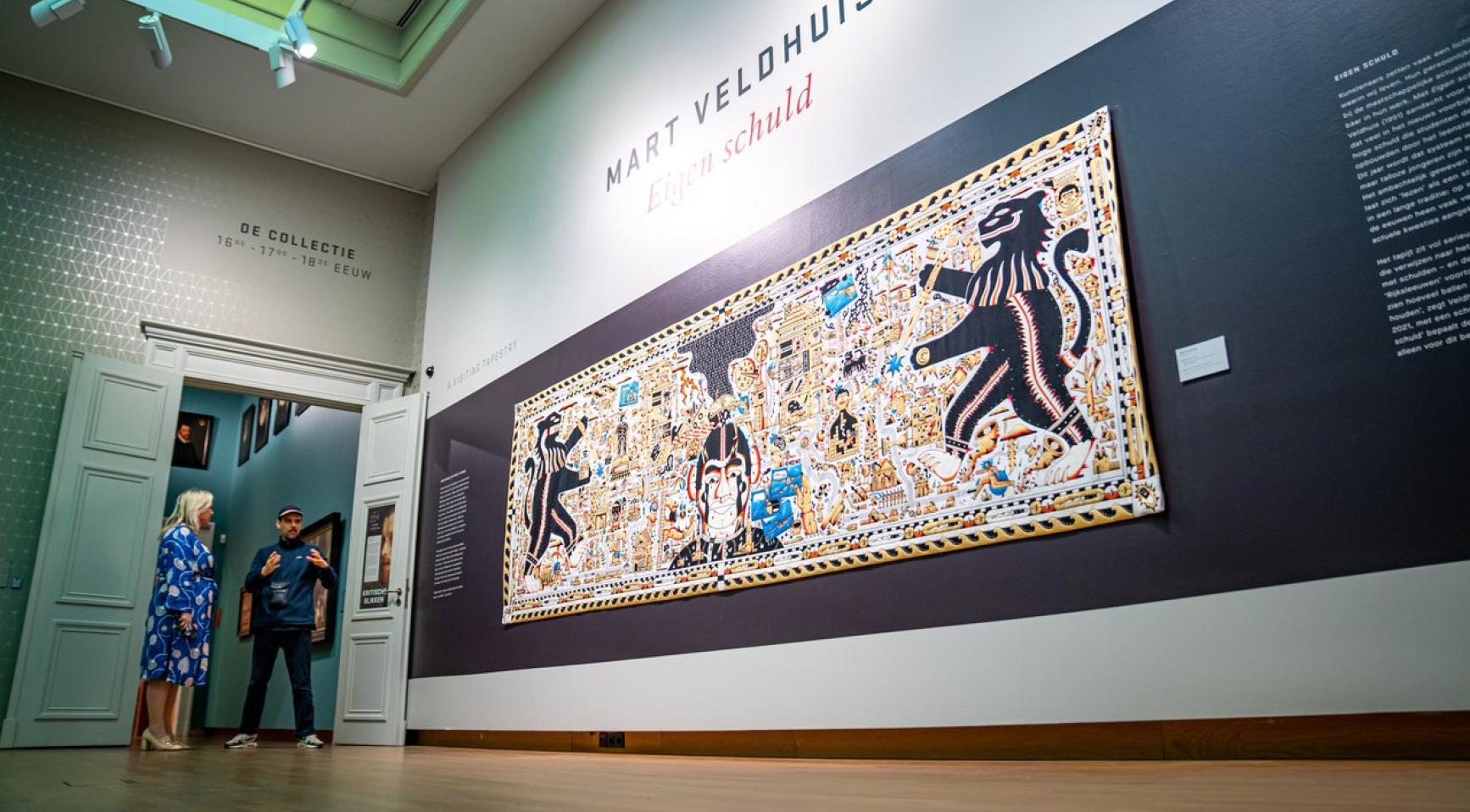 Mart Veldhuis, a talented Dutch artist, found a creative way to pay off his student loan debt. He crafted a remarkable tapestry that depicted the 46,000 euros he owed. This intricate work of art, titled "Eigen Schuld," meaning "Own Debt" or "Own Fault," became a symbol of Veldhuis' financial burden.
Once completed, the tapestry found its home in the prestigious Dordrechts Museum. Unexpectedly, a buyer was captivated by the artwork and decided to purchase it for 45,879.40 euros. This generous offer brought Veldhuis closer to becoming debt-free, leaving him in a state of disbelief and joy. "This is what I had hoped for, but when I heard the news, I was really speechless. It still feels very unreal," shared Veldhuis.
The tapestry itself was a visually striking piece, featuring various elements that conveyed Veldhuis' feelings towards his indebtedness. One of the central motifs portrayed a Dutch lion clutching a menacing sword, symbolizing the artist's perception of owing a significant debt to the state. The tapestry served as a powerful medium for Veldhuis to express his emotions and experiences.
The Dordrechts Museum facilitated the transaction and revealed the identity of the buyers as renowned art dealers Joke van Veen, 75, and Jaap Versteegh, 69. When asked about their decision to acquire the tapestry, Versteegh explained, "We bought the tapestry in the first place because we think it's a good work of art. It is innovative and visually strong. In addition, the social theme of the work – the consequences of student debt and the social loan system – strongly appeals to us."
Veldhuis' creation not only captured the attention of art enthusiasts but also highlighted the pressing issue of student loan debt. Many students struggle with the financial burden of loans, and Veldhuis's artwork serves as a reminder of this widespread concern. By showcasing his own experience, he sparked conversations about the consequences of student debt and the loan system in society.
The success of Veldhuis' tapestry represents a triumph for the artist and sheds light on the power of art to address social issues. Through his creative expression, he not only managed to alleviate his financial struggles but also stimulated meaningful discussions about the challenges faced by students burdened with debt.
As Veldhuis moves forward, he can embrace a debt-free future, thanks to his artistic talent and the support of individuals who recognized the significance of his work. The tapestry will forever stand as a symbol of his journey, inspiring others to find innovative ways to confront their own challenges.