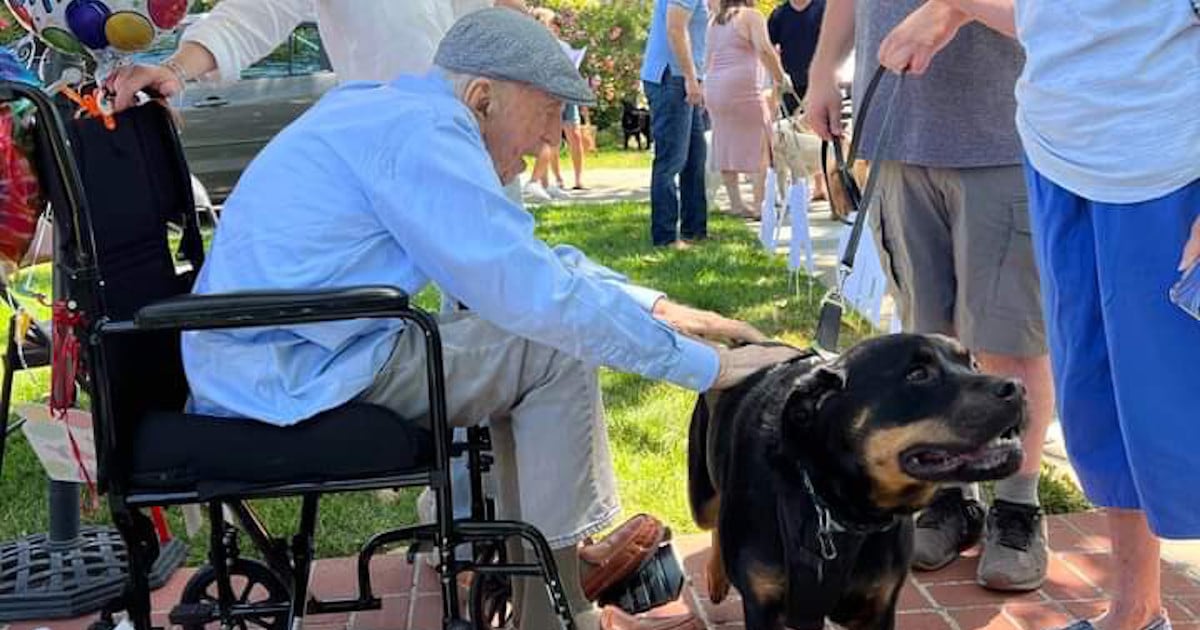 Robert Moore's 100th Birthday Wish Fulfilled by Dogs
Turning 100 years old is a remarkable milestone, and for Robert Moore, it was a momentous occasion filled with love, joy, and an overwhelming number of dogs. Robert, a lifelong dog lover, had one simple birthday wish – to pet as many dogs as he could. Little did he know that his wish would come true in the most extraordinary way.
Robert's daughter, Alison Moore, along with her siblings, wanted to make their father's 100th birthday extra special. Knowing how much he adored dogs and considering that many of his friends had passed away, they came up with a unique idea to incorporate dogs into the celebration. Alison took to the neighborhood networking site Nextdoor and Facebook, spreading the word about their plan for a pet parade on June 17 in San Jose.
Alison hoped that around 20 or 30 dogs would join the celebration, so she prepared dog treats and human treats for the occasion. The family set up a spot for Robert at the end of the driveway, where he eagerly awaited the arrival of the furry friends. However, when the day arrived, they were astounded by the turnout. More than 200 dogs, along with their enthusiastic owners, showed up to give Robert the gift of canine companionship.
"I was shocked," Alison expressed, recounting how people shared her post across local groups on social media. Some attendees even traveled more than 10 miles to be part of this heartwarming event. The overwhelming response deeply touched Robert, who had served as the dean of applied sciences and arts at San José State University for 25 years.
Surrounded by a bustling crowd of well-behaved dogs, Robert was overwhelmed with joy. He engaged with each dog, talking to the kids and petting the furry visitors, while learning their names. It was a delightful and memorable experience for everyone involved.
The parade not only brought happiness to Robert and his family but also created a sense of unity within the neighborhood and the wider community. The sight of so many dogs and their owners coming together to honor Robert's special day was truly amazing. Caroline Moore, Robert's 24-year-old granddaughter, captured parts of the parade on video and shared it on TikTok. She described the atmosphere as filled with disbelief and nonstop smiles.
In addition to their presence, the parade participants went above and beyond to make the celebration even more meaningful. Strangers showed up with handmade cards, posters, and cupcakes for Robert, showcasing their genuine care and affection. The overwhelming display of love from the community touched the hearts of Robert's family and made the occasion even more exceptional.
Reflecting on the parade, Robert himself expressed his gratitude for the incredible number of dogs that participated, representing various breeds.
Alison Moore shared that the dogs seemed to recognize her father's love for them. They showered him with kisses, wagging their tails in delight, as if they knew he was a true dog guy. This mutual affection between Robert and the dogs added an extra layer of warmth and joy to the celebration.
The pet parade honoring Robert Moore's 100th birthday was an unforgettable event that brought together a community, celebrated a remarkable man, and fulfilled a heartfelt wish. It showed the power of love, compassion, and the incredible bond between humans and dogs. As Robert continues his journey into his centenary year, his heart will undoubtedly be filled with the memories of that special day when he was surrounded by the furry companions he adored so much.

Jacksonville Man Spreads Love and Positivity at the Beach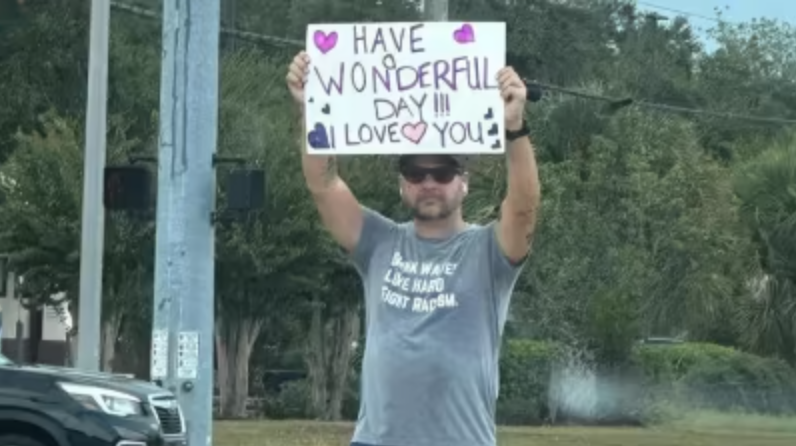 In Jacksonville, Florida, a man has been making waves of positivity and spreading kindness at the Beach Boulevard and San Pablo Road South intersection. With handmade signs that read, "Have a wonderful Day!! I Love You" and "You are Relevant," this man is on a mission to uplift the spirits of those who pass by. His heartwarming gestures have not gone unnoticed, and his actions are especially poignant during National Suicide Prevention Month.
Rika, a local resident, had a unique encounter with this compassionate individual. She was on her way to pick up her lunch when she saw a man standing in the median of the road, holding these uplifting signs. Most of us would just glance and continue on our way, but Rika decided to take a closer look. As she stopped at a red light, she took a few pictures to capture the moment. To her surprise, the man approached her car and handed her a sunflower.
"So picture this… you're out going to pick up your lunch, and there's this random guy walking by with a handmade sign," Rika recounted. "I'm sure like most of us, we'd glance and keep it moving, but I decided to read his sign since I was at a stop light. I snapped a few pictures because why not, but as I was doing this, he approached my car door to hand me a sunflower! Don't forget to appreciate the small things."
This simple act of kindness had a profound impact on Rika, as it has on many others who have encountered this man and his signs. His message of love and importance reminds us all to appreciate the small joys in life and to acknowledge our worth.
The man's efforts are not just a random act of kindness; they hold special significance during National Suicide Prevention Month. September is a time when people and organizations across the country work to raise awareness about mental health and suicide prevention. This Jacksonville man's compassionate actions align perfectly with the spirit of this month, as he strives to remind people that they matter and that there is goodness in the world.