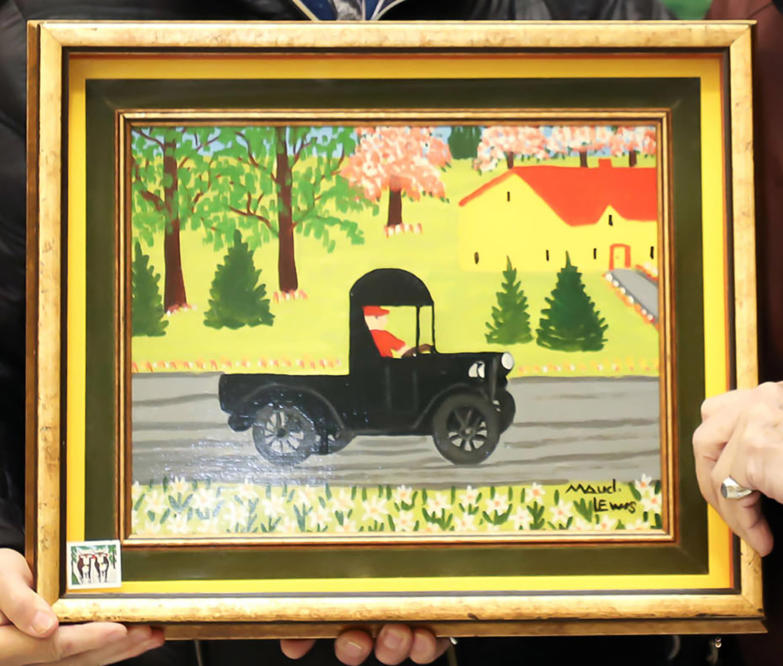 Restaurant's Regular Customer Trades Valuable Painting for Grilled Cheese Sandwich
Most people have or make a grilled cheese to achieve a full stomach. They don't expect that a melted cheese combination with pan-fried toast will turn into a small fortune. However, that was the case for one couple who focused on making and providing as many grilled cheese sandwiches as possible in a business day.
However, the perfect grilled cheese sandwich didn't happen yesterday or last week. Instead, the recipe that made Irene Demas a name on a map started some 50 years ago in London, a major city in Ontario Province. At the time, Irene and her husband had just been married. Tony Demas was trying to find a break in real estate, but it was Irene who saw a different path in food. The two talked and decided on a location that was going to give them a start as a restaurant. They named their first eatery The Villa.
However, neither of them had worked in food, much less commercial kitchen food preparation, even as a short order cook. So, Tony started off the venture, but within a few hours he asked Irene to step in and cover the kitchen. So, Irene started off with what she knew best, how to make grilled cheese sandwiches. It worked out well since that was the only thing that Irene knew how to make anyways, aside from boiling some water in a pot.
Of course, grilled cheese snacks weren't the only menu, and Irene did end up investing time in a culinary school to understand more about what to offer as well as how to make it well. In doing so, Irene developed a reputation for her cooking, and even got profiled on a local TV show. However, the grilled cheese sandwiches continued to be Irene and Tony's standby signature meal, which the locals kept coming back for more. That, in turn, helped bring in the cash that kept the business going.
Interestingly, one of their regular customers was a pair named John and Audrey Kinnear. And, amazingly, they were quite interested in trading John's artwork for lunch. In the 1990s, Irene and Tony had no idea who they were really talking to at the time. The Kinnears were simply local patrons and friends. Bartering seemed reasonable given the fact that Demas' liked John Kinnear's art and the Kinnears definitely liked Irene's sandwiches.
Over time, Irene and Tony ended up serving the Kinnears on a regular basis, providing daily meals even for John in between his painting stints. In return, the Demas' started picking up a few pieces here and there. One particular painting John gave them in trade for grilled cheese sandwiches covered a $25 tab and it was personal as well. John had painted his interpretation of The Villa, both as a payment and gift to the Demas'.
Much of John Kinnear's work was in watercolors, soft and delicate but also eye-catching. Many of the images covered the local countryside or animals common to the area on farms or recognizable wildlife. As it turned out, however, John Kinnear's work became far more popular over the years. And, for Irene and Tony Demas, the paintings that John provided them as food payment ended up being worth more than the meals provided, a lot more.
When all was said and done, the paintings that Irene and Tony collected from the Kinnears ended up years later being worth hundreds of thousands of dollars in the fine art world. Consider it dividends on a very delicious grilled cheese sandwich serving.
Dutch Artist Pays Off Student Loan Debt with Unique Tapestry Creation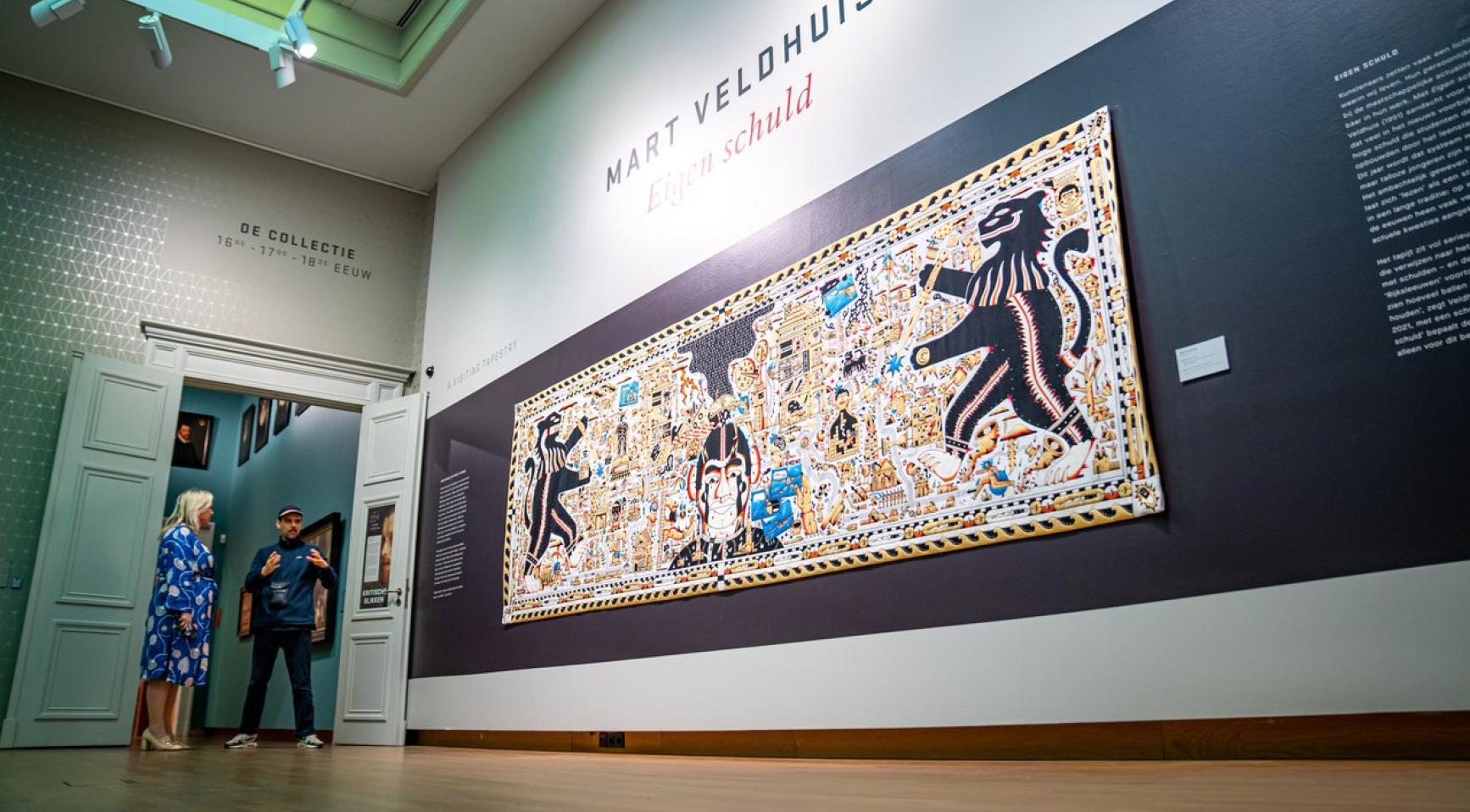 Mart Veldhuis, a talented Dutch artist, found a creative way to pay off his student loan debt. He crafted a remarkable tapestry that depicted the 46,000 euros he owed. This intricate work of art, titled "Eigen Schuld," meaning "Own Debt" or "Own Fault," became a symbol of Veldhuis' financial burden.
Once completed, the tapestry found its home in the prestigious Dordrechts Museum. Unexpectedly, a buyer was captivated by the artwork and decided to purchase it for 45,879.40 euros. This generous offer brought Veldhuis closer to becoming debt-free, leaving him in a state of disbelief and joy. "This is what I had hoped for, but when I heard the news, I was really speechless. It still feels very unreal," shared Veldhuis.
The tapestry itself was a visually striking piece, featuring various elements that conveyed Veldhuis' feelings towards his indebtedness. One of the central motifs portrayed a Dutch lion clutching a menacing sword, symbolizing the artist's perception of owing a significant debt to the state. The tapestry served as a powerful medium for Veldhuis to express his emotions and experiences.
The Dordrechts Museum facilitated the transaction and revealed the identity of the buyers as renowned art dealers Joke van Veen, 75, and Jaap Versteegh, 69. When asked about their decision to acquire the tapestry, Versteegh explained, "We bought the tapestry in the first place because we think it's a good work of art. It is innovative and visually strong. In addition, the social theme of the work – the consequences of student debt and the social loan system – strongly appeals to us."
Veldhuis' creation not only captured the attention of art enthusiasts but also highlighted the pressing issue of student loan debt. Many students struggle with the financial burden of loans, and Veldhuis's artwork serves as a reminder of this widespread concern. By showcasing his own experience, he sparked conversations about the consequences of student debt and the loan system in society.
The success of Veldhuis' tapestry represents a triumph for the artist and sheds light on the power of art to address social issues. Through his creative expression, he not only managed to alleviate his financial struggles but also stimulated meaningful discussions about the challenges faced by students burdened with debt.
As Veldhuis moves forward, he can embrace a debt-free future, thanks to his artistic talent and the support of individuals who recognized the significance of his work. The tapestry will forever stand as a symbol of his journey, inspiring others to find innovative ways to confront their own challenges.