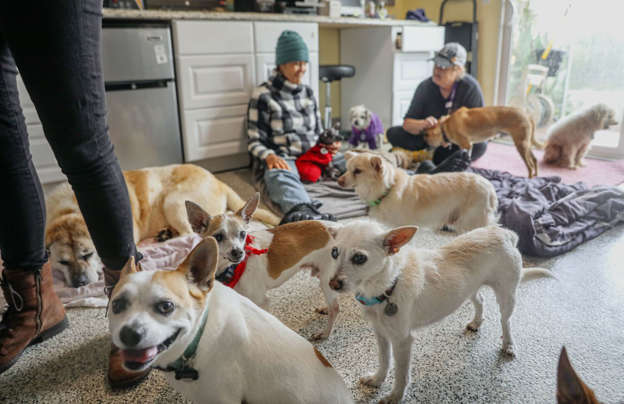 Rescuing Senior Dogs And Giving Them The Best Home
There is a location that goes by the name of Frosted Faces Foundation. Located near the town of Ramona, two acres are home to senior dogs who are completely cared for by a dedicated rescue program.
The program is more than just a simple kennel. Instead, it's designed to be a comfortable home, with comfortable dog beds, blankets, sweaters for canines that get cold, and regular activities. There is also a program for those with arthritis and health problems to get their regular medicine as well. And the dogs reflect their care; their eyes tell the story of appreciation for the care they receive.
All of the dogs rescued have had some kind of loss. Whether its psychological, in the form of abandonment, or physical in the form of harm and injuries, they've all suffered from something. So, one of the things the Foundation makes a point of achieving is providing a comfortable life for the dogs taken in by the rescue operation.
The Foundation was established in 2014, at that time being a simple group trying to create a bond between various dog owners that wanted to give their dogs more socialization. Andy and Kelly Smíšek, finally created a real rescue location and, surprisingly, as soon as they opened the front doors, a family showed up to adopt a dog.
The non-profit makes a specific point of helping older dogs. These canines have the hardest chance of being adopted, oftentimes being passed over by families who want a younger dog that will grow up in front of them and will live longer. The value of longevity is something that older dogs have very little currency, so they automatically lose in most adoptions. It doesn't help that older dogs have more health problems and behavioral issues as well. That combination only decreases their chances of adoption.
The rescue operations have made a huge impact. In 2022 it produced 406 adoptions, placing that number of older dogs in homes that will genuinely care for them. Small dogs are the fastest to place, but larger dogs can be adopted out as well within a few months of dedicated work. One of the key factors that helps is the fact that the rescue makes a point of covering the medical costs of the adopted dogs. That commitment allows the older dogs to be accepted versus rejected over fears of their expensive care otherwise. It's not a small commitment; guaranteeing the care of over 1,500 dogs charges something past $83,000 a month. The cost is addressed through donations and fundraising.
So, if you know an old dog that needs help, know there's also a place that wants to care for it in Ramona. It's just a matter of getting the dog to its better home.
Brave 12-Year-Old Girl Saves Family from Carbon Monoxide Poisoning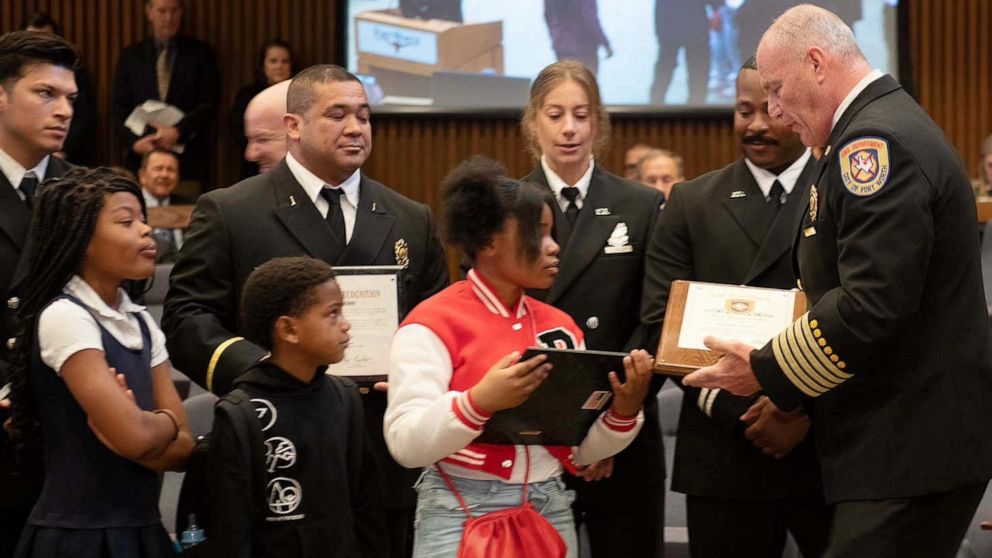 In a remarkable act of courage and quick thinking, 12-year-old Jaziyah Parker from Fort Worth, Texas, became a true hero when she saved her family from a dangerous situation. Jaziyah's keen observation and immediate action prevented a potential tragedy from unfolding.
One day, while Jaziyah was at home, she noticed something was wrong. Her mother and younger brother began to feel sick and lose consciousness. Jaziyah didn't panic but instead sprang into action. She grabbed the phone and dialed 911, desperately seeking help. In the recording of the 911 call, Jaziyah can be heard saying, "Something wrong with my mama. Can you hurry up and come?" Her plea for assistance was a crucial step that would ultimately save her entire family.
Little did Jaziyah know, her family's home was filling up with a silent but deadly gas called carbon monoxide. This odorless and colorless gas can be extremely harmful and even fatal when inhaled. But Jaziyah's sharp instincts and timely call for help prevented a tragic outcome. Her actions ensured that her family received the necessary assistance in time.
The Fort Worth Fire Department recognized Jaziyah's bravery and quick thinking during a special ceremony held on May 23, 2023. The firefighters honored her for her heroic act, commending her for the bravery she displayed in a challenging situation. Jaziyah's actions exemplify the importance of staying calm and taking action during emergencies.
Carbon monoxide poisoning is a serious concern, as it can occur in any home due to faulty appliances, heating systems, or ventilation issues. This incident serves as a reminder for everyone to have carbon monoxide detectors installed in their homes and to be aware of the signs and symptoms of poisoning. Symptoms such as dizziness, headaches, nausea, and confusion should never be ignored, as they could indicate carbon monoxide exposure.
Jaziyah's story is an inspiration to us all. Her courage and quick response saved her family from a potentially fatal situation. She serves as a shining example of how even young individuals can make a significant impact and help those in need. Her actions remind us that heroes can emerge at any age, and we should always be prepared to lend a helping hand in times of crisis.