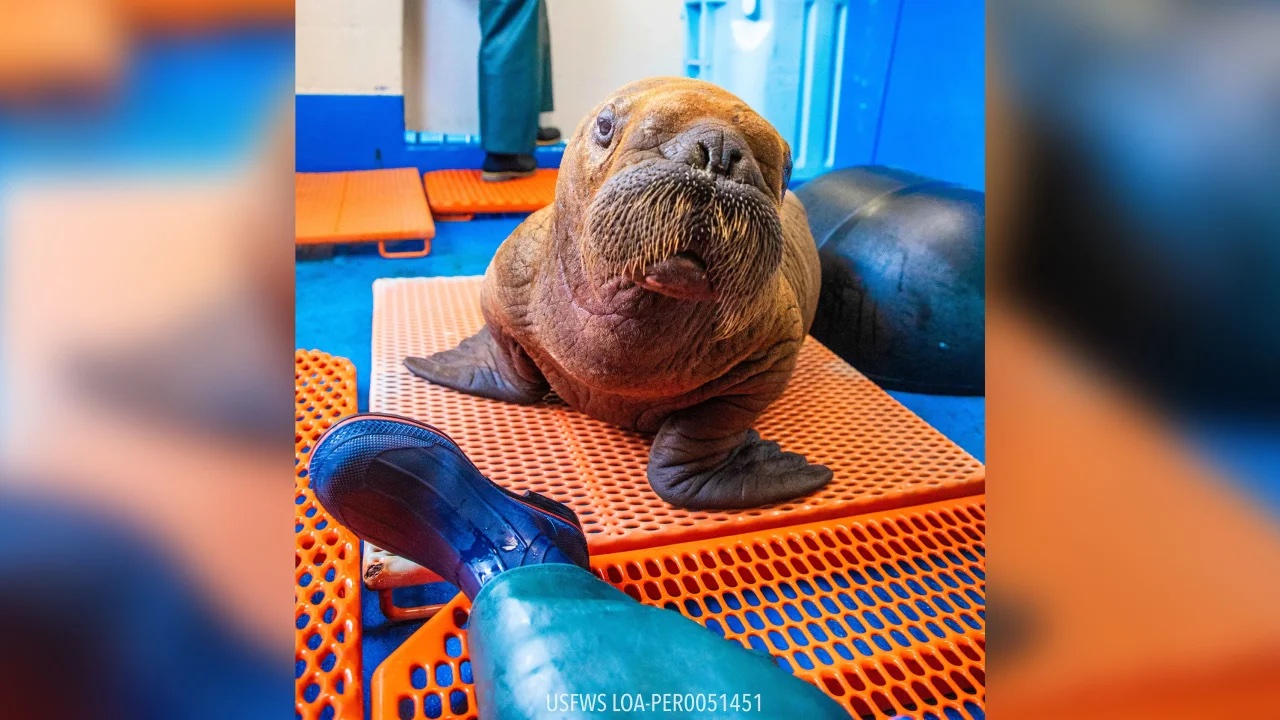 Rescued Walrus Calf Finds Love and Care in Alaska
From the wilds of Alaska, a special baby walrus has captured the attention and hearts of animal lovers far and wide. This young Pacific walrus calf, just one month old, found itself in an unusual and challenging situation. Thankfully, a team of caring experts stepped in to provide the love and attention it needed to thrive.
Walrus calves are rare and precious, and this little one was even more unique because it was discovered all alone. Normally, walrus calves stick close to their mothers for the first two years of their lives, but this calf was found wandering far from its usual ocean home. It was spotted about four miles inland, which surprised the experts because walruses usually stay near the coastline or in the ocean waters.
The rescue effort was led by the compassionate folks at the Alaska SeaLife Center, a place dedicated to helping marine animals in need. They noticed that something was not quite right when they found the calf so far from its natural habitat. With the calf's health and safety in mind, the team decided to step in and provide the care it needed.
This young walrus, weighing a hefty 140 pounds, became the center of attention at the Alaska SeaLife Center. The experts there knew that without their help, this wandering calf would have a tough time surviving. They suspected the calf might be dealing with malnutrition, dehydration, and even a cloudy eye. Special blood tests confirmed that the calf was indeed dehydrated and could be fighting an infection.
To give the calf the best chance at a healthy life, the veterinarians prescribed a special treatment plan. This involved 24-hour care, which included constant cuddling. Yes, you read that right – cuddling! The experts at the center understood that walrus calves are used to being close to their mothers, so they wanted to provide the same kind of maternal warmth and comfort.
The staff at the Alaska SeaLife Center poured their hearts into caring for the calf, emulating the closeness and love that it would have experienced with its walrus mother. Their dedication paid off – the calf responded positively to the care and attention it received. The around-the-clock cuddling seemed to work wonders, as the calf started showing signs of improvement.
Now, this adorable walrus calf is on the road to recovery. It's gaining strength, feeling happier, and getting all the love it needs to grow up strong and healthy. The team at the Alaska SeaLife Center is doing everything they can to ensure that this unique little walrus has a bright future ahead.
Jacksonville Man Spreads Love and Positivity at the Beach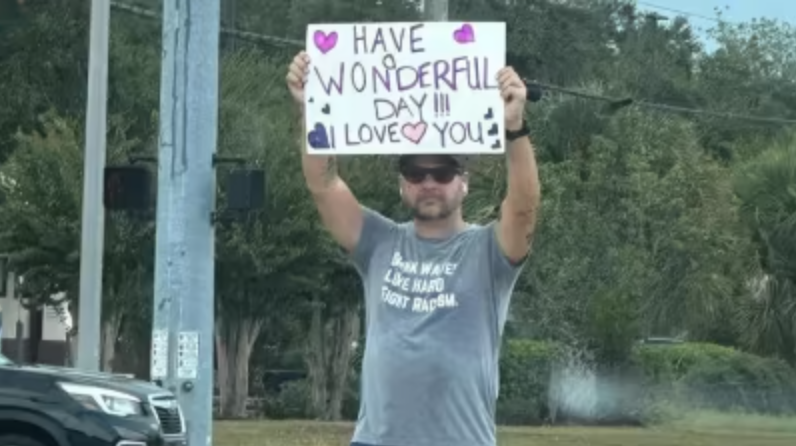 In Jacksonville, Florida, a man has been making waves of positivity and spreading kindness at the Beach Boulevard and San Pablo Road South intersection. With handmade signs that read, "Have a wonderful Day!! I Love You" and "You are Relevant," this man is on a mission to uplift the spirits of those who pass by. His heartwarming gestures have not gone unnoticed, and his actions are especially poignant during National Suicide Prevention Month.
Rika, a local resident, had a unique encounter with this compassionate individual. She was on her way to pick up her lunch when she saw a man standing in the median of the road, holding these uplifting signs. Most of us would just glance and continue on our way, but Rika decided to take a closer look. As she stopped at a red light, she took a few pictures to capture the moment. To her surprise, the man approached her car and handed her a sunflower.
"So picture this… you're out going to pick up your lunch, and there's this random guy walking by with a handmade sign," Rika recounted. "I'm sure like most of us, we'd glance and keep it moving, but I decided to read his sign since I was at a stop light. I snapped a few pictures because why not, but as I was doing this, he approached my car door to hand me a sunflower! Don't forget to appreciate the small things."
This simple act of kindness had a profound impact on Rika, as it has on many others who have encountered this man and his signs. His message of love and importance reminds us all to appreciate the small joys in life and to acknowledge our worth.
The man's efforts are not just a random act of kindness; they hold special significance during National Suicide Prevention Month. September is a time when people and organizations across the country work to raise awareness about mental health and suicide prevention. This Jacksonville man's compassionate actions align perfectly with the spirit of this month, as he strives to remind people that they matter and that there is goodness in the world.