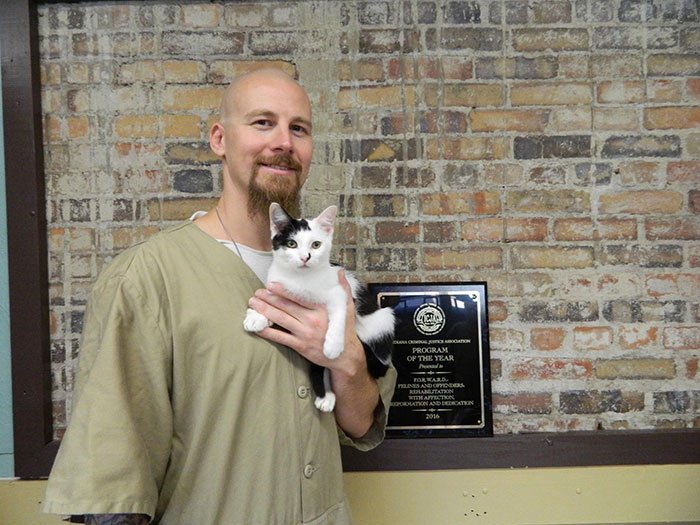 Rescued Cats and Inmates Transform Lives Together in New Prison Program
Is there anything purer than the love of a pet? When your cat or dog comes up to you and shows affection, it can be almost impossible not to let out an audible d'awww. Our cats and dogs love us more than we can understand, so it stands to reason that they'd be beneficial in therapeutic settings. Cats can't really judge a man based on their wrongdoings, but they can definitely accept pats and offer emotional support to those in need. Where does our conversation lead us? To a new program that may change the way that we look at prison reform, the FORWARD program!
The FORWARD program is an acronym that stands for their mission statement, Felines and Offenders Rehabilitation With Affection, Reformation, and Dedication (FORWARD). The goal of the program is to bring shelter cats to the Pendleton Correctional Facility for therapeutic treatment. The inmates will play with and care for the cats as they wait to be adopted by their forever family on the outside of Pendleton.
We already hear people at home asking, "Why should inmates get to play with cats?" While this may feel like a valid question, the truth is a little more complex. Rehabilitation should always be a priority when it comes to the industrial prison complex. With the FORWARD program, inmates in a Maximum Security Prison are granted unrestrained and non-judgemental love and affection from the cats in exchange for adhering to the rules of the program. This feedback loop rewards good behavior with more good behavior, creating a cycle that is positive for everyone involved.
When cats are brought into Pendleton as part of the FORWARD program, they are placed in a massive sanctuary that is brimming with structures to climb, posts to scratch, and hideaways to sleep in. Anthony LaRussa has been helping to pioneer the program at Pendleton and he said, "We're able to give back, and not just for us — but for the animals, too."
One of the biggest issues plaguing prisons in the United States is the recidivism rate. The recidivism rate shows that inmates are leaving prison behind only to relapse and end up back within the system. Prison pet programs were initiated in the 1980s to curb recidivism and has since grown to embrace cats, dogs, and horses within the prison sanctuary system.
Studies have shown that pet programs such as FORWARD are incredibly effective and popular with inmates and researchers. Studies have shown that caring for pets in prison can increase both self-esteem and self-efficacy while underscoring the importance of empathy. In fact, some studies have even shown that pet programs are fantastic for helping offenders to improve their emotional maturity and employability once outside of the prison program.
The bare facts are that pet programs have continued to improve interpersonal relationships between officers and offenders in prison facilities while also improving the likelihood of success outside of them. Pet programs shouldn't be looked at as anything other than an extension of other recidivism-focused services. With the wildfires that have been raging across California, we have even seen offenders take up jobs as firefighters in order to give back to the community while showing the importance of reformation from within the system.
The final point we want to underscore regarding this story is just how dire the animal shelter system in America is. More than 7.2 million animals enter shelters nationwide every year. Programs like FORWARD not only help offenders, but they also do great things for animals that need help, as well!

Tony the Plant Man Grows Very Expensive Plants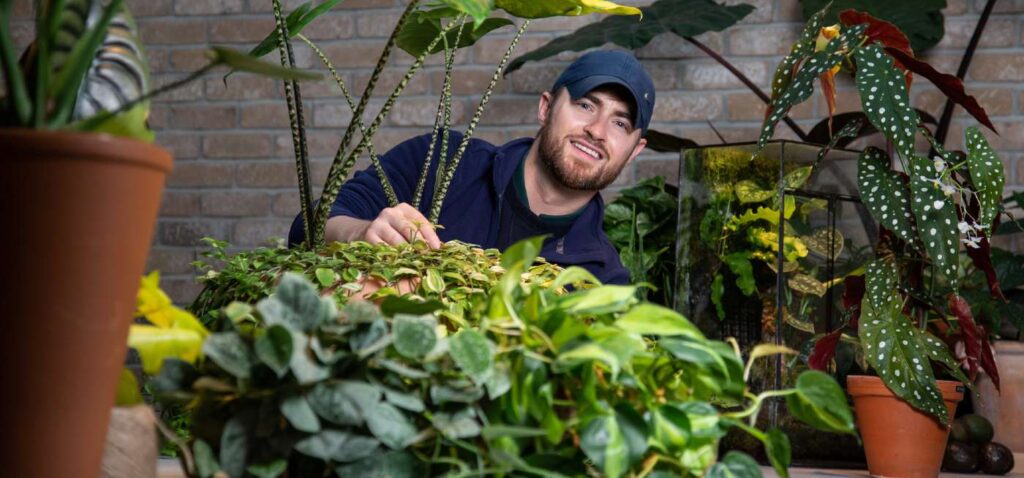 A Briton has quietly created his own Garden of Eden in his home, including one plant that is so rare, it could easily command almost $16,000 for one leaf. The botanist extraordinaire is a fellow named Tony Le-Britton.
Tony is, like many geniuses, a bit odd and extremely dedicated to his work. He's so committed to plants and growing them, an entire room of his home is an indoor jungle, complete with a personal greenhouse and environment control to help support the kind of plants he is able to bring to full fruition. Tony's collection, however, isn't the typical plant collection one gets from seeds at the local hardware store or plant farm. His focus is on growing some of the world's most uncommon and rare plants altogether. In fact, some of his flora are so rare, plant scientists and researchers around the world would love to spend a day with Tony simply examining his plants. He even has some plants that the scientific folks thought was completely gone and no longer alive, i.e. extinct.
Plant-growing, however, was not Tony's only career. As it turns out, he's quite adept as a photographer as well, having enjoyed a professional career producing images of hair and beauty. However, given how much his plants are in demand now, it's pretty clear his plants will also take care of him too financially. Just the leaves alone versus the entire plant has the financial capacity to provide him a living income.
The most valuable plant that Tony has in his greenhouse is known as a Rhaphidophora Tetrasperma Variegata. This particular plant is different version from a far more common plant that could be bought anywhere. Because it is a genetic mutation, an anomaly that has occurred due to a genetic change that occurred at the DNA level, it is extremely rare and practically impossible to find elsewhere. As a result, even samples of the plant are in high demand for collection or study or both. At the time of the interview, Tony had three orders on standby for just a leaf with a hefty price tag of $12,000 British Pounds. Of course, just taking leaves off the plant willy-nilly could kill it. So he has a waiting list, and the plant is literally growing money for him.
The above said, Tony has other plants in his stable as well. He is also a cultivator of an extremely rare Monastera sp Bolivia, a plant that has no complete documentation from a research or botany perspective. Tony was lucky enough to score a small stem, and he's since been able to grow the plant to a tremendous size. The size and robust nature of the plant is so unique, Tony's is constantly getting request for photographs of the plant for reference.
Another flora sample that was generally thought to be extinct in the wild is the Begonia Chloristica. Again, finding one with a collector in Europe, Tony was able to get another sample and grow is own version in his personal greenhouse in England.
The plant-growing interest, zeal, skill and hobby came from his grandparents, according to Tony. As a boy, they would spend a lot of time in the grandparents' garden. When they didn't have their hands in the soil, the boy and his grandmother would watch "Gardener's World" on the TV.
In short, Tony is a working plant genius. He's learned his skill and expertise in practice, trial and error, and 25 years of hands-on work. And, one notable trick is that he doesn't over-care his plants. In fact, many times, he lets the plants take care of themselves, which in fact allows them to grow stronger and self-sufficient to an extent. After all, Tony still controls and maintains the greenhouse with temperature, humidity and the light levels.
Most importantly, however, Tony enjoys what he does, which also makes a huge difference in his success. He has created an amazing collection of flora that nobody else would otherwise know exists, and it's his achievement.