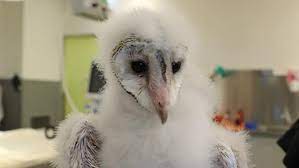 Rescued Baby Owls Soar to Freedom After Zoo Rehabilitation
In a heartwarming tale of resilience and compassion, three baby owls have defied the odds and taken flight once again after being rescued and nurtured back to health at a zoo. The tale begins in the lush landscapes southwest of Melbourne, specifically on the Bellarine Peninsula. It was there that these tiny owlets were discovered, nestled within the hollow of a tree that had been tragically felled.
Fortunately, their fate took a positive turn when they were brought to the Werribee Zoo. Under the dedicated care of the zookeepers, these vulnerable owls were given the chance to recuperate and regain their strength. For a period of two months, they were provided a safe haven, allowing them to heal and grow strong enough for their eventual return to the wild.
During their stay at the zoo, the owlets resided in an enclosed space meticulously designed to replicate a natural tree hollow. This simulated environment played a crucial role in their rehabilitation, as it allowed them to acclimate to a setting similar to their natural habitat. Additionally, their caretakers ensured they received a nutritious wild diet, carefully chosen to promote their physical well-being.
Following their time at Werribee Zoo, the young owls were transferred to a specially constructed aviary located near Torquay. This transitional space served as a vital stepping stone to help the owls readjust to life in the wild. It provided them with a safe environment where they could practice their flying skills and adapt to the challenges of their natural surroundings.
Layla Merritt, a veterinary nurse at Werribee Open Range Zoo, expressed immense pride in witnessing the incredible transformation of these once-vulnerable creatures. "I was incredibly proud to see what beautiful birds they have become," Ms. Merritt remarked. The hand-raising process was essential for their survival since owlets require a minimum of 14 weeks of care before they are strong enough to leave their nests and fend for themselves.
The circumstances that led to the owlets' rescue shed light on the importance of considering wildlife before undertaking certain actions. It is crucial to assess whether any animals may be inhabiting old trees before cutting them down. By doing so, we can prevent the unintentional displacement or harm of creatures that rely on such habitats for their survival.
This heartwarming tale of the rescued baby owls serves as a reminder of the significant impact that human compassion and care can have on wildlife. Through the dedication and expertise of the zookeepers at Werribee Zoo, these precious owls were given a second chance at life. Now, they have taken flight, soaring through the skies, and returning to their rightful place in the wild.
The Ockendon Solar Farm's Remarkable Transformation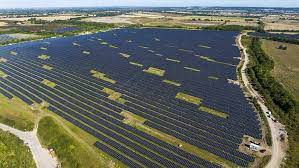 A once-neglected trash dump in England has undergone a breathtaking transformation into one of the United Kingdom's largest solar farms. The Ockendon solar farm, as it is now known, is set to provide electricity to an impressive 15,000 homes. With its 100,000 gleaming solar panels, it proudly stands as the third-largest solar farm in the entire UK.
This remarkable journey from waste ground to green energy oasis reflects the nation's growing commitment to renewable energy and sustainability. Frank Gordon, the director of policy at the Association for Renewable Energy and Clean Technology, highlighted the importance of projects like Ockendon solar farm in addressing the climate crisis. He told The Guardian, "We urgently need more solar in the UK to help meet our legally binding net-zero goals, and this summer's extraordinary global weather has further underlined the need for climate action."
The Ockendon solar farm is a shining example of the UK's transition to cleaner energy sources. Since 2020, nearly half of the nation's power has been sourced from a combination of wind, solar, bioenergy, and hydroelectric sources. This shift towards renewable energy not only reduces harmful emissions but also bolsters energy security and creates jobs in the burgeoning green energy sector.
The transformation of the Ockendon site is nothing short of inspirational. What was once a symbol of waste and environmental neglect has become a symbol of hope for a more sustainable future. As solar farms like Ockendon continue to sprout across the UK, they bring us one step closer to achieving our net-zero emissions goals and safeguarding the planet for generations to come.