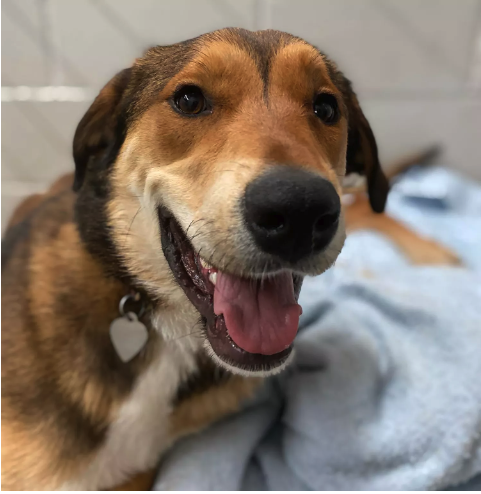 Rescue Dog Walks 10 miles Back to Former Shelter and Rings Doorbell
A lost dog named Bailey from El Paso, Texas recently made a miraculous return to her rescue after being missing. She was recently adopted into her forever home, 10 miles from the shelter when she escaped.
Her new owners searched the neighborhood and posted on social media. There were a few sightings of Bailey, but no one was able to catch her.
Miraculously, Bailey made it back to the rescue and rang the doorbell to alert them of her presence. The owners were shocked and overjoyed to see their pet and quickly took her inside to provide her with food and water. The rescue said:
"Bailey is now safe. To all those who searched, spotted, called, hoped – we thank you. As we know, dogs are incredible. Bailey made her own way back to ARL and rang our ring doorbell at 1:15 am, saying she wanted in. Staff rushed to the shelter and put Bailey in her run," the rescue posted with a photo of Bailey taken by the facility's doorbell camera.
Bailey's return was a mystery to her owners and the local community. How she found her way back to her home from several miles away remains unknown. Some experts believe that dogs have a remarkable sense of smell and can use it to navigate their way back to familiar places.
Bailey's story has spread quickly and has inspired many people. It is a testament to the remarkable resilience and intelligence of dogs and the strong bond they can form with their caretakers.
Jacksonville Man Spreads Love and Positivity at the Beach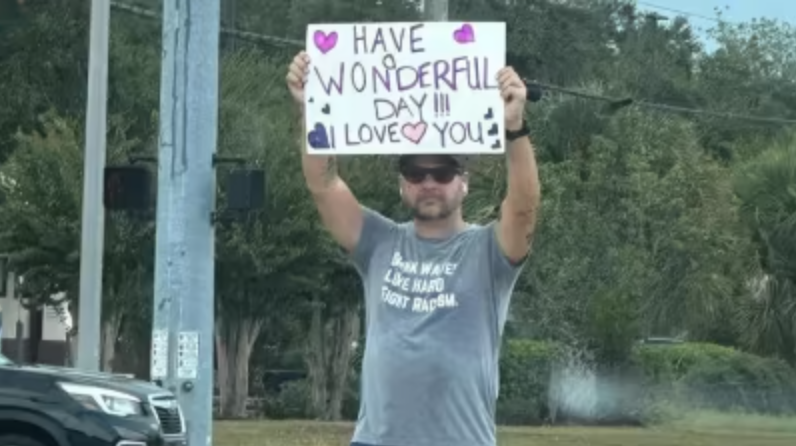 In Jacksonville, Florida, a man has been making waves of positivity and spreading kindness at the Beach Boulevard and San Pablo Road South intersection. With handmade signs that read, "Have a wonderful Day!! I Love You" and "You are Relevant," this man is on a mission to uplift the spirits of those who pass by. His heartwarming gestures have not gone unnoticed, and his actions are especially poignant during National Suicide Prevention Month.
Rika, a local resident, had a unique encounter with this compassionate individual. She was on her way to pick up her lunch when she saw a man standing in the median of the road, holding these uplifting signs. Most of us would just glance and continue on our way, but Rika decided to take a closer look. As she stopped at a red light, she took a few pictures to capture the moment. To her surprise, the man approached her car and handed her a sunflower.
"So picture this… you're out going to pick up your lunch, and there's this random guy walking by with a handmade sign," Rika recounted. "I'm sure like most of us, we'd glance and keep it moving, but I decided to read his sign since I was at a stop light. I snapped a few pictures because why not, but as I was doing this, he approached my car door to hand me a sunflower! Don't forget to appreciate the small things."
This simple act of kindness had a profound impact on Rika, as it has on many others who have encountered this man and his signs. His message of love and importance reminds us all to appreciate the small joys in life and to acknowledge our worth.
The man's efforts are not just a random act of kindness; they hold special significance during National Suicide Prevention Month. September is a time when people and organizations across the country work to raise awareness about mental health and suicide prevention. This Jacksonville man's compassionate actions align perfectly with the spirit of this month, as he strives to remind people that they matter and that there is goodness in the world.