Rescue Dog Helps Save Family from Gas Leak in the Middle of the Night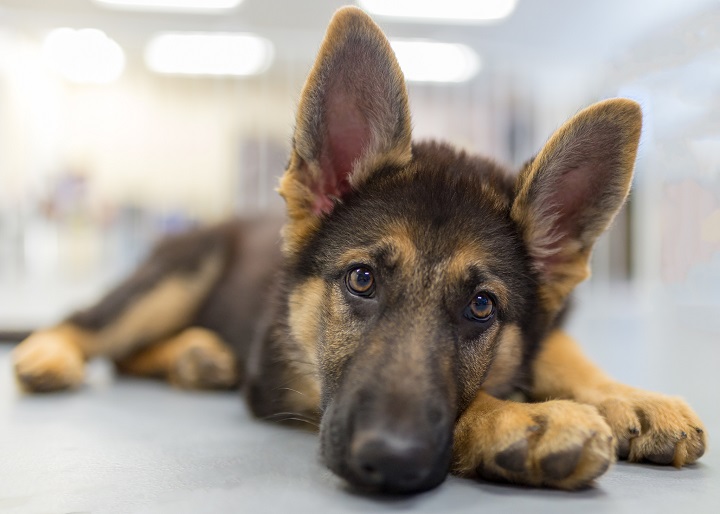 Most people will agree that dogs are smart and, even if they aren't a service dog leading the blind or warning their owners if they are about to have a seizure, any dog can save a family's life. This is exactly what happened with Greta, a German Sheppard rescue.
Five-year-old Greta took awhile to be adopted because she had some problems in the past, but she did eventually find the right forever home with a family in Delaware that also had four other dogs. Ken Walsh, Greta's owner helped work through the issues she was having since he's a dog trainer. Now Greta is a much better behaved dog.
Luckily for the Walsh family, dogs don't always sleep when humans do. One night, after the family went to sleep, the dogs were playing downstairs. One of the four dogs was going to jump on the kitchen counter and an unfortunate accident was about to happen. The dog's leg was caught on the line that connects the propane tank outside to the gas stove. While the dog wasn't injured during this accident, propane started to leak out into the air that the family and the dogs were breathing. If breathing in too much propane, both humans and dogs can die.
The dogs didn't know exactly what was happening, but they could figure out something wasn't good. When the propane started to smell stronger, Greta started barking. She didn't stop barking until her owners came to see if something was wrong. Immediately as he was going to go downstairs, Ken smelled the propane and was able to quickly reattach the disconnected propane line. By the time Walsh got downstairs, the propane had already filled several rooms and could have been much more dangerous if it continued to fill the house. The entire family was able to be saved thanks to Greta's barking. In honor of saving the family, Great was rewarded with sweet potatoes and a steak.
While it's not hard to smell propane and humans can smell it, dogs have a much more incredible sense of smell. Dogs possess up to 300 million receptors in their noses and humans only have about six million. More of a dog's brain is devoted to analyzing smells. There is a reason why so many dogs are used as service animals to help humans with daily life. There are plenty of stories where dogs are credited for saving the lives of their owners. Oftentimes it's rescue dogs that also save their owners. In 2007, days after just being adopted from a shelter, a Doberman Pinscher saved a toddler from a deadly snake. When the dog saw that the snake was about to bite the toddler, the dog quickly pushed the toddler out of the way and instead got bitten but made a full recovery. Another story involves a foster dog that alerted his owner that the child in the house wasn't breathing or waking up. The child had low blood sugar and was taken to the emergency room and survived thanks to the quick thinking of the dog. A third story involves a 12-year-old pit bull that took a bullet to the head in order to save his owners during a home invasion and robbery. The dog survived and after three days was even up going for walks, showing how resilient dogs can be. While Greta's story is heroic, it certainly won't be the last time a dog is credited with saving a family's life.
Police Have 45-Minute Standoff With A Tiger Before Discovering It's Just A Toy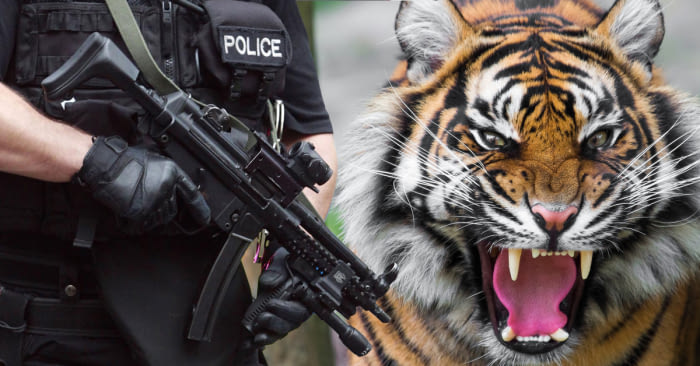 Police have a very difficult job that at times takes a toll on their perception and their ability to judge situations. That being said, sometimes what might seem like the worst situation possible is actually no where near as scary as you might imagine.
Just such a case happened in Scotland when police received a call that a wild tiger was loose on someone's property in February of 2018. The call was about what was perceived to be a wild tiger on the grounds of a farm in the Hatton area that was not restrained or caged. The police took the call from the farm owner himself who claimed he had spotted a real tiger on his farm.
It is not every day that you get a call about a wild animal being loose on someone's property, especially a tiger that could easily kill a person in a matter of seconds. The officers took the time to strategize and figure out how to get the tiger contained without hurting it. They dispatched officers to the farm to take care of the issue and to handle the tiger and before they knew it, they were in a heated and intense standoff with the beast.
They arrived quickly to find the flustered homeowner that was ready for the animal to be removed from his property. The police ended up in a standoff for about 45 minutes before someone noticed something fishy about the ferocious beast. Upon further inspection, it was found that the full size tiger they thought they were fighting, was actually just a stuffed animal that was life size and made to be very realistic.
Though officers felt silly following the call, it was for the best that the animal was not real as it would likely have been killed if it had been. It is not often that this type of animal is loose with the general public, not even in cases where zoos are nearby for the simple fact that they are secured to make sure that they do not escape.
In this case, everything worked out for the best but there have been numerous other cases where an animal escapes or is set free by its owner only to wreak havoc and to scare the living daylights out of everyone that sees them. In most cases, animals that are wild that do escape from captivity are humanely euthanized to prevent them from hurting anyone that is part of the general public.
Officers that were involved in the standoff may have felt silly but in the end it was best for beast and humans alike that the animal turned out to be stuffed. No word on what it was doing on the farm or how it got there but I'm sure the farm owner is happy as well that the ferocious beast turned out to be nothing more than an oversized children's toy that posed no threat.