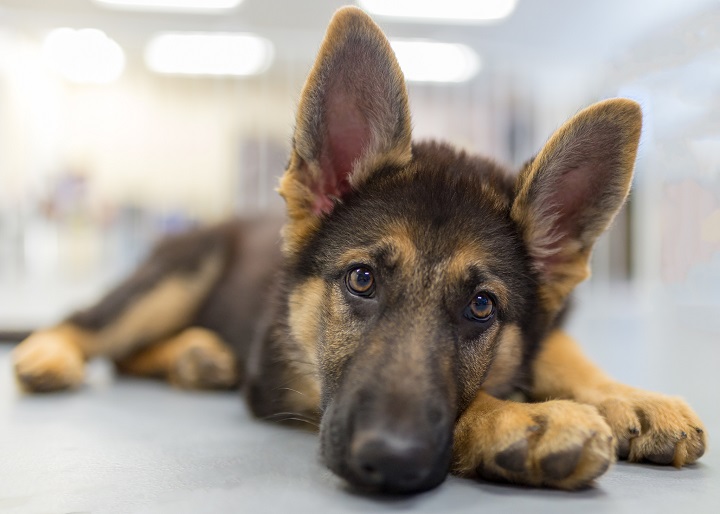 Rescue Dog Helps Save Family from Gas Leak in the Middle of the Night
Most people will agree that dogs are smart and, even if they aren't a service dog leading the blind or warning their owners if they are about to have a seizure, any dog can save a family's life. This is exactly what happened with Greta, a German Sheppard rescue.
Five-year-old Greta took awhile to be adopted because she had some problems in the past, but she did eventually find the right forever home with a family in Delaware that also had four other dogs. Ken Walsh, Greta's owner helped work through the issues she was having since he's a dog trainer. Now Greta is a much better behaved dog.
Luckily for the Walsh family, dogs don't always sleep when humans do. One night, after the family went to sleep, the dogs were playing downstairs. One of the four dogs was going to jump on the kitchen counter and an unfortunate accident was about to happen. The dog's leg was caught on the line that connects the propane tank outside to the gas stove. While the dog wasn't injured during this accident, propane started to leak out into the air that the family and the dogs were breathing. If breathing in too much propane, both humans and dogs can die.
The dogs didn't know exactly what was happening, but they could figure out something wasn't good. When the propane started to smell stronger, Greta started barking. She didn't stop barking until her owners came to see if something was wrong. Immediately as he was going to go downstairs, Ken smelled the propane and was able to quickly reattach the disconnected propane line. By the time Walsh got downstairs, the propane had already filled several rooms and could have been much more dangerous if it continued to fill the house. The entire family was able to be saved thanks to Greta's barking. In honor of saving the family, Great was rewarded with sweet potatoes and a steak.
While it's not hard to smell propane and humans can smell it, dogs have a much more incredible sense of smell. Dogs possess up to 300 million receptors in their noses and humans only have about six million. More of a dog's brain is devoted to analyzing smells. There is a reason why so many dogs are used as service animals to help humans with daily life. There are plenty of stories where dogs are credited for saving the lives of their owners. Oftentimes it's rescue dogs that also save their owners. In 2007, days after just being adopted from a shelter, a Doberman Pinscher saved a toddler from a deadly snake. When the dog saw that the snake was about to bite the toddler, the dog quickly pushed the toddler out of the way and instead got bitten but made a full recovery. Another story involves a foster dog that alerted his owner that the child in the house wasn't breathing or waking up. The child had low blood sugar and was taken to the emergency room and survived thanks to the quick thinking of the dog. A third story involves a 12-year-old pit bull that took a bullet to the head in order to save his owners during a home invasion and robbery. The dog survived and after three days was even up going for walks, showing how resilient dogs can be. While Greta's story is heroic, it certainly won't be the last time a dog is credited with saving a family's life.
Mayor Max III: The Golden Retriever Who Leads with Love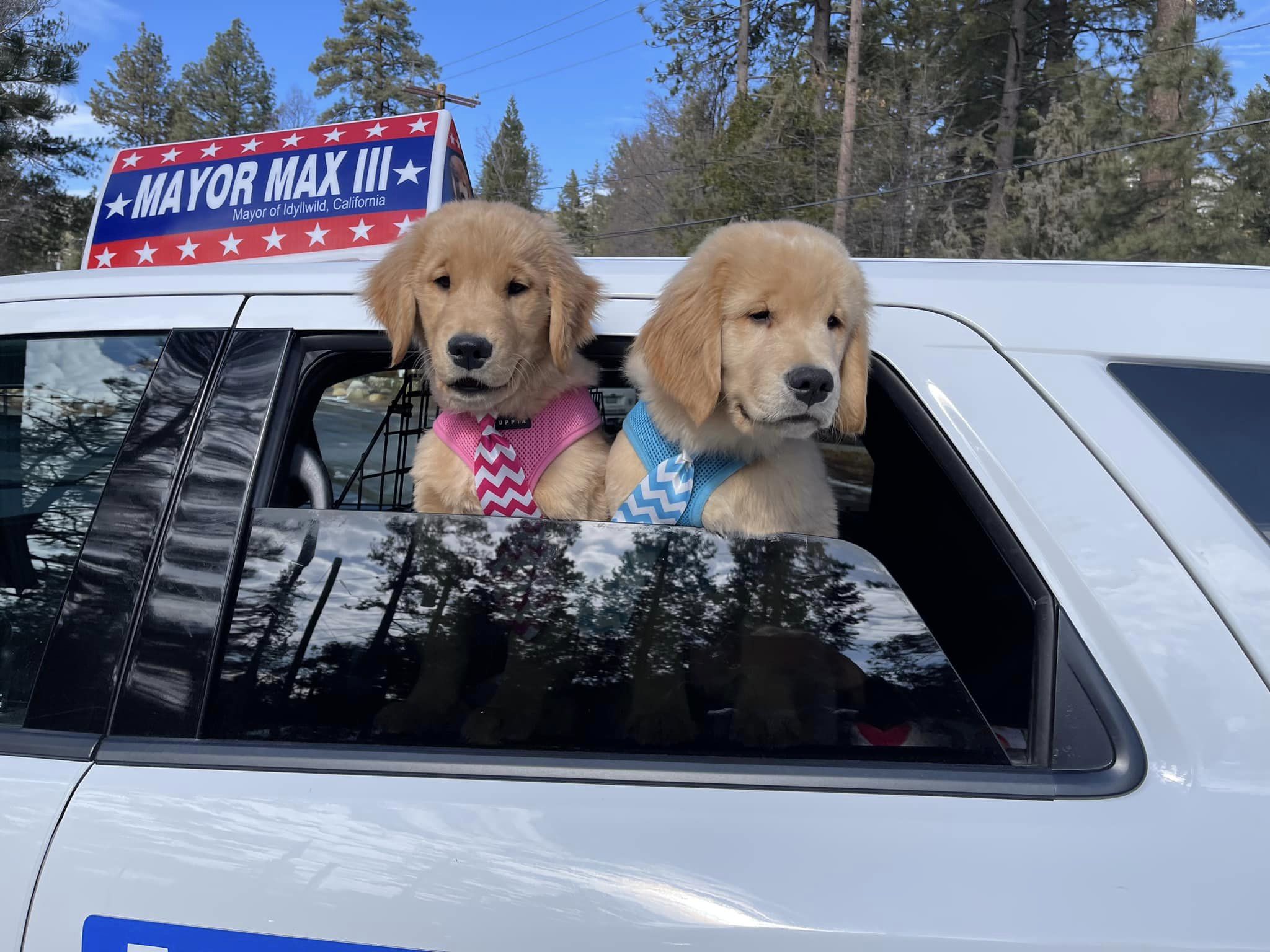 In the picturesque unincorporated mountain town of Idyllwild, nestled in the heart of Southern California, an extraordinary political figure has been making waves for the past year. But this isn't your typical politician; this is Mayor Max III, a lovable and charismatic golden retriever who has celebrated a year in office as the town's mayor. In a town known for its unique and quirky traditions, Max III has carved out a special place in the hearts of the residents.
The legacy of golden retriever mayors in Idyllwild began in 2012 when Mayor Max I took office, followed by Mayor Max II. These remarkable dogs were more than just pets; they were symbols of unity and positivity in a world sometimes marked by division and strife. Max III proudly continues this legacy, and some say he possesses a unique talent passed down from his predecessors—a charming "mouth-closing trick."
Phyllis Mueller, Max III's owner, attests to the magic of this trick. "I just held the treat above his mouth, and he knew exactly what to do, without any instruction," she says with a proud smile. This special skill has become a signature move during his public appearances in the center of town, where Max III has embraced his role with enthusiasm.
Mayor Max III's duties extend beyond his charming tricks. He is a dog on a mission to bring joy and comfort to the people of Idyllwild. His calendar is filled with visits to schools, nursing homes, and hospitals, where he spreads cheer and offers a welcome distraction from life's challenges. "It's a fun way to do politics because we don't do anything divisive, ever," Mueller explains.
Max's journey to becoming the mayor of Idyllwild is a heartwarming tale. Phyllis Mueller, a successful owner of a full-service marketing agency, always maintained a commitment to living on a smaller budget with the intention of giving back to the community. When she adopted Max, she realized that golden retrievers were the perfect ambassadors for her mission to achieve world peace through love and compassion.
Several golden retrievers later, Mueller, along with her husband Warren and their elderly dog Max, made a life-changing move from Pasadena to Idyllwild in the summer of 2011. Fate seemed to be on their side when the town's animal rescue center announced that it would be holding its first-ever election for a non-human mayor. This was the opportunity they had been waiting for.
In their cozy mountain home, Mayor Max III enjoys the perks of his position. Mueller proudly showcases one of two tie closets for the mayor, where Max's collection boasts an impressive 3,000 ties. However, being a mischievous pup at heart, Max couldn't resist indulging in a few of his ties, devouring three of them during his first month in office.
But beyond the ties and the charming tricks, Mayor Max III serves as a reminder to the people of Idyllwild that there is still goodness in the world. "Every day, people do good things," says Mueller, "and these dogs here, they are living angels, and they love you with all their heart."
As Mayor Max III continues his reign, the town of Idyllwild remains a shining example of how love, unity, and the unbreakable bond between humans and their four-legged companions can make the world a better place—one adorable golden retriever at a time.