Rescue Dog Helps Save Family from Gas Leak in the Middle of the Night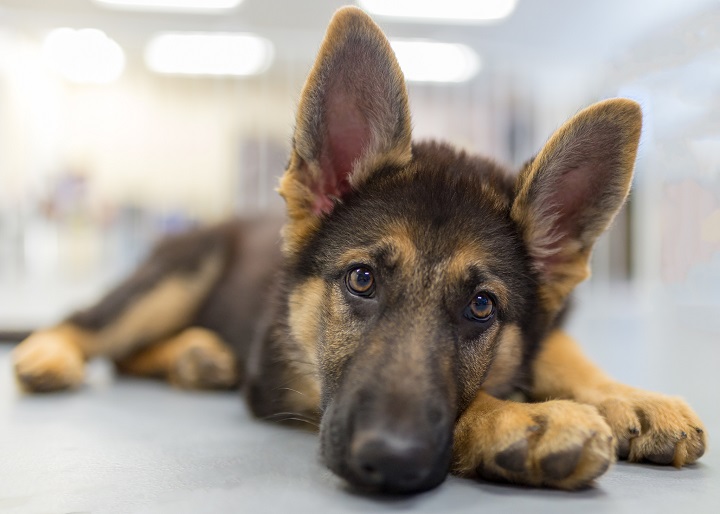 Most people will agree that dogs are smart and, even if they aren't a service dog leading the blind or warning their owners if they are about to have a seizure, any dog can save a family's life. This is exactly what happened with Greta, a German Sheppard rescue.
Five-year-old Greta took awhile to be adopted because she had some problems in the past, but she did eventually find the right forever home with a family in Delaware that also had four other dogs. Ken Walsh, Greta's owner helped work through the issues she was having since he's a dog trainer. Now Greta is a much better behaved dog.
Luckily for the Walsh family, dogs don't always sleep when humans do. One night, after the family went to sleep, the dogs were playing downstairs. One of the four dogs was going to jump on the kitchen counter and an unfortunate accident was about to happen. The dog's leg was caught on the line that connects the propane tank outside to the gas stove. While the dog wasn't injured during this accident, propane started to leak out into the air that the family and the dogs were breathing. If breathing in too much propane, both humans and dogs can die.
The dogs didn't know exactly what was happening, but they could figure out something wasn't good. When the propane started to smell stronger, Greta started barking. She didn't stop barking until her owners came to see if something was wrong. Immediately as he was going to go downstairs, Ken smelled the propane and was able to quickly reattach the disconnected propane line. By the time Walsh got downstairs, the propane had already filled several rooms and could have been much more dangerous if it continued to fill the house. The entire family was able to be saved thanks to Greta's barking. In honor of saving the family, Great was rewarded with sweet potatoes and a steak.
While it's not hard to smell propane and humans can smell it, dogs have a much more incredible sense of smell. Dogs possess up to 300 million receptors in their noses and humans only have about six million. More of a dog's brain is devoted to analyzing smells. There is a reason why so many dogs are used as service animals to help humans with daily life. There are plenty of stories where dogs are credited for saving the lives of their owners. Oftentimes it's rescue dogs that also save their owners. In 2007, days after just being adopted from a shelter, a Doberman Pinscher saved a toddler from a deadly snake. When the dog saw that the snake was about to bite the toddler, the dog quickly pushed the toddler out of the way and instead got bitten but made a full recovery. Another story involves a foster dog that alerted his owner that the child in the house wasn't breathing or waking up. The child had low blood sugar and was taken to the emergency room and survived thanks to the quick thinking of the dog. A third story involves a 12-year-old pit bull that took a bullet to the head in order to save his owners during a home invasion and robbery. The dog survived and after three days was even up going for walks, showing how resilient dogs can be. While Greta's story is heroic, it certainly won't be the last time a dog is credited with saving a family's life.
These Hermit Crabs Will Blow Your Mind With Stunning Natural Ritual.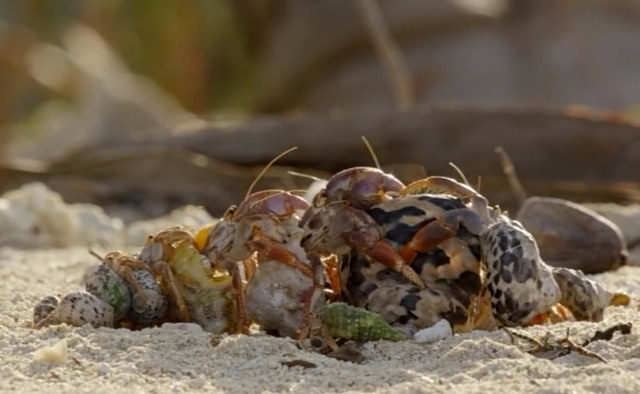 If you are like most people then you are likely fascinated with the ocean and all the creatures inside it. While we can talk forever about massive whales, scuttling squids, and scary sharks, we'd rather highlight a cute little crustacean known as the hermit crab. Now, you've likely heard of the hermit crab and, perhaps, you even know what it looks like. As a member of the superfamily known as the Paguroidea, hermit crabs manage to stand out all on their own. In fact, after learning about this natural ritual that hermit crabs complete, you might even want one of your own!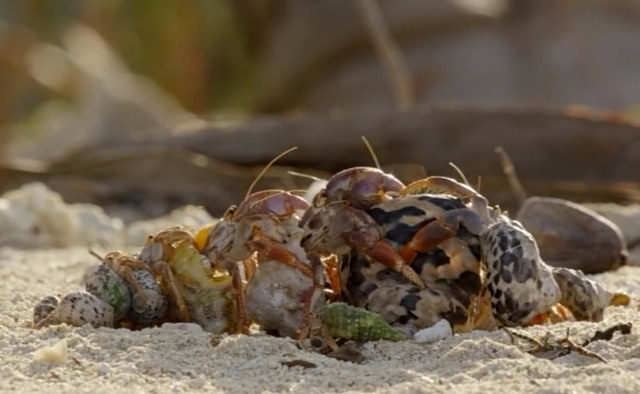 In a post shared on Facebook by a user named Melody Flowers, it was revealed that hermit crabs are always looking for bigger shells to live in. While you probably knew this already, what you didn't realize about this ritual is far more fascinating. According to the post, which has since been backed up by other scientific journals, hermit crabs like to line up next to shells that happen to be too big for them. Hermit crabs can wait for up to eight hours for another crab to come along and try the shell out. Why do these crabs wait next to shells that are too large for them? As it turns out, the first hermit crab is simply waiting for the second crab in line to discard its shell.
So we outlined a natural ritual that hermit crabs undertake when finding a new home. Why is this so fascinating? While you may have summoned up an image of two hermit crabs swapping shells, that isn't entirely accurate. As the second crab lines up behind the shell, more will come to follow. Before long, observers would be able to watch as dozens of hermit crabs all trade shells with one another to ensure that everyone has a comfortable home to live in. The smallest shell of the bunch gets left behind while the shell that started the queue will go to the largest hermit crab of the lot. That's pretty amazing, isn't it? The coordination and cooperation that these hermit crabs have to deploy is nothing short of impressive. If only humans could get along so well when it comes to making to sure everyone is comfortable and safe within their home.
Even though hermit crabs will work together in order to find homes, they are still a competitive species. Gastropod shells can become a limited resource due to a variety of natural and unnatural factors, such as climate change and pollution. When hermit crabs are of a similar size, they are more competitive and violent with one another. When hermit crabs vary dramatically in size, there are more resources available for every member of the group. Hermit crabs are a fascinating sort of creature because they can come in varying sizes with a lifespan ranging between 12 and 70 years. The next time that you see a hermit crab, make sure it has the perfect shell to call home. Maybe it will remember you a couple of decades later!