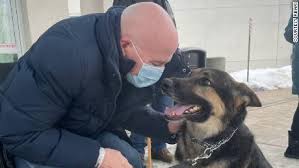 Rescue Dog FINALLY adopted and then saves his owners life
Animal shelters have long been a bastion of hope for creatures that would otherwise be left to fend for themselves or die. Since modern society is not keen on the idea of cats and dogs just roaming around in communities, shelters offer an alternative to the animals being put to death through euthanasia. The Rampago-Bergen Animal Refuge is a primary resource for dogs in New Jersey who would otherwise likely be put down by animal control programs.
The Rampago-Bergen Shelter doesn't just take any animals. They focus on the dogs that otherwise would have been put down a long time ago because they aren't wanted at all. This includes canines that can't be placed with adoption services, or they are just not wanted being too old. Many of the creatures have already been tried with other animal shelters and things didn't work out. That was the case with Sadie. 100 lbs in size and clearly hostile to human males, the big dog was a walking problem on four legs. So, when Brian Myers decided adopt Sadie from the Shelter, he knew he wasn't getting a cuddly puppy. That said, Myers had a soft spot for the dog and needed a grown canine for company and sense of purpose.
Myers knew he had work ahead of him to get through Sadie's reticence to men, but he persisted. It was a good thing he did too. Sadie ended up saving Myers life. After a bit of time, one night Myers wasn't feeling so well. As he was trying to sleep he felt a need to wake up and get out of bed. However, as Myers got up, he instead collapsed. He didn't know it at the time, but the man was suffering from a full-blown stroke. Unable to move and control his body, his cell phone for help might as well been a desert away. However, Sadie recognized Myers was in trouble and needed help. He had enough control to grab her collar, and she dragged him to the phone, literally. It was an odd response, since Myers has no record of Sadie ever being used as some kind of a service dog, but she knew what to do when needed.
For the folks at the Shelter, rescue dogs and their amazing behavior with new owners is not that surprising. They are incredibly attached and loyal to second-chance owners, seeming to understand from experience what the alternative has meant for them. Every rescue dog has one thing in common, significant loss in terms of a prior life and sense of belonging to a home. So if they are able to re-connect again to another human, they seem to switch on again and protect that bond even more viscerally than ever before.
For Myers his help from Sadie allowed him to get medical help early in the stroke, which made a tremendous difference in his recovery. While he did spend a month in recovery, Sadie was brought to him, and she was all over Myers in an instant seeing him healthy again. Whatever problems Sadie had before being adopted, she was obviously Myers' dog now without question, unconditionally.

Joyous Return of Assumed Extinct Mini Pig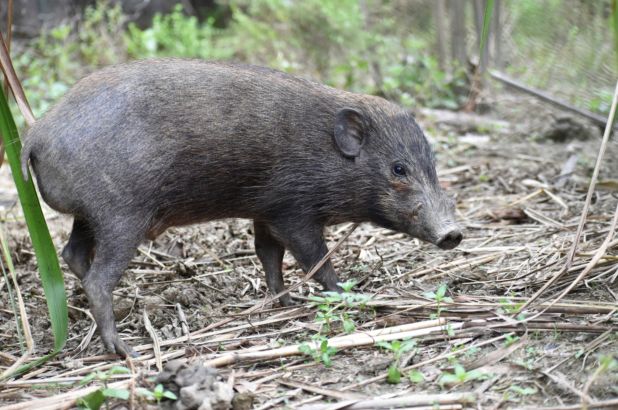 When animals go extinct, they become a footnote in history. The return of an assumed extinct species is not common. In fact, it's downright rare. So, in 1971, when the pygmy pig in India disappeared, many biologists and researchers expected the creature to be done for. The little creature normally lived in the foothills before the Himalayas reach up for the clouds and normally would reach a rocketing 10 inches in height off the ground. Given its natural size, the pygmy pig generally tried to stay out of sight to keep off the dinner menu of predators. It's own diet consisted of bugs and tubers, more than enough to keep the creature fed.
An Amazing Turnaround
However, after 100 years of human intervention and encroachment, by the 1970s the pig was written off. It wasn't until another 20 or so years later, researchers in the area managed to catch a few of the pygmy pigs alive. They nurtured them in captivity until they bred, and then the teams worked to continue increasing the pigs numbers. Finally, enough of a population was raised that the researchers could actually attempt to let the pygmy pigs go. The releases began in Assam, in the northeast part of India. And so began 25 more years of work trying to get the wild pigs to increase their number and avoid a complete wipeout. Today, some 300 to 400 creatures are estimated to be alive, running wild. Another 76 are held in reserve and continue to be raised in captivity, just in case. However, the best news is, the species is living again.
More Than One Colony Makes a Party
In addition to the original release in Assam, additional pigs have been released, with colonies established in Manas as well as Orang, both national parks in India, as well as a pair of animal sanctuaries.
The world can't afford to lose more species to extinction thanks to human development, including pigs. Currently, there are only 17 types of pigs left today. Without the efforts of conservationists, that number would drop further. Each extinction is like someone taking a giant eraser to a chalkboard of millions of years of evolution.
Of course, now the problem is nature itself as well. While the pygmy pig population has stabilized and is growing, the bigger problem is that they are still fragile. Swine flu and similar conditions can easily decimate these pigs before anyone can stop it simply through contagion. So, the conservationists have their hands full trying to keep the populations safe and separated from any carriers with potential viral threats.
Conservationism can be hard, and oftentimes it ends in disappointment trying to save an endangered creature. However, in India, this time the pygmy pig can be considered a win. And, if things stay on track, it should be able to re-establish itself very well.