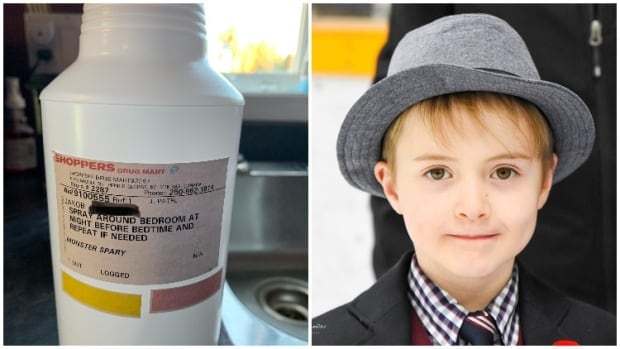 Read how pharmacist's magic solution helped a Prince George Boy get rid of monsters under his bed
A boy is finally able to keep the monsters under his bed at bay with the help of a pharmacist's potion.
Seven year old Jakob had always been scared when it's time to sleep and often had to sneak to his parents' bed. Seeing the frequent occurrences, his mother, Heather Garfield had to find something to quell her son's uneasiness.
"He's been having some trouble with fears at night and what lies in the darkness, what's outside his bedroom, what's under his bed," she told CBC's Radio West's Sarah Penton.
The same thing had happened in the family years ago, albeit, it was Garfield's older son this time around. He too developed the same anxiety at bedtime. To quell his worries, he crafted a "monster spray" to spritz all over his room. Garfield said, it worked.
It was over a different situation with Jakob as he had no belief in any age long home solution.
"He's a little too smart for his own good sometimes," Garfield said. "So I had to make it quite official."
His mother had to do something and off she made her way down to Shoppers Drug Mart pharmacy where she tabled her weird request: a bottle of monster spray. If that wasn't available, Garfield wanted anything that bears a resemblance to that monster spray.
"She told me that she had one kind of weird request," pharmacy manager Jepal Patel said.
"I wanted to help her … I really loved her idea."
She would later get it. Within a few minutes. She left the pharmacy with Jakob's new solution, one that will quench the monsters in his room. The spray bottle came with a special packaging: it had the official pharmacy label, Jakob's name and instructions for use.
"Spray around bedroom at night before bedtime and repeat if needed."
What was the ingredients for the monster spray? Let's keep that a secret but we do know water is one of them.
'If monster spray is real that means monsters are real'
Getting home, Garfield mixed a small portion of lavender oil to boost its potency and gave the bottle to Jakob. She took a photo of the potion and made a post about it in her local Facebook group, detailing the story as well. Surprisingly, it received a lot of shares.
Many parents claim they've replicated the same idea for their kids as well.
Has it worked for Jakob? Garfield said the first night, she was startled at the sight of Jakob at her bed.
"He looks at me and says, 'Mom I think it's just water,'" Garfield said.
Garfield had to persuade and convince Jakob about the effectiveness of his special spray, assuring him the spray will work and the monsters will be no more.
"He said, 'Well mommy, if monster spray is real that means monsters are real."
Perhaps for now, the monsters will remain under the bed.
Kevin Bacon the Pig Found with Hollywood Help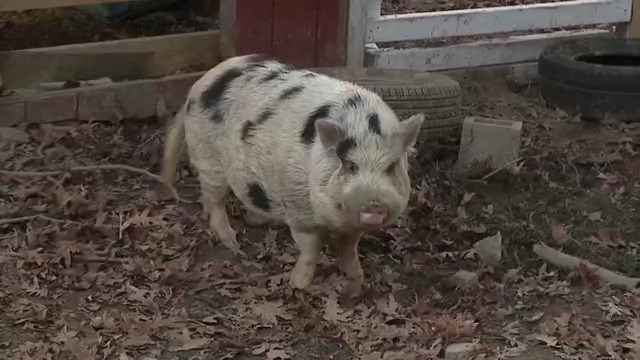 In a heartwarming tale that could rival any Hollywood movie, a missing pig named Kevin Bacon has been found after a two-week adventure in the woods of Pennsylvania. What makes this story even more special is the unexpected involvement of actor Kevin Bacon himself.
Kevin Bacon, the pig, became the center of attention when he went missing from his home in Pennsylvania. Owned by Chelsea Rumbaugh, Kevin had only joined the family in October before deciding to explore the great outdoors on his own. Chelsea shared the news of her missing pig on a Facebook group she created, aptly named 'Bring Kevin Bacon Home.'
"We were so close to him; my 16-year-old was petting him," Rumbaugh explained in her post. "He stayed close but eventually took off into the woods."
Enter the unexpected hero, actor Kevin Bacon. When he caught wind of the missing pig's plight, he shared the information on his social media thread. The actor's post not only drew attention to the missing pig but also brought the community together in the search for the adorable runaway.
Despite the collective efforts to capture Kevin Bacon the pig, he remained elusive. That is until a clever strategy involving a sticky bun laced with pet-safe Benadryl was employed. The irresistible treat proved to be the key to success. After indulging in the sticky bun, Kevin Bacon the pig became drowsy, making it easier for the search party to guide him back to his pen.
To ensure that this escapade wouldn't happen again, Kevin Bacon's pen underwent reinforcement with concrete. This measure was taken to prevent the adventurous pig from using his tunneling skills for future escapes.
The story of Kevin Bacon the pig's disappearance and rescue not only highlights the power of community efforts but also shows how even Hollywood celebrities like Kevin Bacon can play a role in helping those in need, no matter how small or four-legged they may be. The happy ending to this tale brings a smile to all those who followed the journey of Kevin Bacon, the pig who briefly took the spotlight with a little help from his famous namesake.