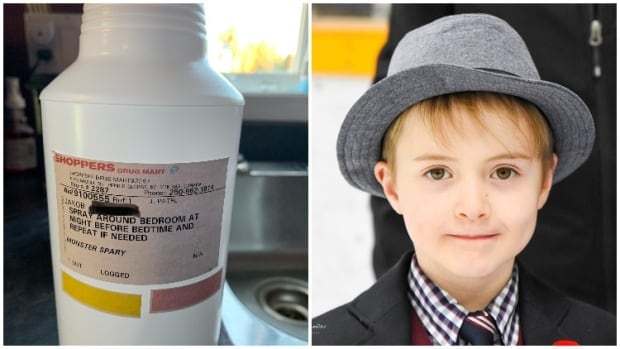 Read how pharmacist's magic solution helped a Prince George Boy get rid of monsters under his bed
A boy is finally able to keep the monsters under his bed at bay with the help of a pharmacist's potion.
Seven year old Jakob had always been scared when it's time to sleep and often had to sneak to his parents' bed. Seeing the frequent occurrences, his mother, Heather Garfield had to find something to quell her son's uneasiness.
"He's been having some trouble with fears at night and what lies in the darkness, what's outside his bedroom, what's under his bed," she told CBC's Radio West's Sarah Penton.
The same thing had happened in the family years ago, albeit, it was Garfield's older son this time around. He too developed the same anxiety at bedtime. To quell his worries, he crafted a "monster spray" to spritz all over his room. Garfield said, it worked.
It was over a different situation with Jakob as he had no belief in any age long home solution.
"He's a little too smart for his own good sometimes," Garfield said. "So I had to make it quite official."
His mother had to do something and off she made her way down to Shoppers Drug Mart pharmacy where she tabled her weird request: a bottle of monster spray. If that wasn't available, Garfield wanted anything that bears a resemblance to that monster spray.
"She told me that she had one kind of weird request," pharmacy manager Jepal Patel said.
"I wanted to help her … I really loved her idea."
She would later get it. Within a few minutes. She left the pharmacy with Jakob's new solution, one that will quench the monsters in his room. The spray bottle came with a special packaging: it had the official pharmacy label, Jakob's name and instructions for use.
"Spray around bedroom at night before bedtime and repeat if needed."
What was the ingredients for the monster spray? Let's keep that a secret but we do know water is one of them.
'If monster spray is real that means monsters are real'
Getting home, Garfield mixed a small portion of lavender oil to boost its potency and gave the bottle to Jakob. She took a photo of the potion and made a post about it in her local Facebook group, detailing the story as well. Surprisingly, it received a lot of shares.
Many parents claim they've replicated the same idea for their kids as well.
Has it worked for Jakob? Garfield said the first night, she was startled at the sight of Jakob at her bed.
"He looks at me and says, 'Mom I think it's just water,'" Garfield said.
Garfield had to persuade and convince Jakob about the effectiveness of his special spray, assuring him the spray will work and the monsters will be no more.
"He said, 'Well mommy, if monster spray is real that means monsters are real."
Perhaps for now, the monsters will remain under the bed.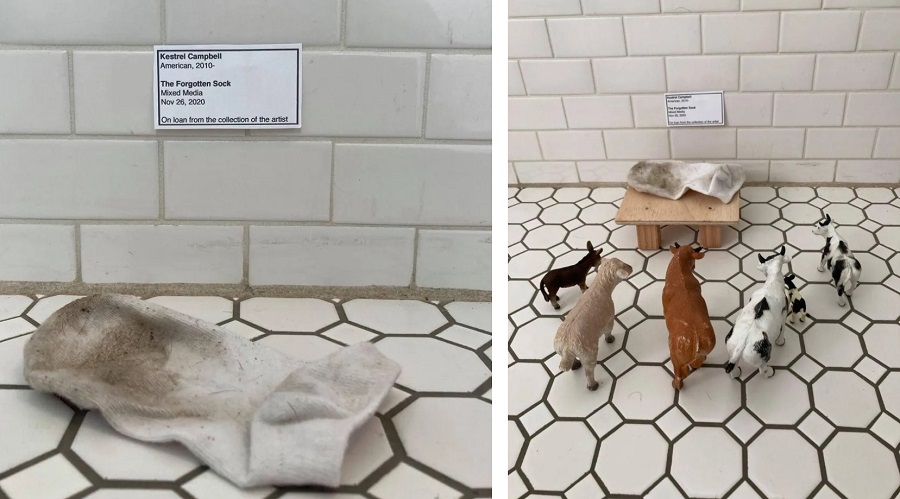 Social media is a very intriguing place, and just about anything can go viral these days—anything from a dancing cat to a romantic proposal. Sometimes, people post things on social media without the expectation of going viral, but some stories like the one today were just too good not to be viewed by millions of people.
Kids are notorious for leaving dirty laundry thrown around their room. They expect their parents to clean up after them, but it's just something kids love to do. A mom from Port Townsend, Washington, had quite an interesting response to her daughter leaving dirty socks around the house.
Ms.Campbell had the idea of waiting for her daughter out, in a sort of "social experiment" with the hopes her daughter would clean up after herself. She left the dirty sock in place without picking it up.
The "Forgotten Sock," the name the dirty sock on the bathroom floor came to be known as wasn't an uncommon thing around the home of the Campbell's. Just like most parents usually have to do, she would pick up the socks and throw them in with the dirty laundry, but this time she wished to switch things up a little. She decided it would be a great idea to play the waiting game with her daughter and see just how long she would leave a dirty sock lying on the floor. I know I'm guilty of leaving dirty clothes around my home once or twice before.
To her surprise, a week had gone by, and the sock was still on the bathroom floor. This was when she took to social media with her master plan of sorts. She did what any other parent would do, took pictures of it and labeled them, posting it on her Facebook account. She wrote about a paragraph describing what was taking place and hilariously calling her daughter an artist and describing the sock as "mixed media."
The Campbell's are a light-hearted family, and Ms. Campbell looked at this as more of a joke than anything else. She figured her daughter would find her post a bit funny and roll along with it. She assumed her daughter, who is her friend on Facebook, would eventually run into the post and pick her sock up, but that wasn't the case. The series of events following this is best described as comical.
Most kids use social media nowadays, so it's not surprising that her daughter ran into her mom's post. After seeing the bar, her daughter sent her a text asking if she put the label on the picture. Instead of getting mad like most people her age would, she had a surprising response. Instead of picking up the dirty sock on the bathroom floor, she hilariously put the iconic "Forgotten sock" on a small pedestal she made.
According to her interview done with Today's Parents, she did not expect that reaction from her daughter. It took her by surprise when she went as far as making a pedestal for the sock, but they did have a really good laugh at the situation. They did enjoy the social media attention it received, and now it's just an enjoyable time for them to look back on in the future.