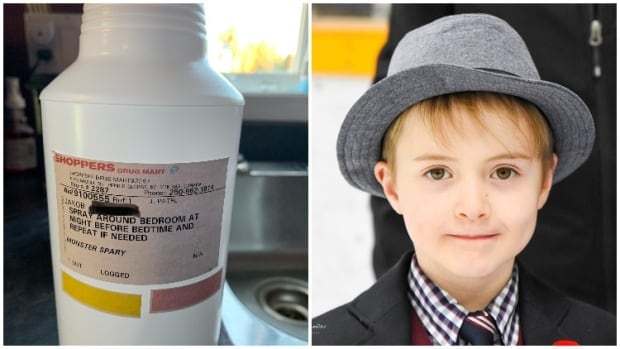 Read how pharmacist's magic solution helped a Prince George Boy get rid of monsters under his bed
A boy is finally able to keep the monsters under his bed at bay with the help of a pharmacist's potion.
Seven year old Jakob had always been scared when it's time to sleep and often had to sneak to his parents' bed. Seeing the frequent occurrences, his mother, Heather Garfield had to find something to quell her son's uneasiness.
"He's been having some trouble with fears at night and what lies in the darkness, what's outside his bedroom, what's under his bed," she told CBC's Radio West's Sarah Penton.
The same thing had happened in the family years ago, albeit, it was Garfield's older son this time around. He too developed the same anxiety at bedtime. To quell his worries, he crafted a "monster spray" to spritz all over his room. Garfield said, it worked.
It was over a different situation with Jakob as he had no belief in any age long home solution.
"He's a little too smart for his own good sometimes," Garfield said. "So I had to make it quite official."
His mother had to do something and off she made her way down to Shoppers Drug Mart pharmacy where she tabled her weird request: a bottle of monster spray. If that wasn't available, Garfield wanted anything that bears a resemblance to that monster spray.
"She told me that she had one kind of weird request," pharmacy manager Jepal Patel said.
"I wanted to help her … I really loved her idea."
She would later get it. Within a few minutes. She left the pharmacy with Jakob's new solution, one that will quench the monsters in his room. The spray bottle came with a special packaging: it had the official pharmacy label, Jakob's name and instructions for use.
"Spray around bedroom at night before bedtime and repeat if needed."
What was the ingredients for the monster spray? Let's keep that a secret but we do know water is one of them.
'If monster spray is real that means monsters are real'
Getting home, Garfield mixed a small portion of lavender oil to boost its potency and gave the bottle to Jakob. She took a photo of the potion and made a post about it in her local Facebook group, detailing the story as well. Surprisingly, it received a lot of shares.
Many parents claim they've replicated the same idea for their kids as well.
Has it worked for Jakob? Garfield said the first night, she was startled at the sight of Jakob at her bed.
"He looks at me and says, 'Mom I think it's just water,'" Garfield said.
Garfield had to persuade and convince Jakob about the effectiveness of his special spray, assuring him the spray will work and the monsters will be no more.
"He said, 'Well mommy, if monster spray is real that means monsters are real."
Perhaps for now, the monsters will remain under the bed.
Geese Showing Off By Flying Upside Down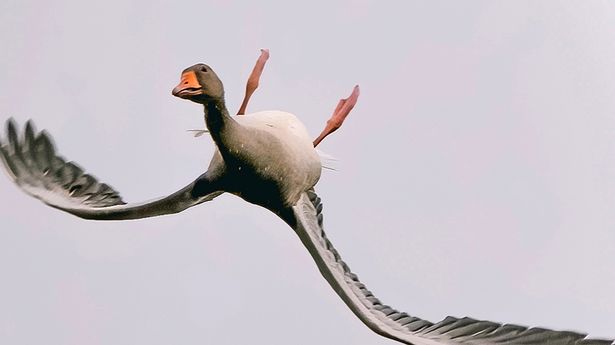 Amateur photographers love to get great shots, especially given that sometimes they seem random, and the trick to reaching professional status is to produce great shots consistently versus every once in a while. So, for photographers in Holland watching geese fly near Arnhem, the opportunity to catch a goose flying upside down was a bit out of the norm and eye-catching. As it turned out, the goose was showing off.
Geese in the region have regularly been seen flying upside down, which might seem somewhat odd to the bystander seeing the behavior for the first time. Locally referred to as "whiffling," upside-down geese flying occurs on a regular basis when the bird manages to twist its belly up in the air and keep flying while the head is also twisted right side up. No one is quite sure why geese do this, but some guesses are it helps distract would-be predator birds from attacking when something looks odd, or it slows the goose's flight to the ground. Geese are not the only birds to perform whiffling either; lapwings and godwits have been seen doing the same in flight.
Vincent Cornelissen was the lucky photographer who was able to snap a wonderfully clear shot of a goose near Arnhem, and it was his image that ended up triggering the latest online debate and interest in geese whiffling. Cornelissen had posted the image to his Facebook page to show off the photograph, and it ended up expanding his audience to some 10,000 different followers as a result. One particular fellow in Turkey turned out to be an aerodynamics professor at Istanbul University and used Cornelissen's image as an example for students studying flight capabilities.
The upside-down goose was not Cornelissen's first bird shot either. The photographer has been watching and catching images of birds since childhood, and his library of photographs over the years has grown expansive. However, the odd goose flight could arguably be Cornelissen's most famous photograph by far. It was pure accident that he even got the shot, simply noticing that one of the birds was flying weirdly at the time. The odd flight approach wasn't fully noticed until Cornelissen was working on post-processing of his images when he realized what the bird was doing.
At first, Cornelissen thought his audience would accuse the amateur of photoshopping the image, the practice of making a fake image with Adobe Photoshop, a highly powerful post-processing image editing program. However, Cornelissen was soon buffered by those in other countries who confirmed the behavior as being real and accurate.
As it turns out, when young geese become accomplished in flight, they do dumb stuff, most notably, flying upside down to apparently "show off." It works great until the goose runs into trouble and then has to adjust for a potential flight mishap and crash on the ground. The whiffling has been confirmed by other photographers after Cornelissen's image was produced, but his image remains the greatest clarity so far of the goose's flight behavior.