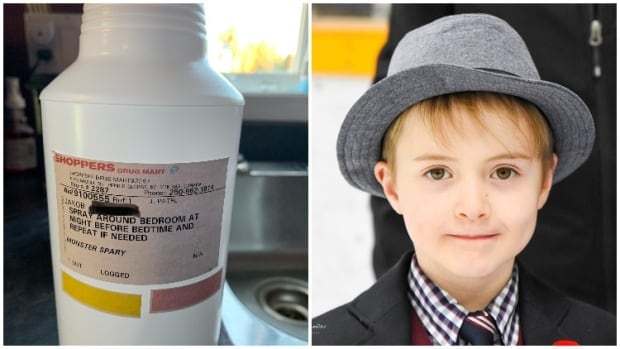 Read how pharmacist's magic solution helped a Prince George Boy get rid of monsters under his bed
A boy is finally able to keep the monsters under his bed at bay with the help of a pharmacist's potion.
Seven year old Jakob had always been scared when it's time to sleep and often had to sneak to his parents' bed. Seeing the frequent occurrences, his mother, Heather Garfield had to find something to quell her son's uneasiness.
"He's been having some trouble with fears at night and what lies in the darkness, what's outside his bedroom, what's under his bed," she told CBC's Radio West's Sarah Penton.
The same thing had happened in the family years ago, albeit, it was Garfield's older son this time around. He too developed the same anxiety at bedtime. To quell his worries, he crafted a "monster spray" to spritz all over his room. Garfield said, it worked.
It was over a different situation with Jakob as he had no belief in any age long home solution.
"He's a little too smart for his own good sometimes," Garfield said. "So I had to make it quite official."
His mother had to do something and off she made her way down to Shoppers Drug Mart pharmacy where she tabled her weird request: a bottle of monster spray. If that wasn't available, Garfield wanted anything that bears a resemblance to that monster spray.
"She told me that she had one kind of weird request," pharmacy manager Jepal Patel said.
"I wanted to help her … I really loved her idea."
She would later get it. Within a few minutes. She left the pharmacy with Jakob's new solution, one that will quench the monsters in his room. The spray bottle came with a special packaging: it had the official pharmacy label, Jakob's name and instructions for use.
"Spray around bedroom at night before bedtime and repeat if needed."
What was the ingredients for the monster spray? Let's keep that a secret but we do know water is one of them.
'If monster spray is real that means monsters are real'
Getting home, Garfield mixed a small portion of lavender oil to boost its potency and gave the bottle to Jakob. She took a photo of the potion and made a post about it in her local Facebook group, detailing the story as well. Surprisingly, it received a lot of shares.
Many parents claim they've replicated the same idea for their kids as well.
Has it worked for Jakob? Garfield said the first night, she was startled at the sight of Jakob at her bed.
"He looks at me and says, 'Mom I think it's just water,'" Garfield said.
Garfield had to persuade and convince Jakob about the effectiveness of his special spray, assuring him the spray will work and the monsters will be no more.
"He said, 'Well mommy, if monster spray is real that means monsters are real."
Perhaps for now, the monsters will remain under the bed.
Man Creates AI Program To Alert Him And Greet Dogwalkers in His Community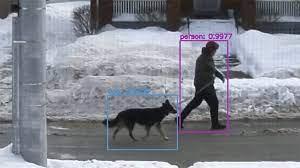 Dogs are deemed as man's best friend for a multitude of reasons. What we have to understand, though, is that the love has to be shown to the dog as much as we want to be delivered to us.
Watching someone walking their dog is a pastime that never grows old, to the point that one man decided to build a hi-tech machine to detect when dogs and their owners were passing by his home.
Is that a thing? Certainly it is, and it has been bringing immense joy to him as well as the pups and their masters as they pass by his home.
Some people think it's cute, others eerie, but no one can deny the thought and creativity behind developing that machine.
This may become the new greeting technology based on the incredible level of responses that have been pouring out towards both the owner and his creation, as you'll learn below.
If you have at any point spent an evening(or the whole year 2020) on the internet looking at adorable dog videos, you'll understand why Ryder of YouTube fame decided to create a computer, powered by Artificial Intelligence, which is able to discern dogs walking along the street pass their house and instantly shout praises to the dog walkers or owners.
His Youtube program is called Ryder Calm and has earned quite a following.
Getting things done by looking at the real puppers has always been better than wasting time and looking at only pictures of puppies, so the development began as an automated manner for Ryder to identify when somebody was walking down the street past their home. The computer, which is based on a Raspberry Pi, assesses a live feed from the camera module and employs a machine learning model (in this case, the YOLOv3) that has been programmed to recognize about Eighty different items, including people, vehicles, and dogs.
When a passing puppy is detected, an alarming automated text-to-speech voice warns Ryder via an actual megaphone, allowing them to rush to the window on time to catch sight, no matter what they're doing.
Watching dogs is obviously not just his passion, but clearly an activity that his entire family enjoys doing. They enjoy it so much that they've programmed the system to function even during their absence. If that isn't innovative, then what is?
For those occasions when they aren't home to hear the alarm, the system can be programmed to play a pre-recorded "I like your dog!" message through the window, providing a complimentary dopamine boost to anybody walking their dog down Ryder's street.
It's a random and somewhat weird act of generosity, but I think we'd all take something at this stage. After all, any good gesture is better than the negativity endured throughout 2020, right?