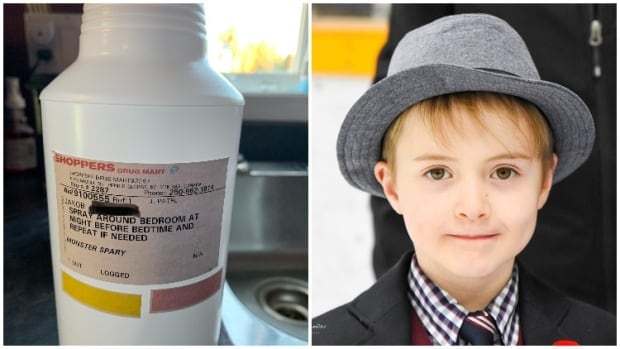 Read how pharmacist's magic solution helped a Prince George Boy get rid of monsters under his bed
A boy is finally able to keep the monsters under his bed at bay with the help of a pharmacist's potion.
Seven year old Jakob had always been scared when it's time to sleep and often had to sneak to his parents' bed. Seeing the frequent occurrences, his mother, Heather Garfield had to find something to quell her son's uneasiness.
"He's been having some trouble with fears at night and what lies in the darkness, what's outside his bedroom, what's under his bed," she told CBC's Radio West's Sarah Penton.
The same thing had happened in the family years ago, albeit, it was Garfield's older son this time around. He too developed the same anxiety at bedtime. To quell his worries, he crafted a "monster spray" to spritz all over his room. Garfield said, it worked.
It was over a different situation with Jakob as he had no belief in any age long home solution.
"He's a little too smart for his own good sometimes," Garfield said. "So I had to make it quite official."
His mother had to do something and off she made her way down to Shoppers Drug Mart pharmacy where she tabled her weird request: a bottle of monster spray. If that wasn't available, Garfield wanted anything that bears a resemblance to that monster spray.
"She told me that she had one kind of weird request," pharmacy manager Jepal Patel said.
"I wanted to help her … I really loved her idea."
She would later get it. Within a few minutes. She left the pharmacy with Jakob's new solution, one that will quench the monsters in his room. The spray bottle came with a special packaging: it had the official pharmacy label, Jakob's name and instructions for use.
"Spray around bedroom at night before bedtime and repeat if needed."
What was the ingredients for the monster spray? Let's keep that a secret but we do know water is one of them.
'If monster spray is real that means monsters are real'
Getting home, Garfield mixed a small portion of lavender oil to boost its potency and gave the bottle to Jakob. She took a photo of the potion and made a post about it in her local Facebook group, detailing the story as well. Surprisingly, it received a lot of shares.
Many parents claim they've replicated the same idea for their kids as well.
Has it worked for Jakob? Garfield said the first night, she was startled at the sight of Jakob at her bed.
"He looks at me and says, 'Mom I think it's just water,'" Garfield said.
Garfield had to persuade and convince Jakob about the effectiveness of his special spray, assuring him the spray will work and the monsters will be no more.
"He said, 'Well mommy, if monster spray is real that means monsters are real."
Perhaps for now, the monsters will remain under the bed.
Punk Kid Goes From Homeless to Opening A Quirky Barbershop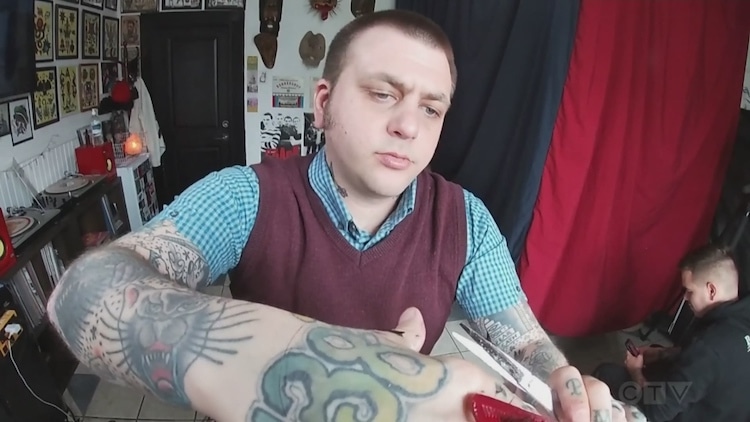 If you've ever seen the musical movie, Sweeney Todd: The Demon Barber of Fleet Street, starring Johnny Depp and Helena Bonham-Carter, then you could be forgiven for thinking twice before stepping into a barbershop for a straight-razor shave. However, many people have that reaction as well when stepping into Daryl Bidner's Little Barbershop of Horrors in today's Vancouver Island.
Bidner himself was never one for being mainstream. Growing up as a punk kid in his teen years, the barber today is a close-cropped fellow, arms blazoned with tattoos, and a late 1960s skinhead-style outfit décor via collared shirt, sleeveless sweater matched to his jeans and boots. However, when it comes to cutting hair, Bidner is all the professional and about business.
Starting off definitely wanting his barbershop to stand out and apart from the competition locally, Bidner modeled the entire theme of his haircutting venue around the movie, Little Shop of Horrors. He parlayed his interest in cutting hair for friends with mohawks into a bona fide skill, and now enjoys regular business as a barber for clientele young and old.
However, life wasn't always peachy-keen for Bidner. He was a school drop-out, had been in and out of drug addiction, and reached his own personal bottom after being homeless for an extended period. Ironically, it was a tattoo that finally seemed to put the young man back on track. His first tattoo allowed Bidner to skip the usual downspin of wasting the night high on something, and he sobered up. A number of days later, he did it again, using tattoos to get clean. By the 40th inking, Bidner was fundamentally off his addictions and broke his need to use mindlessly.
The tattooing was cathartic for Bidner, and he finally began to think about tomorrow instead of the next binge today. That in turn got him into thinking what Bidner could do for a proper living. Obviously, the young man was not going to go and wear a corporate suit the following Monday. So, he looked around at what made sense. Being a tattoo artist was logical, but then haircutting and being a barber appealed even more.
Bidner knuckled down, figured out how to get himself into barbering school, and after three years of grinding to perfect his skill, he had a license and started his own business with a single barber chair. Since that major breakthrough, Bidner has been at it as a barber for over five years, and he's been involved with community help drives and giving free haircuts to the homeless at local shelters as well. No surprise, Bidner credits his profession for saving his life and giving him direction, but it has also been a living lesson to others that no matter how bad it gets, people can pull themselves out and up again.