Quilty the Escape-Artist Cat Sets His Fellow Shelter Cats Free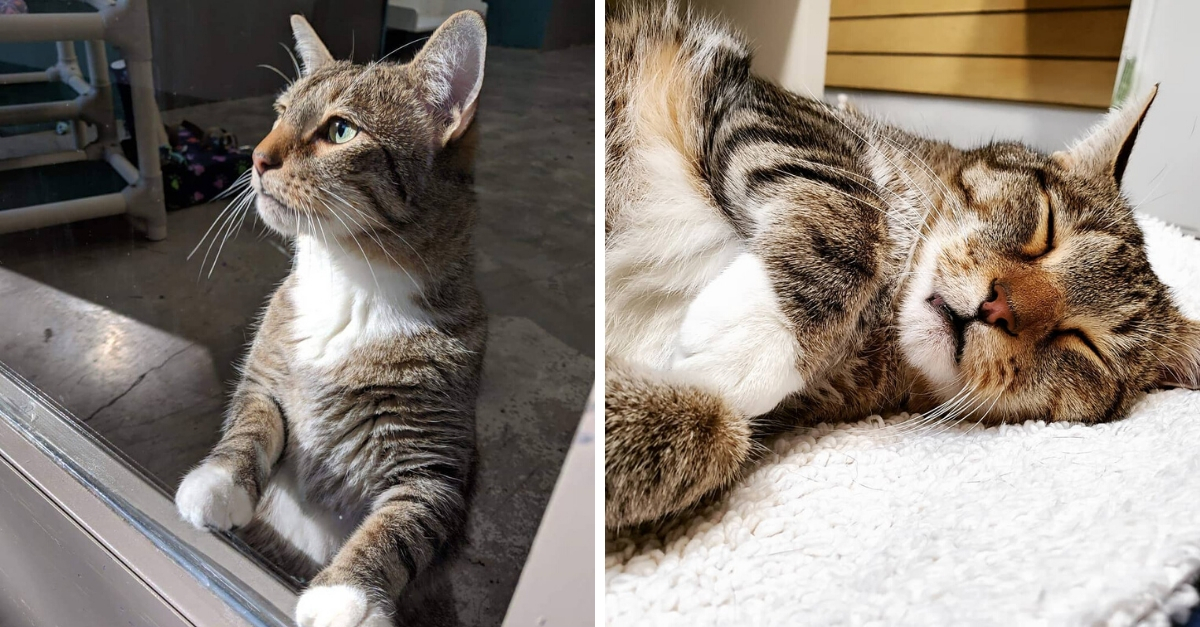 Meet Quilty: a devious 6-year-old rescue cat with a mission to help his friends roam free.
Shortly after Quilty's arrival to the Friends for Life animal shelter in Houston, Texas, staff members noticed the door to the senior cat room (where Quilty was residing) was mysteriously open every morning. As a result, all of the senior kitties would be meandering freely through the entire shelter.
The breakouts became so frequent that the Friends for Life staff eventually checked their security footage to solve this mystery. Lo and behold, the culprit was caught: Quilty!
Quilty would open the door to the senior cat room not only at night, but several times throughout the day by jumping up and pulling down the door handle. In a Facebook post, the shelter explained that "Quilty-proofing" the senior cat room was a necessity.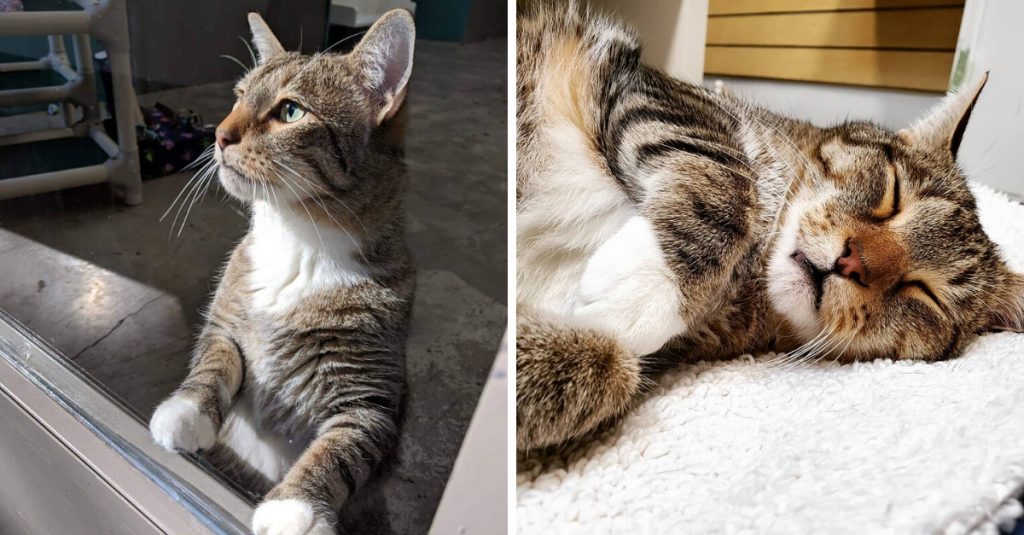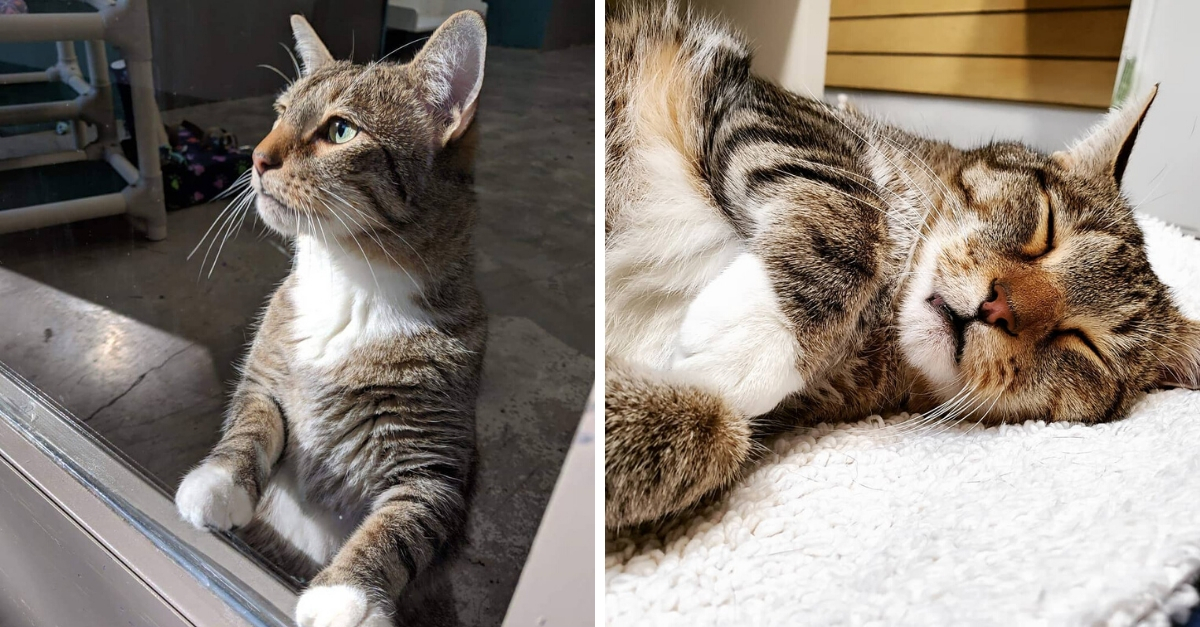 Quilty was placed in "solitary confinement" in the lobby while the staff worked to make sure his escapades would be impossible to repeat. The shelter explained that although the senior cats would likely miss their adventures in the shelter, the "staff did not miss the morning cat wrangling, so we'll just have to agree to disagree there."
Upon sharing this post, Quilty's story went viral. His Instagram page, free_quilty, has gained over 50,000 followers and the shelter now sells Quilty merch branded with the #FreeQuilty hashtag. Eventually, Quilty's story even made it to The Daily Show with Trevor Noah.
Not surprisingly, Quilty was unsatisfied by the shelter's decision to confine him to the senior cat room. Upon realizing his daily escapes were no longer achievable, Quilty resorted to insessently meowing and digging at the room's doors and windows to express his frustration. As a result, the #FreeQuilty hashtag with photos and videos of a grimacing Quilty blew up and made the vigilanty kitty even more reputable. In an Instagram video of him lying on the floor and pawing the door, Quilty illustrates his own frustration by writing, "I'm going INSANE here folx . . . and they literally just come stare at me. #WTFhumans".
In regards to his adoption, the shelter joked, "If someone out there is looking for a clever cat that gets along with dogs but does not get along with closed doors, we have someone they really need to come and meet. Please. Come meet him. And take him home. Please…" Upon gaining so much recongition on the internet, Quilty actually began to receive a lot of inquiries from people all over the United States who wanted to adopt him.
Eventually, Quilty began a trial period, which Friends for Life calls "sleepover", with a potential forever-family. Although the family was confident enough that their door handles could handle Quilty's mischief, he actually has made zero attempts to escape since he arrived. In addition to humans, the family consists of two dogs, a hamster, and a hedgehog. So far, it seems like Quilty is warming up to his new siblings perfectly well.
The family submitted an application to adopt him, and Quilty has officially found his forever-home! In an instagram post that pictures him and his four new humans, Quilty states, "I'm pretty freakin' happy here, to tell you the truth. I haven't even thought yet about potential escape routes so… I guess these guys aren't knobs."
Great Dane on Home Security Camera Seen Protecting Family from Intruder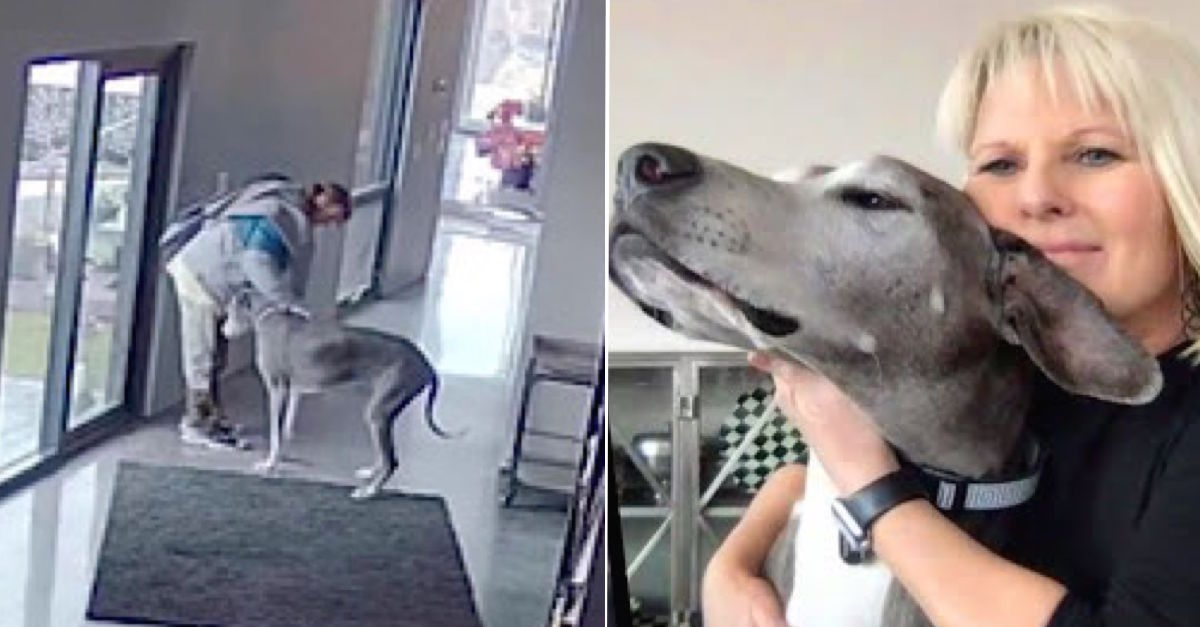 Humans just don't appreciate dogs as much as they should. Tracey McCoy and her son were at their home in Oklahoma City when her worst nightmare came true.
McCoy's security cameras were going in broad daylight and a strange man was seen going through the side door and entering the home. At first, McCoy thought that it was her older son. She was in the home at the time with her son, Nathaniel, who is blind.
The intruder walked right into the home as if he belonged there and owned the place. The intruder didn't know that he was about to be greeted by Dubai, the family's Great Dane mix, who weighs 133 pounds.
Dubai isn't normally a vicious dog. In fact, he's very friendly and docile. Dubai at first didn't even do anything to this unwanted visitor and allowed him to say hello and pet the dog. Just as Dubai and the intruder were becoming friendly, McCoy walked into the kitchen and screamed. Dubai jumped into action and realized this was not a wanted guest and his owner was absolutely terrified by this stranger in the home. Dubai attacked the intruder and escorted him out by the rear end with his teeth. McCoy was able to watch the suspect run away and then come back moments later while he was in the back of a patrol car. Luckily, the police were able to snatch him out quickly before he was able to break into another home that didn't have a trusty dog waiting to defend his owners. The suspect, Robert Ward, was positively identified by McCoy and is now facing a first-degree burglary charge but he was not armed.
This isn't the first time a Great Dane has been able to spring into action and help its owners. There are countless stories of Great Danes protecting their owners and even helping an owner carry some groceries. While Great Danes aren't usually thought of as service dogs, they are actually a perfect candidate for a service dog due to their size. The Service Dog Project has been training these large dogs to help war veterans and assist children with having a better quality of life. The Great Dane has stamina that was once needed to chase down bears and wild boars and they also have the strength and courage to stand up to predators, which was useful in the McCoy family case.
The Great Dane can be the perfect breed for a service dog because of its gentle personality and giant size. Dogs that are being used as balance support for the owner need to be large and about 65% of the person's weight and 45% of the height. It takes a tall and strong dog to give confidence to someone who needs help to walk and support to regain balance if they start to fall. Great Danes serve this unique purpose. Great Danes may be large but don't really require that much experience. Just a few walks a day are needed so it's even better to pair this breed up with someone who has limited mobility. Great Danes can be trained to do specific tasks, such as hold open doors, turn on light switches, pull wheelchairs, and pick up dropped objects. Of course, they don't need to be trained to protect their owners from intruders and will be happy to step in when needed.
While Dubai may not be trained to be a service dog anytime soon, he fulfilled his duty to the McCoy family and is getting lots of attention and treats for saving lives and property.