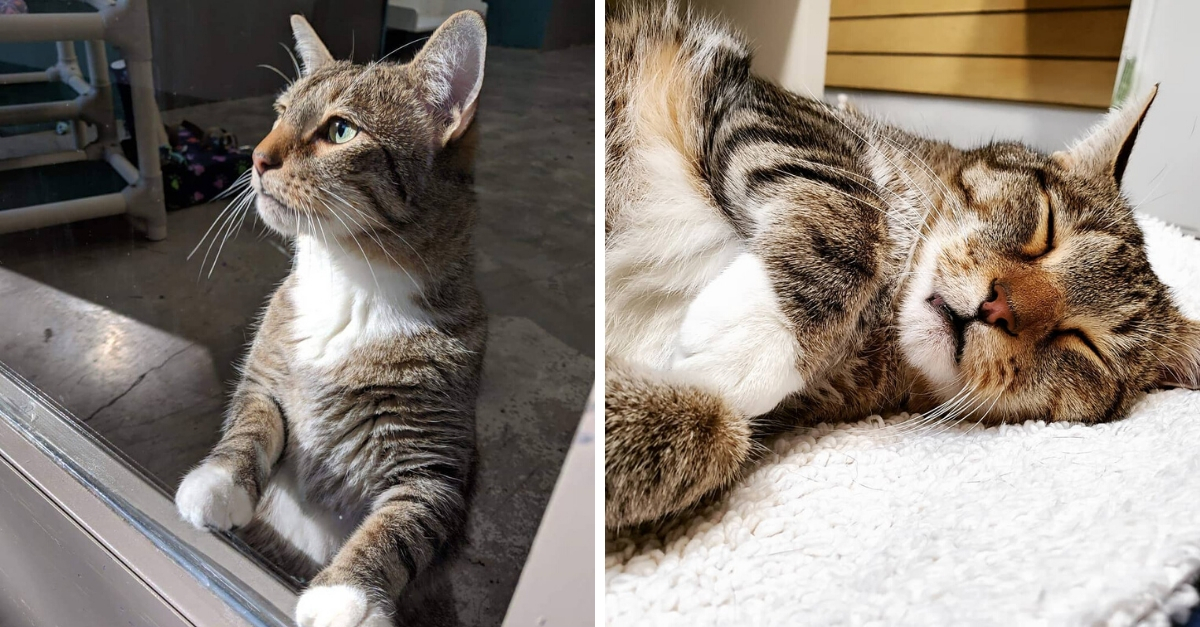 Quilty the Escape-Artist Cat Sets His Fellow Shelter Cats Free
Meet Quilty: a devious 6-year-old rescue cat with a mission to help his friends roam free.
Shortly after Quilty's arrival to the Friends for Life animal shelter in Houston, Texas, staff members noticed the door to the senior cat room (where Quilty was residing) was mysteriously open every morning. As a result, all of the senior kitties would be meandering freely through the entire shelter.
The breakouts became so frequent that the Friends for Life staff eventually checked their security footage to solve this mystery. Lo and behold, the culprit was caught: Quilty!
Quilty would open the door to the senior cat room not only at night, but several times throughout the day by jumping up and pulling down the door handle. In a Facebook post, the shelter explained that "Quilty-proofing" the senior cat room was a necessity.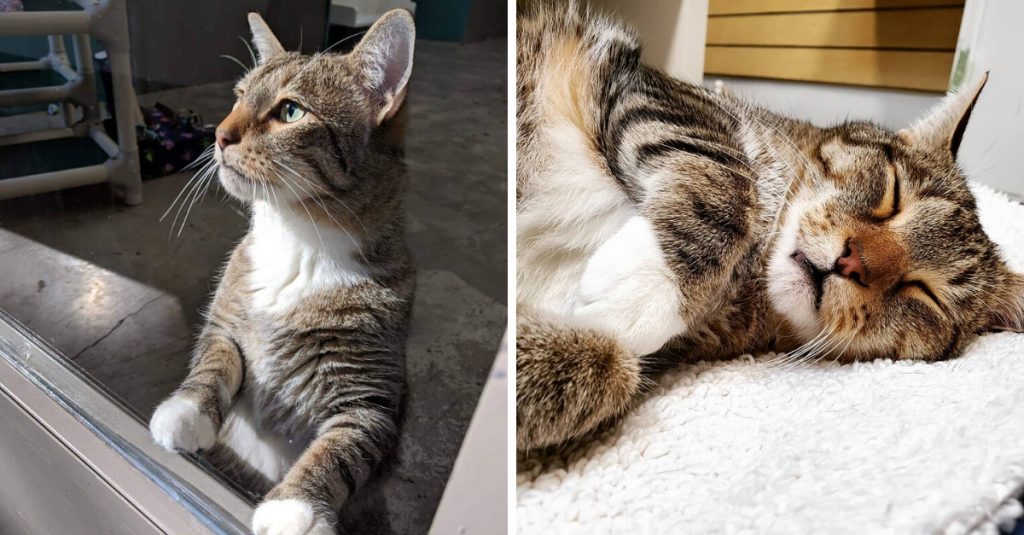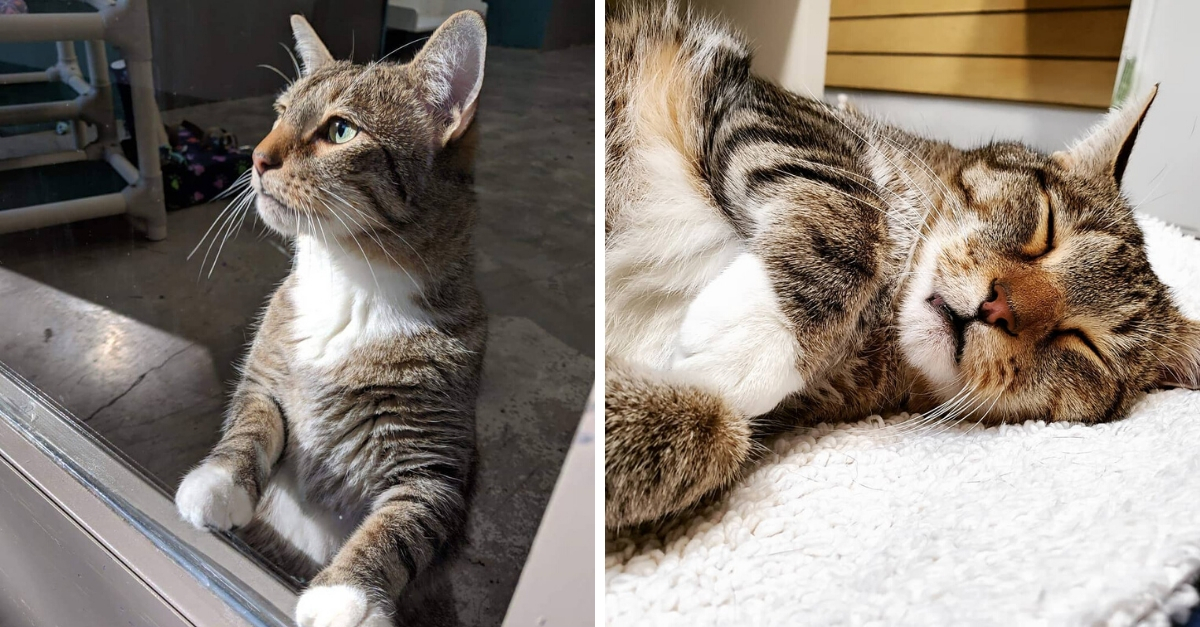 Quilty was placed in "solitary confinement" in the lobby while the staff worked to make sure his escapades would be impossible to repeat. The shelter explained that although the senior cats would likely miss their adventures in the shelter, the "staff did not miss the morning cat wrangling, so we'll just have to agree to disagree there."
Upon sharing this post, Quilty's story went viral. His Instagram page, free_quilty, has gained over 50,000 followers and the shelter now sells Quilty merch branded with the #FreeQuilty hashtag. Eventually, Quilty's story even made it to The Daily Show with Trevor Noah.
Not surprisingly, Quilty was unsatisfied by the shelter's decision to confine him to the senior cat room. Upon realizing his daily escapes were no longer achievable, Quilty resorted to insessently meowing and digging at the room's doors and windows to express his frustration. As a result, the #FreeQuilty hashtag with photos and videos of a grimacing Quilty blew up and made the vigilanty kitty even more reputable. In an Instagram video of him lying on the floor and pawing the door, Quilty illustrates his own frustration by writing, "I'm going INSANE here folx . . . and they literally just come stare at me. #WTFhumans".
In regards to his adoption, the shelter joked, "If someone out there is looking for a clever cat that gets along with dogs but does not get along with closed doors, we have someone they really need to come and meet. Please. Come meet him. And take him home. Please…" Upon gaining so much recongition on the internet, Quilty actually began to receive a lot of inquiries from people all over the United States who wanted to adopt him.
Eventually, Quilty began a trial period, which Friends for Life calls "sleepover", with a potential forever-family. Although the family was confident enough that their door handles could handle Quilty's mischief, he actually has made zero attempts to escape since he arrived. In addition to humans, the family consists of two dogs, a hamster, and a hedgehog. So far, it seems like Quilty is warming up to his new siblings perfectly well.
The family submitted an application to adopt him, and Quilty has officially found his forever-home! In an instagram post that pictures him and his four new humans, Quilty states, "I'm pretty freakin' happy here, to tell you the truth. I haven't even thought yet about potential escape routes so… I guess these guys aren't knobs."
Dog Trainer and Dog Groomer Get Married Accompanied By Their Best Friends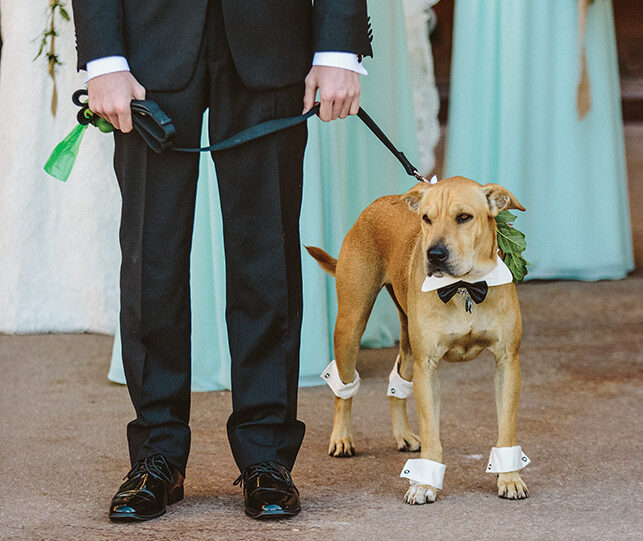 Weddings Are for Sharing With Loved Ones
When people get married, they spend one perfect day with their most loved friends and family. While many people only think about their human friends and family, there are a lot of people who could never imagine starting this important new chapter in their lives without their beloved pets. In fact, many people might have to admit, if they were being honest, that they loved their pets more than some of the relatives who came to the wedding, especially if they felt obligated to invite some relatives they rarely see and barely know.
Some People Already Spend Their Lives With Pets
Anyone who works full-time as a dog trainer or groomer already spends most of their working days with animals. They see dogs all day long, and they make the choice to do so because of many reasons. Working with pets is rewarding on many levels. Especially if you see the same dogs again and again, you form a close bond. Communicating with pets is therapeutic and generally far less stressful than dealing with humans. The people who work with dogs don't get sick of dogs and try to go home to a quiet house; they tend to have larger pet families than average.
A Dog Trainer and a Dog Groomer Tie the Knot
Paul and Annette Anthony are typical in that they work with dogs as a profession, and they have a large pet family. On the day they got married, their family consisted of 2 humans and 9 canines. Both Paul and Annette admitted that their pets were more to them than just fun — their beloved dogs also helped them get through rough times in their lives, including personal tragedies. Annette's German Shepherd Pesci is even an emotional support animal, helping her to deal with severe anxiety and depression. There was no way that their pets were going to be left out of the most important day of their lives going forward.
Canine Best Man
Paul's service dog Finn has earned his retirement. Finn has competed in over 40 events, earning titles and even setting records. He was also there for Paul when Paul developed PTSD after being at the scene of the deadliest plane crash in Pennsylvania's history. Finn was the one who helped with the proposal, giving Annette the ring with a note asking her to marry his dad. It was only fitting that Finn ended up being one of the best men at the wedding too.
A Family Affair
All 9 dogs walked down the aisle and stayed throughout the ceremony. Annette's dog Pesci even came to comfort her during the ceremony when she started to cry from happiness because he wanted to make sure his momma was all right. Whether you want to use your dogs in the ceremony as ring bearers, best men, or flower girls, or if you just want them to be present, it makes sense to have your pets help you celebrate such an important day in your life.