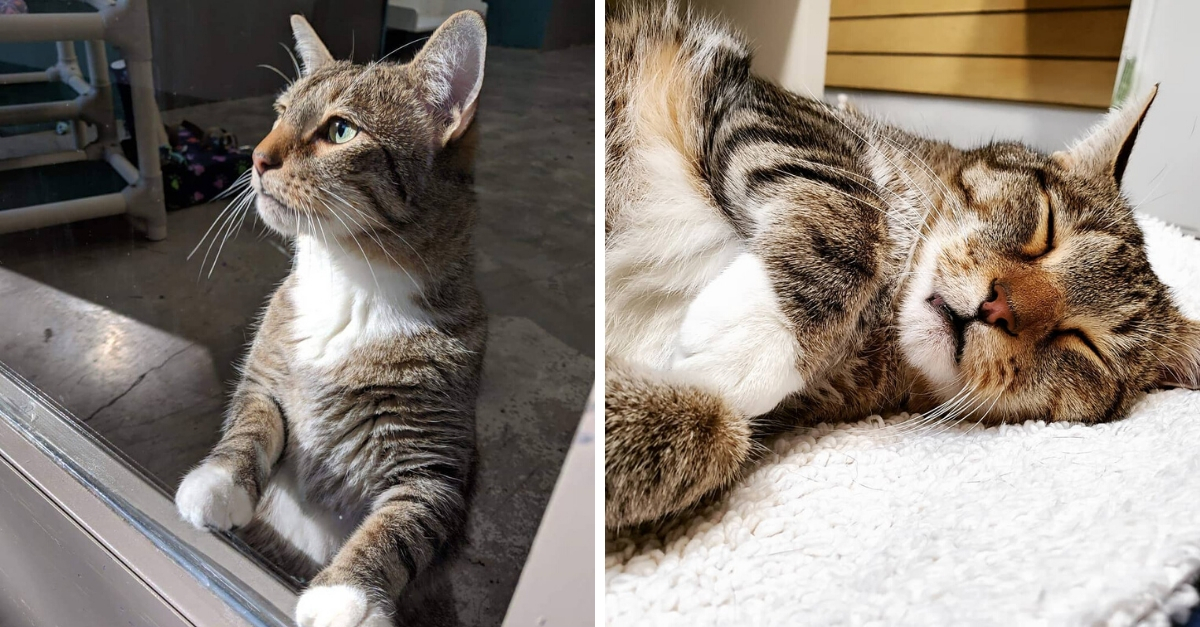 Quilty the Escape-Artist Cat Sets His Fellow Shelter Cats Free
Meet Quilty: a devious 6-year-old rescue cat with a mission to help his friends roam free.
Shortly after Quilty's arrival to the Friends for Life animal shelter in Houston, Texas, staff members noticed the door to the senior cat room (where Quilty was residing) was mysteriously open every morning. As a result, all of the senior kitties would be meandering freely through the entire shelter.
The breakouts became so frequent that the Friends for Life staff eventually checked their security footage to solve this mystery. Lo and behold, the culprit was caught: Quilty!
Quilty would open the door to the senior cat room not only at night, but several times throughout the day by jumping up and pulling down the door handle. In a Facebook post, the shelter explained that "Quilty-proofing" the senior cat room was a necessity.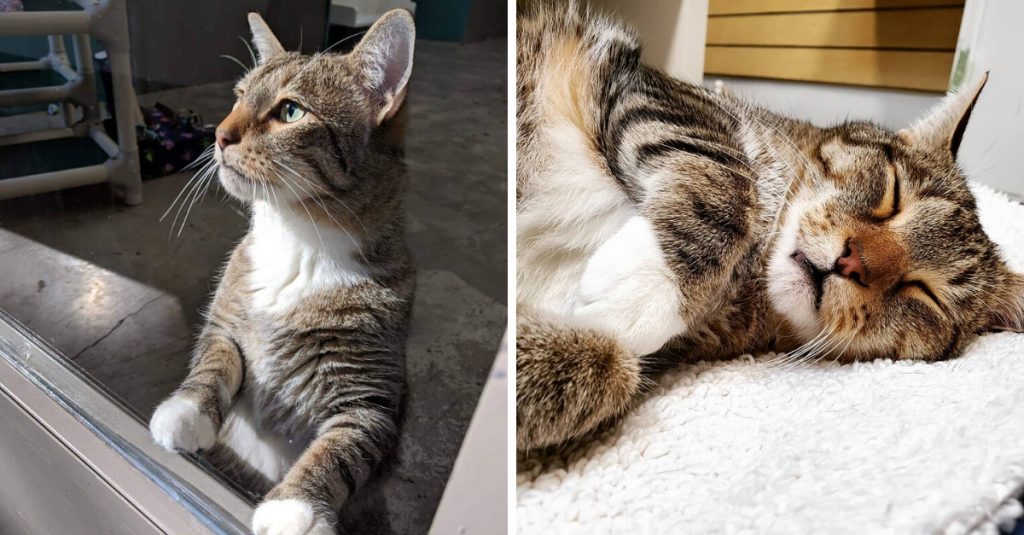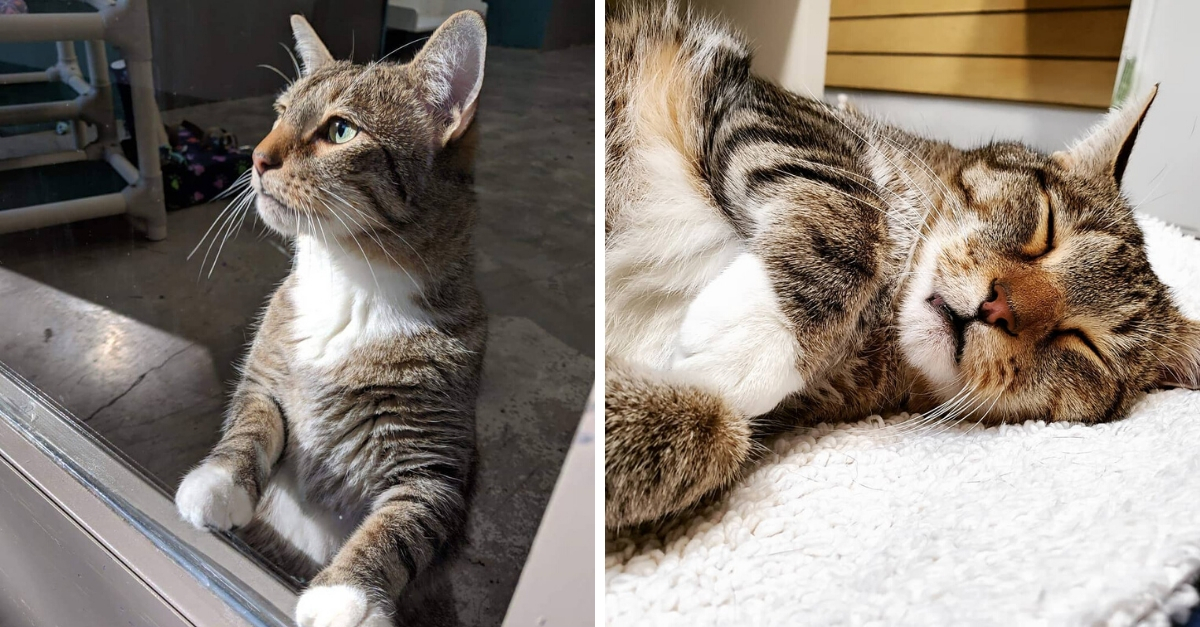 Quilty was placed in "solitary confinement" in the lobby while the staff worked to make sure his escapades would be impossible to repeat. The shelter explained that although the senior cats would likely miss their adventures in the shelter, the "staff did not miss the morning cat wrangling, so we'll just have to agree to disagree there."
Upon sharing this post, Quilty's story went viral. His Instagram page, free_quilty, has gained over 50,000 followers and the shelter now sells Quilty merch branded with the #FreeQuilty hashtag. Eventually, Quilty's story even made it to The Daily Show with Trevor Noah.
Not surprisingly, Quilty was unsatisfied by the shelter's decision to confine him to the senior cat room. Upon realizing his daily escapes were no longer achievable, Quilty resorted to insessently meowing and digging at the room's doors and windows to express his frustration. As a result, the #FreeQuilty hashtag with photos and videos of a grimacing Quilty blew up and made the vigilanty kitty even more reputable. In an Instagram video of him lying on the floor and pawing the door, Quilty illustrates his own frustration by writing, "I'm going INSANE here folx . . . and they literally just come stare at me. #WTFhumans".
In regards to his adoption, the shelter joked, "If someone out there is looking for a clever cat that gets along with dogs but does not get along with closed doors, we have someone they really need to come and meet. Please. Come meet him. And take him home. Please…" Upon gaining so much recongition on the internet, Quilty actually began to receive a lot of inquiries from people all over the United States who wanted to adopt him.
Eventually, Quilty began a trial period, which Friends for Life calls "sleepover", with a potential forever-family. Although the family was confident enough that their door handles could handle Quilty's mischief, he actually has made zero attempts to escape since he arrived. In addition to humans, the family consists of two dogs, a hamster, and a hedgehog. So far, it seems like Quilty is warming up to his new siblings perfectly well.
The family submitted an application to adopt him, and Quilty has officially found his forever-home! In an instagram post that pictures him and his four new humans, Quilty states, "I'm pretty freakin' happy here, to tell you the truth. I haven't even thought yet about potential escape routes so… I guess these guys aren't knobs."
Love, Laughter, and 75 Years Together: Gene and Virginia Nelson's Remarkable Anniversary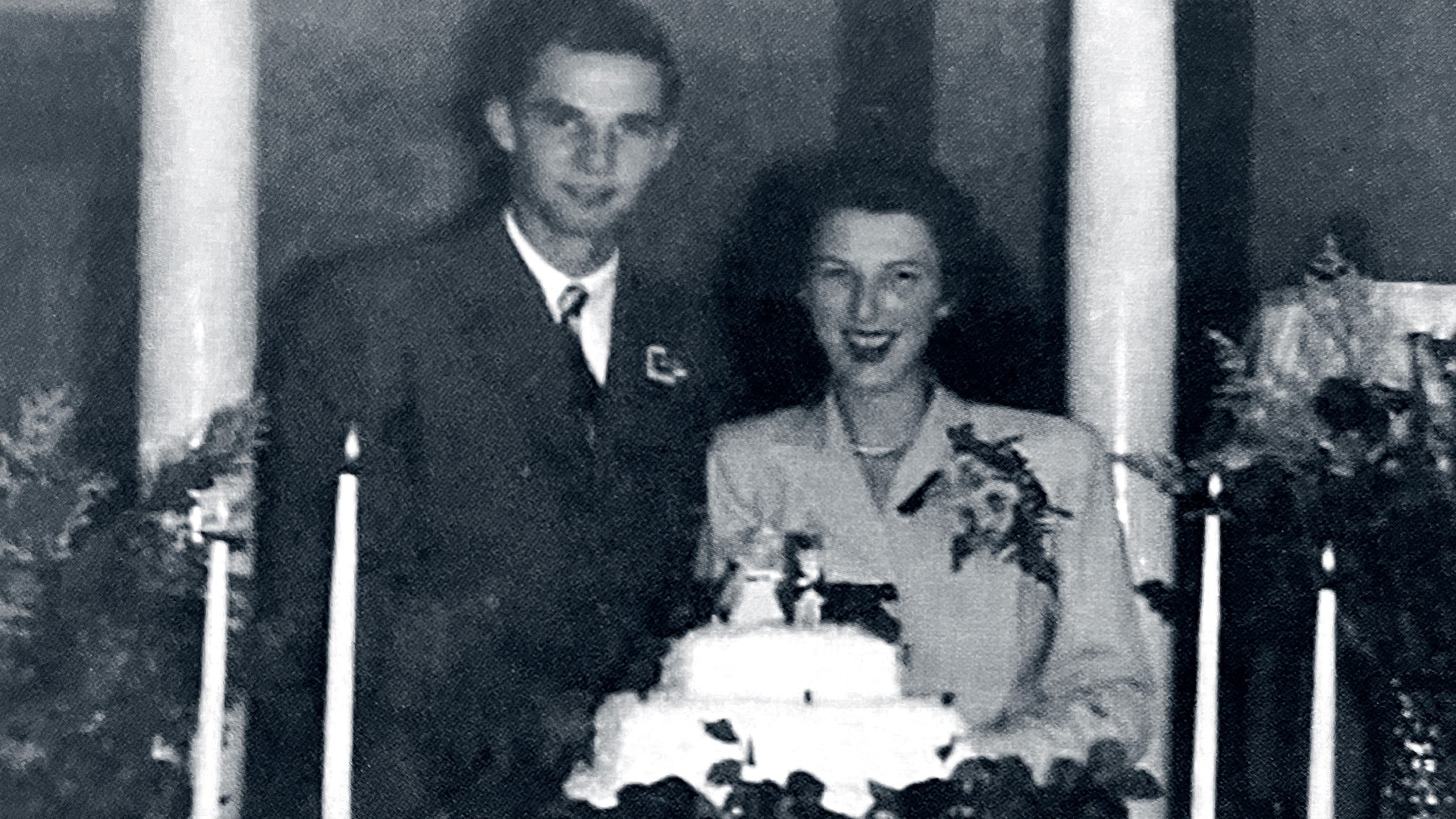 Gene and Virginia Nelson of Canby, Oregon, have a relationship that showcases love's enduring power. The couple recently celebrated an incredible 75 years of marriage, a milestone that very few can claim to have reached. When asked the secret to their lasting love, they attribute it to patience, trust, and a good sense of humor.
Gene, at 95, and Virginia, at 92, have seen a lifetime of changes and challenges, but their love has remained steadfast. When questioned about their enduring bond, Virginia simply replied, "We were just meant to be together!" Gene chimed in, "Have patience through the good times and the bad, try to be honest and faithful."
Their journey began 75 years ago on August 8 when they decided to elope from Brownsville, Oregon, in Linn County. They hopped on a bus to Reno and got married, a move that still brings a giggle to Virginia's lips as she recalls how they outfoxed their parents. At the time, Virginia was just 17, and Gene was 20, with Gene humorously adding, "I was 20 and five months, lacked 2 days, and she was 17 years and 25 days."
According to their grandson, Cody Westphal, their sharp minds are one of the reasons behind their enduring relationship. He said, "Just actively trying to exercise your mind is how it stays sharp."
The couple has three children and seven grandchildren, with the youngest being 29 years old. Gene recalled what made him know that Virginia was the one, saying, "She was a sweet girlfriend, and I hadn't found out any of her faults yet when we were young," which elicited laughter from both of them.
Judy, their daughter, expressed her pride in her parents' long-lasting love. She said, "It takes a lot to make it 75 years and not give up, and they never gave up."
Their sense of humor remains a cornerstone of their relationship, as Judy shared, "They both have a really good sense of humor." Gene and Virginia often engage in friendly banter, and even if they have disagreements during the day, they never go to bed angry.
The couple's thrifty nature is another shared trait. They still have the refrigerator they purchased right after their wedding from Sears Roebucks, and it's still in working condition. Just like their marriage, it has stood the test of time. Gene proudly mentioned, "Never had a service charge, and it's still working! We've always been thrifty."
Their light-hearted arguments, thrifty habits, and enduring love have earned them the nickname "the Bickersons" among family members. Cody noted, "Even if they fight all day, they don't go to bed angry. I think that's why they wake up the next day, and they're still the Bickersons!"
In the twilight of their lives, Gene and Virginia continue to cherish their partnership. As Gene put it, "We're in our waning days. I hope she outlives me because I don't want to outlive her." Their story is a heartwarming reminder that love, patience, and a good sense of humor can make a marriage truly timeless.