Quilty the Escape-Artist Cat Sets His Fellow Shelter Cats Free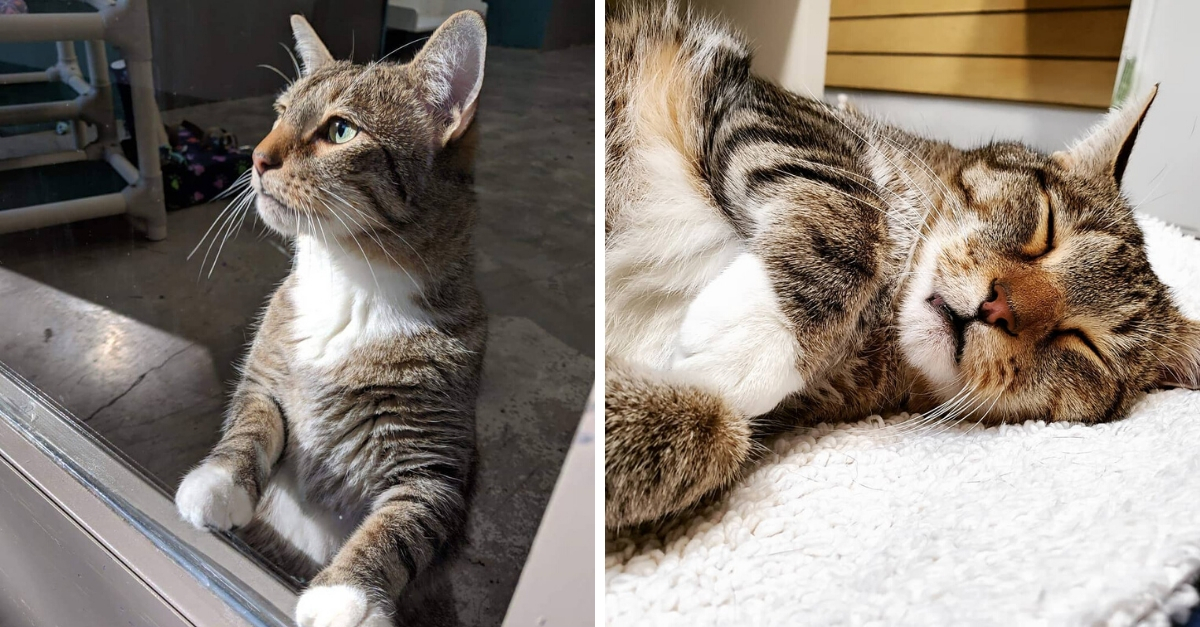 Meet Quilty: a devious 6-year-old rescue cat with a mission to help his friends roam free.
Shortly after Quilty's arrival to the Friends for Life animal shelter in Houston, Texas, staff members noticed the door to the senior cat room (where Quilty was residing) was mysteriously open every morning. As a result, all of the senior kitties would be meandering freely through the entire shelter.
The breakouts became so frequent that the Friends for Life staff eventually checked their security footage to solve this mystery. Lo and behold, the culprit was caught: Quilty!
Quilty would open the door to the senior cat room not only at night, but several times throughout the day by jumping up and pulling down the door handle. In a Facebook post, the shelter explained that "Quilty-proofing" the senior cat room was a necessity.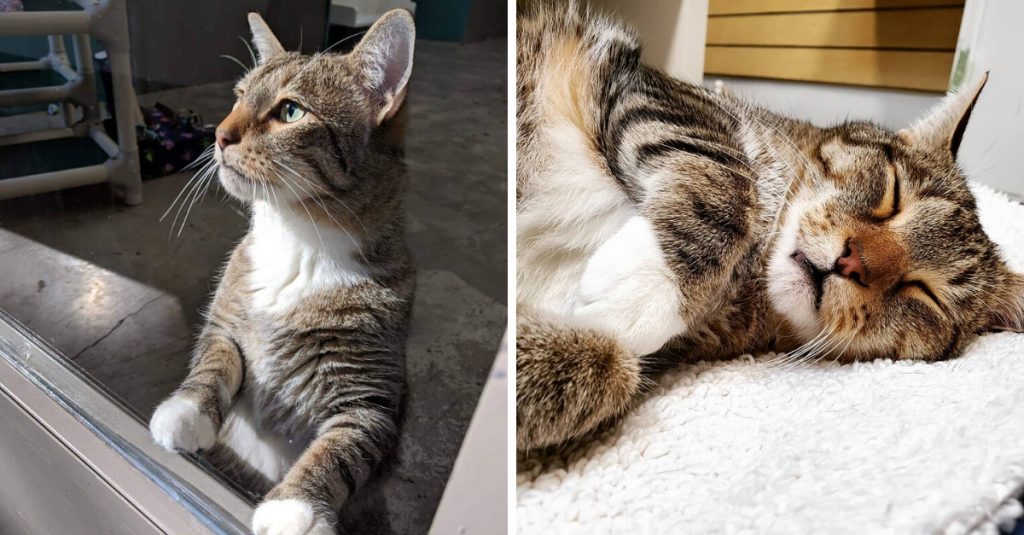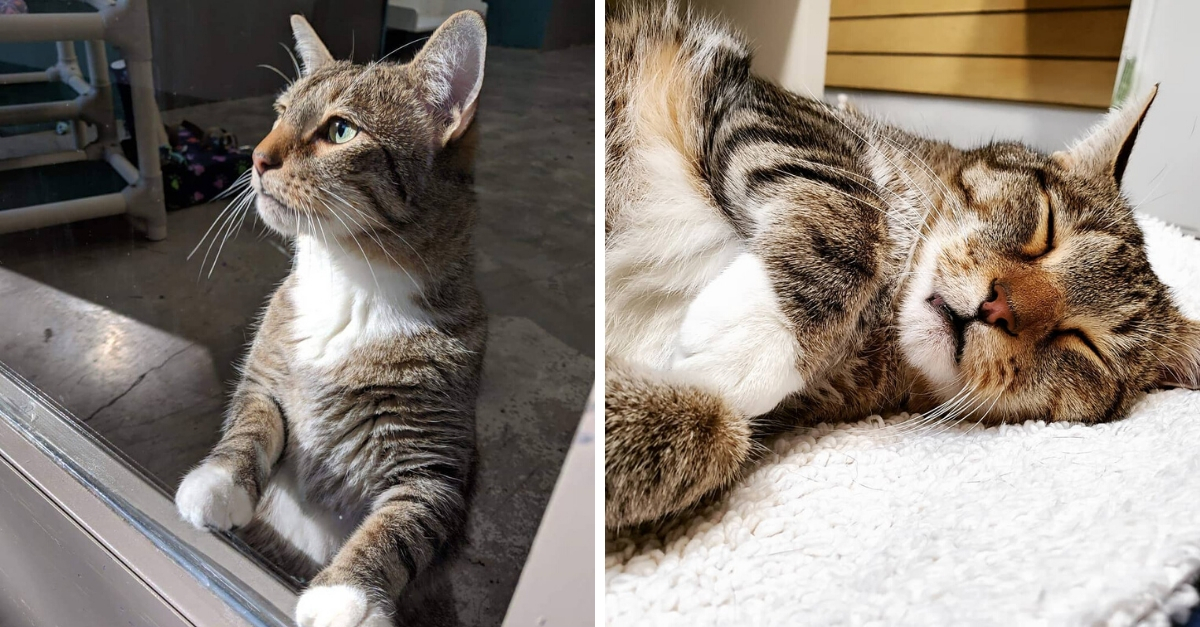 Quilty was placed in "solitary confinement" in the lobby while the staff worked to make sure his escapades would be impossible to repeat. The shelter explained that although the senior cats would likely miss their adventures in the shelter, the "staff did not miss the morning cat wrangling, so we'll just have to agree to disagree there."
Upon sharing this post, Quilty's story went viral. His Instagram page, free_quilty, has gained over 50,000 followers and the shelter now sells Quilty merch branded with the #FreeQuilty hashtag. Eventually, Quilty's story even made it to The Daily Show with Trevor Noah.
Not surprisingly, Quilty was unsatisfied by the shelter's decision to confine him to the senior cat room. Upon realizing his daily escapes were no longer achievable, Quilty resorted to insessently meowing and digging at the room's doors and windows to express his frustration. As a result, the #FreeQuilty hashtag with photos and videos of a grimacing Quilty blew up and made the vigilanty kitty even more reputable. In an Instagram video of him lying on the floor and pawing the door, Quilty illustrates his own frustration by writing, "I'm going INSANE here folx . . . and they literally just come stare at me. #WTFhumans".
In regards to his adoption, the shelter joked, "If someone out there is looking for a clever cat that gets along with dogs but does not get along with closed doors, we have someone they really need to come and meet. Please. Come meet him. And take him home. Please…" Upon gaining so much recongition on the internet, Quilty actually began to receive a lot of inquiries from people all over the United States who wanted to adopt him.
Eventually, Quilty began a trial period, which Friends for Life calls "sleepover", with a potential forever-family. Although the family was confident enough that their door handles could handle Quilty's mischief, he actually has made zero attempts to escape since he arrived. In addition to humans, the family consists of two dogs, a hamster, and a hedgehog. So far, it seems like Quilty is warming up to his new siblings perfectly well.
The family submitted an application to adopt him, and Quilty has officially found his forever-home! In an instagram post that pictures him and his four new humans, Quilty states, "I'm pretty freakin' happy here, to tell you the truth. I haven't even thought yet about potential escape routes so… I guess these guys aren't knobs."
Handicapped Puppy Befriends Flightless Pigeon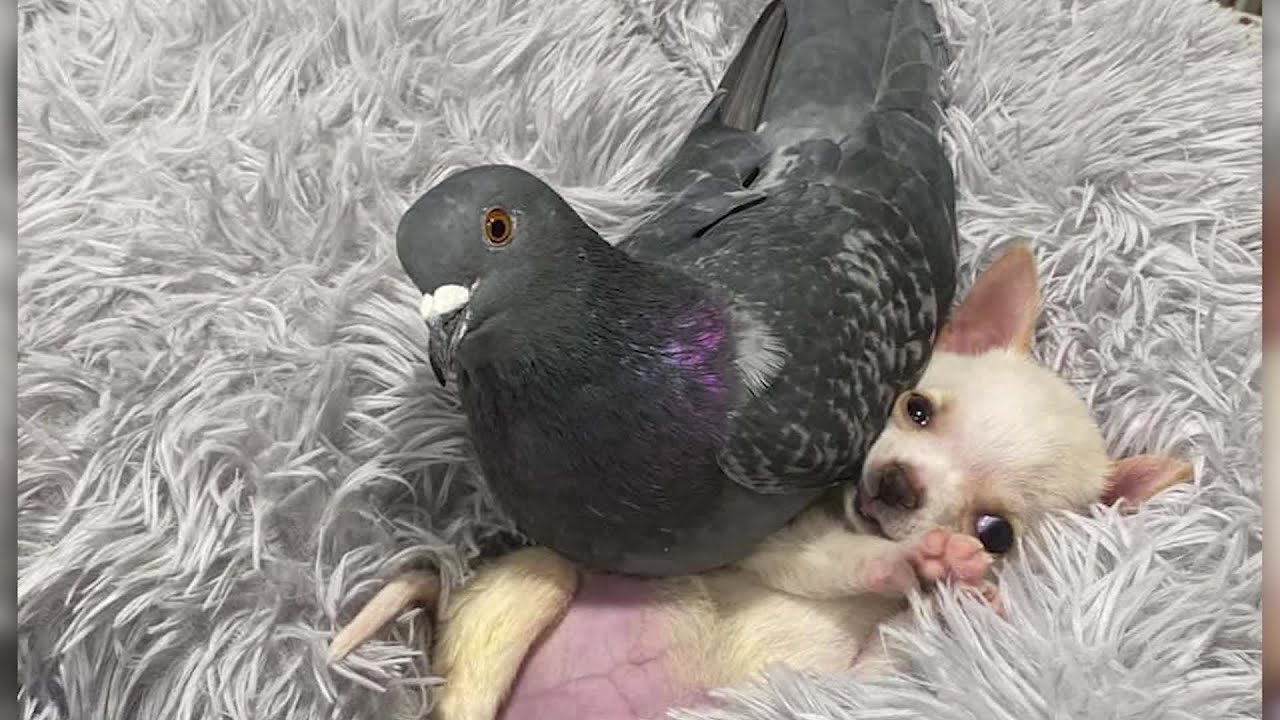 In Rochester, NY, Sue Rogers runs a non-profit called the Mia Foundation. The rescue organization rescues and rehabilitates animals who have birth defects or deformities and tries to find them a loving home. About a year ago, a pigeon was found unable to move in the parking lot of a car dealership. The pigeon was huddled and cowering on the ground. When a local wildlife rescue was called, they said the bird had neurological damage that caused him not to be able to fly. They thought that euthanization would be the best option for him.
Sue was having none of that. She stepped in and took the bird, who she named Herman, under her wing, so to speak. She made space for him in her shelter and kept him close where she could keep an eye on him. He liked to sit on a furry dog pillow and watch her work.
A couple months ago, a tiny Chihuahua was brought to the Mia Foundation. He was an infant, maybe a few months old, when his South Carolina breeders sent him to Sue. He's a teacup sized Chihuahua they named Little Lundy and he was born with spinal cord damage. Sue also determined that he was suffering from swimmers syndrome. Swimmers syndrome is a developmental deformity that causes the front and hind legs to be splayed out. This makes it almost impossible for Little Lundy to walk.
Although swimmers syndrome is thought to be untreatable, according to a few studies and an article in a veterinary journal, it can be treatable. With some physical therapy and at-home treatment, Little Lundy could live a long and happy life, which is exactly what Sue plans for him.
When Little Lundy arrived at the Mia Foundation he decided to get acquainted with his new surroundings and the other animals at the shelter. One particular encounter, created a friendship that has gone viral. Herman and Little Lundy, a puppy and a pigeon, are the unlikeliest of friends, but they have a lot in common. They both have trouble walking, or flying in Hermans case, and they were living in the same place. You could say, they were in the right place at the right time to become instant friends.
In the six weeks they have been together, Herman and Little Lundy have become inseparable. They do everything together, which is a lot of sleeping and snuggling. Mostly, with Herman sitting on top of Little Lundy, which doesn't bother him in the slightest. This friendship was so out of the ordinary that Sue had to document it. The viral sensation of the puppy and pigeon has brought attention to the Mia Foundation that was much needed. The rescue organization runs solely on donations to help cover the costs of taking care of the animals and for needed surgeries. So far, about $6000 was donated because of this unlikely friendship and over 100 adoption inquiries. Hopefully when they are adopted, they are able to stay together.