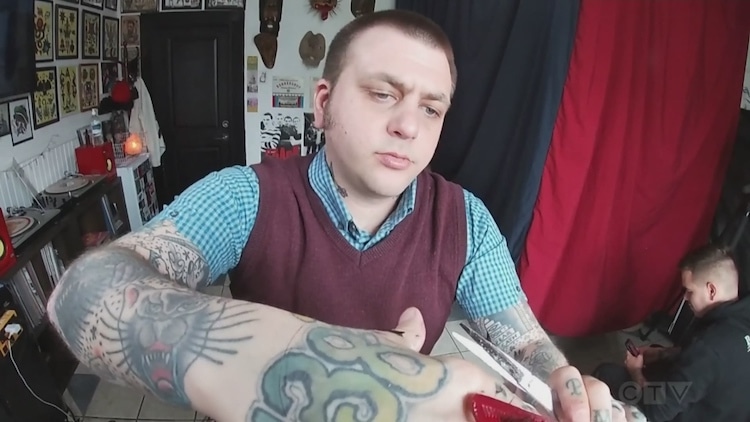 Punk Kid Goes From Homeless to Opening A Quirky Barbershop
If you've ever seen the musical movie, Sweeney Todd: The Demon Barber of Fleet Street, starring Johnny Depp and Helena Bonham-Carter, then you could be forgiven for thinking twice before stepping into a barbershop for a straight-razor shave. However, many people have that reaction as well when stepping into Daryl Bidner's Little Barbershop of Horrors in today's Vancouver Island.
Bidner himself was never one for being mainstream. Growing up as a punk kid in his teen years, the barber today is a close-cropped fellow, arms blazoned with tattoos, and a late 1960s skinhead-style outfit décor via collared shirt, sleeveless sweater matched to his jeans and boots. However, when it comes to cutting hair, Bidner is all the professional and about business.
Starting off definitely wanting his barbershop to stand out and apart from the competition locally, Bidner modeled the entire theme of his haircutting venue around the movie, Little Shop of Horrors. He parlayed his interest in cutting hair for friends with mohawks into a bona fide skill, and now enjoys regular business as a barber for clientele young and old.
However, life wasn't always peachy-keen for Bidner. He was a school drop-out, had been in and out of drug addiction, and reached his own personal bottom after being homeless for an extended period. Ironically, it was a tattoo that finally seemed to put the young man back on track. His first tattoo allowed Bidner to skip the usual downspin of wasting the night high on something, and he sobered up. A number of days later, he did it again, using tattoos to get clean. By the 40th inking, Bidner was fundamentally off his addictions and broke his need to use mindlessly.
The tattooing was cathartic for Bidner, and he finally began to think about tomorrow instead of the next binge today. That in turn got him into thinking what Bidner could do for a proper living. Obviously, the young man was not going to go and wear a corporate suit the following Monday. So, he looked around at what made sense. Being a tattoo artist was logical, but then haircutting and being a barber appealed even more.
Bidner knuckled down, figured out how to get himself into barbering school, and after three years of grinding to perfect his skill, he had a license and started his own business with a single barber chair. Since that major breakthrough, Bidner has been at it as a barber for over five years, and he's been involved with community help drives and giving free haircuts to the homeless at local shelters as well. No surprise, Bidner credits his profession for saving his life and giving him direction, but it has also been a living lesson to others that no matter how bad it gets, people can pull themselves out and up again.

Kevin Bacon the Pig Found with Hollywood Help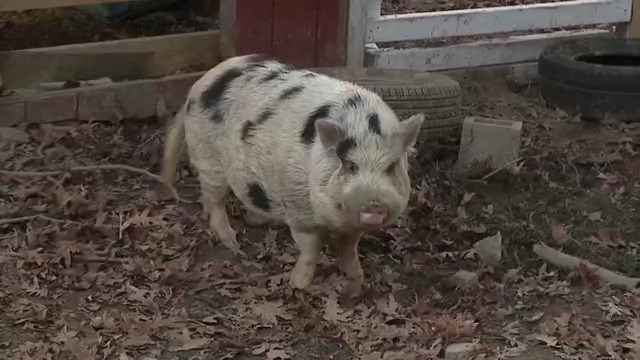 In a heartwarming tale that could rival any Hollywood movie, a missing pig named Kevin Bacon has been found after a two-week adventure in the woods of Pennsylvania. What makes this story even more special is the unexpected involvement of actor Kevin Bacon himself.
Kevin Bacon, the pig, became the center of attention when he went missing from his home in Pennsylvania. Owned by Chelsea Rumbaugh, Kevin had only joined the family in October before deciding to explore the great outdoors on his own. Chelsea shared the news of her missing pig on a Facebook group she created, aptly named 'Bring Kevin Bacon Home.'
"We were so close to him; my 16-year-old was petting him," Rumbaugh explained in her post. "He stayed close but eventually took off into the woods."
Enter the unexpected hero, actor Kevin Bacon. When he caught wind of the missing pig's plight, he shared the information on his social media thread. The actor's post not only drew attention to the missing pig but also brought the community together in the search for the adorable runaway.
Despite the collective efforts to capture Kevin Bacon the pig, he remained elusive. That is until a clever strategy involving a sticky bun laced with pet-safe Benadryl was employed. The irresistible treat proved to be the key to success. After indulging in the sticky bun, Kevin Bacon the pig became drowsy, making it easier for the search party to guide him back to his pen.
To ensure that this escapade wouldn't happen again, Kevin Bacon's pen underwent reinforcement with concrete. This measure was taken to prevent the adventurous pig from using his tunneling skills for future escapes.
The story of Kevin Bacon the pig's disappearance and rescue not only highlights the power of community efforts but also shows how even Hollywood celebrities like Kevin Bacon can play a role in helping those in need, no matter how small or four-legged they may be. The happy ending to this tale brings a smile to all those who followed the journey of Kevin Bacon, the pig who briefly took the spotlight with a little help from his famous namesake.