Police Have 45-Minute Standoff With A Tiger Before Discovering It's Just A Toy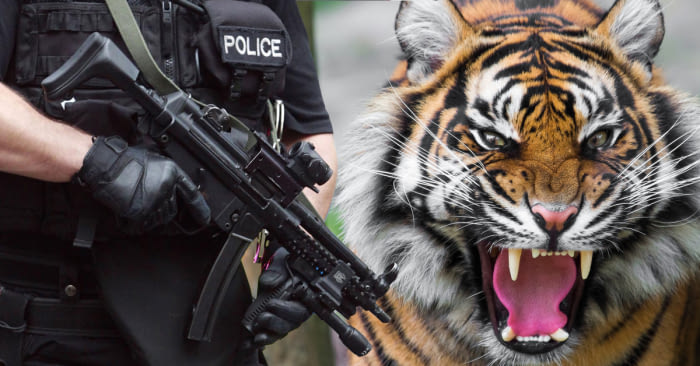 Police have a very difficult job that at times takes a toll on their perception and their ability to judge situations. That being said, sometimes what might seem like the worst situation possible is actually no where near as scary as you might imagine.
Just such a case happened in Scotland when police received a call that a wild tiger was loose on someone's property in February of 2018. The call was about what was perceived to be a wild tiger on the grounds of a farm in the Hatton area that was not restrained or caged. The police took the call from the farm owner himself who claimed he had spotted a real tiger on his farm.
It is not every day that you get a call about a wild animal being loose on someone's property, especially a tiger that could easily kill a person in a matter of seconds. The officers took the time to strategize and figure out how to get the tiger contained without hurting it. They dispatched officers to the farm to take care of the issue and to handle the tiger and before they knew it, they were in a heated and intense standoff with the beast.
They arrived quickly to find the flustered homeowner that was ready for the animal to be removed from his property. The police ended up in a standoff for about 45 minutes before someone noticed something fishy about the ferocious beast. Upon further inspection, it was found that the full size tiger they thought they were fighting, was actually just a stuffed animal that was life size and made to be very realistic.
Though officers felt silly following the call, it was for the best that the animal was not real as it would likely have been killed if it had been. It is not often that this type of animal is loose with the general public, not even in cases where zoos are nearby for the simple fact that they are secured to make sure that they do not escape.
In this case, everything worked out for the best but there have been numerous other cases where an animal escapes or is set free by its owner only to wreak havoc and to scare the living daylights out of everyone that sees them. In most cases, animals that are wild that do escape from captivity are humanely euthanized to prevent them from hurting anyone that is part of the general public.
Officers that were involved in the standoff may have felt silly but in the end it was best for beast and humans alike that the animal turned out to be stuffed. No word on what it was doing on the farm or how it got there but I'm sure the farm owner is happy as well that the ferocious beast turned out to be nothing more than an oversized children's toy that posed no threat.
Family Adopts an Enormous Puppy Who Is Compared to a Hippo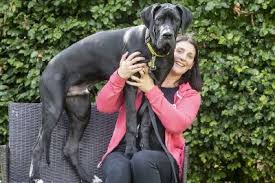 There is a saying that dogs are a man's best friend. There are countless individuals and families out there who are looking to share their love with a dog. One of the biggest questions people face when they are thinking about adopting a dog is the type of breed they would like. There are so many great options to choose from that it can be hard to make a decision. One couple in the United Kingdom decided to go with the biggest puppy they could possibly find.
This couple had been looking for a new dog for a long time. They already have four dogs at home but were ready for another. They were waiting and not sure if they would ever get the call that there was a dog waiting for them. Eventually, they got the call. There was a 5-month old puppy at the shelter who was looking for a new home. The animal had been surrounded by its previous owner who was no longer able to take care of the puppy. He was surrendered to the local shelter. The couple was so excited. They rushed down to meet the puppy.
They were utterly shocked by what they saw. They couldn't believe the dog they saw was still a puppy. Their eyes locked with a Great Dane. It was love at first sight. It turns out this puppy also happens to be the largest puppy in the entire country! The couple couldn't believe their luck!
The puppy was already towering at 6 feet tall. he also weighed in at 95 pounds. For comparison, this is more than most baby hippos! The owners were shocked to learn all of this information about a puppy that was going to be theirs. The shelter even told the couple that as the dog grows up, he might even get bigger. His size has the potential to double, which is quite absurd to most; however, this is exactly what happens with Great Dane puppies. The couple was so excited and started to love on him immediately.
The couple is already happy at home with their new family member. They say that the puppy has a big heart to match his enormous size. His heart is every bit as big as he is. He is playful and gentle at the same time. He is a joy to have around the house. The couple also knows that they don't know what's going to happen as he continues to grow up. The dog is only going to get bigger, so the couple has taken it upon themselves to try to safeguard some of the fragile items around the house.
Furthermore, the family also four other dogs they need to take care of in addition to the Great Done. The family also has a beautiful Dogue de Bordeaux, two separate Chinese crested dogs, and a gorgeous French bulldog. The family has said that the dogs still get along well. The dogs were a bit nervous at the size of the new puppy at first; however, they get along great now. The family is so excited to have a full house and there is plenty of love to go around.
The family also posts videos of what life is like with their new gentle giant as well. The walks can be quite entertaining as the family works to manage all of the dogs at once. This is a perfect example of the joy a dog can bring to the lives of people. What a beautiful family of dogs.