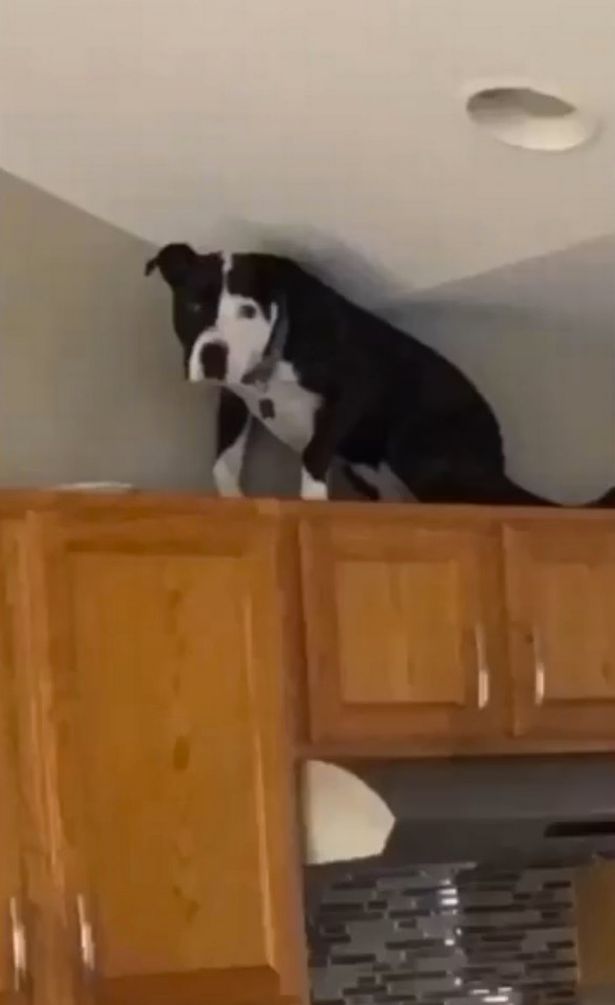 Pit Bull That Thinks He Is A Cat
I have a cat who actually likes to walk around the yard in a harness and leash. I also had a dog when I was younger who would rub up against us like a cat when he wanted us to give him pats. When most people in similar situations make the observation that their cat acts a bit like their dog or that their dog behaves more like a cat, it is usually said in a joking and half-kidding way. Dogs have very canine-like attributes and behaviors and characteristics we have become very familiar with. Same with cats, they have very feline behaviors and traits we expect to see. Even when they act a bit like their counterparts in the household it usually is in one or two interesting but minor ways.
I'm not sure that the same could be said for Mako the pit bull, though. Mako is not a huge dob but as a pit, he is no little thing either. So that makes his amazing cat-like behaviors all the more amazing and perplexing. You see, Mako is not content to be an oversize lap dog nor is he happy lazing the day away in a patch of sun. The cat-like trait Mako has taken upon himself to master is the art of climbing up onto the most ridiculous places imaginable. This pit bull is a master climber and his owners have found him in a wide range of truly stunning places over the last couple of years.
Mako has been documented jumping onto table and countertops, which were some of the first places the fledgling daredevil climbed up to. But it was as if the family cat was challenging him to do more, and so he did! Mako has also been found balancing on the top edge of the recliner and walking along the back of the couch. This pooch has managed to climb on top of cupboards and cabinets in the storage room and even got on top of the refrigerator in the kitchen before! The family has documented his antics in photos and videos that have made their rounds on the internet several times over the years.
The push for Mako to take his natural jumping abilities and interest to a whole new height is believed to be because of his feline companions. With several cats in the house, Mako had plenty of opportunities to watch the cats and learn from them. His owners have said a number of times that it is like he believes he is a cat and that when he sees them jump and climb, he thinks to himself 'well heck, I can do that to!'
I personally have never had a dog like Mako but I think that would be so cool. There would never be a dull moment and every day could be a game of "where will I find the dog today?"
Young Boy Keeps Toy He Was Measured Against As A Premature Baby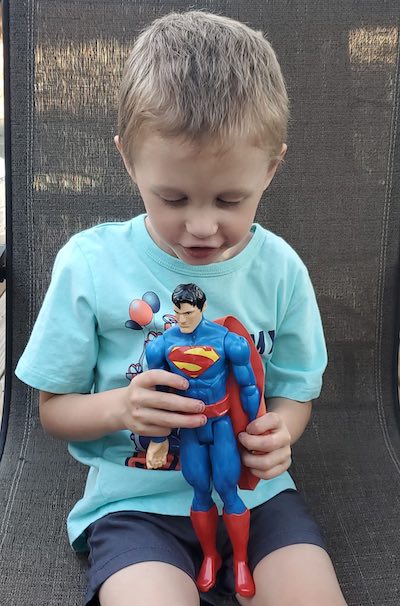 Doctors sent home a woman and her husband to prepare for a miscarriage, but the defiant parents stayed put and now have the tale of a lifetime to tell.
So does their four-year-old son Logan Ray, born less than six months of pregnancy, has a Superman action-figure as proof of how small he was at birth. He was only 12 inches in length and weighed a pound and a half. He and the action figure his parents Rob and Val placed beside him shortly after his birth, are now inseparable.
How did this fascinating and heartwarming story come about?
Nearly five years ago, when Val was pregnant with their son, doctors wiped the smiles off their faces by announcing that the baby would not make it to full term. The Physician claims the baby would not survive at all, and they should brace themselves for any eventuality.
The reason for the bad news was that Val had been diagnosed with a cervix problem. The doctors said examinations showed her Cervix was incompetent. That situation usually transpires when unstable cervical tissue induces or contributes to premature delivery or the loss of pregnancy even though the gestation is, on the other hand, healthy.
Val and Rob blocked out the bad news they received, and we're adamant that they would remain in the hospital to see the pregnancy through. The baby was a fighter too and stayed put for all of twenty-three weeks. Val helped out by keeping her feet elevated and staying in bed for three weeks without getting up to do anything that could further jeopardize the pregnancy.
She gave birth to a child now known as the "Superman Baby" for dual reasons. He was mighty strong and put up a fight to survive, and he was the size of a Superman toy. The toy idea came about when the nurses suggested to the mom that she should use something like a keepsake to measure the baby alongside. When she ran the idea by her husband, he was very supportive and they agreed on the Superman novelty.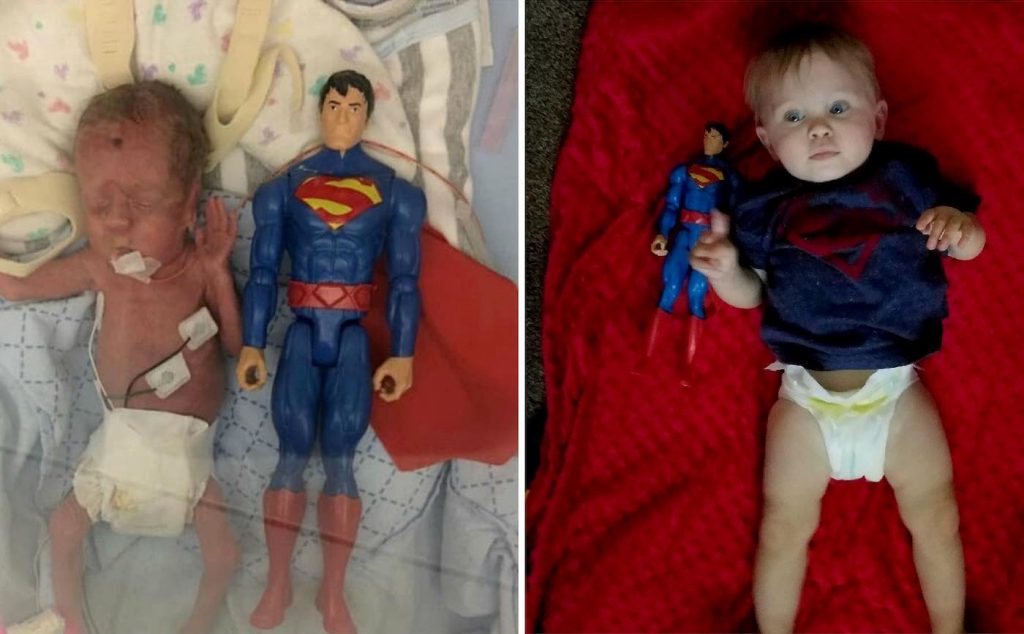 The doll was sanitized and placed beside Logan. For fifteen weeks, he remained in an incubator at the Randall Children's Hospital in Portland, Oregon fighting a myriad of complications that many feared would hinder the survival of Logan, but he pulled through like a champ. It was after those four months that he was finally able to leave with his parents.
From the hospital days to now, four years later, Val has been taking a multitude of photos with Logan carrying around his action figure. The doll is an indicator of Logan's successful development after a traumatic experience in the first few months of his life.
According to the happy and grateful parents, they communicate with the doctor who wants a regular update on Logan, who he refers to as " tough."
Many people consider not just Logan's survival but the fact that he has no further complications a miracle. Just like his action figure, Logan is healthy and strong as any regular child his age. His parents say they will never get rid of the Superman tog as memorabilia is not just for them, but for Logan when he becomes an adult.
He will have a tear-jerking story to tell years from now if or when he becomes a parent as well.