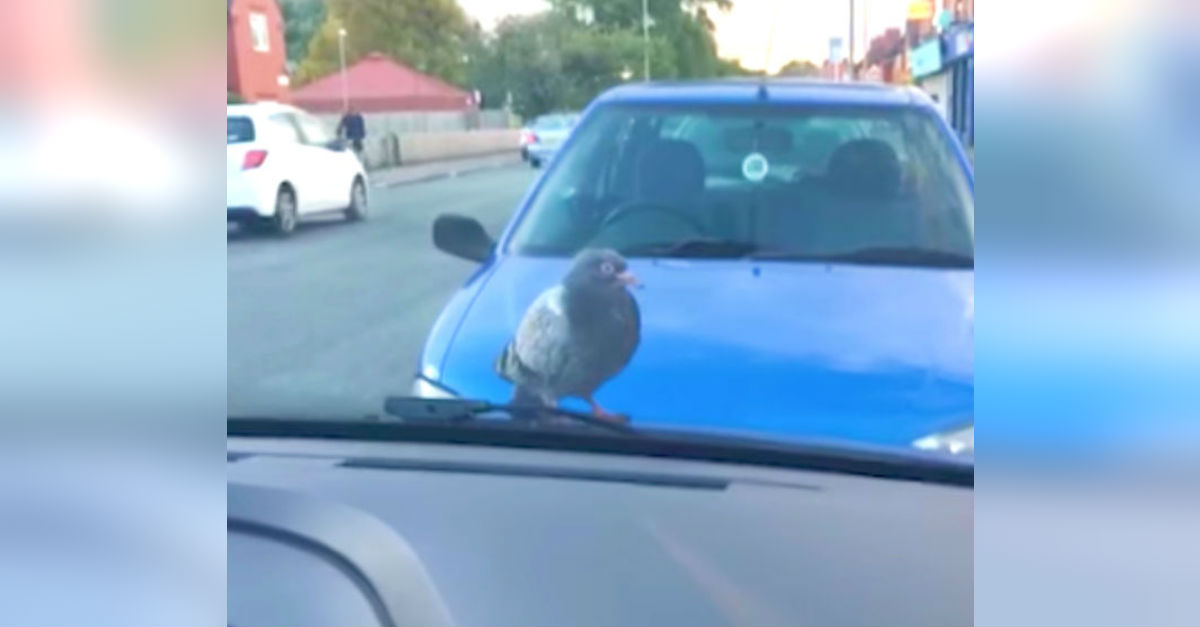 Pigeon Catches a Ride in the U.K., Shows Off Stunning Intelligence.
If you've ever been to the big city, you've likely acquainted yourself with the rats of the sky. We are talking, of course, about pigeons. Pigeons have long been granted a bad reputation thanks to how they've been portrayed in the media as well as pop-culture. Of course, pigeons aren't exactly exempt from having earned their reputation. You only need to try and eat your sandwich outside with a pigeon nearby to understand how they've become so disliked. With that being said, every pigeon is not the same. In fact, pigeons are broadly categorized into two groups: domesticated pigeons and feral pigeons. Today, we are going to introduce you to the feral pigeon that made drivers in the U.K. quake with laughter.
Whether you've lived in downtown New York City, in Manchester, or somewhere in between, you've likely acclimated yourself to life with pigeons. Pigeons have their trademark bobbing-head gait that looks cute and makes for a great Instagram video. Pigeons also have the tendency to, well, linger where they shouldn't as evidenced by one Carl Leonard as he drove through Manchester. Leonard had been sitting in the car after a trip to his hairstylist when a pigeon landed flat on the windshield of his vehicle. After a cursory tap, the pigeon wouldn't move. What was Carl to do?
As it turns out, there wasn't anything that Carl could do to rid himself of the bothersome pigeon. The bird merely sat on his hood and stared through the glass, ignoring any efforts by Carl to get the bird to leave. As Carl realized that the bird would not be leaving any time soon, the father decided to pull out his camera and record. After recording the bird, Carl tried to scare the pigeon away with his wipers, honking at the bird, and even driving. Eventually, Carl decided that he didn't care and that he had to go about his day.
But the bird stayed.
In this hilarious footage, Carl's son films the ten-minute drive from their hairstylist to their home with the pigeon proudly along for the ride. In the footage, Ryan shows the pigeon simply refusing to leave! Who knows, maybe the pigeon had somewhere special to be?
While this particular pigeon was a little annoying, most pigeons don't deserve their reputation as 'flying rats'. In fact, pigeons are pretty darn interesting when you take a closer look at them! Feral pigeons are surprisingly strong birds that have been bred to race with some birds being sold for over $300k! It's true! What's more, pigeons are capable of telling one person apart from the next. To put a flourishing finish on these fascinating pigeon facts, we'll let you know that the University of Iowa concluded that pigeons can accomplish 'string tasks' which showcase a basic level of intelligence.
Pigeons can recognize people, can problem solve, and even do basic math. Maybe Carl's video was just the beginning of the pigeon revolution? Make sure to keep those camera phones handy as you never know when a pigeon will commandeer your day!
Newly Discovered Flower Blooms Atop One of the World's RAREST Trees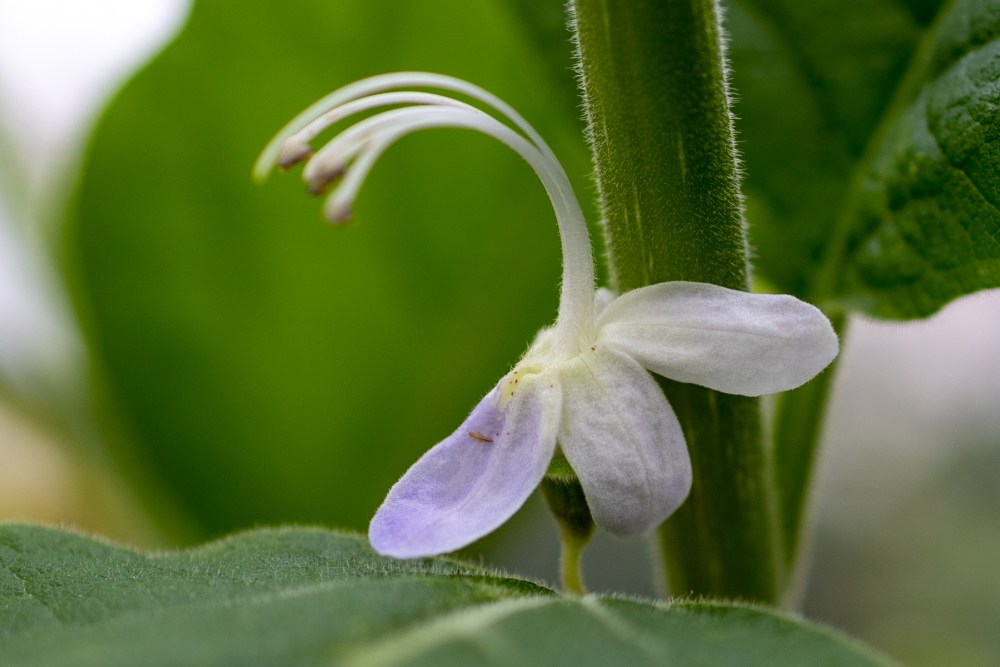 The Missouri Botanical Garden in St. Louis is known by locals for the intense work performed by the experts inside. When a small purple-and-white flower began to grow within their greenhouse, the team of experts at the Missouri Botanical Garden were confused. From their perspective, they were seeing something brand new – a completely fresh discovery.
Discovery on May 3rd
Justin Lee is a senior horticulturist at the Missouri Botanical Garden, and he was performing regular work on a Karomia Gigas sapling in the greenhouse when he first stumbled upon the rare purple-and-white flower. The Karomia Gigas is a tree from Africa with close relations to the mint plant. An endangered tree species in Africa, Justin was confused by the flower that had grown nearly an inch in length atop the tree.
Lee says of his discovery, "It's a bit odd for a mint flower. It seems flipped inside out."
The flower measured an inch in length with a strong halo of purple petals, sloping gently downward toward white stamens bearing pollen. According to Lee, the mint family likes to put out tube-styled flowers in an attempt to attract bees, butterflies, and moths. Lee also suggests that the tree can self-pollinate if necessary.
As the discovery made headlines around the city, the researchers at Missouri's Botanical Garden are preparing for more blooms in the future. Research has suggested that more Karomia Gigas flowers will grow at the greenhouse and it is then that their scientific research will really begin. Lee and his team are focused on successfully cultivating cross-pollination, thus improving the survivability of the plant in the world. At the time of this writing, only about two dozen of the Karomia Gigas trees can be found in the wilds throughout Tanzania.
The Wilds of Tanzania
At the time of this writing, the Karomia Gigas is considered so rare as to not even have a local Tanzanian nickname, nor is there an English one. What little is broadly known about the Karomia is that it can grow in straight stretches for up to 80 feet, limiting branch exposure until nearly halfway to its final height. As a result of its odd, stick-like growth, finding these unseen flower blooms has been harder than you might anticipate!
Roy Gereau is a program director for Tanzania at the Missouri Botanical Garden. Surprised but not shocked by the flower, Gereau was quick to admit that the bloom was new. Gereau said of the rare flower, "There certainly is no record of the flowers in scientific literature."
More important than discovering the flower, researchers in Missouri believe that they can maintain the health of the newly bloomed petals to prevent them from disappearing. Andrew Wyatt is the VP of Horticulture at the Missouri Botanical Garden, and he said, "We can make sure the species doesn't go extinct."
It has been a challenge to grow the plant in Missouri, as has been repeated by researchers at the facility. Seeds had been collected in 2018 from a series of Tanzanian field expeditions. These seeds were shipped to St. Louis where only around 100 were thought to be viable. To make things even more difficult, it was a task to match Tanzanian growing conditions within greenhouses in Missouri.
Despite the challenges that they had to face, it looks like the Karomia is finding solid footing within St. Louis. With some momentum and optimism on their side, what's next?
Andrew Wyatt said of the rare blooming flower and of his own future, "We were debating whether it would even flower in our careers."