Pets Elected As Mayors, Earn Town Money For Project Development
Fundraisers are a dime a dozen, but great or unique fundraisers, on the other hand, are not so common.
Desperate times call for desperate measures or thinking outside of the box, and that's exactly what officials at a town in the state of Vermont did.
Instead of moping about the pandemic's impact on their city, they decided to go back to the drawing table and come up with a plan to develop a proper playground for the children in the town and its environs.
So what did they come up with? The election of two animals, a dog, and a goat, as mayors. That fundraiser may probably be one of the greatest of all times, (goat) or just doggone smooth, but either way, the plan has been working.
The fundraiser began in 2018 in the Vermont town of Fair Haven, where they elected a goat named Lincoln to hold the position as their honorary mayor.
The project aimed to raise funds to remodel a park that has been in a state of disrepair after serving the community for more than thirty years.
Once Lincoln completed his term as honorary mayor, he was succeeded by Murphee, a dog who still handles the special mayoral duties to garner funds for the project.
Both Lincoln and Murphee make frequent appearances at events, and people have been spending their money to catch a glimpse of them.
Murphee is a King Charles Spaniel, and his owner was ready from the onset of being approached to use her dog for the fundraiser.
Little did she know that it would become a significant undertaking attracting thousands of people and raising thousands of dollars.
The city aims to raise a hundred thousand dollars, and so far, the animals have helped to warn approximately thirty thousand of the amount.
The town has added another twenty thousand dollars to the amount raised, putting them at half the amount needed.
With the honorary mayors gaining national prominence, it is expected that they'll make the full amount needed for the redevelopment project at the park and more.
The federal Land and Water Conservation Fund has given a grant amounting to the other half required for the development, to Fair Bank.
Therefore, any additional earnings will go to other things needed in the community.
Residents are genuinely appreciative of the show put on by both Lincoln and Murphee in refined style and plan to begin the park renovation project in the spring.
Everyone is looking forward to the transformation of the park, which will enhance the aesthetics of the town.
It is not yet clear if the honorary mayors will be popularly featured at the park or if they'll be participating in the ribbon-cutting ceremony.
However, it turns out; this is undoubtedly going to be spoken about for many years to come. It will be a great story to tell the future generation about how the funds were raised to build the fantastic Park that they now enjoy.
Dog Trainer and Dog Groomer Get Married Accompanied By Their Best Friends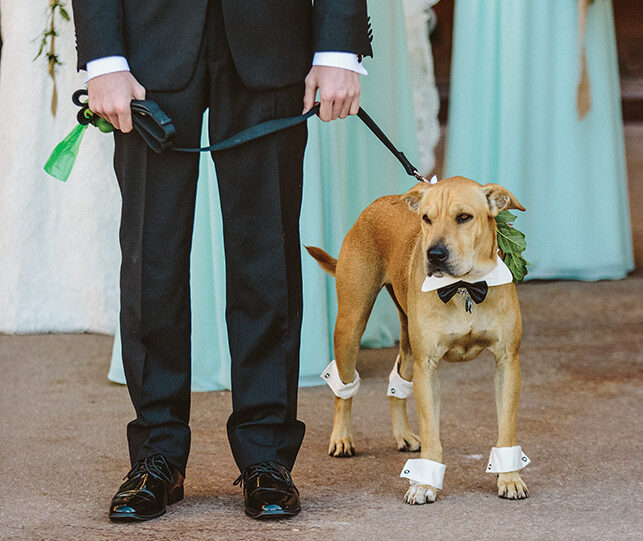 Weddings Are for Sharing With Loved Ones
When people get married, they spend one perfect day with their most loved friends and family. While many people only think about their human friends and family, there are a lot of people who could never imagine starting this important new chapter in their lives without their beloved pets. In fact, many people might have to admit, if they were being honest, that they loved their pets more than some of the relatives who came to the wedding, especially if they felt obligated to invite some relatives they rarely see and barely know.
Some People Already Spend Their Lives With Pets
Anyone who works full-time as a dog trainer or groomer already spends most of their working days with animals. They see dogs all day long, and they make the choice to do so because of many reasons. Working with pets is rewarding on many levels. Especially if you see the same dogs again and again, you form a close bond. Communicating with pets is therapeutic and generally far less stressful than dealing with humans. The people who work with dogs don't get sick of dogs and try to go home to a quiet house; they tend to have larger pet families than average.
A Dog Trainer and a Dog Groomer Tie the Knot
Paul and Annette Anthony are typical in that they work with dogs as a profession, and they have a large pet family. On the day they got married, their family consisted of 2 humans and 9 canines. Both Paul and Annette admitted that their pets were more to them than just fun — their beloved dogs also helped them get through rough times in their lives, including personal tragedies. Annette's German Shepherd Pesci is even an emotional support animal, helping her to deal with severe anxiety and depression. There was no way that their pets were going to be left out of the most important day of their lives going forward.
Canine Best Man
Paul's service dog Finn has earned his retirement. Finn has competed in over 40 events, earning titles and even setting records. He was also there for Paul when Paul developed PTSD after being at the scene of the deadliest plane crash in Pennsylvania's history. Finn was the one who helped with the proposal, giving Annette the ring with a note asking her to marry his dad. It was only fitting that Finn ended up being one of the best men at the wedding too.
A Family Affair
All 9 dogs walked down the aisle and stayed throughout the ceremony. Annette's dog Pesci even came to comfort her during the ceremony when she started to cry from happiness because he wanted to make sure his momma was all right. Whether you want to use your dogs in the ceremony as ring bearers, best men, or flower girls, or if you just want them to be present, it makes sense to have your pets help you celebrate such an important day in your life.