Pastor Channels Frustration Into Compassion And Bike Repair Program After His Was Stolen
Many times people are victimized, leading to them developing hatred for the perpetrator, and many other people they believe fall in the same category.
In this story where a man of the cloth had his bicycle stolen, you'll see that there are always multiple options when determining how to deal with a crime against you.
This is especially so when something dear to you has been stolen-in this case a bicycle-and you have to decide whether to stay angry and hope to find the culprit or just let go and move on with your life.
This Pastor chose to channel his energy into what has become a mammoth project involving an entire community, showing compassion to each other.
Here's what happened.
To most people, it sounds like a crime to get property stolen. Robbie Pruitt admits he was furious, but soon enough, he switched emotions when his mountain bike was filched last September.
He decided to go on a journey towards compassion after leaving his resentment and frustration behind.
Pruitt's first concern, as an enthusiastic biker, was to replace the ride, but he found that there were very few options when he went bike shopping.
He thought of the shortage of inventory: what if the shortage of bikes was linked to the pandemic and suppose the person who stole his bike did so because they really needed the means to get to their job?
To that end, Pruitt, assistant rector of the Leesburg Sacred Spirit Church in Virginia, proposed a proposal that was published in a local Facebook community.
For anyone who wanted it, Pruitt offered to repair bikes for free.
He also called for discarded bikes, which he fixed — once again free — and then donated to people who could use them but did not have a budget to purchase a bicycle.
Pruitt finished with a stock of thirty bicycles on the day the post went up. More than 500 questions from individuals who either had bikes to contribute or needed assistance soon followed the original inpouring.
By year-end, it turned out that Pruitt had gotten over one hundred and forty donations or returned to its owners at a sixty percent rate.
Pruitt doesn't veto applications but aims to balance his bounties for the most demanding families.
The journey he took has also gone much further than merely fulfilling the material needs and providing children with the nuts and pins to repair their bikes in the Loudoun County district.
The venture has been a fantastic way to keep all the children in the community active and spend a lot of time helping in whatever way possible.
They have become handy, and nearly all of them now have a bike they've helped to put together, giving them a sense of pride and achievement.
Pruitt teaches resilience and teamwork in addition to logical skills, stimulates self-esteem, and fosters group feelings. In reality, establishing relationships is one of Pruitt's most significant advantages.
The parents are very appreciative as well and have been supportive in whatever way they can.
As a daily activity after the pandemic has ended, Pruitt hopes to incorporate his Bicycle Ministry into his church.
In the meantime, the daily crew of helpers who assemble at the rear of their homes after their distant school days are grateful for an outlet that helps them channel their energies in a meaningful way.
This is a unique situation, which has turned out to be beneficial to an entire community and its environs.
It's also a learning curve for many people who now see that something meant for evil can be used for a greater purpose.

The Returned Wallet from Antarctica – Half A Decade Later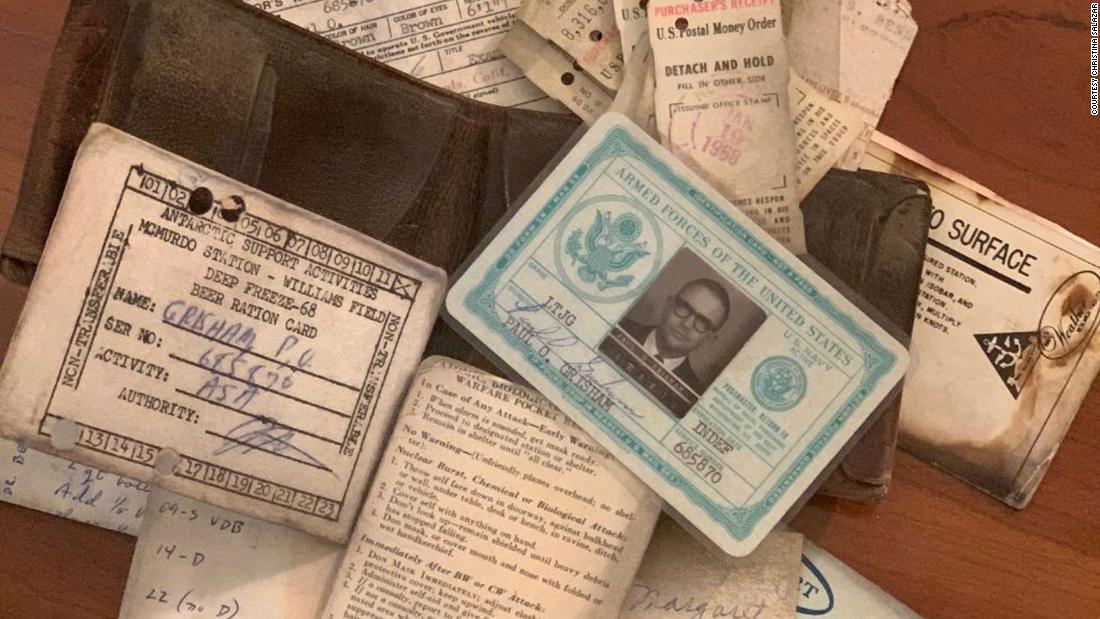 In 1968 a meteorologist was stationed in Antarctica among a number of military personnel. Their role was research as well as, and Paul Grisham's job was to track the weather in the southern pole region. Unfortunately, as crazy as it seems, Grisham managed to lose his wallet while working in the remote location and never did find it before leaving. That wallet sat in Antarctica at the station for another 53 years until it was rediscovered.
When the wallet was returned to Grisham, he felt like he was going back in a mental time machine. The wallet was in exceptionally good condition as well as the cards and materials that were kept in it. At 91 Grisham remarked first about how young he looked in the card photos as well as how far back that part of his life was.
The location, McMurdo Station, was being redesigned along with the demolishing and removal of older buildings. During the work, one of the construction crew found the wallet which had stayed in its place since Grisham had been stationed. Looking back on the cards now, Grisham continues to repeatedly trigger memories when he looks at his own Navy ID card. Last carried in 1968, the card was preserved and never deteriorated except for the edges of the leather. Included in the contents was a beer ration card, a guide card on how to deal with attacks ranging from nuclear to biological. And Grisham even included a recipe folded up in the cards for a liqueur.
The weather monitoring was a big issue at the time. Unlike today with tons of satellites spinning around the planet for watching everything from a farmer in the western side of China eat a sandwich to the weather's minute moves, back then the weather had to be observed in person. Grisham's job was to track the regional patterns so that planes and ships moving through the edge of the southern hemisphere to the station could do so safely and avoid storms. The work shifts were hard; Grisham remembered working a half day on, literally, and the half day off to rest and went straight for five long months.
Things weren't all about work. Grisham remembers they had pretty useful mini bowling alley which never got boring. And an inside gym was handy since jogging outside was off the list everyday of the year. Location-wise, the station was in one of the best locations in Antarctica as well; it would usually get to a balmy 25 degrees Fahrenheit. That was considerably better than other locations a bit further in easily only getting to a tepid minus 65 degrees.
When Grisham left the southern continent, he did so with a promotion, but he never did find his wallet before taking off. He doesn't have any fond wishes to return, still remembering a soda would explode from the cold in under 15 minutes if left outside. However, one thing he did miss was all the IOUs Grisham kept in his wallet from winning an inordinate number of poker games while on duty at McMurdo. It does make one wonder if he can still collect on this plus interest.
Grisham continues to be a name in history, but the rediscovered wallet was not his first entry. Grisham spent two hours talking with Sir Edmund Hillary about weather when Hillary arrived, and Grisham himself also got to reach the South Pole as well, some 850 miles inland. Sitting now at home, he enjoys the San Diego weather a lot more, but the wallet recovery was definitely a nice touch to Memoryville.