Pastor Channels Frustration Into Compassion And Bike Repair Program After His Was Stolen
Many times people are victimized, leading to them developing hatred for the perpetrator, and many other people they believe fall in the same category.
In this story where a man of the cloth had his bicycle stolen, you'll see that there are always multiple options when determining how to deal with a crime against you.
This is especially so when something dear to you has been stolen-in this case a bicycle-and you have to decide whether to stay angry and hope to find the culprit or just let go and move on with your life.
This Pastor chose to channel his energy into what has become a mammoth project involving an entire community, showing compassion to each other.
Here's what happened.
To most people, it sounds like a crime to get property stolen. Robbie Pruitt admits he was furious, but soon enough, he switched emotions when his mountain bike was filched last September.
He decided to go on a journey towards compassion after leaving his resentment and frustration behind.
Pruitt's first concern, as an enthusiastic biker, was to replace the ride, but he found that there were very few options when he went bike shopping.
He thought of the shortage of inventory: what if the shortage of bikes was linked to the pandemic and suppose the person who stole his bike did so because they really needed the means to get to their job?
To that end, Pruitt, assistant rector of the Leesburg Sacred Spirit Church in Virginia, proposed a proposal that was published in a local Facebook community.
For anyone who wanted it, Pruitt offered to repair bikes for free.
He also called for discarded bikes, which he fixed — once again free — and then donated to people who could use them but did not have a budget to purchase a bicycle.
Pruitt finished with a stock of thirty bicycles on the day the post went up. More than 500 questions from individuals who either had bikes to contribute or needed assistance soon followed the original inpouring.
By year-end, it turned out that Pruitt had gotten over one hundred and forty donations or returned to its owners at a sixty percent rate.
Pruitt doesn't veto applications but aims to balance his bounties for the most demanding families.
The journey he took has also gone much further than merely fulfilling the material needs and providing children with the nuts and pins to repair their bikes in the Loudoun County district.
The venture has been a fantastic way to keep all the children in the community active and spend a lot of time helping in whatever way possible.
They have become handy, and nearly all of them now have a bike they've helped to put together, giving them a sense of pride and achievement.
Pruitt teaches resilience and teamwork in addition to logical skills, stimulates self-esteem, and fosters group feelings. In reality, establishing relationships is one of Pruitt's most significant advantages.
The parents are very appreciative as well and have been supportive in whatever way they can.
As a daily activity after the pandemic has ended, Pruitt hopes to incorporate his Bicycle Ministry into his church.
In the meantime, the daily crew of helpers who assemble at the rear of their homes after their distant school days are grateful for an outlet that helps them channel their energies in a meaningful way.
This is a unique situation, which has turned out to be beneficial to an entire community and its environs.
It's also a learning curve for many people who now see that something meant for evil can be used for a greater purpose.

Walk Along the Beach Turns Into Jurassic Experience For Shellfish Collector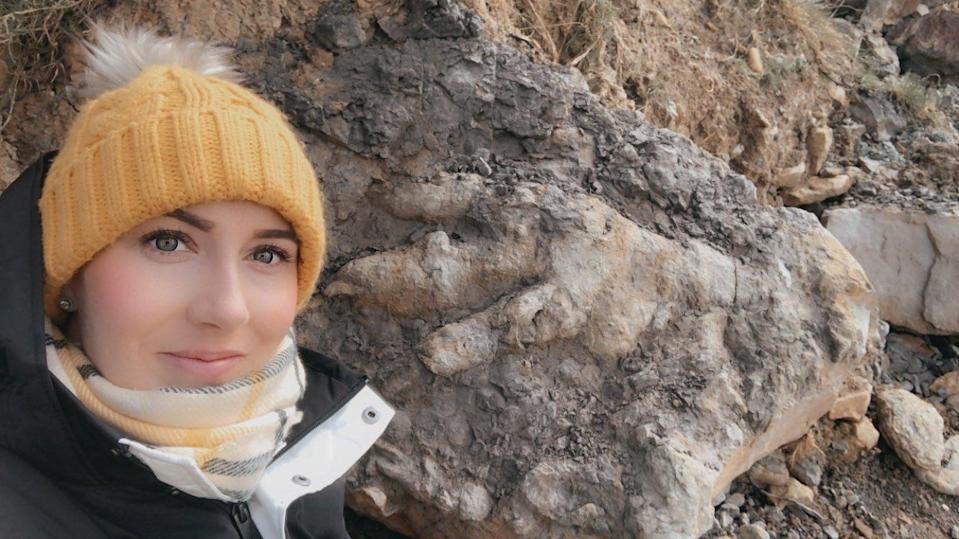 When was the last time that you were truly blown away by something? We don't mean impressed, we mean truly blown away. It's a tough state of mind to find ourselves in, but that doesn't mean that 29-year-old shellfish collector Marie Woods would have the same experiences! Woods had been foraging for shellfish along the Yorkshire Coast when she came across something quite remarkable. And when we say 'quite remarkable' what we really mean is 'a relic of time'.
Let's explore how a walk along the beach turned into a journey through time.
165 Million Years Ago…
Marie Woods was like many Yorkshire locals when she found herself walking along the coast, foraging for dinner. Woods had been looking for shellfish to incorporate into her meal when she came across something quite unique. In fact, what she found was something both out of time and out of place – an enormous footprint thought to be at least 165 million years old!
Now documented by experts, Marie was one of the first leaders in the field to examine the footprint. More than just a local shellfish enthusiast, Marie is also an archeologist. Upon finding the footprint, Marie would end up making international news. Marie said of her experience, "All I wanted was to grab some shellfish for my dinner." Marie would go on to add, "..and I ended up stumbling across this."
Woods wasn't the only expert to put a pair of eyes on the uncovered footprint as Dr. Dean Lomax of the University of Manchester was quick to chime in. Dr. Lomax believes that the discovered print is that of the Megalosaurus, an animal that would stand with hips over two meters high and a body longer than nine meters. Put more plainly, Dr. Lomax says, "This is the largest theropod footprint ever found in Yorkshire, at least made by a large meat-eating dinosaur."
The footprint is distinguishable at a glance, most notable due to its three-toed track and long shape. Dr. Lomax goes on to say that the shape of the footprint makes for a 'large theropod' or, as he likes to say, 'a real Jurassic giant'.
Learning About Megalosaurus
Also known as the Great Lizard, the Megalosaurus was a large meat-eating dinosaur from the theropod class, existing throughout the Middle Jurassic Period. Found throughout Southern England, the first-ever genus of this dinosaur was found in 1824. Originally mistaken by a researcher for a 66-foot long lizard, Megalosaurus would receive more significant and accurate coverage after its inclusion in Richard Owen's Dinosauria.
Described as bipedal with stout hind limbs, the Megalosaurus stood roughly 20 feet tall while weighing in at over 1,500 lbs. With short forelimbs and sharp teeth, the megalosaurus was quickly categorized as another meat eater for the time period. Unfortunately, we are still very short on further details as it has been beyond difficult for researchers to find a well-preserved fossilized skull for the Megalosaurus. Sans this information, it can be hard for researchers to get completely accurate details.
After discovering the fossilized footprint of Megalosaurus, Marie would contact other local experts where she would find out that her discovery was not completely new. Roughly a year ago, the footprint had been found by a local photographer named Rob Taylor. Though the image had been shared on social media, nothing had ever come of the discovery – at least not until Marie showed up.
Working with local experts, Marie and Rob are hopeful that their share discovery may find its way into a public display at the Rotunda Museum located in Scarborough.