Pastor Channels Frustration Into Compassion And Bike Repair Program After His Was Stolen
Many times people are victimized, leading to them developing hatred for the perpetrator, and many other people they believe fall in the same category.
In this story where a man of the cloth had his bicycle stolen, you'll see that there are always multiple options when determining how to deal with a crime against you.
This is especially so when something dear to you has been stolen-in this case a bicycle-and you have to decide whether to stay angry and hope to find the culprit or just let go and move on with your life.
This Pastor chose to channel his energy into what has become a mammoth project involving an entire community, showing compassion to each other.
Here's what happened.
To most people, it sounds like a crime to get property stolen. Robbie Pruitt admits he was furious, but soon enough, he switched emotions when his mountain bike was filched last September.
He decided to go on a journey towards compassion after leaving his resentment and frustration behind.
Pruitt's first concern, as an enthusiastic biker, was to replace the ride, but he found that there were very few options when he went bike shopping.
He thought of the shortage of inventory: what if the shortage of bikes was linked to the pandemic and suppose the person who stole his bike did so because they really needed the means to get to their job?
To that end, Pruitt, assistant rector of the Leesburg Sacred Spirit Church in Virginia, proposed a proposal that was published in a local Facebook community.
For anyone who wanted it, Pruitt offered to repair bikes for free.
He also called for discarded bikes, which he fixed — once again free — and then donated to people who could use them but did not have a budget to purchase a bicycle.
Pruitt finished with a stock of thirty bicycles on the day the post went up. More than 500 questions from individuals who either had bikes to contribute or needed assistance soon followed the original inpouring.
By year-end, it turned out that Pruitt had gotten over one hundred and forty donations or returned to its owners at a sixty percent rate.
Pruitt doesn't veto applications but aims to balance his bounties for the most demanding families.
The journey he took has also gone much further than merely fulfilling the material needs and providing children with the nuts and pins to repair their bikes in the Loudoun County district.
The venture has been a fantastic way to keep all the children in the community active and spend a lot of time helping in whatever way possible.
They have become handy, and nearly all of them now have a bike they've helped to put together, giving them a sense of pride and achievement.
Pruitt teaches resilience and teamwork in addition to logical skills, stimulates self-esteem, and fosters group feelings. In reality, establishing relationships is one of Pruitt's most significant advantages.
The parents are very appreciative as well and have been supportive in whatever way they can.
As a daily activity after the pandemic has ended, Pruitt hopes to incorporate his Bicycle Ministry into his church.
In the meantime, the daily crew of helpers who assemble at the rear of their homes after their distant school days are grateful for an outlet that helps them channel their energies in a meaningful way.
This is a unique situation, which has turned out to be beneficial to an entire community and its environs.
It's also a learning curve for many people who now see that something meant for evil can be used for a greater purpose.

Jughead's Journey: A Dog Is Rescued After Surviving With Jug On Head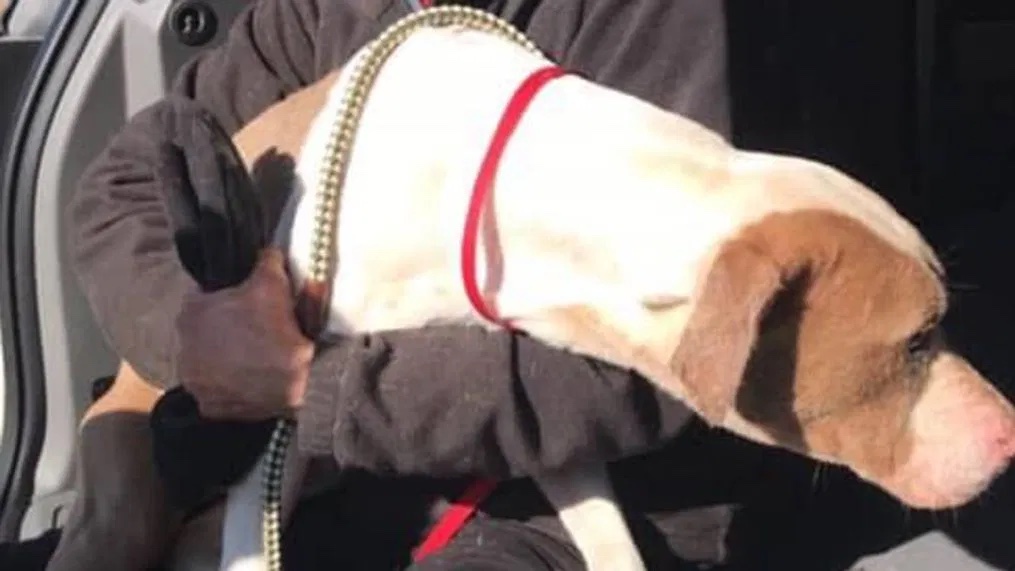 In the quiet neighborhoods of Montgomery County, Texas, a furry friend named Jughead found himself in a tight spot—literally. This courageous canine had inadvertently stuck his head inside a jug, turning a simple act of scavenging for food into a perilous predicament. Little did he know, a compassionate woman named Teri Goodnight would become his guardian angel.
Jughead, a stray dog with a name as unique as his misadventure, was affectionately dubbed after the container that caused his troubles. The jug, which turned out to be a cat feeder, became a makeshift helmet for poor Jughead, restricting his vision and creating a challenging barrier to eating and drinking. Enter Teri Goodnight, a woman with a heart full of compassion and a determination to make a difference.
Teri spent an entire month, investing not only time and effort but also several hundred dollars in fuel, on a mission to rescue Jughead. His elusive nature made the task a formidable challenge, as he roamed the neighborhoods near FM 1314 and Lazy Lane in the Porter area. But Teri refused to give up.
"We took wire cutters and cut all the way around it and pulled it off of his head. So this was the only way he was able to eat and drink or see," Teri explained. Despite the initial fear that Jughead couldn't breathe, it became clear that he could still manage essential functions. Yet, Teri's determination to free him from his plastic prison only intensified.
Jughead's story is not one of despair but of resilience and triumph. Teri's tireless efforts paid off, and Jughead, along with his friend Red, was finally captured and rescued. The jug was removed, unveiling a grateful pup who could now enjoy the simple pleasures of life without hindrance.
Reflecting on the emotional moment, Teri shared, "I literally cried for 10 minutes after I caught him, I just broke down started crying. I was relieved it was over." Jughead's rescue was not just a personal victory; it represented the power of kindness and the difference one person can make in the life of an innocent creature.
Now under the care of the East Texas Hoof and Paw Animal Rescue, Jughead and Red have a chance at a brighter future. Teri expressed her hope that they would find loving homes, breaking free from the challenges of street life.
"These two had a foster, they are now with a rescue so they will be vetted and adopted out and go to loving homes and not have to be street dogs anymore," Teri joyfully shared, emphasizing the transformative impact of compassion and dedication in the world of animal rescue.
Jughead's journey from a jug-bound wanderer to a hopeful candidate for a forever home is a testament to the remarkable bond between humans and animals, proving that sometimes, all it takes is one person with a big heart to change a life.