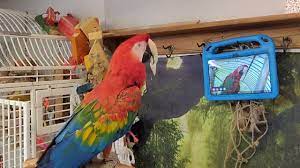 Parrots Learn To Socialize Through Video Calls
Video calls turned out to be a great way for pet parrots to connect and interact with each other, especially when they are living alone or separated from their flock. This was the focus of a recent experiment conducted by researchers from Northeastern University, the University of Glasgow, and MIT. The goal of the study was to explore how pet parrots would respond to video calls with other parrots, and whether this could have any benefits for their well-being.
Parrots are social creatures that naturally live in flocks, and they thrive on social interaction and engagement with others. When kept as pets, however, they are often separated from other parrots and may become bored, anxious, or even self-destructive if they are left alone for long periods of time. This is why providing them with opportunities for socialization and engagement is so important for their health and happiness.
In this study, the researchers taught a group of pet parrots how to initiate video calls with other parrots using a touchscreen tablet. The birds were trained to ring a bell and then touch an image of another parrot on the tablet to start a call. In the first phase of the experiment, 212 video calls were made, each lasting up to 5 minutes or until the birds lost interest. During this phase, the birds showed a lot of curiosity and interest in the calls, and many of them learned new skills and behaviors from their bird friends.
In the second phase of the experiment, the birds were given the freedom to initiate calls on their own and choose who they wanted to call. They made 147 calls during this phase, and the calls typically lasted for at least 5 minutes each. The birds showed a wide range of behaviors and interactions during the calls, including singing, playing, showing off toys, and even calling out to each other.
According to the researchers, the birds seemed to really enjoy the video calls and benefited from the social interaction and engagement with their bird friends. They also learned new sounds and behaviors from each other, which suggests that video chatting could be a valuable tool for enriching the lives of pet parrots.
"I was quite surprised at the range of different behaviors," co-author Ilyena Hirskyj-Douglas, an animal-computer interaction researcher at the University of Glasgow, tells the Guardian's Hannah Devlin. "Some would sing, some would play around and go upside down, others would want to show another bird their toys."
The study highlights the importance of providing pet parrots with opportunities for socialization and engagement, and suggests that video chatting could be a valuable tool for achieving this. By giving pet parrots the ability to connect with other parrots through video calls, we can help them lead happier and more fulfilling lives, and also learn new skills and behaviors from their bird friends.
Jacksonville Man Spreads Love and Positivity at the Beach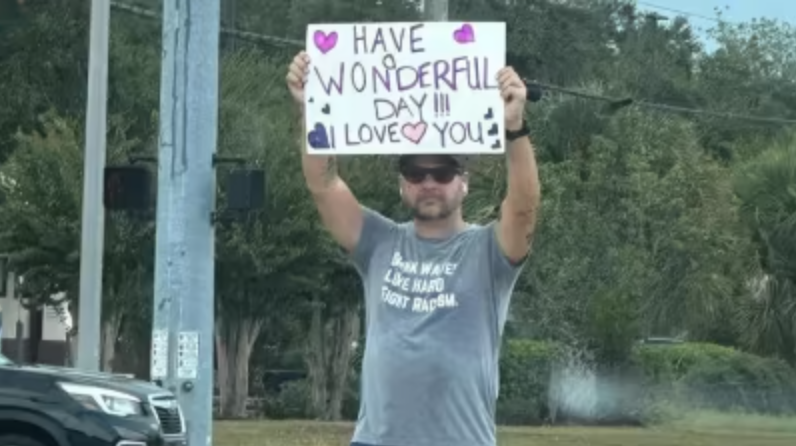 In Jacksonville, Florida, a man has been making waves of positivity and spreading kindness at the Beach Boulevard and San Pablo Road South intersection. With handmade signs that read, "Have a wonderful Day!! I Love You" and "You are Relevant," this man is on a mission to uplift the spirits of those who pass by. His heartwarming gestures have not gone unnoticed, and his actions are especially poignant during National Suicide Prevention Month.
Rika, a local resident, had a unique encounter with this compassionate individual. She was on her way to pick up her lunch when she saw a man standing in the median of the road, holding these uplifting signs. Most of us would just glance and continue on our way, but Rika decided to take a closer look. As she stopped at a red light, she took a few pictures to capture the moment. To her surprise, the man approached her car and handed her a sunflower.
"So picture this… you're out going to pick up your lunch, and there's this random guy walking by with a handmade sign," Rika recounted. "I'm sure like most of us, we'd glance and keep it moving, but I decided to read his sign since I was at a stop light. I snapped a few pictures because why not, but as I was doing this, he approached my car door to hand me a sunflower! Don't forget to appreciate the small things."
This simple act of kindness had a profound impact on Rika, as it has on many others who have encountered this man and his signs. His message of love and importance reminds us all to appreciate the small joys in life and to acknowledge our worth.
The man's efforts are not just a random act of kindness; they hold special significance during National Suicide Prevention Month. September is a time when people and organizations across the country work to raise awareness about mental health and suicide prevention. This Jacksonville man's compassionate actions align perfectly with the spirit of this month, as he strives to remind people that they matter and that there is goodness in the world.