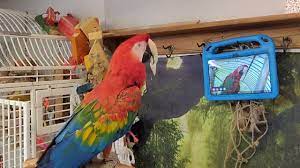 Parrots Learn To Socialize Through Video Calls
Video calls turned out to be a great way for pet parrots to connect and interact with each other, especially when they are living alone or separated from their flock. This was the focus of a recent experiment conducted by researchers from Northeastern University, the University of Glasgow, and MIT. The goal of the study was to explore how pet parrots would respond to video calls with other parrots, and whether this could have any benefits for their well-being.
Parrots are social creatures that naturally live in flocks, and they thrive on social interaction and engagement with others. When kept as pets, however, they are often separated from other parrots and may become bored, anxious, or even self-destructive if they are left alone for long periods of time. This is why providing them with opportunities for socialization and engagement is so important for their health and happiness.
In this study, the researchers taught a group of pet parrots how to initiate video calls with other parrots using a touchscreen tablet. The birds were trained to ring a bell and then touch an image of another parrot on the tablet to start a call. In the first phase of the experiment, 212 video calls were made, each lasting up to 5 minutes or until the birds lost interest. During this phase, the birds showed a lot of curiosity and interest in the calls, and many of them learned new skills and behaviors from their bird friends.
In the second phase of the experiment, the birds were given the freedom to initiate calls on their own and choose who they wanted to call. They made 147 calls during this phase, and the calls typically lasted for at least 5 minutes each. The birds showed a wide range of behaviors and interactions during the calls, including singing, playing, showing off toys, and even calling out to each other.
According to the researchers, the birds seemed to really enjoy the video calls and benefited from the social interaction and engagement with their bird friends. They also learned new sounds and behaviors from each other, which suggests that video chatting could be a valuable tool for enriching the lives of pet parrots.
"I was quite surprised at the range of different behaviors," co-author Ilyena Hirskyj-Douglas, an animal-computer interaction researcher at the University of Glasgow, tells the Guardian's Hannah Devlin. "Some would sing, some would play around and go upside down, others would want to show another bird their toys."
The study highlights the importance of providing pet parrots with opportunities for socialization and engagement, and suggests that video chatting could be a valuable tool for achieving this. By giving pet parrots the ability to connect with other parrots through video calls, we can help them lead happier and more fulfilling lives, and also learn new skills and behaviors from their bird friends.
American Couple's Kindness Shines in Snowy Adventure with South Korean Tourists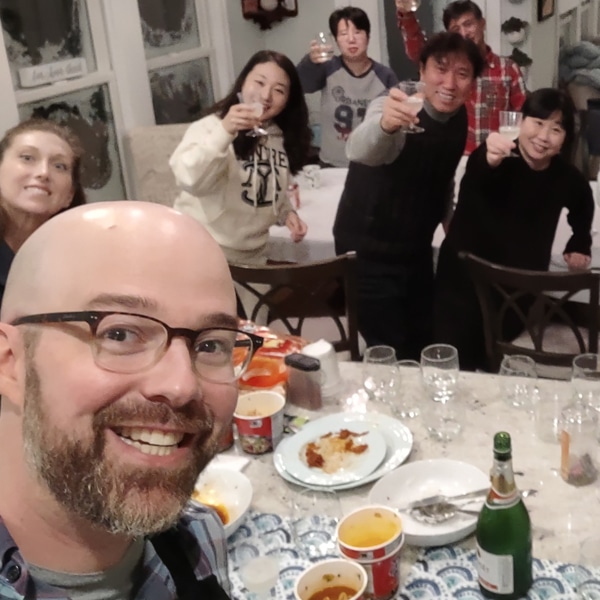 In a heartwarming tale of kindness and friendship, an American couple from Buffalo, New York, opened their home to a group of stranded South Korean tourists during a severe blizzard on December 23rd. What started as a simple request for shovels turned into a heartwarming story that went viral, bringing people together across borders. The couple's act of compassion not only provided shelter but also sparked an enduring bond that led to a special reunion in South Korea. Let's delve into this remarkable story and explore the lasting impact of their selfless act.
As the blizzard raged outside, ten South Korean tourists found themselves stuck in their van, unable to move through the heavy snow. Seeking assistance, they approached a nearby house and requested shovels to dig themselves out. However, they received much more than they had anticipated. The couple, who had prepared for a quiet Christmas at home, welcomed the strangers with open arms and invited them inside.
The storm had brought these strangers together, creating an opportunity for cultural exchange and friendship. During the two nights and three days they spent together, the couple and their unexpected guests bonded over stories, shared meals, and even watched American football. The couple, who had a deep appreciation for Korean cuisine, surprised their guests with an array of Korean food ingredients. The South Korean visitors were amazed to find soy sauce, mirin, chili powder, chili paste, a rice cooker, and Korean cookbooks, as if the couple had been preparing for their arrival.
News of the couple's kindness quickly spread across the internet, captivating hearts around the world. Social media platforms buzzed with messages of admiration and appreciation for their selfless act. Many people were inspired by their story and were motivated to perform acts of kindness themselves. The couple received an outpouring of support, with kind messages, cards, and generous gifts from various Korean groups, including a year of free fried chicken at Genesis BBQ.
Months later, in May, the couple embarked on a 10-day tour of Seoul, graciously invited by the Korea Tourism Organization. This visit was not merely a sightseeing adventure but a chance to reunite with the guests they had sheltered during the blizzard. Andrea, the wife, expressed her gratitude and joy, saying, "To see everyone in Korea again is such a blessing." The couple had always held an appreciation and interest in Korean culture, and their chance encounter had brought them closer to this beautiful country.
The bond forged during their time together in Buffalo proved to be strong and lasting. The couple and their South Korean guests became lifelong friends. The experience inspired not only the couple but also their guests, who felt compelled to pay it forward and spread kindness to others. Through their act of compassion, the American couple created a ripple effect of goodwill, reminding us of the power of empathy and humanity.