Owner Finds Stray Dog after 8 Years of Searching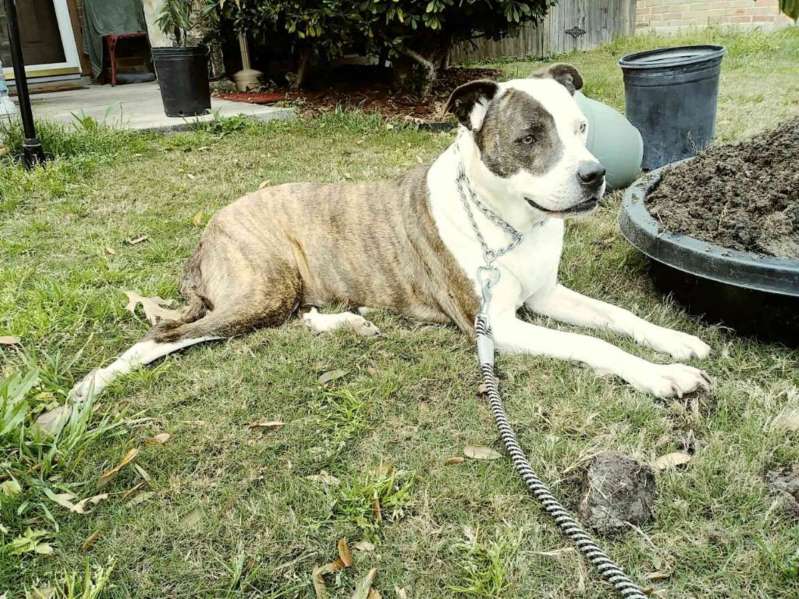 Sophia Hanson let her two large dogs, Laila, and Blake into the yard in 2009. A little later, she went outside to discover that they had vanished. Hanson told The Dodo that she is still unsure if they were stolen since no doors were left open and both disappeared.
After one year of searching, Hanson and her husband saw a post on Craigslist that someone within close proximity to their San Antonio home was selling a pit bull for $500. The dog looked suspiciously like Blake. Naturally, they were pretending like they were going to purchase a dog with money in hand. Hanson noted that when they went to the seller's house, they confirmed it was him and he was wearing the largest chain they had ever seen.
Sadly, the treatment of Blake caused major issues for him. Blake had to go through an entire rehabilitation process which has made him a giant teddy bear once again. Seeing this type of treatment of Blake made the Hansons fear the treatment of Laila, who was still missing. Hanson continued checking the local shelters for many years.
Thankfully, Laila had a guardian angel looking out for her. In 2018, Janice Rackley spotted Laila alone in a field, severely malnourished; not more than skin-and-bones. By her appearance, it was clear that she had been alone, uncared for and unloved for a long time. Rackley knew she had to take action quickly.


Rackley told The Dodo that the dog needed medical attention and nobody was going to help her get the proper treatment. Rackley further noted that she felt she found the dog for a reason and it was to help her. Laila was entirely dependent on Rackley for assistance.
Each day following, Rackley drove out to the field with heavy jugs of water and dog food. Initially, the dog was so frightened that she would run in the opposite direction as soon as Rackley approached. Eventually, Rackley had earned her trust.
After around six-months, Laila began to come closer and closer until she finally let Rackley pet her. Rackley then thought that maybe she could put a leash on her while eating. However, whenever Laila saw the leash, she would become frightened and run in the other direction.
Finally, as New Year's Eve approached and the weather became cold, Rackley determined that it was the last chance to rescue the dog so she picked up Laila, tossed her over her shoulder and brought the dog to her car. Surprisingly, Laila was calm and very sweet about the entire situation. For the one-month following, Laila would not leave Rackley's home.
Once her personality revealed itself, Rackley learned that the dog's past had many secrets. Laila knew how to sit, shake and lay down indicating that this dog had been well-trained so someone had to be missing her. Rackley brought Laila to animal control to be scanned for a microchip which had all of her information.
Meanwhile, 40-miles away, Hanson and her husband were ending their evening in the home. Just before they turned off their light in bed, they received a call from Rackley and could not believe what they were hearing. Hanson immediately jumped in the car as she could not wait another moment to see Laila. There was an emotional reunion when Laila and Hanson could not believe it was the other.
Hanson noticed that Laila had changed in many ways but Laila still remembered her past life. They previously nicknamed her Scooby Doo because of the sounds she made. When Hanson's husband yelled out, "Scooby-Doo! Scooby-Doo!" Laila made the same sounds once again. Today, Laila is home with three senior rescue dogs, including Blake and is adjusting to her old life. While she is still wary of her new siblings, she is so happy and grateful to be home with mom and dad.
The Champion Taco-Eating Pit Bull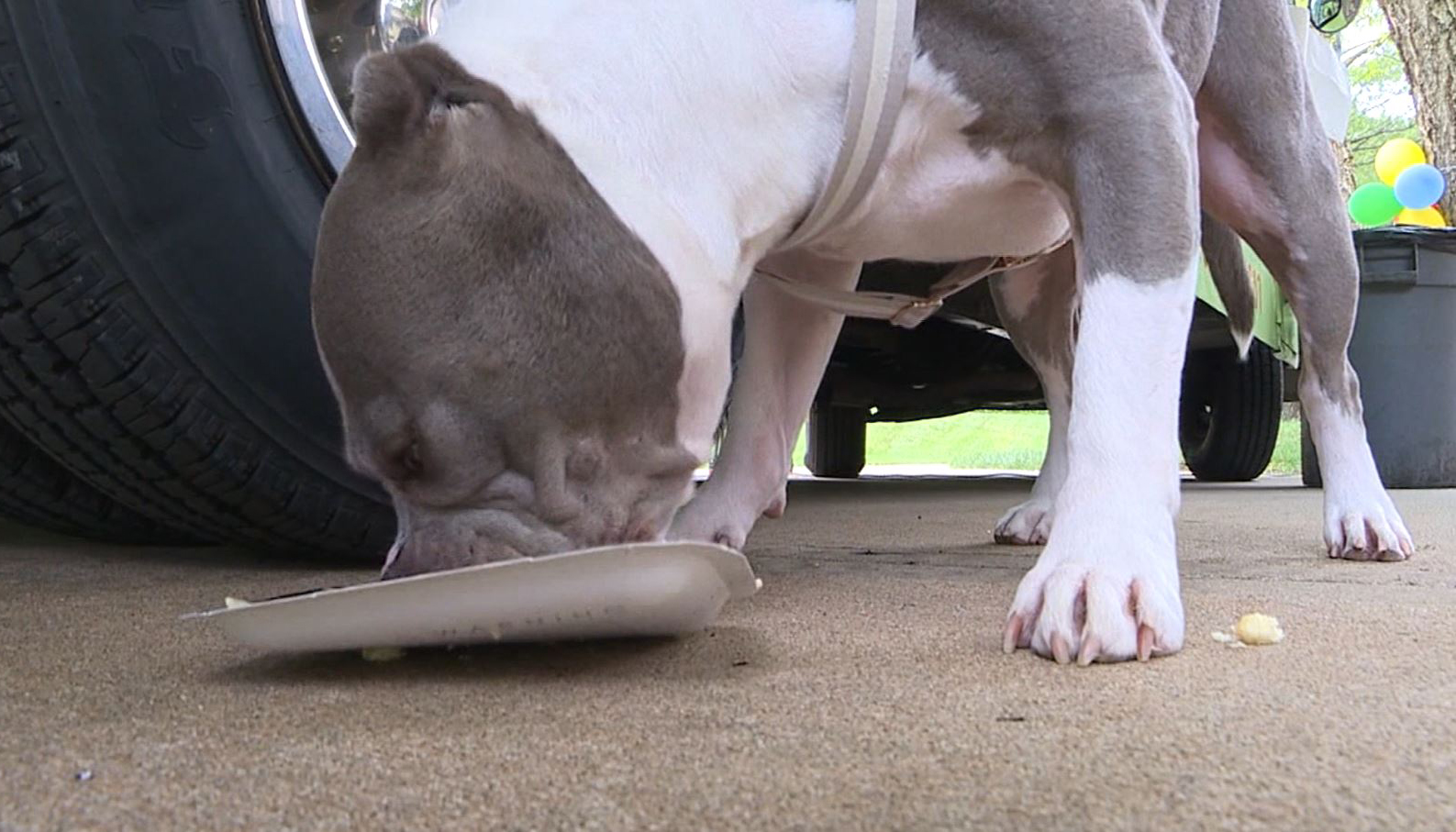 My neighbor Jose had just adopted a special pit bull from the local rescue shelter. It had been the faithful companion for five years of Jose's elderly friend who had passed away a few months earlier. Because pit bulls have a bad rap, nobody wanted the dog, so the shelter planned to put it to sleep. When my neighbor learned that his friend's faithful companion was about to be killed, he immediately adopted the dog. I don't know about cats having nine lives, but that dog definitely got a second life.
That dog went everywhere with Jose. The dog's name was Lucky, but Jose made a point of calling him something like "Lu-key." Jose even got that large pooch service-dog certified, which meant he could take that dog into the supermarkets and even into the county fair.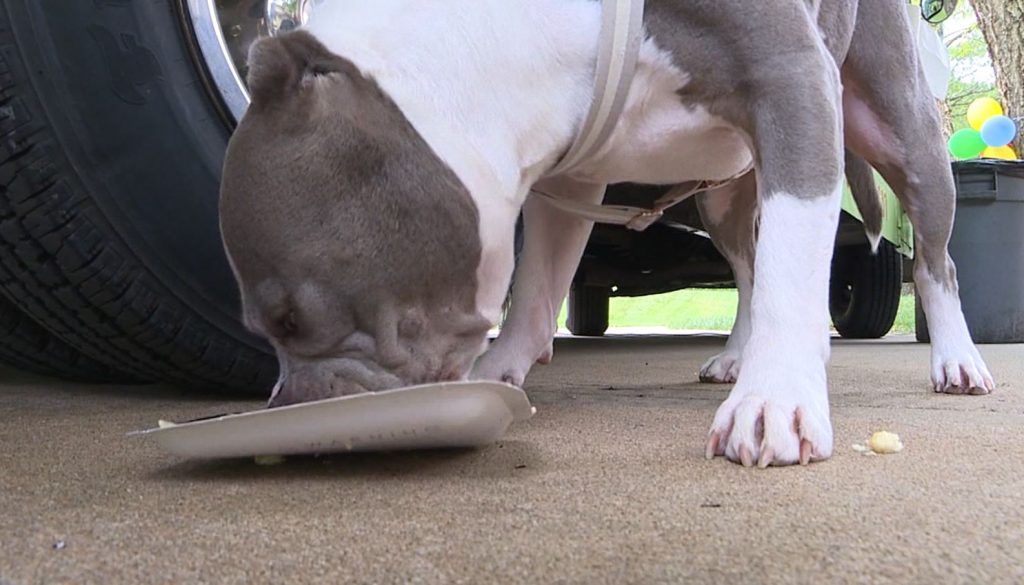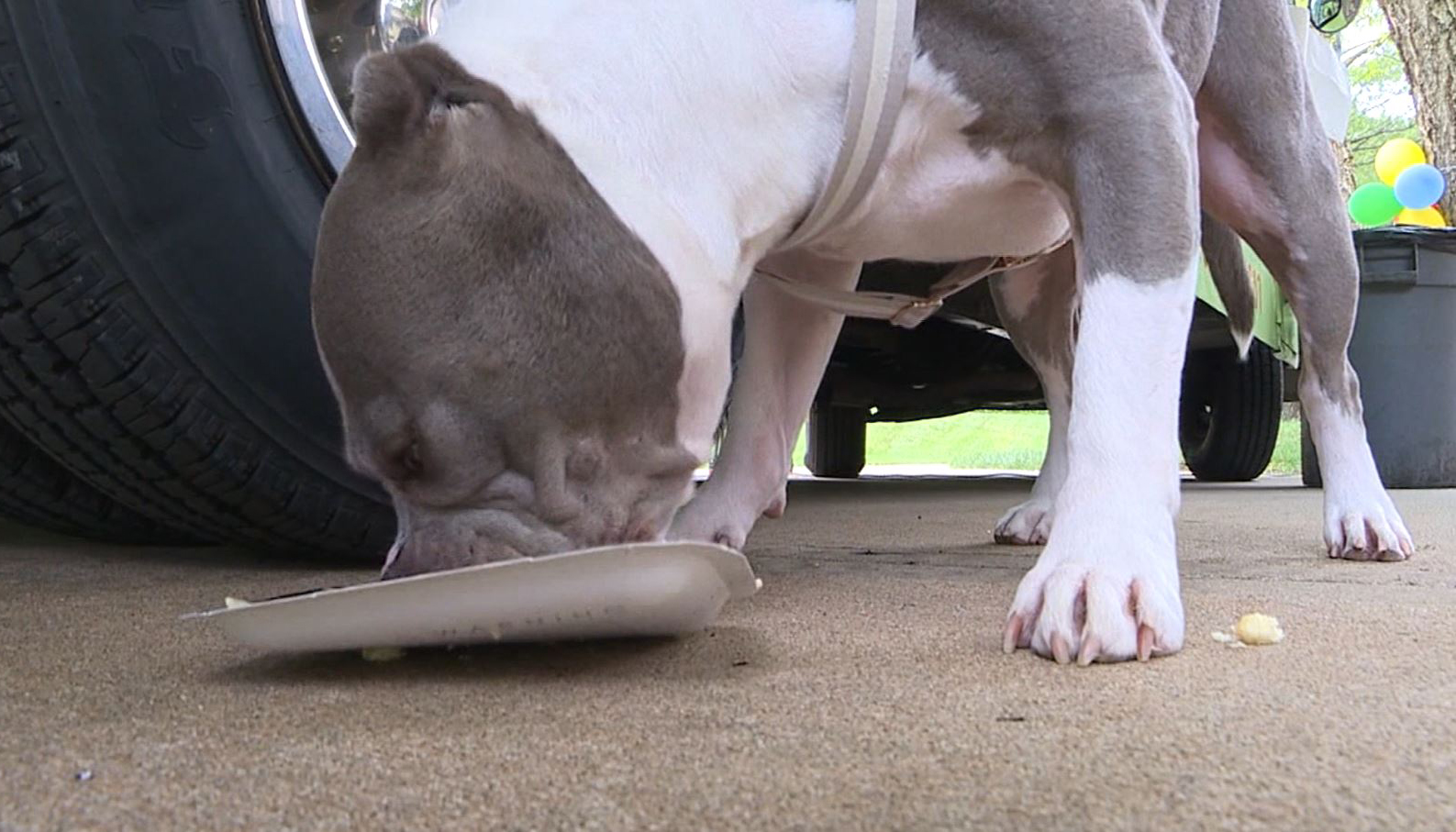 Last July, I was assigned to judge the taco eating contest. A few months later the county fair started. Somehow Jose managed to get Lucky into the fair on my judgment day. According to him, the ticket office at first refused to let Lucky the service dog go in, because of all the other animals there. So Jose was sent to the exhibitor's entrance, where the fair's president was. After the president argued with Jose a bit, he was left at the gate with Lucky while the fair officials argued about what to do. During that time, exhibitors with other dogs, cats, pigs, and birds of all kinds, came into the fair through that same gate. Lucky looked at those other animals but did not budge from Jose's side. Not a sound came from him, though other animals sometimes made a racket. The president noticed that and then decided to let Jose and Lucky conditionally come in; Lucky was in no way to disturb the other animals, children, or people.
A local guy named Walt came to the taco eating contest as a participant, not letting his wife know. We had TV-like tables set up with fifteen Mama Juanita's Taqueria soft-shelled chicken tacos on each one, the best tacos for hundreds of miles. The contestant who at them the fastest won the contest. It happened that Jose and Lucky were the closest to Walt's table.
Well, no sooner had I blown the start whistle than Walt's wife screamed out his name, "Walter Higgins! Get over here!" At that shout, he jumped up and bumped over his table filled with tacos, in front of Lucky. Walt then bolted away from that area as fast as a rooster with its tail feathers aflame. Well, Lucky apparently felt lucky, so he jumped the few feet needed to get at all those tacos on the ground in front of him and started gobbling them down. It wasn't long before all the contest spectators were watching Lucky, some aiming their Instagram-linked iPhone cameras at him. It was only later we discovered that CNN also had a cameraman at that event. Not only did Lucky eat all the tacos, but he was also the first to finish them as well!
Since the top two human taco eating contest champions were state-level champs, it didn't take the local folk much time to declare, over the protest of those two guys, Lucky the 2015 taco eating contest winner. CNN national news and its website showed scenes of Lucky gobbling up the last of the tacos. The fair's Facebook page ended up with the greatest number of views in local history. The social media sensation Lucky would become the "picture boy" for the next state fair.