Owner Finds Stray Dog after 8 Years of Searching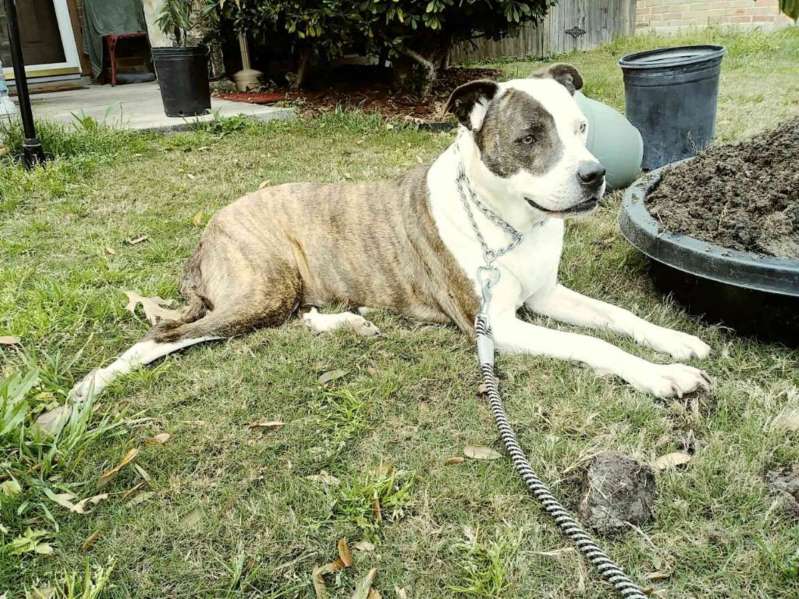 Sophia Hanson let her two large dogs, Laila, and Blake into the yard in 2009. A little later, she went outside to discover that they had vanished. Hanson told The Dodo that she is still unsure if they were stolen since no doors were left open and both disappeared.
After one year of searching, Hanson and her husband saw a post on Craigslist that someone within close proximity to their San Antonio home was selling a pit bull for $500. The dog looked suspiciously like Blake. Naturally, they were pretending like they were going to purchase a dog with money in hand. Hanson noted that when they went to the seller's house, they confirmed it was him and he was wearing the largest chain they had ever seen.
Sadly, the treatment of Blake caused major issues for him. Blake had to go through an entire rehabilitation process which has made him a giant teddy bear once again. Seeing this type of treatment of Blake made the Hansons fear the treatment of Laila, who was still missing. Hanson continued checking the local shelters for many years.
Thankfully, Laila had a guardian angel looking out for her. In 2018, Janice Rackley spotted Laila alone in a field, severely malnourished; not more than skin-and-bones. By her appearance, it was clear that she had been alone, uncared for and unloved for a long time. Rackley knew she had to take action quickly.


Rackley told The Dodo that the dog needed medical attention and nobody was going to help her get the proper treatment. Rackley further noted that she felt she found the dog for a reason and it was to help her. Laila was entirely dependent on Rackley for assistance.
Each day following, Rackley drove out to the field with heavy jugs of water and dog food. Initially, the dog was so frightened that she would run in the opposite direction as soon as Rackley approached. Eventually, Rackley had earned her trust.
After around six-months, Laila began to come closer and closer until she finally let Rackley pet her. Rackley then thought that maybe she could put a leash on her while eating. However, whenever Laila saw the leash, she would become frightened and run in the other direction.
Finally, as New Year's Eve approached and the weather became cold, Rackley determined that it was the last chance to rescue the dog so she picked up Laila, tossed her over her shoulder and brought the dog to her car. Surprisingly, Laila was calm and very sweet about the entire situation. For the one-month following, Laila would not leave Rackley's home.
Once her personality revealed itself, Rackley learned that the dog's past had many secrets. Laila knew how to sit, shake and lay down indicating that this dog had been well-trained so someone had to be missing her. Rackley brought Laila to animal control to be scanned for a microchip which had all of her information.
Meanwhile, 40-miles away, Hanson and her husband were ending their evening in the home. Just before they turned off their light in bed, they received a call from Rackley and could not believe what they were hearing. Hanson immediately jumped in the car as she could not wait another moment to see Laila. There was an emotional reunion when Laila and Hanson could not believe it was the other.
Hanson noticed that Laila had changed in many ways but Laila still remembered her past life. They previously nicknamed her Scooby Doo because of the sounds she made. When Hanson's husband yelled out, "Scooby-Doo! Scooby-Doo!" Laila made the same sounds once again. Today, Laila is home with three senior rescue dogs, including Blake and is adjusting to her old life. While she is still wary of her new siblings, she is so happy and grateful to be home with mom and dad.
These Hermit Crabs Will Blow Your Mind With Stunning Natural Ritual.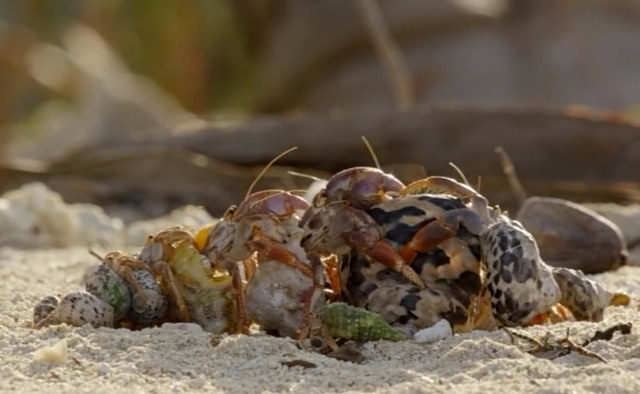 If you are like most people then you are likely fascinated with the ocean and all the creatures inside it. While we can talk forever about massive whales, scuttling squids, and scary sharks, we'd rather highlight a cute little crustacean known as the hermit crab. Now, you've likely heard of the hermit crab and, perhaps, you even know what it looks like. As a member of the superfamily known as the Paguroidea, hermit crabs manage to stand out all on their own. In fact, after learning about this natural ritual that hermit crabs complete, you might even want one of your own!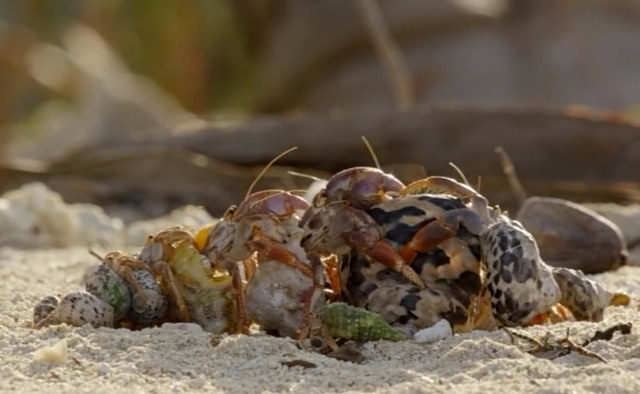 In a post shared on Facebook by a user named Melody Flowers, it was revealed that hermit crabs are always looking for bigger shells to live in. While you probably knew this already, what you didn't realize about this ritual is far more fascinating. According to the post, which has since been backed up by other scientific journals, hermit crabs like to line up next to shells that happen to be too big for them. Hermit crabs can wait for up to eight hours for another crab to come along and try the shell out. Why do these crabs wait next to shells that are too large for them? As it turns out, the first hermit crab is simply waiting for the second crab in line to discard its shell.
So we outlined a natural ritual that hermit crabs undertake when finding a new home. Why is this so fascinating? While you may have summoned up an image of two hermit crabs swapping shells, that isn't entirely accurate. As the second crab lines up behind the shell, more will come to follow. Before long, observers would be able to watch as dozens of hermit crabs all trade shells with one another to ensure that everyone has a comfortable home to live in. The smallest shell of the bunch gets left behind while the shell that started the queue will go to the largest hermit crab of the lot. That's pretty amazing, isn't it? The coordination and cooperation that these hermit crabs have to deploy is nothing short of impressive. If only humans could get along so well when it comes to making to sure everyone is comfortable and safe within their home.
Even though hermit crabs will work together in order to find homes, they are still a competitive species. Gastropod shells can become a limited resource due to a variety of natural and unnatural factors, such as climate change and pollution. When hermit crabs are of a similar size, they are more competitive and violent with one another. When hermit crabs vary dramatically in size, there are more resources available for every member of the group. Hermit crabs are a fascinating sort of creature because they can come in varying sizes with a lifespan ranging between 12 and 70 years. The next time that you see a hermit crab, make sure it has the perfect shell to call home. Maybe it will remember you a couple of decades later!