Owner Finds Stray Dog after 8 Years of Searching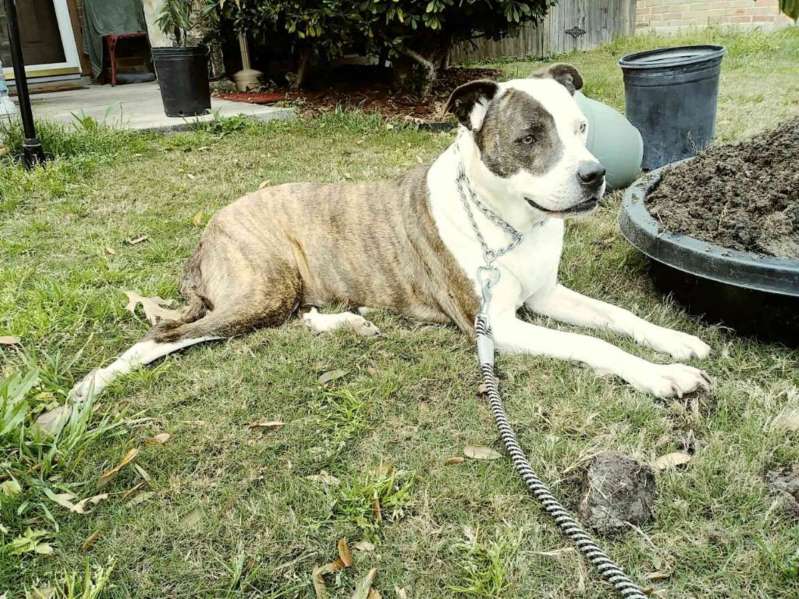 Sophia Hanson let her two large dogs, Laila, and Blake into the yard in 2009. A little later, she went outside to discover that they had vanished. Hanson told The Dodo that she is still unsure if they were stolen since no doors were left open and both disappeared.
After one year of searching, Hanson and her husband saw a post on Craigslist that someone within close proximity to their San Antonio home was selling a pit bull for $500. The dog looked suspiciously like Blake. Naturally, they were pretending like they were going to purchase a dog with money in hand. Hanson noted that when they went to the seller's house, they confirmed it was him and he was wearing the largest chain they had ever seen.
Sadly, the treatment of Blake caused major issues for him. Blake had to go through an entire rehabilitation process which has made him a giant teddy bear once again. Seeing this type of treatment of Blake made the Hansons fear the treatment of Laila, who was still missing. Hanson continued checking the local shelters for many years.
Thankfully, Laila had a guardian angel looking out for her. In 2018, Janice Rackley spotted Laila alone in a field, severely malnourished; not more than skin-and-bones. By her appearance, it was clear that she had been alone, uncared for and unloved for a long time. Rackley knew she had to take action quickly.


Rackley told The Dodo that the dog needed medical attention and nobody was going to help her get the proper treatment. Rackley further noted that she felt she found the dog for a reason and it was to help her. Laila was entirely dependent on Rackley for assistance.
Each day following, Rackley drove out to the field with heavy jugs of water and dog food. Initially, the dog was so frightened that she would run in the opposite direction as soon as Rackley approached. Eventually, Rackley had earned her trust.
After around six-months, Laila began to come closer and closer until she finally let Rackley pet her. Rackley then thought that maybe she could put a leash on her while eating. However, whenever Laila saw the leash, she would become frightened and run in the other direction.
Finally, as New Year's Eve approached and the weather became cold, Rackley determined that it was the last chance to rescue the dog so she picked up Laila, tossed her over her shoulder and brought the dog to her car. Surprisingly, Laila was calm and very sweet about the entire situation. For the one-month following, Laila would not leave Rackley's home.
Once her personality revealed itself, Rackley learned that the dog's past had many secrets. Laila knew how to sit, shake and lay down indicating that this dog had been well-trained so someone had to be missing her. Rackley brought Laila to animal control to be scanned for a microchip which had all of her information.
Meanwhile, 40-miles away, Hanson and her husband were ending their evening in the home. Just before they turned off their light in bed, they received a call from Rackley and could not believe what they were hearing. Hanson immediately jumped in the car as she could not wait another moment to see Laila. There was an emotional reunion when Laila and Hanson could not believe it was the other.
Hanson noticed that Laila had changed in many ways but Laila still remembered her past life. They previously nicknamed her Scooby Doo because of the sounds she made. When Hanson's husband yelled out, "Scooby-Doo! Scooby-Doo!" Laila made the same sounds once again. Today, Laila is home with three senior rescue dogs, including Blake and is adjusting to her old life. While she is still wary of her new siblings, she is so happy and grateful to be home with mom and dad.
These Police Officers Are Mixing It Up With The Local Kids….Find Out How!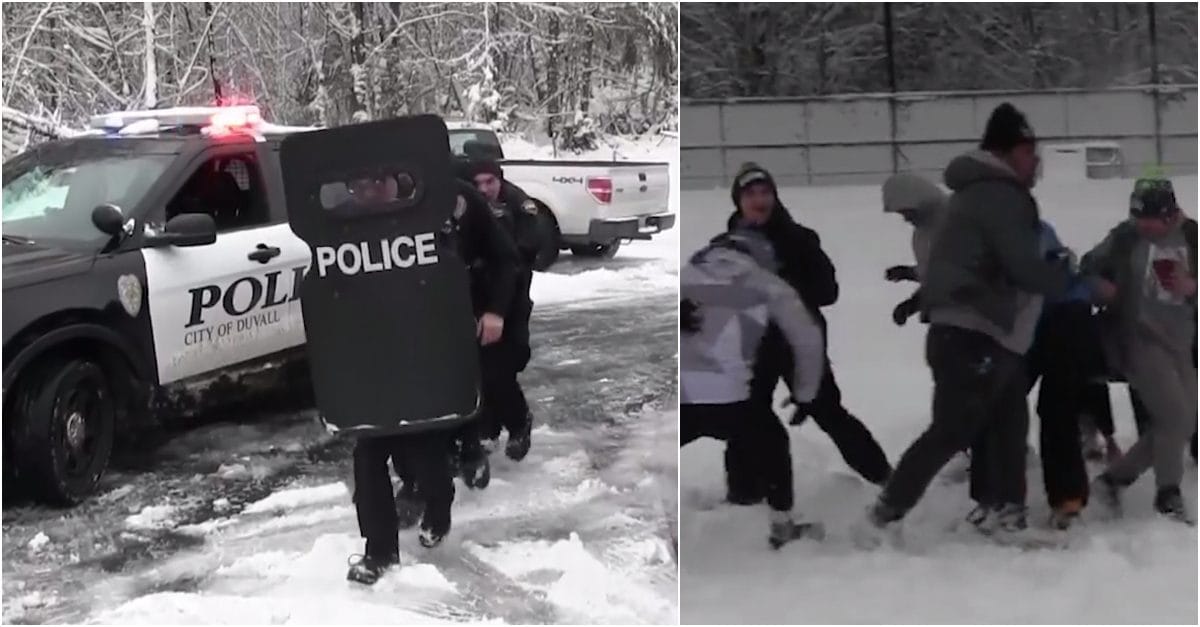 For those of us who have gotten sick and tired of always reading headlines about the mistakes that police officers make on the job, this story is going to serve as a breath of fresh air. In a world where it feels like we are constantly inundated with bad news about our nation's police officers, it is good to see a story like this one.
Children who reside in Duvall, Washington were recently given quite the special treat. They were at a local park and they had come together to play some football in the snow. When these officers arrived on the scene, the children were not happy. What child would be?
We are sure that these kids probably assumed that the officers were on hand to mess up their game. We would have thought the same exact thing if we were in their position. However, these officers were not looking to put a stop to their good time. Their intentions were something else entirely.
When the clip first begins, we see the cops pulling up the football field. We also see the cops exiting their vehicles, while clad in full riot gear. This is the part where we started to get skeptical. These kids are just trying to have a good time. Why are these cops rolling up on them as if they are in the midst of some horrific crime spree?
The cops start to approach the children. It is clear to see that they are taking a more cautious approach. The kids also look like they are pretty nervous about the arrival of the police. Can you imagine getting ready to play an innocent game of snow football and being greeted by a sizable percentage of the Duvall police force? We would probably take off running right then and there.
The kids decided that they were going to let the officers know exactly what they thought of this intrusion. The football game was called off and the kids began to make a pile of snowballs. By the time the cops start to speak to the children, their fears are assuaged. This is not a form of harassment. These cops are simply here to have fun.
They crack a few jokes about taking the kids downtown but it is all in good fun. Once they "advance" on the kids, they begin to pelt the officers with snowballs. It is a good thing that they have all this riot gear, huh? They are going to stay protected from the barrage of snowballs and teach the kids a valuable lesson in the process.
It is not about who has the most snowballs to throw. It is about who has the most protection from said snowballs. There is something to be said for teaching the youth the most valuable lessons that they will need going forward. Now, these kids will probably take the time to build some shields, in addition to a mountain of snowballs.
We got a major kick out of the one officer who hid behind all of the others and lobbed snowballs over the top of the rest of the group. He's got the best idea of all. He gets all of the advantages associated with the riot shields and still gets to throw snowballs at these kids. That's a man who has life all figured out.
If you would like to check out this hilarious clip for yourself, please be sure to take a closer look at the link below. We are glad that this police visit ended in the way that it did. It was definitely quite the scary sight at first!