Owner Finds Stray Dog after 8 Years of Searching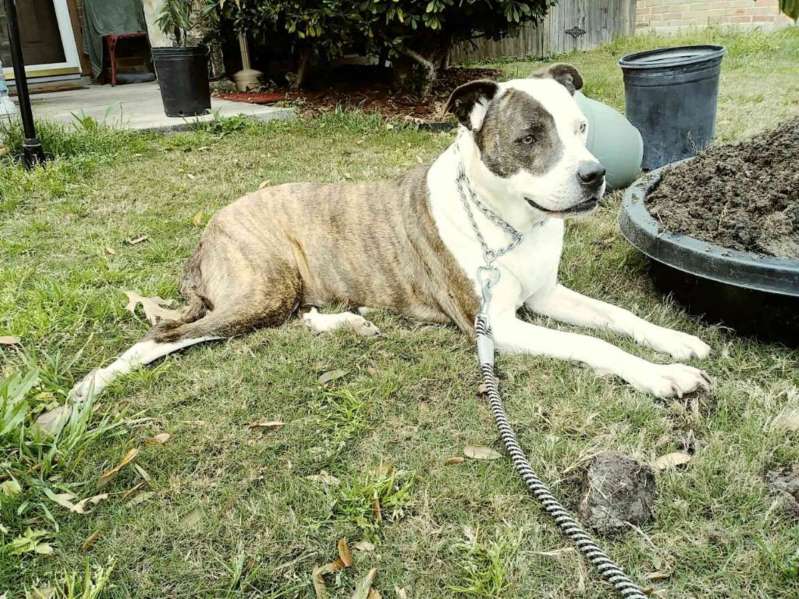 Sophia Hanson let her two large dogs, Laila, and Blake into the yard in 2009. A little later, she went outside to discover that they had vanished. Hanson told The Dodo that she is still unsure if they were stolen since no doors were left open and both disappeared.
After one year of searching, Hanson and her husband saw a post on Craigslist that someone within close proximity to their San Antonio home was selling a pit bull for $500. The dog looked suspiciously like Blake. Naturally, they were pretending like they were going to purchase a dog with money in hand. Hanson noted that when they went to the seller's house, they confirmed it was him and he was wearing the largest chain they had ever seen.
Sadly, the treatment of Blake caused major issues for him. Blake had to go through an entire rehabilitation process which has made him a giant teddy bear once again. Seeing this type of treatment of Blake made the Hansons fear the treatment of Laila, who was still missing. Hanson continued checking the local shelters for many years.
Thankfully, Laila had a guardian angel looking out for her. In 2018, Janice Rackley spotted Laila alone in a field, severely malnourished; not more than skin-and-bones. By her appearance, it was clear that she had been alone, uncared for and unloved for a long time. Rackley knew she had to take action quickly.


Rackley told The Dodo that the dog needed medical attention and nobody was going to help her get the proper treatment. Rackley further noted that she felt she found the dog for a reason and it was to help her. Laila was entirely dependent on Rackley for assistance.
Each day following, Rackley drove out to the field with heavy jugs of water and dog food. Initially, the dog was so frightened that she would run in the opposite direction as soon as Rackley approached. Eventually, Rackley had earned her trust.
After around six-months, Laila began to come closer and closer until she finally let Rackley pet her. Rackley then thought that maybe she could put a leash on her while eating. However, whenever Laila saw the leash, she would become frightened and run in the other direction.
Finally, as New Year's Eve approached and the weather became cold, Rackley determined that it was the last chance to rescue the dog so she picked up Laila, tossed her over her shoulder and brought the dog to her car. Surprisingly, Laila was calm and very sweet about the entire situation. For the one-month following, Laila would not leave Rackley's home.
Once her personality revealed itself, Rackley learned that the dog's past had many secrets. Laila knew how to sit, shake and lay down indicating that this dog had been well-trained so someone had to be missing her. Rackley brought Laila to animal control to be scanned for a microchip which had all of her information.
Meanwhile, 40-miles away, Hanson and her husband were ending their evening in the home. Just before they turned off their light in bed, they received a call from Rackley and could not believe what they were hearing. Hanson immediately jumped in the car as she could not wait another moment to see Laila. There was an emotional reunion when Laila and Hanson could not believe it was the other.
Hanson noticed that Laila had changed in many ways but Laila still remembered her past life. They previously nicknamed her Scooby Doo because of the sounds she made. When Hanson's husband yelled out, "Scooby-Doo! Scooby-Doo!" Laila made the same sounds once again. Today, Laila is home with three senior rescue dogs, including Blake and is adjusting to her old life. While she is still wary of her new siblings, she is so happy and grateful to be home with mom and dad.
Elderly Strangers Fall in Love During Flight, You Won't Believe What Happens Next!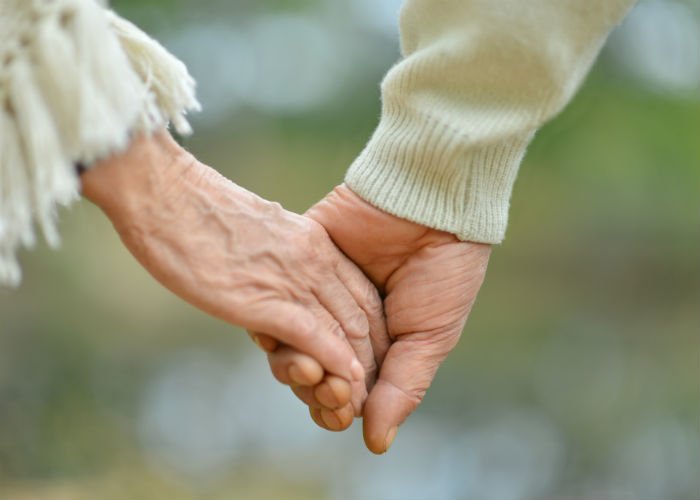 We owe it to ourselves to travel the world. After all, you will never know what's out there waiting for you unless you go to look. Just a few weeks ago, an airline ticket agent experienced the wonders of travel firsthand. Under the username @vvuxian, Twitter users were regaled by a heartwarming story of love found in the air between two elderly strangers. @vvuxian shared the entire story on Twitter through a series of tweets that culminated in what we can only describe as a true Hollywood ending — only in real life!
The story starts with @vvuxian working at an airline counter, just like any other day. As an airline ticket employee, @vvuxian was ready to assist customers as they came to her desk with questions regarding their flight. An elderly lady in her 70s approached @vvuxian with a seemingly strange request. The unnamed woman, who had just arrived on a flight from Canada, was seemingly looking for a stranger. The elderly woman asked @vvuxian if anyone arriving from Spain had been looking for her because the two were supposed to be meeting up. As an airline employee, @vvuxian knew that she couldn't share private information about other passengers.
The elderly woman accepted the rules laid out by @vvuxian, albeit looking sad in the process. Curious to find out what happened, @vvuxian asked for more information. The woman explained that she had met a stranger on her flight from Canada and that the two had fallen in love during their 11-hour flight. Unfortunately, they had to separate on connecting flights from Spain, but they had made a deal to meet up with one another when they reached their final destination. Unfortunately, the stranger had never shown up. What once looked like a Hollywood romance was quickly turning into a sad tale of reality. Was there nothing that could be done?
Unfortunately, @vvuxian knew that she couldn't help the woman, but she wished her well all the same. After the woman explained that she couldn't reach the stranger by telephone, all seemed to be lost. @vvuxian took down the passenger's phone number and promised to call her if anybody showed up. The woman left the ticket counter and @vvuxian probably assumed that this was the end of the story. We all know that this wasn't the case.
An hour later, during her lunch break, @vvuxian heard a co-worker talking to another elderly woman. The stranger at the counter was explaining that she was supposed to meet a friend but that she couldn't get ahold of her. The woman explained that she had met a stranger on a flight but that they had been separated during their connecting flights. This was her! This was the second lost lover! According to @vvuxian, she basically threw her sandwich in order to run to the front desk. Our heroic airline ticket agent quizzed the new stranger with questions, asking her if she had just come from Spain and was she looking for a certain person? The stranger nods and nods again. This was it!
Deciding to risk it all, @vvuxian calls the phone number that had been left by the earlier visitor. Within minutes the second woman appears at the counter, basically at a sprint! The two collapse into a loving embrace before showering @vvuxian in the thanks. Happy just to have helped, @vvuxian wishes them well while nearly tearing up from happiness herself. A little while later the two elderly lovers return with a thank-you gift, a collection of delicious chocolates. Now, who says that real life can't be like the movies?