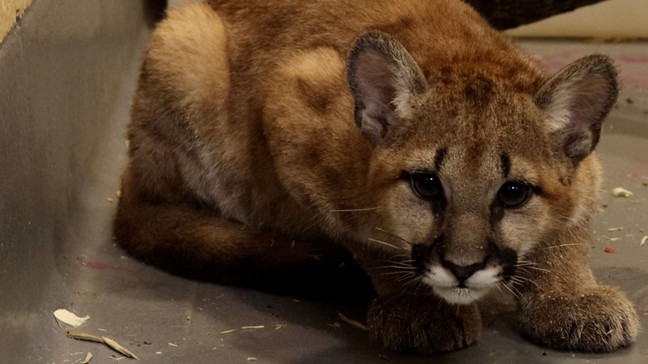 Orphaned Puma Cubs, Elbroch and Olympia, Find a New Home in Pennsylvania
Two brave puma cubs, Elbroch and Olympia, have begun a new chapter of their lives in Pennsylvania after a heartbreaking start. These sibling cubs, a boy and a girl, tragically lost their mother when she was shot by a farmer. Now, at 21 weeks old, they are finding comfort and care in a new home at the Philadelphia Zoo.
Maggie Morse, the curator of carnivores and ungulates, shared, "Our keepers have been working hard to help the puma siblings adjust to their new home. We are dedicated to ensuring their well-being and helping them settle in." The cubs are in good hands with the zoo's keeper and veterinary teams, who are providing them with the best care possible.
Elbroch, the male cub, is named after Mark Elbroch, a leading puma researcher at Panthera, a conservation organization devoted to protecting wild cats worldwide. On the other hand, Olympia, the female cub, gets her name from the state capital of Washington. The zookeepers can tell the cubs apart by their sizes, with Elbroch being the bigger and more confident of the two. He loves to explore and is not afraid to venture into new territories.
Although the public will have to wait until fall to see these adorable cubs, their arrival is a result of collaboration between the Washington State Department of Fish and Wildlife, the Association of Zoos and Aquariums, and the Philadelphia Zoo. Rachel Metz, the zoo's vice president of animal well-being, emphasized the importance of this placement, explaining that without intervention, these cubs would likely struggle to survive without their mother.
Philadelphia Zoo sees the cubs as ambassadors for their mission of wildlife protection. They aim to educate visitors about the vital role of apex predators and the complex interactions between humans and predators in the wild.
Pumas, also known as mountain lions or cougars, possess the largest hind legs among feline species. This unique feature enables them to leap impressive distances while hunting. With the ability to jump more than 20 feet horizontally and 18 feet vertically, they are formidable hunters. From moose to mice, pumas can catch a wide range of prey, showcasing their exceptional hunting skills.
As Elbroch and Olympia begin their journey in their new home, their story serves as a reminder of the challenges wild animals face and the important role that zoos play in conservation efforts. These cubs are more than just adorable faces; they are symbols of hope and a call to action to protect and appreciate the beauty and significance of apex predators like pumas.
Jacksonville Man Spreads Love and Positivity at the Beach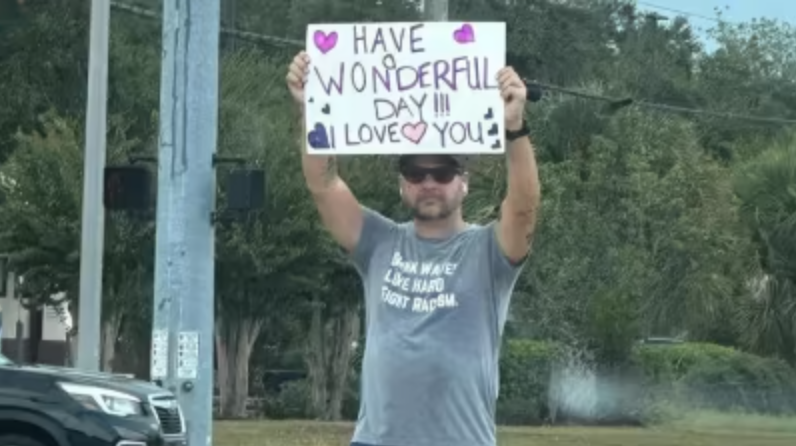 In Jacksonville, Florida, a man has been making waves of positivity and spreading kindness at the Beach Boulevard and San Pablo Road South intersection. With handmade signs that read, "Have a wonderful Day!! I Love You" and "You are Relevant," this man is on a mission to uplift the spirits of those who pass by. His heartwarming gestures have not gone unnoticed, and his actions are especially poignant during National Suicide Prevention Month.
Rika, a local resident, had a unique encounter with this compassionate individual. She was on her way to pick up her lunch when she saw a man standing in the median of the road, holding these uplifting signs. Most of us would just glance and continue on our way, but Rika decided to take a closer look. As she stopped at a red light, she took a few pictures to capture the moment. To her surprise, the man approached her car and handed her a sunflower.
"So picture this… you're out going to pick up your lunch, and there's this random guy walking by with a handmade sign," Rika recounted. "I'm sure like most of us, we'd glance and keep it moving, but I decided to read his sign since I was at a stop light. I snapped a few pictures because why not, but as I was doing this, he approached my car door to hand me a sunflower! Don't forget to appreciate the small things."
This simple act of kindness had a profound impact on Rika, as it has on many others who have encountered this man and his signs. His message of love and importance reminds us all to appreciate the small joys in life and to acknowledge our worth.
The man's efforts are not just a random act of kindness; they hold special significance during National Suicide Prevention Month. September is a time when people and organizations across the country work to raise awareness about mental health and suicide prevention. This Jacksonville man's compassionate actions align perfectly with the spirit of this month, as he strives to remind people that they matter and that there is goodness in the world.