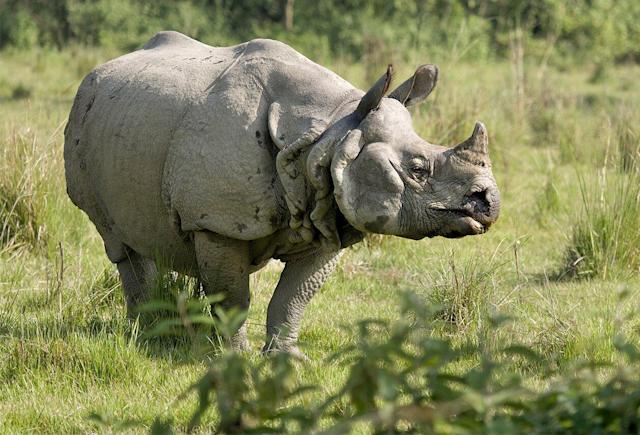 One-Horned Rhinos Got Frisky During the COVID Pandemic
When animals reach the critical point of being endangered, their population is usually down to just a few hundred on the entire planet. That was the case for the One-Horned Rhino for a number of years. Hunted for its horn as a trophy and a number of other reasons, this particular rhino almost joined the list of species completely wiped out and never to be seen again. However, with a huge amount of conservation effort and government intervention, the population has now grown back to at least 4,014 known rhinos living and thriving.
Probably 70 percent of the One-Horned Rhinos live and roam in the Assam province of India. The only other place with a sizable portion of the species' population is Nepal. The animal is closely monitored and a full census is tracked and reported biannually. In the latest count, there was plenty of good news, as the rhinos had boosted their overall population by at least 5 percent with another 274 new individual creatures now counted.
Two big factors helped the growth: parks and nature reserves were closed from visitation during the COVID pandemic, and the animals themselves began mating more frequently with less distraction. No surprise, the situation is likely to trigger quite a bit of rhino behavior study over the next two years with regards to how to effectively spur population growth environmentally.
The conservation effort involved includes a dual government approach between India and its neighbor, Nepal, as well as a considerable amount of help from charitable donors and the public. Given the clear success of recent efforts, it is likely that a number of other rhino conservation efforts internationally will likely try to emulate the same formula for better results in their target areas as well.
Some of the critical factors that still pose a threat to any rhino species continue to be loss of habitat due to development and death by poachers. Unfortunately, both threats are still very active and growing. Development is probably more of an issue now, as effective law enforcement has made poaching extremely hard. Unfortunately, land use change has considerably more impetus, especially as agrarian needs and farming continue to gobble up available land. With a shrinking range of roaming areas, rhinos tend to die off and shrink in population.
In Assam, however, the Kaziranga National Park has been expanded, providing additional roaming area for the One-Horned Rhino population, effectively doubling the overall square kilometer range and more. A similar approach is being planned for the Orang National Park as well. All of this is possible due to a partnership between non-profit donations and government assistance. In addition, with restrictions on visitors, the rhinos now have the best possible odds for growth in a decade, and the results are showing.
A Boy Expected to Never Write Shows the World What 12 Fingers Can Do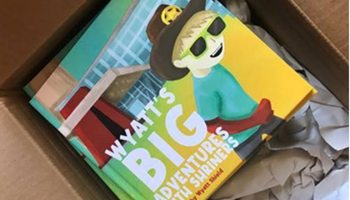 When Wyatt Shield was born, doctors immediately knew they had a developmental mutation case on their hands, no pun intended. The newborn boy was born with 12 fingers. Specifically, each hand came with an additional thumb. Technically known as thumb polydactyly, Wyatt was going to be able to live and function, but the use of hands for dexterity work like writing was going to be limited or none. Like many children with extra parts due to development mutations, Wyatt's extra thumbs were removed a year later thanks to the support and help of the Shriners Children's Hospital, located in St. Louis.
However, regardless of what the medical experts and doctors thought at the time, Wyatt wasn't keen on agreeing with their conclusion about his recovery. Instead, some five years later, Wyatt decided to become an author and write his first book. The story was about his experience at the Shriners' Hospital, from what he could remember, and what he was told about what occurred there to help him. Even more surprising, the book gained enough support to be published, and it's now in circulation.
The story of Wyatt's surgery trip covers all the different procedures he had to go through as well as his perspective of the doctors. It's a kid's view of the world clearly, and Wyatt wanted to show other kids not only could he prove medical experts wrong, but write a book doing so as well. His parents think Wyatt just rocks something huge. It's a classic outcome of what a child can pursue if he's not stopped first and prevented from achieving the "impossible."
The Shriner impact is a family thing for Wyatt and his parents as well. Wyatt's grandfather on his mother's side was a Shriner for a half century. Seeing the program give back personally to the family was a work effort coming full circle because of all the years of volunteering and support his grandfather provided Shriners before Wyatt was ever born. In the same vein, some of the profits from Wyatt's book sales will go right back to the Shriners, as Wyatt and his family wanted. It's a sense of paying forward for the next child that needs help like what Wyatt received for his hands.
And, as for Wyatt, he's off to his next adventure and challenge. His hands are doing just fine, and he's taking on new ideas for his next books as well.