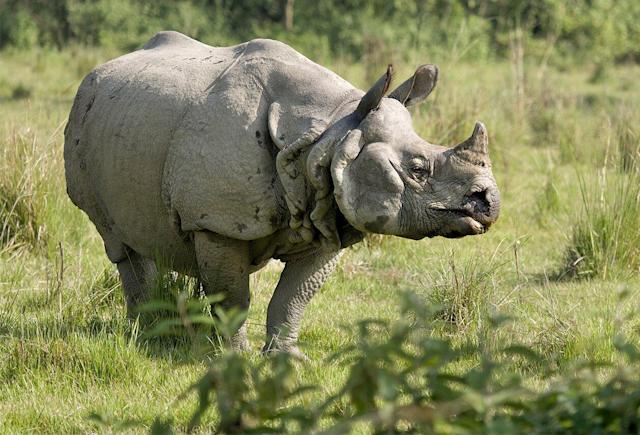 One-Horned Rhinos Got Frisky During the COVID Pandemic
When animals reach the critical point of being endangered, their population is usually down to just a few hundred on the entire planet. That was the case for the One-Horned Rhino for a number of years. Hunted for its horn as a trophy and a number of other reasons, this particular rhino almost joined the list of species completely wiped out and never to be seen again. However, with a huge amount of conservation effort and government intervention, the population has now grown back to at least 4,014 known rhinos living and thriving.
Probably 70 percent of the One-Horned Rhinos live and roam in the Assam province of India. The only other place with a sizable portion of the species' population is Nepal. The animal is closely monitored and a full census is tracked and reported biannually. In the latest count, there was plenty of good news, as the rhinos had boosted their overall population by at least 5 percent with another 274 new individual creatures now counted.
Two big factors helped the growth: parks and nature reserves were closed from visitation during the COVID pandemic, and the animals themselves began mating more frequently with less distraction. No surprise, the situation is likely to trigger quite a bit of rhino behavior study over the next two years with regards to how to effectively spur population growth environmentally.
The conservation effort involved includes a dual government approach between India and its neighbor, Nepal, as well as a considerable amount of help from charitable donors and the public. Given the clear success of recent efforts, it is likely that a number of other rhino conservation efforts internationally will likely try to emulate the same formula for better results in their target areas as well.
Some of the critical factors that still pose a threat to any rhino species continue to be loss of habitat due to development and death by poachers. Unfortunately, both threats are still very active and growing. Development is probably more of an issue now, as effective law enforcement has made poaching extremely hard. Unfortunately, land use change has considerably more impetus, especially as agrarian needs and farming continue to gobble up available land. With a shrinking range of roaming areas, rhinos tend to die off and shrink in population.
In Assam, however, the Kaziranga National Park has been expanded, providing additional roaming area for the One-Horned Rhino population, effectively doubling the overall square kilometer range and more. A similar approach is being planned for the Orang National Park as well. All of this is possible due to a partnership between non-profit donations and government assistance. In addition, with restrictions on visitors, the rhinos now have the best possible odds for growth in a decade, and the results are showing.
Drew Carey's Beyond Generous Gesture to Support Striking Writers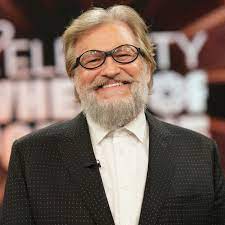 In times of struggle, acts of kindness and generosity can bring hope and relief to those in need. Drew Carey, a well-known television personality, has once again shown his compassion by providing daily lunches for members of the Writer's Guild of America (WGA) who are currently on strike. This remarkable gesture is helping to alleviate some of the financial strain faced by these hardworking individuals.
Drew Carey is graciously covering the expenses at two local businesses for WGA members who show their guild card. The two restaurants involved in this endeavor are Bob's Big Boy in Burbank and Swingers Diner on Beverly. With every meal, Drew is estimated to be spending thousands of dollars per day to ensure that these writers are well-fed during this challenging time.
This is not the first time that Drew Carey has demonstrated his support for the WGA. During the 2007 strike, he generously provided lunches to struggling writers for two consecutive months. His commitment to helping others in need has not wavered over the years, and he continues to be a beacon of kindness.
The gratitude expressed by the WGA members for Drew's actions is overwhelming. Many writers have taken to social media to share their appreciation and to highlight the impact of his generosity. One writer tweeted, "Drew bought me lunch for two months straight in '07 when I was struggling with that WGA strike. In a better place now, but Drew continues to be a good dude." The outpouring of thanks and support from the WGA community is a testament to the positive effect that Drew's kind gestures have on their lives.
The participating restaurants have become a gathering place for WGA members, who are not only enjoying the delicious meals but also feeling the love and support from Drew. The writers express their gratitude repeatedly, and the staff at the restaurants are grateful to be part of this compassionate act. They feel privileged to play a role in facilitating Drew's generosity and witness the joy it brings to those in need.
Being a writer can be challenging, with periods of financial uncertainty and limited opportunities. The current strike has exacerbated these difficulties, making every complimentary meal a significant relief for the writers. As one member explained, "They're very, very happy and they're very, very thankful to Drew." The impact of Drew's support goes beyond a single meal—it represents a lifeline for those facing financial hardships during the strike.
Drew Carey's unwavering commitment to supporting the WGA and his genuine care for those in need is truly commendable. His actions remind us of the power of kindness and the difference one person can make in the lives of others. As the strike continues, the lunches provided by Drew serve as a ray of hope and a reminder that the writing community is not alone in their fight.
In times of hardship, it is heartwarming to see individuals like Drew Carey step forward and offer their support. His kindness and generosity are an inspiration to us all, and his contributions to the well-being of the WGA members are deeply appreciated.