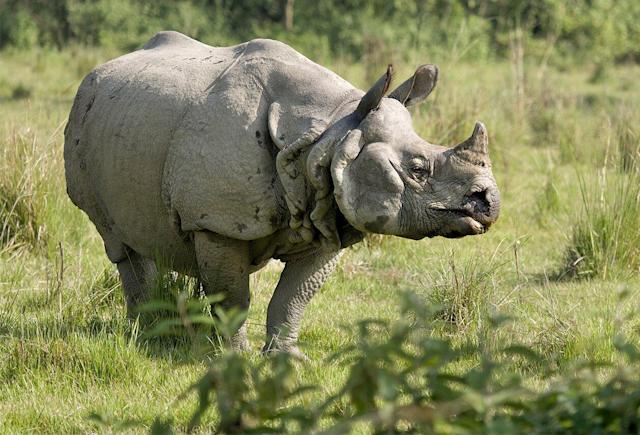 One-Horned Rhinos Got Frisky During the COVID Pandemic
When animals reach the critical point of being endangered, their population is usually down to just a few hundred on the entire planet. That was the case for the One-Horned Rhino for a number of years. Hunted for its horn as a trophy and a number of other reasons, this particular rhino almost joined the list of species completely wiped out and never to be seen again. However, with a huge amount of conservation effort and government intervention, the population has now grown back to at least 4,014 known rhinos living and thriving.
Probably 70 percent of the One-Horned Rhinos live and roam in the Assam province of India. The only other place with a sizable portion of the species' population is Nepal. The animal is closely monitored and a full census is tracked and reported biannually. In the latest count, there was plenty of good news, as the rhinos had boosted their overall population by at least 5 percent with another 274 new individual creatures now counted.
Two big factors helped the growth: parks and nature reserves were closed from visitation during the COVID pandemic, and the animals themselves began mating more frequently with less distraction. No surprise, the situation is likely to trigger quite a bit of rhino behavior study over the next two years with regards to how to effectively spur population growth environmentally.
The conservation effort involved includes a dual government approach between India and its neighbor, Nepal, as well as a considerable amount of help from charitable donors and the public. Given the clear success of recent efforts, it is likely that a number of other rhino conservation efforts internationally will likely try to emulate the same formula for better results in their target areas as well.
Some of the critical factors that still pose a threat to any rhino species continue to be loss of habitat due to development and death by poachers. Unfortunately, both threats are still very active and growing. Development is probably more of an issue now, as effective law enforcement has made poaching extremely hard. Unfortunately, land use change has considerably more impetus, especially as agrarian needs and farming continue to gobble up available land. With a shrinking range of roaming areas, rhinos tend to die off and shrink in population.
In Assam, however, the Kaziranga National Park has been expanded, providing additional roaming area for the One-Horned Rhino population, effectively doubling the overall square kilometer range and more. A similar approach is being planned for the Orang National Park as well. All of this is possible due to a partnership between non-profit donations and government assistance. In addition, with restrictions on visitors, the rhinos now have the best possible odds for growth in a decade, and the results are showing.
Safe Haven for Pets Who's Owners Enter Rehab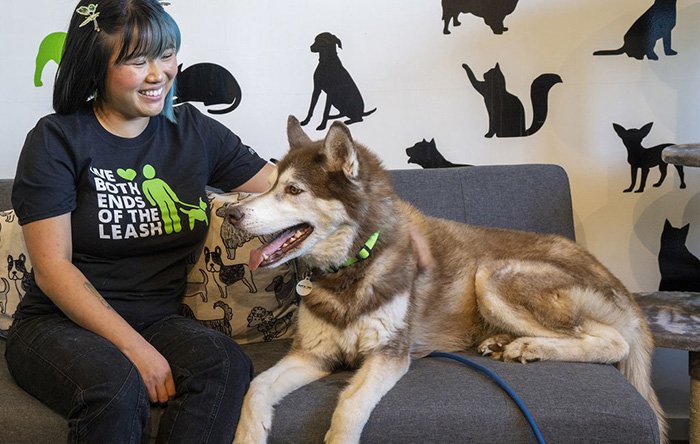 No pet owner likes to leave their pets for extended periods, no matter the reason for leaving. It's no different for people who may have drug or alcohol issues and might need to go for rehabilitation.
Not knowing who to leave the pet with or the level of care it will receive can lead to anxiety. However, there's a new resolve for people faced with that situation. Read on…
Bella was skeptical as she put her head up from inside the carrier she was being transported on to the boarding house.
A volunteer massaged the little black-and-white cat's hair to calm her fear of the dogs barking at the boarding facility's back.
The cat goes by the alias Bella since her owner, who's dealing with a tough time at home, wants to keep her cat's real name a secret. Pets in need of emergency shelter can stay with a foster family at Ruff Haven Crisis Sheltering, which provides short-term, no-cost accommodation for animals whose owners are homeless or fleeing domestic abuse.
Odyssey House, Utah's largest integrated addiction treatment center, and the foundation have just teamed up to offer three months of no-fee pet lodging to those who need it most.
"This is truly person-based, like person-led," said Beth Henry, Ruff Haven's foster coordinator. Pets are returned to their owners once treatment is complete and they have achieved a sense of security and well-being.
Enrollment and documenting of the owner's present status, followed by a brief examination of the pet (weight and overall health), immunizations, and ensuring that the animal is either fixed or is scheduled to be treated, are the first steps in the process of adoption.
The pet then gets connected with a foster home, and the owner receives weekly SMS updates on the progress of their animal. When a client and their pet are apart, Ruff Haven's fosters send videos and pictures of the pet to the client.
Several clients have the option of having their dogs dropped off for the Dogs All Day program by their foster parents, and their owners can come to meet them.
Henry stated, "It's a terrific confidence boost for them." In some cases, dogs are kept at the Dogs All Day center since their owners prefer to be able to visit them every day… It's rare for them to be greeted by their loved ones every single day. The stress of living with a cat is very hard on them.
In a press release, Adam Cohen, CEO of Odyssey, stated that pets can be a motivation for people to stay in difficult situations because they are worried about how their animals will be cared for if they are not there.
However, Ruff Haven Crisis Sheltering, which launched in June 2020, has already aided 320 families and almost hundreds of animals since then.
Owners often worry that they'll forget their pets during this time, but "the pets don't ever forget their owner," according to Kristina Pulsipher, the executive director at Ruff Havens. We do this for the reunions. And many of our former clients are now either volunteers or foster parents for us.