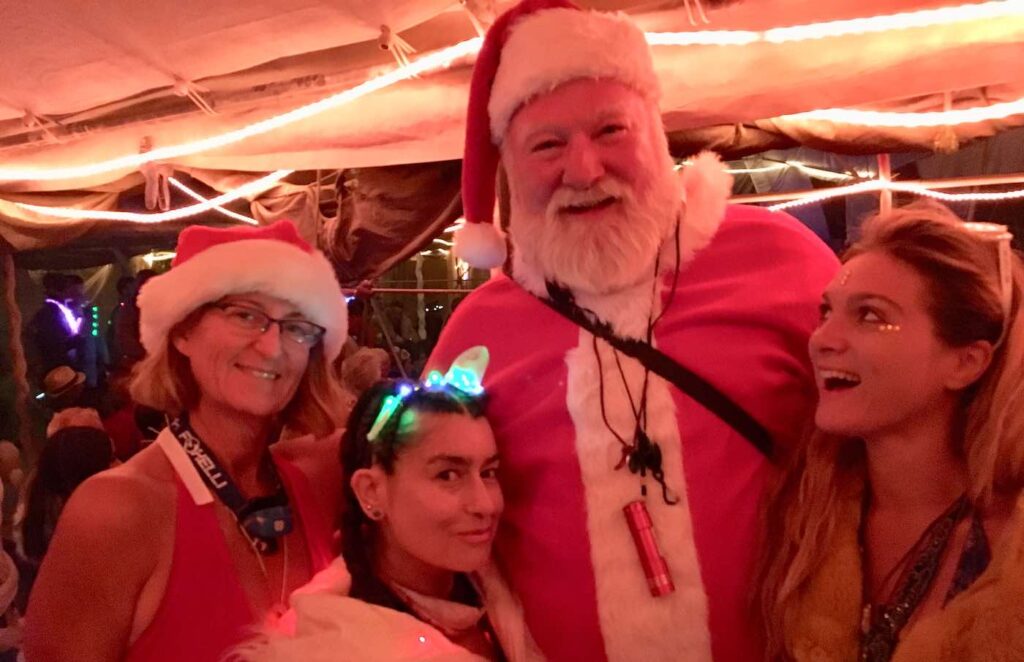 One Attendees Santa Pen-pal That She Met At Burning Man
There are a lot of odd characters at Burning Man, the annual Labor Day Weekend celebration in the western desert, but the last one folks usually expect to see there is Santa Claus. However, as it turned out in 2017, that's exactly who one attendee met, and she struck up a penpal relationship with the character ever since.
The idea of penpals came from the 1970s with kids' programs intended to help them learn more about the greater world and to make connections with similar kids in other countries. TV programs, schools, kids' after-school care programs and similar all ran some kind of version of penpals. The benefits were multiple. Kids learned to read and write faster, they built relationships with other kids internationally, and they learned more about other communities just on the natural talking to their connections. So, while the idea of writing a paper letter today seems like a memory of yesteryear, the term of "penpal" is still alive and well, referring to long-distance connections that start out of the blue.
Back to the Burning Man, Rudie met Santa Claus, or a fellow dressed up like him in 2017 at the desert festival, complete in costume and carrying a large sack. Of course, Santa Claus wasn't the only out of the norm character there; Burning Man is famous for all sorts of outlandish costumes, constructs, bike-related vehicles, and lots of partying. Santa was in full character mode, handing out gifts from a large bag he was carrying, while enjoying the crowd at the Jazz Café.
Rudie ended up chatting with Santa quite a bit, but never exchanged anything more in the way of contact information to followup. So she pretty much chalked up the experience to the festival and forgot about it. However, in 2018, Santa Claus was there again at the next Burning Man. And he recognized Rudie from the previous year. They chatted up a storm again, and this time the Man of the North Pole brought a saxophone and started in impromptu gig on the stage. It went well with the name of the café. And, at the end of it all, Rudie was able to get an email address in 2018. She didn't send an email right away; Rudie waited until Christmas itself that year, and then sent a long email explaining how special the Santa Claus theme was to her and thanking him for spreading the cheer at the festival.
She wasn't expecting a response, but "Santa" did write Rudie back on Christmas Day the same year. That started an international tradition, and the following 2019 Burning Man, Rudie, Santa and a few other characters participated in the whole Christmas gig at Burning Man, much to everyone's amusement. Unfortunately, 2020 and 2021 were fouled up by COVID, but Rudie and Santa stayed connected online anyways.
Plans are on though for everyone to reconnect in person again at Burning Man 2022. And Rudie, currently living in Spain and with a full name of Rudolph the Red-Nosed Reindeer as a character, is looking forward to the desert party with the Old Man from the North all over again. No pandemic is going to keep them down for long!
Punk Kid Goes From Homeless to Opening A Quirky Barbershop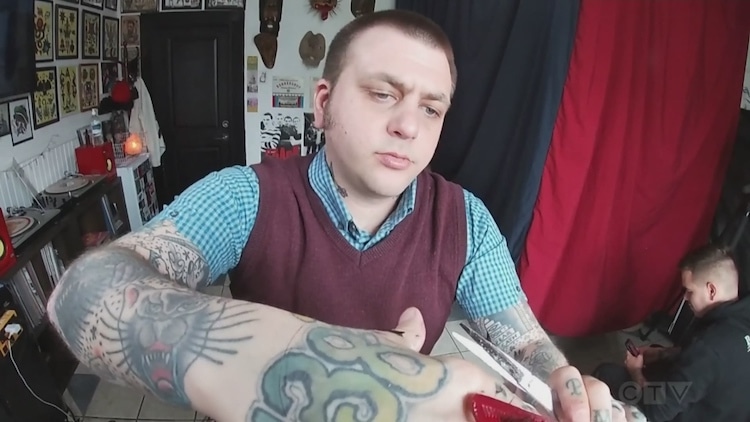 If you've ever seen the musical movie, Sweeney Todd: The Demon Barber of Fleet Street, starring Johnny Depp and Helena Bonham-Carter, then you could be forgiven for thinking twice before stepping into a barbershop for a straight-razor shave. However, many people have that reaction as well when stepping into Daryl Bidner's Little Barbershop of Horrors in today's Vancouver Island.
Bidner himself was never one for being mainstream. Growing up as a punk kid in his teen years, the barber today is a close-cropped fellow, arms blazoned with tattoos, and a late 1960s skinhead-style outfit décor via collared shirt, sleeveless sweater matched to his jeans and boots. However, when it comes to cutting hair, Bidner is all the professional and about business.
Starting off definitely wanting his barbershop to stand out and apart from the competition locally, Bidner modeled the entire theme of his haircutting venue around the movie, Little Shop of Horrors. He parlayed his interest in cutting hair for friends with mohawks into a bona fide skill, and now enjoys regular business as a barber for clientele young and old.
However, life wasn't always peachy-keen for Bidner. He was a school drop-out, had been in and out of drug addiction, and reached his own personal bottom after being homeless for an extended period. Ironically, it was a tattoo that finally seemed to put the young man back on track. His first tattoo allowed Bidner to skip the usual downspin of wasting the night high on something, and he sobered up. A number of days later, he did it again, using tattoos to get clean. By the 40th inking, Bidner was fundamentally off his addictions and broke his need to use mindlessly.
The tattooing was cathartic for Bidner, and he finally began to think about tomorrow instead of the next binge today. That in turn got him into thinking what Bidner could do for a proper living. Obviously, the young man was not going to go and wear a corporate suit the following Monday. So, he looked around at what made sense. Being a tattoo artist was logical, but then haircutting and being a barber appealed even more.
Bidner knuckled down, figured out how to get himself into barbering school, and after three years of grinding to perfect his skill, he had a license and started his own business with a single barber chair. Since that major breakthrough, Bidner has been at it as a barber for over five years, and he's been involved with community help drives and giving free haircuts to the homeless at local shelters as well. No surprise, Bidner credits his profession for saving his life and giving him direction, but it has also been a living lesson to others that no matter how bad it gets, people can pull themselves out and up again.