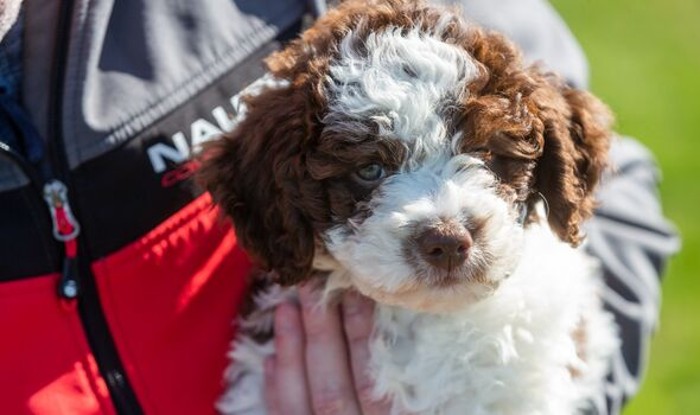 Ollie the Gold Hunting Dog Finds Treasure!
If your dog found a pot of gold, you would probably agree the canine earned his keep for the rest of his dog years. That was the case with Ollie, who got the lucky adventure of being able to go with his master, Adam Clark, to a park one day. The scruffy puppy had a natural inclination for digging, a habit Adam's daughter Alicia was constantly having to tell the dog not to do. As it turned out, Ollie's tendency turned into good fortune.
Ollie, as it turned out, was a lagotto Romagnolo, a type of dog breed trained for its keen nose and ability to find truffles, giving pigs a run for their money in the same game. Ollie, however, was busy digging for other stuff. As Ollie was exploring fields in the area near where Adam and Alicia lived, having one of his first days out and about as a puppy, he caught a scent that immediately triggered the dog to investigate. Sticking his nose to the ground, Ollie found the source and started digging furiously to get at it. By the time Adam and Alicia got to the dog, he had managed to find the source of the smell and was digging further to see if there was anything else to find. What was discovered was completely useless to the dog, but to his masters it was priceless.
Ollie had managed to not only find but fully excavate 15 gold sovereign coins from a local field. The coins themselves were dated to somewhere in the 19th century. Knowing immediately they had a find on their hands, Adam collected all the coins and safely transported them to an appraiser expert he knew from his own profession working property. Once the coins were examined by Chards, Adams was notified that the discovery was worth almost a whopping £6,000. The actual figure was slightly less, but the bonus was welcomed by Adam's family nonetheless.
As for the coins themselves, they were liquidated, but Ollie gained immediate recognition for his skill and is taken on regular walks ever since, just in case his nose happens to pick up something else. For Adam, however, the real gem is how his daughter has bonded with the dog. Alicia was flabbergasted when she received the dog as her first pet, and she was insistent they had to go for walks as soon as possible. It was a good thing too.
Ollie didn't fuss much about looking for things either. When it came to the gold, he had been roving and scanning the area where they happened to be, but as soon as he picked up a scent, he started digging nonstop. It was just a matter of seconds before the first gold coin was unsurfaced by the dog's persistent ripping of the earth. No surprise, Ollie is being scheduled for more walks whenever possible. While the odds of finding another gold stash are slim, with a dog that can work better than a metal detector, Adam has his hopes up for another surprise.
Drew Carey's Beyond Generous Gesture to Support Striking Writers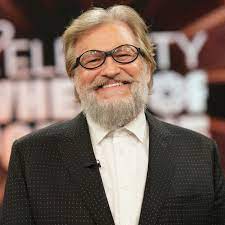 In times of struggle, acts of kindness and generosity can bring hope and relief to those in need. Drew Carey, a well-known television personality, has once again shown his compassion by providing daily lunches for members of the Writer's Guild of America (WGA) who are currently on strike. This remarkable gesture is helping to alleviate some of the financial strain faced by these hardworking individuals.
Drew Carey is graciously covering the expenses at two local businesses for WGA members who show their guild card. The two restaurants involved in this endeavor are Bob's Big Boy in Burbank and Swingers Diner on Beverly. With every meal, Drew is estimated to be spending thousands of dollars per day to ensure that these writers are well-fed during this challenging time.
This is not the first time that Drew Carey has demonstrated his support for the WGA. During the 2007 strike, he generously provided lunches to struggling writers for two consecutive months. His commitment to helping others in need has not wavered over the years, and he continues to be a beacon of kindness.
The gratitude expressed by the WGA members for Drew's actions is overwhelming. Many writers have taken to social media to share their appreciation and to highlight the impact of his generosity. One writer tweeted, "Drew bought me lunch for two months straight in '07 when I was struggling with that WGA strike. In a better place now, but Drew continues to be a good dude." The outpouring of thanks and support from the WGA community is a testament to the positive effect that Drew's kind gestures have on their lives.
The participating restaurants have become a gathering place for WGA members, who are not only enjoying the delicious meals but also feeling the love and support from Drew. The writers express their gratitude repeatedly, and the staff at the restaurants are grateful to be part of this compassionate act. They feel privileged to play a role in facilitating Drew's generosity and witness the joy it brings to those in need.
Being a writer can be challenging, with periods of financial uncertainty and limited opportunities. The current strike has exacerbated these difficulties, making every complimentary meal a significant relief for the writers. As one member explained, "They're very, very happy and they're very, very thankful to Drew." The impact of Drew's support goes beyond a single meal—it represents a lifeline for those facing financial hardships during the strike.
Drew Carey's unwavering commitment to supporting the WGA and his genuine care for those in need is truly commendable. His actions remind us of the power of kindness and the difference one person can make in the lives of others. As the strike continues, the lunches provided by Drew serve as a ray of hope and a reminder that the writing community is not alone in their fight.
In times of hardship, it is heartwarming to see individuals like Drew Carey step forward and offer their support. His kindness and generosity are an inspiration to us all, and his contributions to the well-being of the WGA members are deeply appreciated.