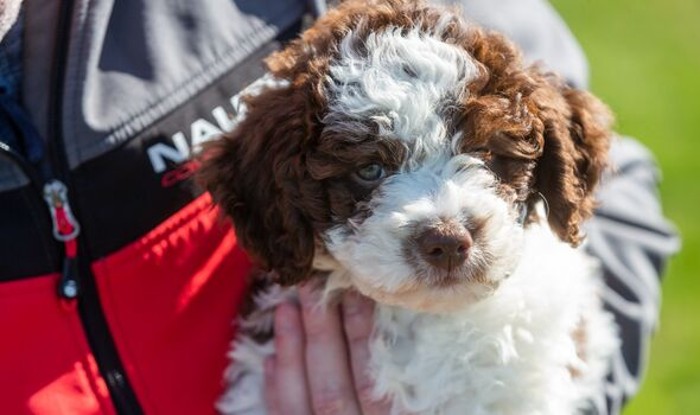 Ollie the Gold Hunting Dog Finds Treasure!
If your dog found a pot of gold, you would probably agree the canine earned his keep for the rest of his dog years. That was the case with Ollie, who got the lucky adventure of being able to go with his master, Adam Clark, to a park one day. The scruffy puppy had a natural inclination for digging, a habit Adam's daughter Alicia was constantly having to tell the dog not to do. As it turned out, Ollie's tendency turned into good fortune.
Ollie, as it turned out, was a lagotto Romagnolo, a type of dog breed trained for its keen nose and ability to find truffles, giving pigs a run for their money in the same game. Ollie, however, was busy digging for other stuff. As Ollie was exploring fields in the area near where Adam and Alicia lived, having one of his first days out and about as a puppy, he caught a scent that immediately triggered the dog to investigate. Sticking his nose to the ground, Ollie found the source and started digging furiously to get at it. By the time Adam and Alicia got to the dog, he had managed to find the source of the smell and was digging further to see if there was anything else to find. What was discovered was completely useless to the dog, but to his masters it was priceless.
Ollie had managed to not only find but fully excavate 15 gold sovereign coins from a local field. The coins themselves were dated to somewhere in the 19th century. Knowing immediately they had a find on their hands, Adam collected all the coins and safely transported them to an appraiser expert he knew from his own profession working property. Once the coins were examined by Chards, Adams was notified that the discovery was worth almost a whopping £6,000. The actual figure was slightly less, but the bonus was welcomed by Adam's family nonetheless.
As for the coins themselves, they were liquidated, but Ollie gained immediate recognition for his skill and is taken on regular walks ever since, just in case his nose happens to pick up something else. For Adam, however, the real gem is how his daughter has bonded with the dog. Alicia was flabbergasted when she received the dog as her first pet, and she was insistent they had to go for walks as soon as possible. It was a good thing too.
Ollie didn't fuss much about looking for things either. When it came to the gold, he had been roving and scanning the area where they happened to be, but as soon as he picked up a scent, he started digging nonstop. It was just a matter of seconds before the first gold coin was unsurfaced by the dog's persistent ripping of the earth. No surprise, Ollie is being scheduled for more walks whenever possible. While the odds of finding another gold stash are slim, with a dog that can work better than a metal detector, Adam has his hopes up for another surprise.
Safe Haven for Pets Who's Owners Enter Rehab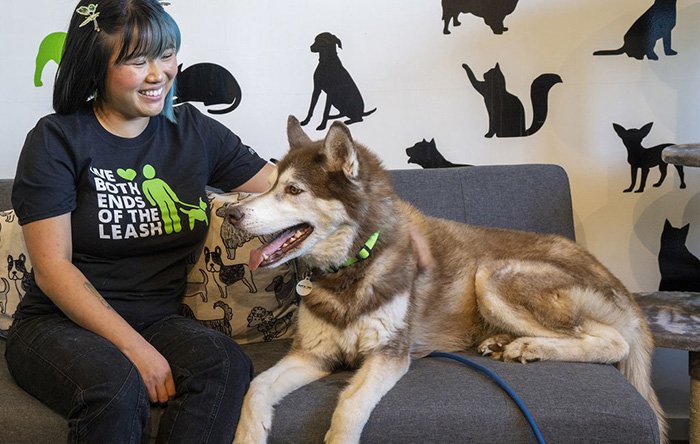 No pet owner likes to leave their pets for extended periods, no matter the reason for leaving. It's no different for people who may have drug or alcohol issues and might need to go for rehabilitation.
Not knowing who to leave the pet with or the level of care it will receive can lead to anxiety. However, there's a new resolve for people faced with that situation. Read on…
Bella was skeptical as she put her head up from inside the carrier she was being transported on to the boarding house.
A volunteer massaged the little black-and-white cat's hair to calm her fear of the dogs barking at the boarding facility's back.
The cat goes by the alias Bella since her owner, who's dealing with a tough time at home, wants to keep her cat's real name a secret. Pets in need of emergency shelter can stay with a foster family at Ruff Haven Crisis Sheltering, which provides short-term, no-cost accommodation for animals whose owners are homeless or fleeing domestic abuse.
Odyssey House, Utah's largest integrated addiction treatment center, and the foundation have just teamed up to offer three months of no-fee pet lodging to those who need it most.
"This is truly person-based, like person-led," said Beth Henry, Ruff Haven's foster coordinator. Pets are returned to their owners once treatment is complete and they have achieved a sense of security and well-being.
Enrollment and documenting of the owner's present status, followed by a brief examination of the pet (weight and overall health), immunizations, and ensuring that the animal is either fixed or is scheduled to be treated, are the first steps in the process of adoption.
The pet then gets connected with a foster home, and the owner receives weekly SMS updates on the progress of their animal. When a client and their pet are apart, Ruff Haven's fosters send videos and pictures of the pet to the client.
Several clients have the option of having their dogs dropped off for the Dogs All Day program by their foster parents, and their owners can come to meet them.
Henry stated, "It's a terrific confidence boost for them." In some cases, dogs are kept at the Dogs All Day center since their owners prefer to be able to visit them every day… It's rare for them to be greeted by their loved ones every single day. The stress of living with a cat is very hard on them.
In a press release, Adam Cohen, CEO of Odyssey, stated that pets can be a motivation for people to stay in difficult situations because they are worried about how their animals will be cared for if they are not there.
However, Ruff Haven Crisis Sheltering, which launched in June 2020, has already aided 320 families and almost hundreds of animals since then.
Owners often worry that they'll forget their pets during this time, but "the pets don't ever forget their owner," according to Kristina Pulsipher, the executive director at Ruff Havens. We do this for the reunions. And many of our former clients are now either volunteers or foster parents for us.