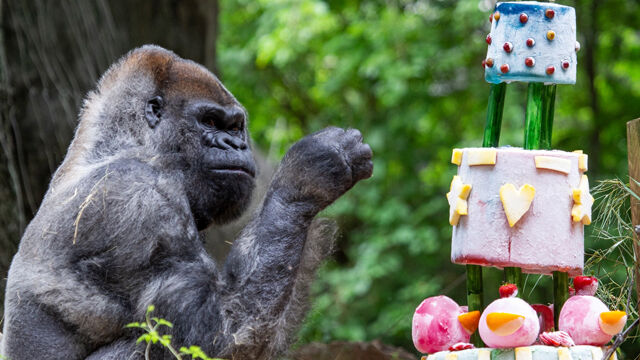 Oldest Gorilla on Earth Celebrates Birthday at Atlanta Zoo
Founded in 1989, Zoo Atlanta has served residents and visitors to the area with a front-row view of black bears, raccoons, jaguars, hyenas, lions, and even gorillas. Recently, the Zoo Atlanta was in the news thanks to a very special birthday celebrated by a Western Lowland Gorilla named Ozzie. Ozzie celebrated his 60th birthday and in doing so he would become the oldest male living gorilla on record, at least according to Zoo Atlanta!
The Western Lowland Gorilla
Ozzie belongs to a subspecies of the Western Gorilla, known as the Lowland Western Gorilla. This subspecies is the only known Gorilla subspecies to be kept in zoo enclosures. The most finite subspecies of gorilla, Ozzie, is considered a member of one of the stronger and larger subspecies. With jet black skin and no fur, it is easy to see how similar their hands are to humans.
Gorillas like Ozzie often walk erect and can stand up to 5'11 while weighing in at 600lbs. The male western lowland gorilla will typically weigh more while standing taller. Western Lowland gorillas can be social creatures and they often make bonds with members of both genders, across differing groups. Western lowland gorillas aren't territorial and they tend to follow the lead of at least one adult male.
Thanks to their large hands and advanced thumbs, gorillas like Ozzie can work with tools while exhibiting real intelligence. Gorillas have been tracked using sticks to measure water depth, buckets to fill water, and tools to drink beverages while in captivity.
A Special Birthday Bash
As the oldest male gorilla on record, Ozzie was more than ready to celebrate in style with his friends, caretakers, and fellow animals at the Zoo Atlanta. To celebrate the occasion while marking a special moment for Ozzie, the staff at Zoo Atlanta would provide him with a multi-tiered cake filled with frozen fruits that had been carefully colored for decorative purposes.
According to Zoo Atlanta, Ozzie has enjoyed prolific success as a mate. Ozzie has 20 descendants spanning three generations, with many of those animals still living with Ozzie at the Zoo Atlanta. The gorillas that have been removed from captivity have been sent to the Association of Zoos and Aquariums. Ozzie presently lives in a habitat made specifically for senior gorillas. His roommates include females, Machi, Kuchi, and Choomba – ranging between 36 and 58 years old. According to most researchers, a gorilla is considered geriatric after they surpass the age of 40.
The Species on the Brink
While conservationists are doing their best to foster new growth within the western lowland gorilla species, they are facing an uphill battle. Primarily living in forests, brush, and lowland tropical forests, these gorillas are watching as their habitats face imminent destruction. Along with disease and hunting, multiple factors have coincided to push the western lowland gorillas to the brink of extinction. The International Union for Conservation of Nature has listed the western lowland gorilla as critically endangered.
A 1980 census of Africa found gorilla populations roughly equal to 100,000. Continued studies following the Ebola outbreak, bushmeat hunting, and famine, have all merged to create a potentially insurmountable barrier to recovery.
At the time of this writing, zoos around the world have 550 western lowland gorillas in captivity.
'Trail Angel' Leaves Behind Good Deeds For Other Hikers to Find
A marked route stretching between the Eastern United States and into Maine, the Appalachian Trail offers hikers the chance to experience the longest hiking-only trail on the planet. As a one-of-a-kind destination, the Appalachian Trail brings in more than 2 million visitors every single year. Reaching heights of 6,643 feet and extending for more than 2,200 total miles, the Appalachian Trail is as challenging as it is inviting, a testament both to nature and those willing to overcome it.
Due to the intensity of the trail and its large coverage area, Trail Angels have begun to leave behind little gifts to help others follow in their path. Michele Staudenmaier had been hiking on the Appalachian Trail (A.T.) in March alongside her son, Zach. While walking the trail, Zach and Michele got to talking about gifts left behind for the hikers. Apparently, the hiking community has always appreciated donated gifts and drinks alongside trail markers, lovingly referring to these individuals as Trail Angels.
Understanding how important food and drink can be to a wilderness hike that ranges from easy to strenuous, Michel decided that she would become a Trail Angel herself alongside her husband, Dave.
Becoming a Trail Angel
When Michel and Zach had their discussion regarding trail angels, they were in the middle of a fun family trip. Michel's husband, Dave, had already booked several Airbnb's along their route through the A.T., with booked stops in Georgia, Tennessee, Vermont, Maine, West Virginia, and Pennsylvania. The trip was scheduled to take roughly six months, crossing through many significantly remote and rural places. Some of these rural areas end up featuring a small oasis of hikers, and finding these areas is known as stumbling upon Trail Magic.
Michel and her family ran into a group of Trail Angels during their work. Michele said, "I realized there was a massive community of volunteers that spend their time and money to support A.T. hikers." Michele went on to say, "I had no idea!"
While an average hike will knock out nearly 600 calories per hour, it can be hard to normalize this average. Many hikers will carry packs weighing upwards of 30 to 50lbs, adding a tremendous amount of stress to their physical efforts. To help keep these folks fed and energized, Michele would cook and pack foods like hot dogs, chips, sweet treats, Gatorade, and even sodas. One such Trail Magic event saw Michele arrive with several buckets of Kentucky Fried Chicken, leading to more than 30 hikers eating well and sharing their stories.
One event showed Michele the true stakes pertaining to Trail Angels as well as the importance of her own work. Michele had fueled a trail marker with food when a hiker arrived. After talking to the weakened hiker, he revealed that he had run out of food completely. Had he not found Michele and her food, there is no telling what could have happened.
According to Michele and many of the hiking enthusiasts that she has met, it is rare to have any food leftover after a long hike. For that reason, unexpected hot meals waiting in the middle of the A.T. will always be seen and enjoyed as a magical moment!