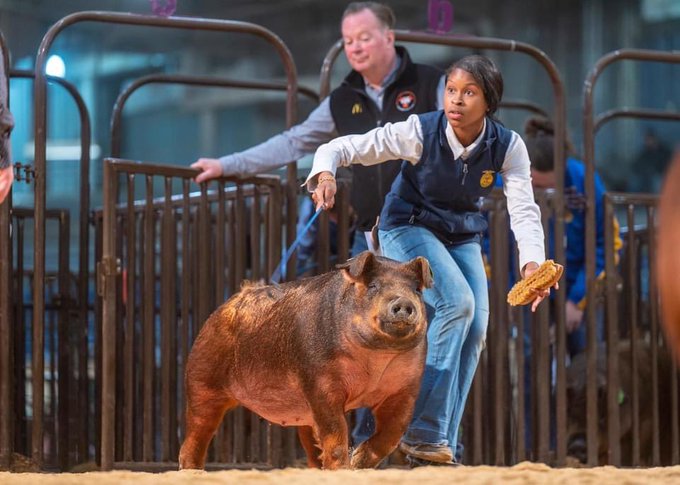 Oklahoma Teen Sells Prize Winning Hog for $17,000
Caroline Gaye is a sixteen-year-old resident of Tipton's Children's Home in Oklahoma. Tipton's Children's Home strives to give its residents a safe and secure home, and it encourages participation in the animal project. The younger children at the Children's Home are given the opportunity to start working with the chickens. The children who are interested and have an aptitude for working with the chickens move on to caring for the pigs and or the dairy heifers.
In 2021 Ms. Gaye bought her hog, Penny, with five hundred dollars of her own money. Penny is considered a gilt, a female pig that has not given birth to a litter of piglets. The gilts are judged on their looks, their muscle tone, and their overall breeding qualities. Ms. Gaye worked with Penny for a year before the Oklahoma Youth Expo Purebred Gilt Show. She and Penny had to learn how to maneuver successfully around the ring during the competition.
The Youth Expo is the world's largest junior livestock show. The Youth Expo involves 7,500 4-H and Future Farmers of America (FFA) as well as thirteen thousand head of cattle, sheep, goats, as well as agricultural mechanics projects. Penny and Ms. Gaye won first in their division as well as their class. They also placed third overall in the show's Purebred Duroc Gilt Division. Penny was placed in the forty-sixth slot in the sale. The top two percent of gilts exhibited are sold to swine breeders across the United States. Ms. Gaye wants to see Penny be bred and have a lot of little prize-winning piglets.
The forty-sixth slot gave Penny an advantage, and she sold for $17,500. Ms. Gaye plans to put the money toward furthering her education to eventually become a registered nurse. Caroline and Penny's stories are perfect examples of why the Oklahoma Youth Expo was established. The expo offers well over twenty scholarship opportunities for participants like Ms. Gaye to apply for. The expo is open to all 4-H and Future Farmers of America members ages eight to nineteen. Even the youngest participants are committed to completing their agricultural projects or working with their animals to show them. Since being officially established in 2002 they have raised over four million dollars to support their mission. The expo has awarded $300,000 in scholarships. They hope to help their participants accomplish their educational goals so they can provide and contribute to society.
500,000-Year-Old Wooden Structure Rewrites History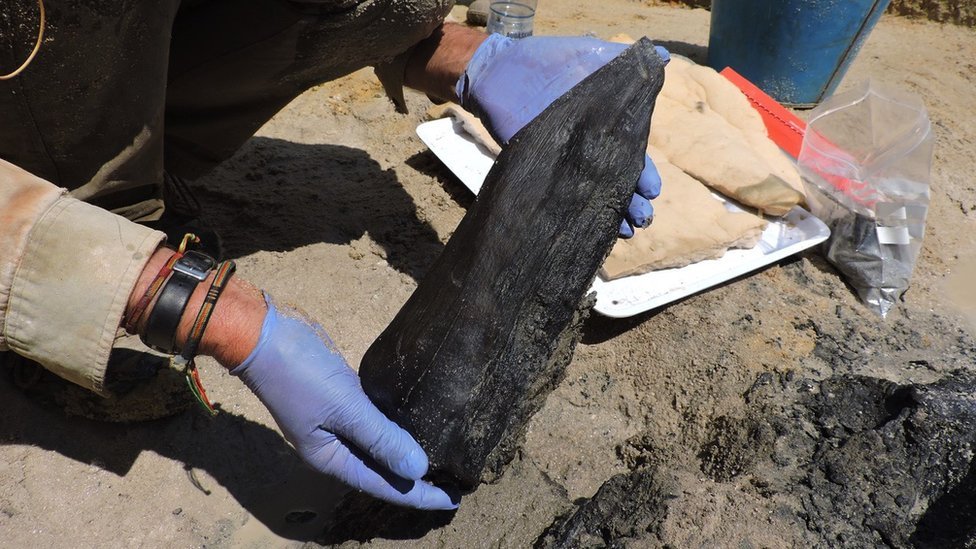 In an archaeological discovery, a wooden structure dating back an astonishing 500,000 years has been unearthed on the banks of a river in Zambia, challenging long-held beliefs about the capabilities of ancient humans. Researchers stumbled upon these ancient wooden logs, a revelation that has the potential to reshape our understanding of the lives of early humans.
The find, located on the riverbanks near Zambia's Kalambo Falls, provides compelling evidence that stone-age people may have constructed primitive shelters, forever altering our perception of their intelligence and resourcefulness. Archaeologist Prof Larry Barham, who led the research, was profoundly impacted by the discovery, stating, "This find has changed how I think about our early ancestors."
What makes this find truly remarkable is that it suggests ancient humans did more than merely survive; they thrived by creating something entirely new. These early humans exhibited intelligence, imagination, and craftsmanship by fashioning structures from wood, a material that had never before been transformed into such large and sophisticated objects.
The researchers also uncovered ancient tools, including digging sticks, but the most exciting find was two pieces of wood positioned at right angles to each other. "One is lying over the other, and both pieces of wood have notches cut into them," explained Geoff Duller, a professor of geography at the University of Aberystwyth and a member of the research team. "You can clearly see those notches have been cut by stone tools, making the two logs fit together to become structural objects."
Radiocarbon dating confirmed the wood's age, placing it at a staggering 476,000 years old. This revelation has ignited curiosity about the woodworking traditions of ancient societies, challenging the prevailing notion that early humans led simplistic, nomadic lives.
Perrice Nkombwe, a team member from the Livingstone Museum in Zambia, expressed her astonishment, saying, "I was amazed to know that woodworking was such a deep-rooted tradition. It dawned on me that we had uncovered something extraordinary."
The preservation of the wooden structure itself is a miracle. Typically, wood decays over time unless preserved under specific conditions. However, in the waterlogged environment along the Kalambo Falls, the wood remained intact, essentially pickled by the elements for millennia.
While the exact purpose of this ancient wooden structure remains a mystery, it has sparked numerous speculations. Prof. Duller suggests it might have been used as a place to sit beside the river and fish, although a complete understanding of its function remains elusive.
Moreover, the identity of the individuals who constructed this structure raises intriguing questions. "We don't know – it could have been Homo sapiens, and we just haven't discovered fossils from that age yet," Prof. Duller added. "But it could be a different species – [perhaps] Homo erectus or Homo naledi – there were a number of hominid species around at that time in southern Africa."
This discovery has the potential to enrich our understanding of ancient woodworking techniques, craftsmanship, and human interaction with the environment. As researchers continue their work at the Kalambo Falls site, the pages of history are being rewritten, and our appreciation for the ingenuity of our ancient ancestors grows ever deeper.