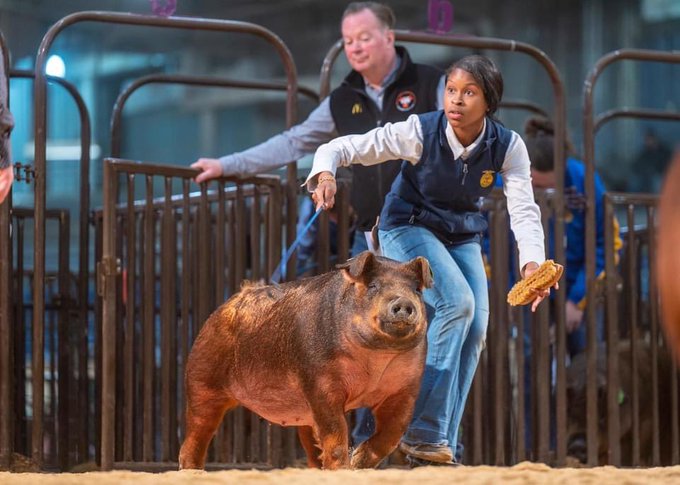 Oklahoma Teen Sells Prize Winning Hog for $17,000
Caroline Gaye is a sixteen-year-old resident of Tipton's Children's Home in Oklahoma. Tipton's Children's Home strives to give its residents a safe and secure home, and it encourages participation in the animal project. The younger children at the Children's Home are given the opportunity to start working with the chickens. The children who are interested and have an aptitude for working with the chickens move on to caring for the pigs and or the dairy heifers.
In 2021 Ms. Gaye bought her hog, Penny, with five hundred dollars of her own money. Penny is considered a gilt, a female pig that has not given birth to a litter of piglets. The gilts are judged on their looks, their muscle tone, and their overall breeding qualities. Ms. Gaye worked with Penny for a year before the Oklahoma Youth Expo Purebred Gilt Show. She and Penny had to learn how to maneuver successfully around the ring during the competition.
The Youth Expo is the world's largest junior livestock show. The Youth Expo involves 7,500 4-H and Future Farmers of America (FFA) as well as thirteen thousand head of cattle, sheep, goats, as well as agricultural mechanics projects. Penny and Ms. Gaye won first in their division as well as their class. They also placed third overall in the show's Purebred Duroc Gilt Division. Penny was placed in the forty-sixth slot in the sale. The top two percent of gilts exhibited are sold to swine breeders across the United States. Ms. Gaye wants to see Penny be bred and have a lot of little prize-winning piglets.
The forty-sixth slot gave Penny an advantage, and she sold for $17,500. Ms. Gaye plans to put the money toward furthering her education to eventually become a registered nurse. Caroline and Penny's stories are perfect examples of why the Oklahoma Youth Expo was established. The expo offers well over twenty scholarship opportunities for participants like Ms. Gaye to apply for. The expo is open to all 4-H and Future Farmers of America members ages eight to nineteen. Even the youngest participants are committed to completing their agricultural projects or working with their animals to show them. Since being officially established in 2002 they have raised over four million dollars to support their mission. The expo has awarded $300,000 in scholarships. They hope to help their participants accomplish their educational goals so they can provide and contribute to society.
Safe Haven for Pets Who's Owners Enter Rehab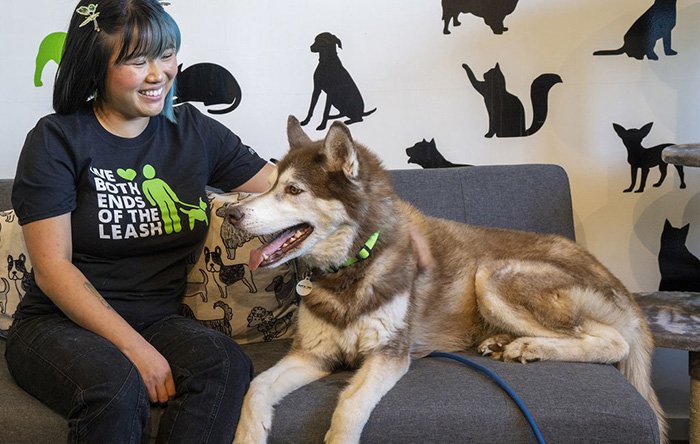 No pet owner likes to leave their pets for extended periods, no matter the reason for leaving. It's no different for people who may have drug or alcohol issues and might need to go for rehabilitation.
Not knowing who to leave the pet with or the level of care it will receive can lead to anxiety. However, there's a new resolve for people faced with that situation. Read on…
Bella was skeptical as she put her head up from inside the carrier she was being transported on to the boarding house.
A volunteer massaged the little black-and-white cat's hair to calm her fear of the dogs barking at the boarding facility's back.
The cat goes by the alias Bella since her owner, who's dealing with a tough time at home, wants to keep her cat's real name a secret. Pets in need of emergency shelter can stay with a foster family at Ruff Haven Crisis Sheltering, which provides short-term, no-cost accommodation for animals whose owners are homeless or fleeing domestic abuse.
Odyssey House, Utah's largest integrated addiction treatment center, and the foundation have just teamed up to offer three months of no-fee pet lodging to those who need it most.
"This is truly person-based, like person-led," said Beth Henry, Ruff Haven's foster coordinator. Pets are returned to their owners once treatment is complete and they have achieved a sense of security and well-being.
Enrollment and documenting of the owner's present status, followed by a brief examination of the pet (weight and overall health), immunizations, and ensuring that the animal is either fixed or is scheduled to be treated, are the first steps in the process of adoption.
The pet then gets connected with a foster home, and the owner receives weekly SMS updates on the progress of their animal. When a client and their pet are apart, Ruff Haven's fosters send videos and pictures of the pet to the client.
Several clients have the option of having their dogs dropped off for the Dogs All Day program by their foster parents, and their owners can come to meet them.
Henry stated, "It's a terrific confidence boost for them." In some cases, dogs are kept at the Dogs All Day center since their owners prefer to be able to visit them every day… It's rare for them to be greeted by their loved ones every single day. The stress of living with a cat is very hard on them.
In a press release, Adam Cohen, CEO of Odyssey, stated that pets can be a motivation for people to stay in difficult situations because they are worried about how their animals will be cared for if they are not there.
However, Ruff Haven Crisis Sheltering, which launched in June 2020, has already aided 320 families and almost hundreds of animals since then.
Owners often worry that they'll forget their pets during this time, but "the pets don't ever forget their owner," according to Kristina Pulsipher, the executive director at Ruff Havens. We do this for the reunions. And many of our former clients are now either volunteers or foster parents for us.