Nurses Unite to Bail Out Father In Trouble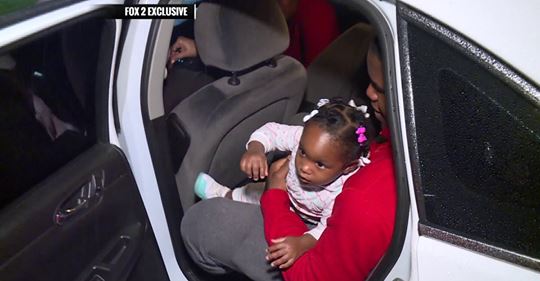 A near tragedy in an Illinois town was almost compounded by a police overreaction, but the quick thinking of a group of nurses saved the day and made everything turn out alright.
The story began in Centreville, a small town in the St. Louis metropolitan area. On the evening of April 7, 2019, a one-year-old girl named Demani began to choke on a penny. She had put a penny inside her mouth, as children are wont to do, but accidentally swallowed it. The penny became lodged in her throat. Her father, Darius Hinkle, and her mother, Donecia Pittman, who were with her at the time of the incident, were terrified for their daughter's safety. They put her in the car, and began to drive to the hospital. Naturally the mother comforted the choking child while the father drove. Time was of the essence, so they drove very quickly.
Unfortunately, a police officer saw them driving towards the hospital. Unaware of their destination or the situation, the police officer went into pursuit of the speeding vehicle. Obviously the father did not stop to waste time explaining the situation, but instead proceeded with all possible haste towards the medical center. Before they had gone many miles the speeding car was being followed buy a long line of police cars with sirens flashing. The father disregarded them and continued to the hospital, sometimes at speeds exceeding a hundred miles an hour. The police kept pursuit.
Very little time passed until they reached their destination, Touchette Regional Hospital. The distressed parents tried to make contact with medical personnel and to inform them of their child's dire predicament, but witnesses to the incident say that the police were almost entirely unconcerned with the well-being of the baby. Instead, the police forced the distressed parents to the ground, treating them with harshness and severity as they disregarded the choking infant. The father was arrested and taken away. The mother went in to see to her child.
The obstruction was removed from the child's trachea without the necessity of surgical intervention. Once Demani was out of danger, Ms. Pittman went to bond out her partner. When she arrived she encountered the biggest surprise in an evening filled with surprises. When Ms. Pittman stepped forward to speak to the desk clerk about paying the bail for Mr. Rucker, she was informed that the person immediately before her had already paid for it. That person was a nurse from the Touchette Regional. The nurses had seen the entire incident, including the man's overwhelming concern for his daughter and the police officers' complete indifference to the circumstances. They were moved to action by what they had witnessed. The nurses took up a collection among themselves and volunteered to pay the man's bond.
Although Mr. Rucker still faces criminal charges for this incident, and he will still have to appear in court and plead his case, the touching faith that the nurses showed in him has gathered national attention. The story has become an example of how human beings can support each other in the face of injustice. Contributions have been made to the man's legal defense and to reimburse the nurses for their time and trouble. One can only hope that the police have read this story as well and found in it an example for better behavior.
Routine Traffic Stop Turns into Heartwarming Occasion Thanks to Officer's Kind Gesture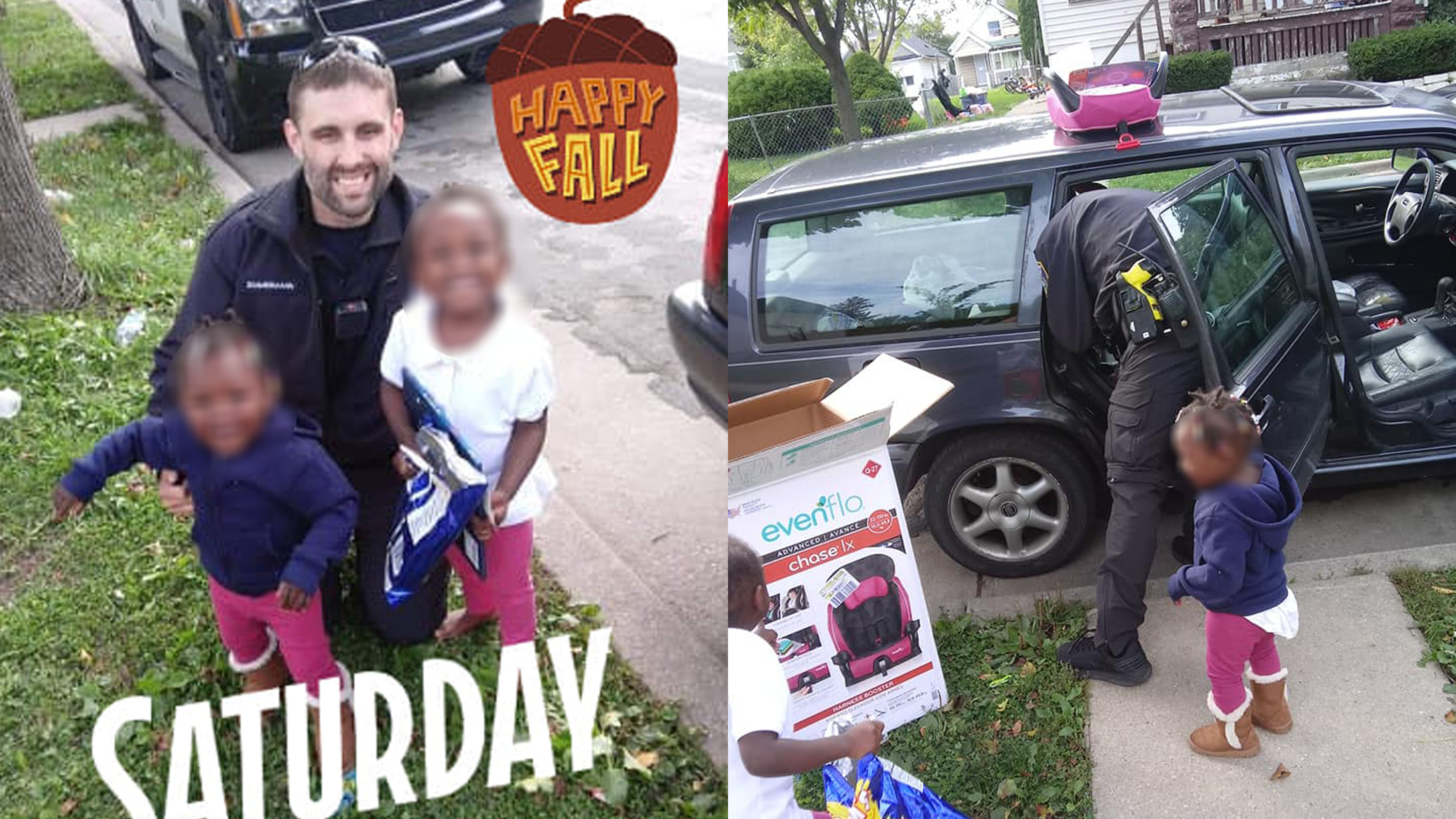 Getting pulled over can be a stressful situation. You may not know right away why you were asked to stop, but you probably have a good hunch that it's not for a good reason.
More often than not, that premonition we have about being pulled over turns out to be accurate and we have to be involved in a less than ideal situation. It's why many of us dread stopping to talk to an officer so much.
Andrella Jackson may now have different thoughts about being asked to stop by an officer though.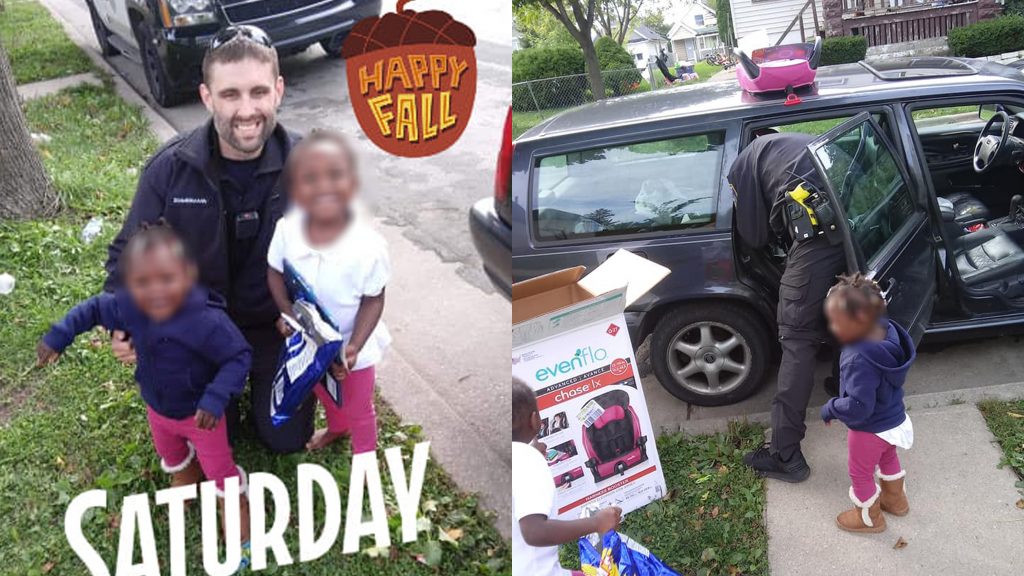 Not too long ago, Jackson was spotted by Milwaukee police officer Kevin Zimmerman and was asked to pull over. Officer Zimmerman requested that Jackson stop because she had the wrong registration for her car.
As he approached the vehicle though, something else caught the eye of Officer Zimmerman. To be more specific, he saw that there were three kids in the backseat of Jackson's car and two of them were still very small, WTMJ-TV reported. He also noticed that the two small children in question were not in car seats.
Officer Zimmerman then asked Jackson why the small kids were not placed in car seats and she said that she did not have the money to pay for those essential pieces of safety equipment at that time. Jackson mentioned that with winter on the way, she was saving up to buy her children new coats and boots.
A shortage of money is the same reason why Jackson had failed to get her vehicle registered properly.
Per the American Automobile Association (AAA), there are laws in every state dictating that children should be in car seats or restraints.
It would have been easy for Officer Zimmerman to issue Jackson tickets for her violations, but he opted to handle things a different way. Instead of adding to her problems, he went about solving one of them.
Officer Zimmerman soon made his way to a nearby Walmart, and after learning how much the kids weighed from Jackson, he went ahead and purchased two car seats using money out of his own pocket. He even stuck around to install the car seats himself.
By the way, the police officer did more than just give Jackson and her kids new car seats. According to this report from CNN, Officer Zimmerman also made a stop at the police department to pick up a few things – children's books and stickers – that he also gifted to Jackson's kids.
The police officer explained why he went the extra mile to help out Jackson. Officer Zimmerman shared that he has kids of his own. He hinted at how frightening the thought is of his own kids moving around in a vehicle with no car seats and how they can be placed in grave danger if an accident occurs.
Officer Zimmerman also said that he was always taught to "do the right thing even if no one is looking." In this case, both Jackson and the Milwaukee Police Department wanted to make sure that Officer Zimmerman would receive the recognition he deserved even if he wasn't looking for that.
The generous act touched Jackson, prompting her to shower Officer Zimmerman with numerous "thank yous." Her kids got in on the chorus of generosity as well.
Jackson called Officer Zimmerman "awesome" and that she is appreciative of the kindness he showed. She added that with the car seats now purchased and installed, she will be able to allocate a bigger budget that will then be used to buy those new coats and boots that her kids need.
What could have turned into an even more trying situation for Jackson and her kids became a shining example of humanity at its best and that is thanks to the generosity exhibited by Officer Zimmerman.