Nurses Unite to Bail Out Father In Trouble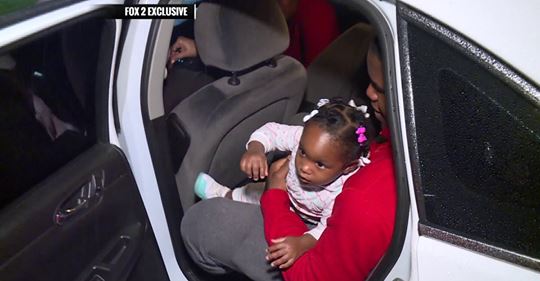 A near tragedy in an Illinois town was almost compounded by a police overreaction, but the quick thinking of a group of nurses saved the day and made everything turn out alright.
The story began in Centreville, a small town in the St. Louis metropolitan area. On the evening of April 7, 2019, a one-year-old girl named Demani began to choke on a penny. She had put a penny inside her mouth, as children are wont to do, but accidentally swallowed it. The penny became lodged in her throat. Her father, Darius Hinkle, and her mother, Donecia Pittman, who were with her at the time of the incident, were terrified for their daughter's safety. They put her in the car, and began to drive to the hospital. Naturally the mother comforted the choking child while the father drove. Time was of the essence, so they drove very quickly.
Unfortunately, a police officer saw them driving towards the hospital. Unaware of their destination or the situation, the police officer went into pursuit of the speeding vehicle. Obviously the father did not stop to waste time explaining the situation, but instead proceeded with all possible haste towards the medical center. Before they had gone many miles the speeding car was being followed buy a long line of police cars with sirens flashing. The father disregarded them and continued to the hospital, sometimes at speeds exceeding a hundred miles an hour. The police kept pursuit.
Very little time passed until they reached their destination, Touchette Regional Hospital. The distressed parents tried to make contact with medical personnel and to inform them of their child's dire predicament, but witnesses to the incident say that the police were almost entirely unconcerned with the well-being of the baby. Instead, the police forced the distressed parents to the ground, treating them with harshness and severity as they disregarded the choking infant. The father was arrested and taken away. The mother went in to see to her child.
The obstruction was removed from the child's trachea without the necessity of surgical intervention. Once Demani was out of danger, Ms. Pittman went to bond out her partner. When she arrived she encountered the biggest surprise in an evening filled with surprises. When Ms. Pittman stepped forward to speak to the desk clerk about paying the bail for Mr. Rucker, she was informed that the person immediately before her had already paid for it. That person was a nurse from the Touchette Regional. The nurses had seen the entire incident, including the man's overwhelming concern for his daughter and the police officers' complete indifference to the circumstances. They were moved to action by what they had witnessed. The nurses took up a collection among themselves and volunteered to pay the man's bond.
Although Mr. Rucker still faces criminal charges for this incident, and he will still have to appear in court and plead his case, the touching faith that the nurses showed in him has gathered national attention. The story has become an example of how human beings can support each other in the face of injustice. Contributions have been made to the man's legal defense and to reimburse the nurses for their time and trouble. One can only hope that the police have read this story as well and found in it an example for better behavior.
Blind Dog Gets Seeing Eye Dog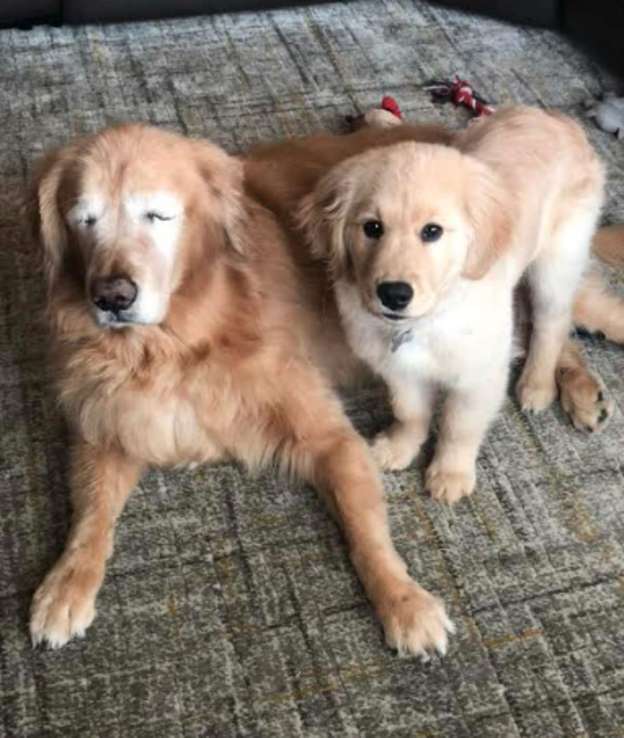 Charlie is 11 years old and his age officially makes him a senior pup. A few years ago, Charlie had to have both of his eyes removed because of glaucoma. He managed life and was able to cope with the blindness from day to day, but he did become less excitable and began to slow down. That is all changing now because of a new friend.
Charlie's owners, Chelsea Stipe and her husband, could tell that the dog could benefit form a friend, even if he was still showing signs that he was a happy dog. They were right. They brought home a puppy named Maverick and things began to change. The two dogs soon became inseparable and Maverick's puppy energy and enthusiasm seemed to inspire Charlie. Stipe told the media that Charlie had become more puppy like and playful since Maverick was brought home. Stipe used to buy Charlie toys and he would never play with them, but now the two dogs are constantly playing with each other and a handful of toys.
Maverick is only a few months old but has already picked up on the fact that Charlie can't see and is experiencing the world much differently. Maverick has adapted to help Charlie with his blindness. Stipe said that Maverick seems to know Charlie is different than him and so he's aware when Charlie begins to move and is always on the lookout for him. He even puts toys in front of him so Charlie can play, and when they are walking together Maverick will help keep Charlie in line. When Charlie is resting, Maverick will too, just to reassure him that he's always there and he's not alone.
While Charlie and Maverick are different, nothing has hindered their friendship. In fact, Stipe thinks it has made the two dogs closer. While nothing can make Charlie's eyesight better or turn back the clock on his life, Maverick gives hope that there is happiness for them both now that they are together. Stipe is confident that if Charlie had eyes, then she would be able to see a twinkle in them. Stipe and her husband used to think they could lose Charlie at any time because he's an older dog. While they know Charlie won't live forever, they know he has a new zest for life and he doesn't have to spend his remaining years gloomy and it's almost like he is a puppy again. Those who want to keep up with Maverick and Charlie can do so on Instagram.
Glaucoma is more common in certain dog breeds since they are genetically predisposed. About 40% of dogs with glaucoma can become blind in the eye that is affected within the first year, regardless of if they get any surgical or medical treatment, which was the case for Charlie. The condition can be managed if caught early enough and the pressure in the eye will have to be checked by a veterinarian often. Half of dogs that develop glaucoma in one eye will also develop conditions in their other eye within eight months. Veterinarians say that most dogs will adjust over time to the loss of an eye or both eyes, especially since with glaucoma they could have been losing their vision over a longer time period. A veterinarian can suggest ways in helping a dog transition to vision loss and how you can make your home and outdoor life easier for the dog without sight. Many times you will have to pay more attention to your dog when he or she loses sight, since it can be more vulnerable to other animals. While it may not be a guaranteed suggestion, getting another dog may just be the ticket.