Nurses Give the Most Viral, Awesome Gift to Patients That Are Homeless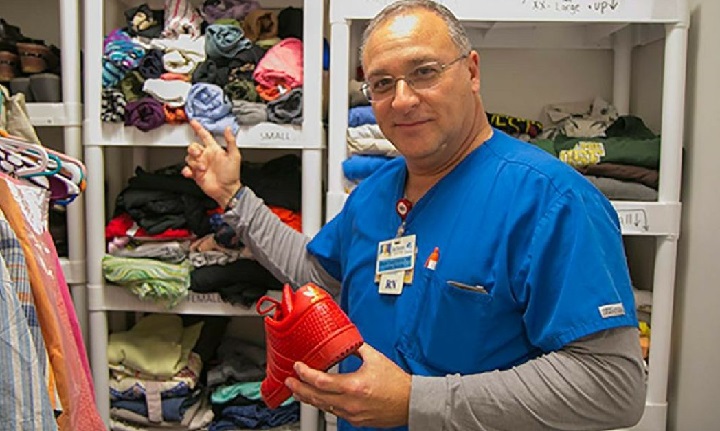 If you are looking for a hospital where the nurses have hearts of pure gold, visit the Jackson Health System in Miami, Florida. It has a mental health hospital, rehabilitation hospital, a children's hospital and many more. The Jackson Health System in Miami received plenty of positive attention after one of the nurses, Oliver Castellanos, did something special for homeless patients that were leaving the hospital after being discharged.
Most people, even those that work in the healthcare sector, do not do anything more than they are required to. They do whatever is in their job description and leave it at that. Nurse Castellanos is different.
It came to his attention that most of the homeless patients who came from the hospital after treatment had little or nothing decent to wear as they were discharged from the hospital. They put on paper gowns which were not only uncomfortable but also unable to cover them. With their paper owns, they could not walk in the streets with patience as parts of their bodies were barely covered.
Restoring Human Dignity
Can you imagine having nothing decent to wear as you walk down the streets and having to put on a paper gown? This was the sad reality for many patients that had just been discharged from the hospital. If you have ever been in the situation, you know how embarrassing it can be. The nurse decided to do something about it. He went to his closet, found some shoes and clothes, and took them to the hospital. At first, he had just a few clothes to donate. He could not help as many people as he wished. As luck would have it, word soon got out that he was donating clothes and soon enough, other people joined him. People brought their clothes and shoes to the nurse regardless of whether they were old or new. They all wanted to help as much as they could.
A Kind Heart        
The kind actions of the nurse inspired others to join him. His coworkers and the church community were the first ones to team up with him. They brought their donations of clothes and shoes and the pile to be donated became bigger and bigger. Nurse Castellanos encouraged them to keep bringing in donations because there is always someone who needs some help. In a short time, his pile had grown into a full closet. He could help a bigger number of people, and he did so without expecting any payment in return.
Castellanos could have turned a blind eye on the homeless patients being released, but he did not. He identified their problem, empathized with them, and did whatever he could to solve it. In his words, 'We are all human beings, all brothers and sisters. We have to help each other out.'
Making a Difference
Castellanos knew that he was helping a few people to get some clothes and walk down the streets with some dignity. He, however, did not realize how much impact he was making on their lives. His acts of kindness were life-changing to most of the people that he helped. It was not until he saw one of the patients break into tears while receiving a pair of shoes that he realized what his efforts meant to them Castellanos is glad that his efforts are helping other people to lead better lives and that they appreciate the effort. His actions are proof that a little effort can go a long way in improving other people's quality of life.
Three Week Pet and House Sitting Turns Into a Year Long Mystery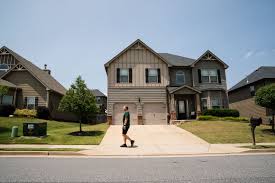 Any responsible pet owner knows that if you cannot bring the animals with you then you need to make arrangements to ensure they are taken care of. If you are going to be gone for any length of time it is also a good idea to have someone check in on the house once in a while to make sure everything is ok. Last year one Canadian man agreed to watch his neighbor's home while they were away.
The neighbors were going to be traveling for a few weeks visiting family overseas. They asked the man and his wife to watch the house and their pets and check on the house for three weeks while they went to Taiwan as his mother was dying and they wanted to see her and spend time with the family. They left the man $500 dollars for food for their 2 German Sheppards and their cat. The man agreed and went over daily to feed the pets and would walk through the house to check on things every week.
On July 1, he got an email asking if the man and his wife could watch things for a little longer. It was taking more time than they expected to take care of everything after his mother had died. They agreed and expected the man to return in 2 week's time. They never arrived and no other communications were received. On July 21, the man sent an email but never got a reply. By the end of the month the neighbor's cell phone had been disconnected and he was not responding to any email messages at all now. At some point in the following weeks a pipe had burst and ended up flooding the basement causing massive water damage. The man did not know what to do now since he still could not get in touch with the family.
He ended up paying someone out of his own pocket to have the leak fixed, and he also paid for one of their dogs to have surgery. This was quickly becoming a real nightmare situation, and worst of all, he had no idea how long it was going to last. He thought about trying to track them down via social media but they had a very common last name and he had no address or name for contact on who they were staying with in Taiwan so it seemed a search on his own was going to be fruitless.
The electricity was still running in the house, which the man credited to an autopayment. The internet was also still working. There was no way to track down a place of employment or other contact ins Canada who might know the couple and be able to help track them down. So, after waiting nearly a year, the man filed a missing person report with the police to try and get some help finding out what happened to the couple. Eventually, they got a response- there was good news and bad news.
The good news was that the couple were alive and well and not dead or in prison as the man had feared. The bad news was that they seemed to be very irresponsible and privileged people. They said they had asked a relative to come to get the pets and deal with the house but had never checked in with him to see if any of it had been done. They said the man and his wife could keep the pets if they wanted or he could find some way to take them off their hands. He also seemed to care little about the house and made a statement along the lines of – if we ever come back we can pay to fix it or just buy a new house.
The man said that he and his wife would keep the pets as they couldn't bear to give them up after a year of caring for them. They were also very worried about what this couple may do with animals they seemed to truly care so little about. It is one of the most bizarre stories ever, but at least it ends on a happy not and those pets are still in good hands and are being loved and cared for. But let this be a warning before anyone agrees to house sit or pet sit for something- get all the details and contact information before you ever say yes!