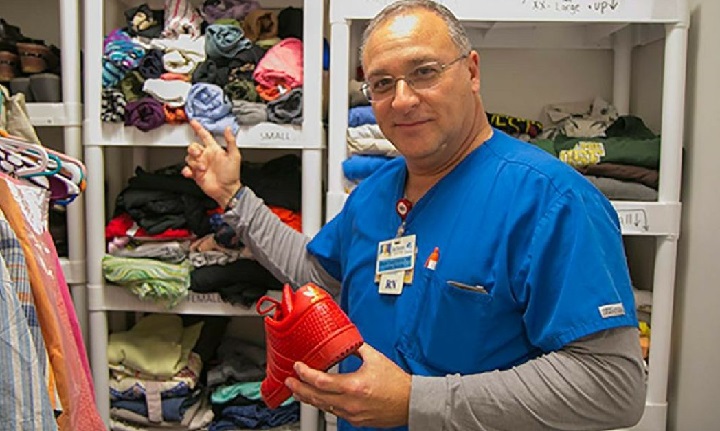 Nurses Give the Most Viral, Awesome Gift to Patients That Are Homeless
If you are looking for a hospital where the nurses have hearts of pure gold, visit the Jackson Health System in Miami, Florida. It has a mental health hospital, rehabilitation hospital, a children's hospital and many more. The Jackson Health System in Miami received plenty of positive attention after one of the nurses, Oliver Castellanos, did something special for homeless patients that were leaving the hospital after being discharged.
Most people, even those that work in the healthcare sector, do not do anything more than they are required to. They do whatever is in their job description and leave it at that. Nurse Castellanos is different.
It came to his attention that most of the homeless patients who came from the hospital after treatment had little or nothing decent to wear as they were discharged from the hospital. They put on paper gowns which were not only uncomfortable but also unable to cover them. With their paper owns, they could not walk in the streets with patience as parts of their bodies were barely covered.
Restoring Human Dignity
Can you imagine having nothing decent to wear as you walk down the streets and having to put on a paper gown? This was the sad reality for many patients that had just been discharged from the hospital. If you have ever been in the situation, you know how embarrassing it can be. The nurse decided to do something about it. He went to his closet, found some shoes and clothes, and took them to the hospital. At first, he had just a few clothes to donate. He could not help as many people as he wished. As luck would have it, word soon got out that he was donating clothes and soon enough, other people joined him. People brought their clothes and shoes to the nurse regardless of whether they were old or new. They all wanted to help as much as they could.
A Kind Heart        
The kind actions of the nurse inspired others to join him. His coworkers and the church community were the first ones to team up with him. They brought their donations of clothes and shoes and the pile to be donated became bigger and bigger. Nurse Castellanos encouraged them to keep bringing in donations because there is always someone who needs some help. In a short time, his pile had grown into a full closet. He could help a bigger number of people, and he did so without expecting any payment in return.
Castellanos could have turned a blind eye on the homeless patients being released, but he did not. He identified their problem, empathized with them, and did whatever he could to solve it. In his words, 'We are all human beings, all brothers and sisters. We have to help each other out.'
Making a Difference
Castellanos knew that he was helping a few people to get some clothes and walk down the streets with some dignity. He, however, did not realize how much impact he was making on their lives. His acts of kindness were life-changing to most of the people that he helped. It was not until he saw one of the patients break into tears while receiving a pair of shoes that he realized what his efforts meant to them Castellanos is glad that his efforts are helping other people to lead better lives and that they appreciate the effort. His actions are proof that a little effort can go a long way in improving other people's quality of life.
Brave 12-Year-Old Girl Saves Family from Carbon Monoxide Poisoning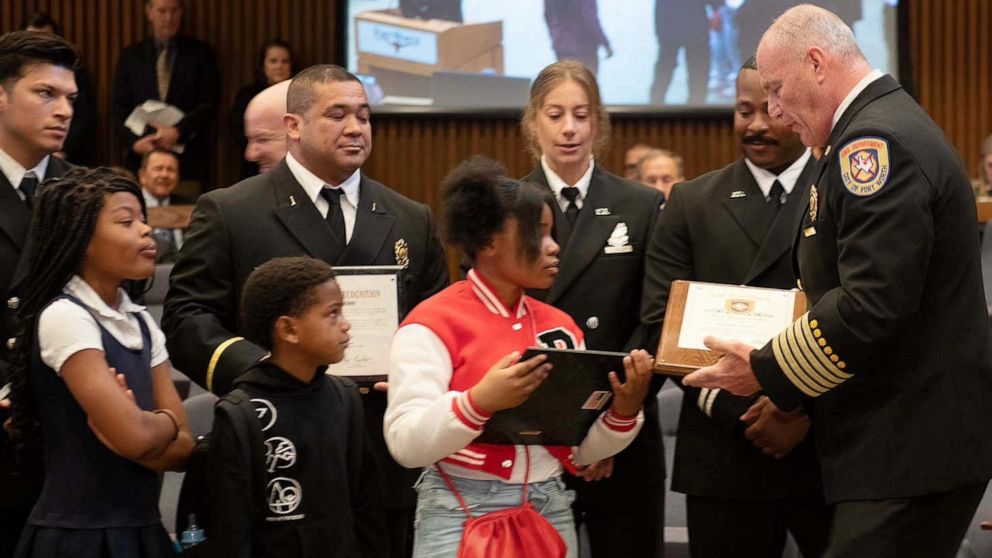 In a remarkable act of courage and quick thinking, 12-year-old Jaziyah Parker from Fort Worth, Texas, became a true hero when she saved her family from a dangerous situation. Jaziyah's keen observation and immediate action prevented a potential tragedy from unfolding.
One day, while Jaziyah was at home, she noticed something was wrong. Her mother and younger brother began to feel sick and lose consciousness. Jaziyah didn't panic but instead sprang into action. She grabbed the phone and dialed 911, desperately seeking help. In the recording of the 911 call, Jaziyah can be heard saying, "Something wrong with my mama. Can you hurry up and come?" Her plea for assistance was a crucial step that would ultimately save her entire family.
Little did Jaziyah know, her family's home was filling up with a silent but deadly gas called carbon monoxide. This odorless and colorless gas can be extremely harmful and even fatal when inhaled. But Jaziyah's sharp instincts and timely call for help prevented a tragic outcome. Her actions ensured that her family received the necessary assistance in time.
The Fort Worth Fire Department recognized Jaziyah's bravery and quick thinking during a special ceremony held on May 23, 2023. The firefighters honored her for her heroic act, commending her for the bravery she displayed in a challenging situation. Jaziyah's actions exemplify the importance of staying calm and taking action during emergencies.
Carbon monoxide poisoning is a serious concern, as it can occur in any home due to faulty appliances, heating systems, or ventilation issues. This incident serves as a reminder for everyone to have carbon monoxide detectors installed in their homes and to be aware of the signs and symptoms of poisoning. Symptoms such as dizziness, headaches, nausea, and confusion should never be ignored, as they could indicate carbon monoxide exposure.
Jaziyah's story is an inspiration to us all. Her courage and quick response saved her family from a potentially fatal situation. She serves as a shining example of how even young individuals can make a significant impact and help those in need. Her actions remind us that heroes can emerge at any age, and we should always be prepared to lend a helping hand in times of crisis.