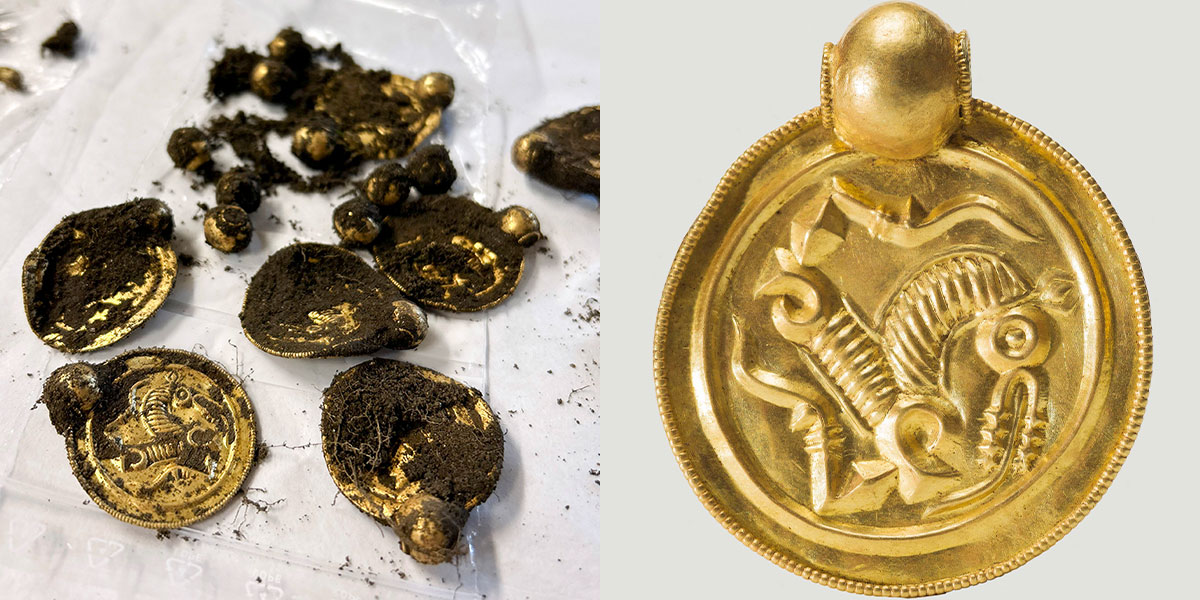 Norwegian Metal Detector Enthusiast Strikes Gold
In a tale that combines the thrill of discovery with a newfound hobby, a Norwegian man named Eriend Bore embarked on a metal-detecting adventure and unearthed a treasure trove of ancient Norwegian gold jewelry. Bore's remarkable find has shed light on a fascinating chapter of Norway's history.
Eriend Bore, a Norwegian with a penchant for exploration, took up metal detecting as a hobby, following his doctor's advice to spend less time on the couch and more time in the great outdoors. Little did he know that this new pursuit would lead to an extraordinary discovery that would capture the imagination of historians and archaeologists alike.
Bore's remarkable journey began when his trusty metal detector signaled a hidden treasure buried beneath the earth's surface. At first, he mistook the find for something far more common—a piece of chocolate wrapped in gold foil. However, upon closer inspection, Bore's excitement grew as he realized that he had stumbled upon something truly extraordinary.
To his astonishment, the "chocolate" turned out to be a collection of nine pendants, three rings, and ten exquisite gold pearls, all believed to be remnants of ancient Norwegian jewelry. These stunning artifacts, which might have adorned someone as fancy jewelry some 1,500 years ago, paint a vivid picture of a bygone era.
The location of this remarkable discovery was near the city of Stavanger, situated on the southern island of Rennesoey. Ole Madsen, the director of the Archaeological Museum at the University of Stavanger, described the find as "extremely unusual" due to the sheer quantity of gold uncovered at once.
The gold jewelry, which includes flat, thin, single-sided gold medals known as bracteates, dates back to around 500 AD, a period known as the Migration Period in Norway. This era, spanning from 400 to about 550 AD, was marked by widespread migrations in Europe and is of great historical significance.
Håkon Reiersen, an associate professor at the archaeological museum, explained that the pendants and gold pearls formed "a very showy necklace" crafted by skilled jewelers. These opulent pieces were likely worn by individuals of great influence and power in ancient Norwegian society, offering a glimpse into the cultural and social dynamics of the time.
As per Norwegian law, any objects dating back to before 1537 and coins older than 1650 are considered state property and must be reported to authorities. Bore dutifully adhered to this regulation, ensuring that his remarkable discovery would be preserved for future generations.
The Archaeological Museum in Stavanger, located approximately 300 kilometers southwest of Oslo, plans to showcase this astonishing find in an exhibition, providing an opportunity for people to connect with Norway's rich historical past. Eriend Bore's passion for metal detecting has not only transformed his life but has also enriched our understanding of the country's cultural heritage, reminding us that hidden treasures can be found just beneath our feet, waiting to reveal their secrets to those with a keen eye and a sense of adventure.
The Ockendon Solar Farm's Remarkable Transformation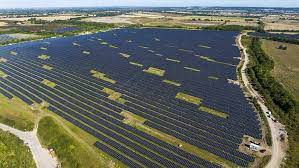 A once-neglected trash dump in England has undergone a breathtaking transformation into one of the United Kingdom's largest solar farms. The Ockendon solar farm, as it is now known, is set to provide electricity to an impressive 15,000 homes. With its 100,000 gleaming solar panels, it proudly stands as the third-largest solar farm in the entire UK.
This remarkable journey from waste ground to green energy oasis reflects the nation's growing commitment to renewable energy and sustainability. Frank Gordon, the director of policy at the Association for Renewable Energy and Clean Technology, highlighted the importance of projects like Ockendon solar farm in addressing the climate crisis. He told The Guardian, "We urgently need more solar in the UK to help meet our legally binding net-zero goals, and this summer's extraordinary global weather has further underlined the need for climate action."
The Ockendon solar farm is a shining example of the UK's transition to cleaner energy sources. Since 2020, nearly half of the nation's power has been sourced from a combination of wind, solar, bioenergy, and hydroelectric sources. This shift towards renewable energy not only reduces harmful emissions but also bolsters energy security and creates jobs in the burgeoning green energy sector.
The transformation of the Ockendon site is nothing short of inspirational. What was once a symbol of waste and environmental neglect has become a symbol of hope for a more sustainable future. As solar farms like Ockendon continue to sprout across the UK, they bring us one step closer to achieving our net-zero emissions goals and safeguarding the planet for generations to come.