North Carolina Teen Bitten by Shark, Unassailed
Paige Winter, 17, was swimming at Atlantic Beach in North Carolina with her sister when she was pulled under in waist-high water. It quickly became clear that it was a shark attack.
Paige initially gave in, perhaps initially not realizing that it was a shark. She'd thought it was a turtle. When she realized what was happening, she fought back hard. It is that tenacity and courage that has continued to aid her in her survival and recovery. She just would not give up.
Paige's Rescue
Witnesses reported screaming and panic. Paige's father, Charlie, is a paramedic, so he immediately jumped to her rescue. He dove underwater and punched at the shark until he was able to wrestle her free from the shark and carry her to the beach. A bystander offered a belt, which her father used as a tourniquet to stop the bleeding on the beach.
Paige was quickly transported via medical helicopter to Vidant Medical Center in Greenville, where her leg was amputated. She underwent additional surgeries for his leg, pelvis, and hand.
No parent ever would dream of seeing their child being dragged underwater by a shark, but her father's quick actions saved Paige's life. Then, bystanders and emergency medical personnel were a part of the rescue, as well as doctors and surgeons who worked to save Paige's life.
Next Steps
What lies ahead for Paige is recovery and rehabilitation as she learns to walk again with a prosthetic limb. She must also re-learn how to function with more limited functionality in her hands.
Paige's resilience is clear, though, despite the severe injuries she sustained, and the body altering surgeries. She remains positive and in good spirits. Her family says that she was groggy but already telling jokes when she first woke up after the shark attack in the hospital. Her continued road to recovery won't be easy, but her will to live and overcome the odds has already gotten her this far.
Doctors and also her father mentioned the serendipitous collision of chance encounters and dumb luck that both brought her to the beach that day but also saved her life. When so much could have gone horribly, impossibly wrong, enough separate events went right that she will someday walk again.
Paige survived. It's not all the "pieces of the puzzle." Some are missing, as she told Washington Post, but "it's okay." She still advocates for marine life and doesn't blame the shark for biting her and shaking her like that. Her message is about education, learning more about sharks and understanding.
Spunky as ever, Paige told the medic, "Don't be mad. Sharks are good people." That positive attitude and that willingness to forgive even in the face of a savage attack is part of what has made her story a viral sensation across media spheres.
500,000-Year-Old Wooden Structure Rewrites History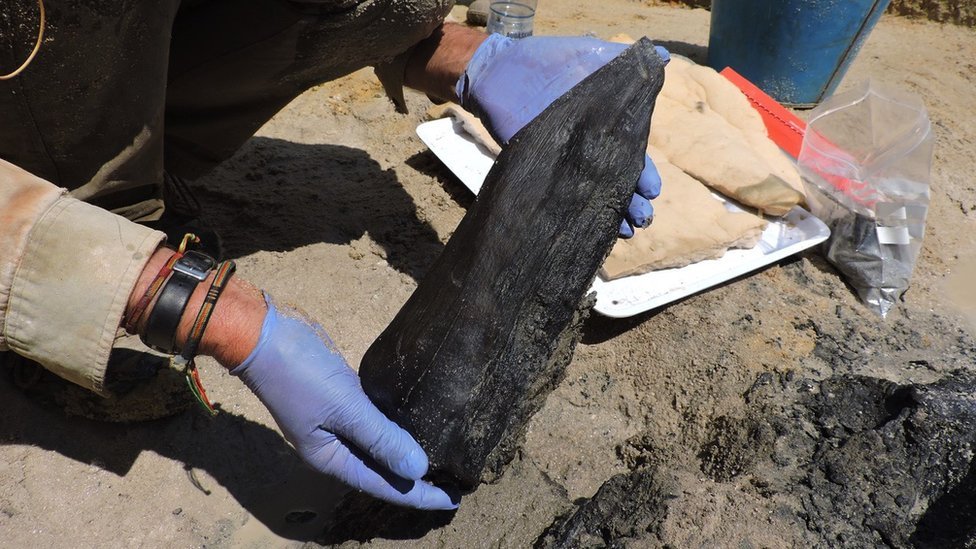 In an archaeological discovery, a wooden structure dating back an astonishing 500,000 years has been unearthed on the banks of a river in Zambia, challenging long-held beliefs about the capabilities of ancient humans. Researchers stumbled upon these ancient wooden logs, a revelation that has the potential to reshape our understanding of the lives of early humans.
The find, located on the riverbanks near Zambia's Kalambo Falls, provides compelling evidence that stone-age people may have constructed primitive shelters, forever altering our perception of their intelligence and resourcefulness. Archaeologist Prof Larry Barham, who led the research, was profoundly impacted by the discovery, stating, "This find has changed how I think about our early ancestors."
What makes this find truly remarkable is that it suggests ancient humans did more than merely survive; they thrived by creating something entirely new. These early humans exhibited intelligence, imagination, and craftsmanship by fashioning structures from wood, a material that had never before been transformed into such large and sophisticated objects.
The researchers also uncovered ancient tools, including digging sticks, but the most exciting find was two pieces of wood positioned at right angles to each other. "One is lying over the other, and both pieces of wood have notches cut into them," explained Geoff Duller, a professor of geography at the University of Aberystwyth and a member of the research team. "You can clearly see those notches have been cut by stone tools, making the two logs fit together to become structural objects."
Radiocarbon dating confirmed the wood's age, placing it at a staggering 476,000 years old. This revelation has ignited curiosity about the woodworking traditions of ancient societies, challenging the prevailing notion that early humans led simplistic, nomadic lives.
Perrice Nkombwe, a team member from the Livingstone Museum in Zambia, expressed her astonishment, saying, "I was amazed to know that woodworking was such a deep-rooted tradition. It dawned on me that we had uncovered something extraordinary."
The preservation of the wooden structure itself is a miracle. Typically, wood decays over time unless preserved under specific conditions. However, in the waterlogged environment along the Kalambo Falls, the wood remained intact, essentially pickled by the elements for millennia.
While the exact purpose of this ancient wooden structure remains a mystery, it has sparked numerous speculations. Prof. Duller suggests it might have been used as a place to sit beside the river and fish, although a complete understanding of its function remains elusive.
Moreover, the identity of the individuals who constructed this structure raises intriguing questions. "We don't know – it could have been Homo sapiens, and we just haven't discovered fossils from that age yet," Prof. Duller added. "But it could be a different species – [perhaps] Homo erectus or Homo naledi – there were a number of hominid species around at that time in southern Africa."
This discovery has the potential to enrich our understanding of ancient woodworking techniques, craftsmanship, and human interaction with the environment. As researchers continue their work at the Kalambo Falls site, the pages of history are being rewritten, and our appreciation for the ingenuity of our ancient ancestors grows ever deeper.