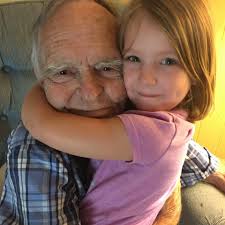 Norah and Mr. Dan's Very Special Friendship
Norah Wood of Augusta, Georgia met her best friend on her birthday. That fact, in itself, might not be all that surprising. But Norah was four and her best friend, Dan Peterson, or "Mr. Dan," as she prefers to call him, was 82 at the time of their first meeting in a supermarket.
Tara Wood and her daughter, Norah, were at the store to pick up items for the little girl's fourth birthday party, which was to occur that day. Tara says that her daughter's first words to the elderly stranger they just happened to pass in an aisle were, "Hi, old person. It's my birthday!"
It was the beginning of a beautiful relationship.
Reconnecting
The newly bonded friends chatted briefly in the supermarket. Peterson introduced himself as Dan, but Norah insisted on calling him "Mr. Dan." The name stuck.
Mr. Dan needed the new friendship more than Norah did. His beloved wife, Mary, had recently passed away and he hadn't been able to lift himself from the deep depression that had settled in.
That's what Tara Wood learned later, after she posted that initial encounter on Facebook, with a photo of the unlikely new friends that she'd taken at the supermarket. Someone who knew Peterson saw the post and wrote back with the additional information about the older man.
Tara Wood got Peterson's number from the friend and reached the elderly man by phone. Peterson did indeed remember the little girl he'd met at the market. And yes, he'd love to reconnect with Norah.
Wood and her daughter visited Peterson at his home and brought the photo of the two of them together, which they'd framed. Norah also brought crayon-colored art for Mr. Dan's refrigerator.
That was only the beginning. Norah insisted on visiting her much older friend as often as possible. Neither of the adults learned what the attraction was for Norah, but it was strong. While they couldn't stop by every day after school, as the little girl wished, they did visit often and Norah called her elderly friend on the phone at least once a week.
Mr. Dan looked forward to whatever form of contact he could have with his adorable young friend. Their relationship gave him the feeling that he still had something to live for after the death of his Mary.
Nonetheless, Norah regularly worried about whether Mr. Dan was lonely. She suggested bringing him a dog. That wasn't too practical for his living arrangement, but Norah and her mom brought him a stuffed dog–the next best thing–on one of their frequent visits.
A Three-Year Relationship
"She healed me," said Peterson of his emotional health after meeting Norah. He said that he hadn't slept through the night for the months since his wife's death and had been having a particularly hard time of it on the day of that first meeting at the grocery store on Norah's birthday. You might call that introduction a lifesaver.
From that time on, said Peterson, the worst of his anxiety and depression passed and he was able to sleep through the night.
The special friendship continued for the next three years. Tara Wood started a Facebook page so that people all over the world could share in their special relationship.
Mr. Dan passed away in February. Norah and her mom had visited him just the day before and found him to be upbeat and in fairly good health. He died peacefully, and not alone. Mr. Dan lived out his final days knowing that he carried with him the uncomplicated love of a very special little girl.
The Ockendon Solar Farm's Remarkable Transformation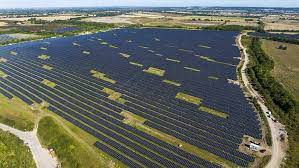 A once-neglected trash dump in England has undergone a breathtaking transformation into one of the United Kingdom's largest solar farms. The Ockendon solar farm, as it is now known, is set to provide electricity to an impressive 15,000 homes. With its 100,000 gleaming solar panels, it proudly stands as the third-largest solar farm in the entire UK.
This remarkable journey from waste ground to green energy oasis reflects the nation's growing commitment to renewable energy and sustainability. Frank Gordon, the director of policy at the Association for Renewable Energy and Clean Technology, highlighted the importance of projects like Ockendon solar farm in addressing the climate crisis. He told The Guardian, "We urgently need more solar in the UK to help meet our legally binding net-zero goals, and this summer's extraordinary global weather has further underlined the need for climate action."
The Ockendon solar farm is a shining example of the UK's transition to cleaner energy sources. Since 2020, nearly half of the nation's power has been sourced from a combination of wind, solar, bioenergy, and hydroelectric sources. This shift towards renewable energy not only reduces harmful emissions but also bolsters energy security and creates jobs in the burgeoning green energy sector.
The transformation of the Ockendon site is nothing short of inspirational. What was once a symbol of waste and environmental neglect has become a symbol of hope for a more sustainable future. As solar farms like Ockendon continue to sprout across the UK, they bring us one step closer to achieving our net-zero emissions goals and safeguarding the planet for generations to come.