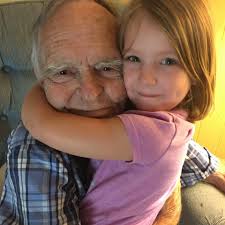 Norah and Mr. Dan's Very Special Friendship
Norah Wood of Augusta, Georgia met her best friend on her birthday. That fact, in itself, might not be all that surprising. But Norah was four and her best friend, Dan Peterson, or "Mr. Dan," as she prefers to call him, was 82 at the time of their first meeting in a supermarket.
Tara Wood and her daughter, Norah, were at the store to pick up items for the little girl's fourth birthday party, which was to occur that day. Tara says that her daughter's first words to the elderly stranger they just happened to pass in an aisle were, "Hi, old person. It's my birthday!"
It was the beginning of a beautiful relationship.
Reconnecting
The newly bonded friends chatted briefly in the supermarket. Peterson introduced himself as Dan, but Norah insisted on calling him "Mr. Dan." The name stuck.
Mr. Dan needed the new friendship more than Norah did. His beloved wife, Mary, had recently passed away and he hadn't been able to lift himself from the deep depression that had settled in.
That's what Tara Wood learned later, after she posted that initial encounter on Facebook, with a photo of the unlikely new friends that she'd taken at the supermarket. Someone who knew Peterson saw the post and wrote back with the additional information about the older man.
Tara Wood got Peterson's number from the friend and reached the elderly man by phone. Peterson did indeed remember the little girl he'd met at the market. And yes, he'd love to reconnect with Norah.
Wood and her daughter visited Peterson at his home and brought the photo of the two of them together, which they'd framed. Norah also brought crayon-colored art for Mr. Dan's refrigerator.
That was only the beginning. Norah insisted on visiting her much older friend as often as possible. Neither of the adults learned what the attraction was for Norah, but it was strong. While they couldn't stop by every day after school, as the little girl wished, they did visit often and Norah called her elderly friend on the phone at least once a week.
Mr. Dan looked forward to whatever form of contact he could have with his adorable young friend. Their relationship gave him the feeling that he still had something to live for after the death of his Mary.
Nonetheless, Norah regularly worried about whether Mr. Dan was lonely. She suggested bringing him a dog. That wasn't too practical for his living arrangement, but Norah and her mom brought him a stuffed dog–the next best thing–on one of their frequent visits.
A Three-Year Relationship
"She healed me," said Peterson of his emotional health after meeting Norah. He said that he hadn't slept through the night for the months since his wife's death and had been having a particularly hard time of it on the day of that first meeting at the grocery store on Norah's birthday. You might call that introduction a lifesaver.
From that time on, said Peterson, the worst of his anxiety and depression passed and he was able to sleep through the night.
The special friendship continued for the next three years. Tara Wood started a Facebook page so that people all over the world could share in their special relationship.
Mr. Dan passed away in February. Norah and her mom had visited him just the day before and found him to be upbeat and in fairly good health. He died peacefully, and not alone. Mr. Dan lived out his final days knowing that he carried with him the uncomplicated love of a very special little girl.
Newly Discovered Flower Blooms Atop One of the World's RAREST Trees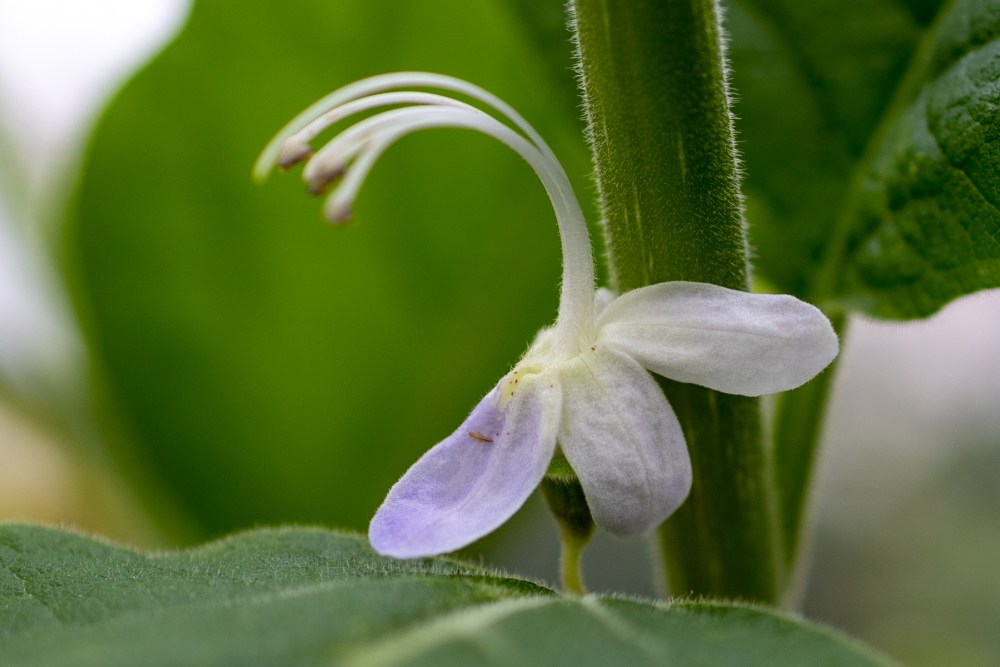 The Missouri Botanical Garden in St. Louis is known by locals for the intense work performed by the experts inside. When a small purple-and-white flower began to grow within their greenhouse, the team of experts at the Missouri Botanical Garden were confused. From their perspective, they were seeing something brand new – a completely fresh discovery.
Discovery on May 3rd
Justin Lee is a senior horticulturist at the Missouri Botanical Garden, and he was performing regular work on a Karomia Gigas sapling in the greenhouse when he first stumbled upon the rare purple-and-white flower. The Karomia Gigas is a tree from Africa with close relations to the mint plant. An endangered tree species in Africa, Justin was confused by the flower that had grown nearly an inch in length atop the tree.
Lee says of his discovery, "It's a bit odd for a mint flower. It seems flipped inside out."
The flower measured an inch in length with a strong halo of purple petals, sloping gently downward toward white stamens bearing pollen. According to Lee, the mint family likes to put out tube-styled flowers in an attempt to attract bees, butterflies, and moths. Lee also suggests that the tree can self-pollinate if necessary.
As the discovery made headlines around the city, the researchers at Missouri's Botanical Garden are preparing for more blooms in the future. Research has suggested that more Karomia Gigas flowers will grow at the greenhouse and it is then that their scientific research will really begin. Lee and his team are focused on successfully cultivating cross-pollination, thus improving the survivability of the plant in the world. At the time of this writing, only about two dozen of the Karomia Gigas trees can be found in the wilds throughout Tanzania.
The Wilds of Tanzania
At the time of this writing, the Karomia Gigas is considered so rare as to not even have a local Tanzanian nickname, nor is there an English one. What little is broadly known about the Karomia is that it can grow in straight stretches for up to 80 feet, limiting branch exposure until nearly halfway to its final height. As a result of its odd, stick-like growth, finding these unseen flower blooms has been harder than you might anticipate!
Roy Gereau is a program director for Tanzania at the Missouri Botanical Garden. Surprised but not shocked by the flower, Gereau was quick to admit that the bloom was new. Gereau said of the rare flower, "There certainly is no record of the flowers in scientific literature."
More important than discovering the flower, researchers in Missouri believe that they can maintain the health of the newly bloomed petals to prevent them from disappearing. Andrew Wyatt is the VP of Horticulture at the Missouri Botanical Garden, and he said, "We can make sure the species doesn't go extinct."
It has been a challenge to grow the plant in Missouri, as has been repeated by researchers at the facility. Seeds had been collected in 2018 from a series of Tanzanian field expeditions. These seeds were shipped to St. Louis where only around 100 were thought to be viable. To make things even more difficult, it was a task to match Tanzanian growing conditions within greenhouses in Missouri.
Despite the challenges that they had to face, it looks like the Karomia is finding solid footing within St. Louis. With some momentum and optimism on their side, what's next?
Andrew Wyatt said of the rare blooming flower and of his own future, "We were debating whether it would even flower in our careers."