New Mom Sees Photos of the Cute Thing Her Corgi Was Doing As She Gave Birth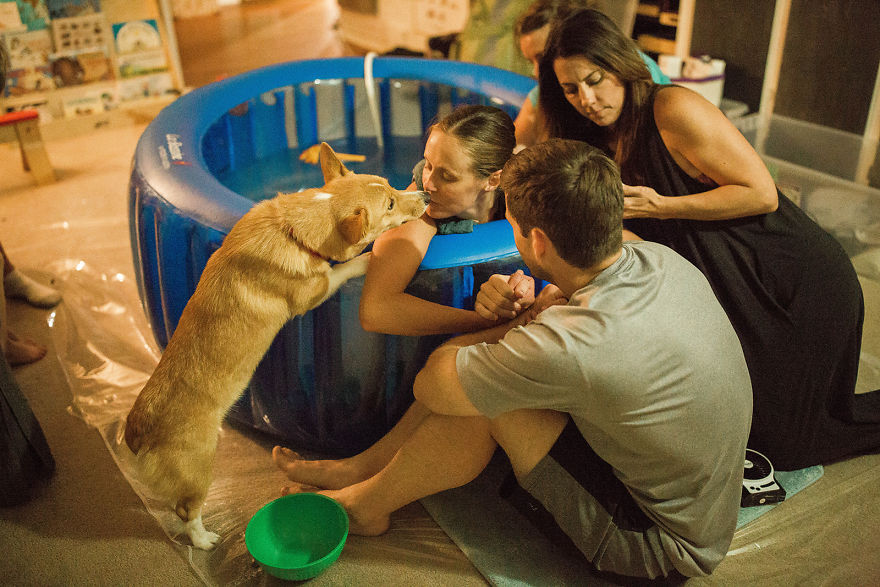 Dogs really are man's and woman's best friend, and the proof is in what this adorable corgi did while its owner was giving birth. The corgi, named Ranger, has spent years alongside the family and was around for Brooke's entire pregnancy. A photographer, Kristin Waner, had arrived at the family's home to take pictures of the birth of the third child after she had taken pictures of the family's first two children.
Ranger was pretty uneventful throughout the birth and it wasn't until Kristin was editing photos that she saw something. Ranger had stayed by Brooke's side the entire time and offered a peaceful presence throughout. The photographer says that as soon as she walked through the door to begin the photo shoot, Ranger was very excited and you could tell he knew something was going on. He came to greet Kristin and then went back to the bedroom where Brooke was.
When Brooke was laboring, Ranger wanted to comfort her by giving her nose nudges and kisses. He stayed by her side to make sure that she was okay. The photographer said that this was not something you see daily and that it was beautiful to watch. She wanted to take as many photos as possible of Ranger and Brooke interacting throughout the process, since she knew it was a special moment that the couple would look back on. Brooke's husband was there to help throughout her contractions, along with Ranger. Once Ranger's new sister Berkeley was born, he was so excited and watched her get weighed and changed into the first outfit.
Research has been done to show that dogs can sense a pregnancy and some believe they are able to sense it out even before the woman knows she is pregnant. Dogs have incredibly sensitive noses and are able to detect and remember scents, even a long time after being exposed to the odor. Pregnancy can alter the hormones in the body, which can change the scent. Dogs have 60 times more smell receptors than humans and much more brainpower dedicated to smell, which is what allows dogs to have such a great sense of smell. Since a huge part of the dog's brain is dedicated to smell, dogs can pick up on different scents that relate to cancer, drugs, chemical changes, and pregnancy. It's not sure at what point a dog can sense a pregnancy, but dogs are very sensitive and are in tune with even subtle changes. It can be hard to say how a dog will react to its owner's pregnancy, and some become more protective while others are more fearful of the situation. Other dogs are indifferent. However, many pregnant women say that their dogs can be more protective and affectionate while pregnant and it's likely due to the combination of the changes in scent, as well as changes in mood. It's likely that Ranger picked up on Brooke's scent early on in her pregnancy and then remained protective during those nine months. When he saw his owner in pain due to labor, all he wanted to do was be there for her and protect her.
Some dogs can take a while to warm up to new babies in the house and there is a lot pregnant women can do to prepare dogs before the arrival. Many dogs will have no problem adapting to the new routine and environment, although some may take longer than others. Ranger has been adjusting just fine to his new sister and has wasted no time in getting to know the new addition to the family.
Handicapped Puppy Befriends Flightless Pigeon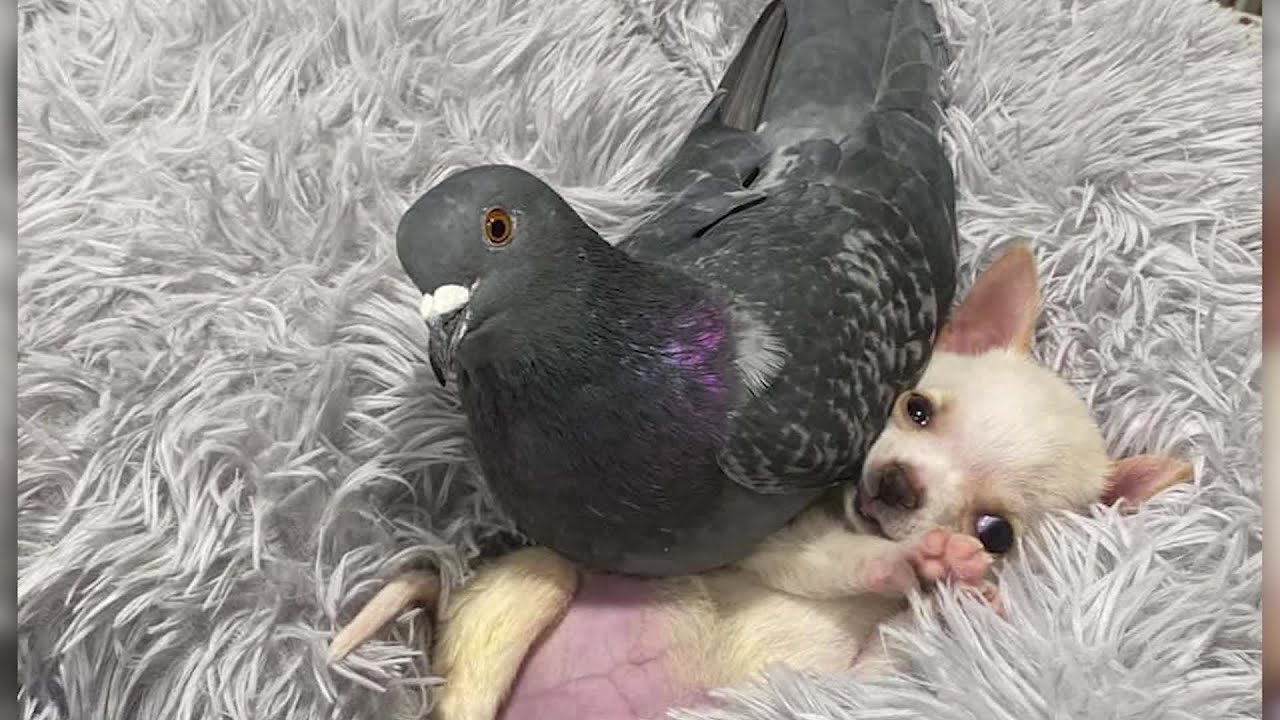 In Rochester, NY, Sue Rogers runs a non-profit called the Mia Foundation. The rescue organization rescues and rehabilitates animals who have birth defects or deformities and tries to find them a loving home. About a year ago, a pigeon was found unable to move in the parking lot of a car dealership. The pigeon was huddled and cowering on the ground. When a local wildlife rescue was called, they said the bird had neurological damage that caused him not to be able to fly. They thought that euthanization would be the best option for him.
Sue was having none of that. She stepped in and took the bird, who she named Herman, under her wing, so to speak. She made space for him in her shelter and kept him close where she could keep an eye on him. He liked to sit on a furry dog pillow and watch her work.
A couple months ago, a tiny Chihuahua was brought to the Mia Foundation. He was an infant, maybe a few months old, when his South Carolina breeders sent him to Sue. He's a teacup sized Chihuahua they named Little Lundy and he was born with spinal cord damage. Sue also determined that he was suffering from swimmers syndrome. Swimmers syndrome is a developmental deformity that causes the front and hind legs to be splayed out. This makes it almost impossible for Little Lundy to walk.
Although swimmers syndrome is thought to be untreatable, according to a few studies and an article in a veterinary journal, it can be treatable. With some physical therapy and at-home treatment, Little Lundy could live a long and happy life, which is exactly what Sue plans for him.
When Little Lundy arrived at the Mia Foundation he decided to get acquainted with his new surroundings and the other animals at the shelter. One particular encounter, created a friendship that has gone viral. Herman and Little Lundy, a puppy and a pigeon, are the unlikeliest of friends, but they have a lot in common. They both have trouble walking, or flying in Hermans case, and they were living in the same place. You could say, they were in the right place at the right time to become instant friends.
In the six weeks they have been together, Herman and Little Lundy have become inseparable. They do everything together, which is a lot of sleeping and snuggling. Mostly, with Herman sitting on top of Little Lundy, which doesn't bother him in the slightest. This friendship was so out of the ordinary that Sue had to document it. The viral sensation of the puppy and pigeon has brought attention to the Mia Foundation that was much needed. The rescue organization runs solely on donations to help cover the costs of taking care of the animals and for needed surgeries. So far, about $6000 was donated because of this unlikely friendship and over 100 adoption inquiries. Hopefully when they are adopted, they are able to stay together.