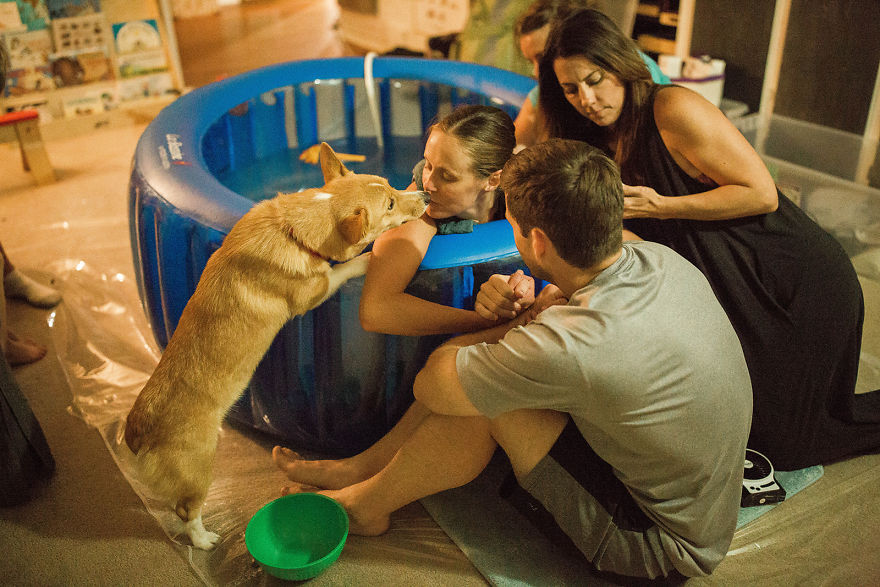 New Mom Sees Photos of the Cute Thing Her Corgi Was Doing As She Gave Birth
Dogs really are man's and woman's best friend, and the proof is in what this adorable corgi did while its owner was giving birth. The corgi, named Ranger, has spent years alongside the family and was around for Brooke's entire pregnancy. A photographer, Kristin Waner, had arrived at the family's home to take pictures of the birth of the third child after she had taken pictures of the family's first two children.
Ranger was pretty uneventful throughout the birth and it wasn't until Kristin was editing photos that she saw something. Ranger had stayed by Brooke's side the entire time and offered a peaceful presence throughout. The photographer says that as soon as she walked through the door to begin the photo shoot, Ranger was very excited and you could tell he knew something was going on. He came to greet Kristin and then went back to the bedroom where Brooke was.
When Brooke was laboring, Ranger wanted to comfort her by giving her nose nudges and kisses. He stayed by her side to make sure that she was okay. The photographer said that this was not something you see daily and that it was beautiful to watch. She wanted to take as many photos as possible of Ranger and Brooke interacting throughout the process, since she knew it was a special moment that the couple would look back on. Brooke's husband was there to help throughout her contractions, along with Ranger. Once Ranger's new sister Berkeley was born, he was so excited and watched her get weighed and changed into the first outfit.
Research has been done to show that dogs can sense a pregnancy and some believe they are able to sense it out even before the woman knows she is pregnant. Dogs have incredibly sensitive noses and are able to detect and remember scents, even a long time after being exposed to the odor. Pregnancy can alter the hormones in the body, which can change the scent. Dogs have 60 times more smell receptors than humans and much more brainpower dedicated to smell, which is what allows dogs to have such a great sense of smell. Since a huge part of the dog's brain is dedicated to smell, dogs can pick up on different scents that relate to cancer, drugs, chemical changes, and pregnancy. It's not sure at what point a dog can sense a pregnancy, but dogs are very sensitive and are in tune with even subtle changes. It can be hard to say how a dog will react to its owner's pregnancy, and some become more protective while others are more fearful of the situation. Other dogs are indifferent. However, many pregnant women say that their dogs can be more protective and affectionate while pregnant and it's likely due to the combination of the changes in scent, as well as changes in mood. It's likely that Ranger picked up on Brooke's scent early on in her pregnancy and then remained protective during those nine months. When he saw his owner in pain due to labor, all he wanted to do was be there for her and protect her.
Some dogs can take a while to warm up to new babies in the house and there is a lot pregnant women can do to prepare dogs before the arrival. Many dogs will have no problem adapting to the new routine and environment, although some may take longer than others. Ranger has been adjusting just fine to his new sister and has wasted no time in getting to know the new addition to the family.
Politics Are Never an Empty Field – Barbie Runs for Office in 2020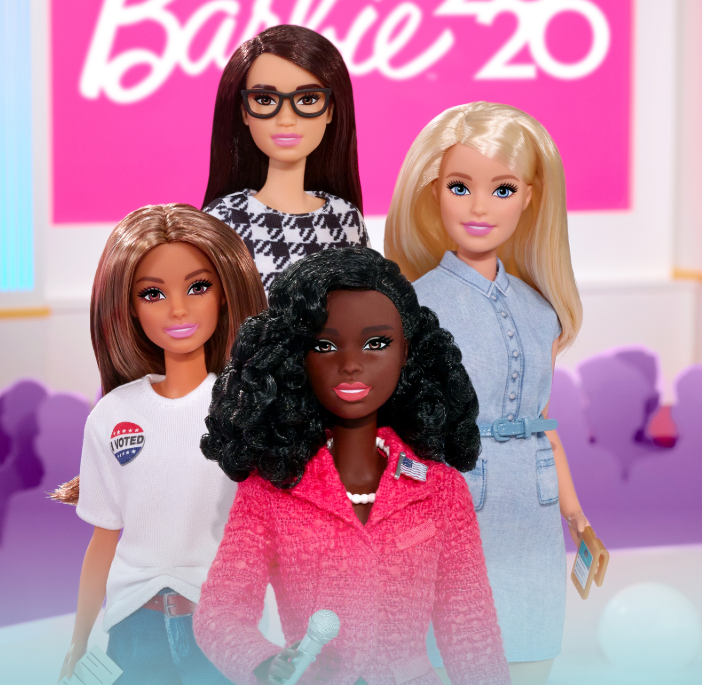 The classic American doll, Barbie, has performed, been portrayed in, or taken over just about every professional function in society. So, it's no surprise that given the real themes in 2020 that Barbie would also decide to go into politics. Art imitating life it may be, but Barbie is likely to represent a serious contender against even the most seasoned politicians, that is if her fans were old enough to vote.
2020 is not the first time Barbie has entered politics. Believe it or not, her first foray into elections was some 28 years ago in 1992 when she tried to run for President. However, the toy doll was a bit of an independent at the time and didn't get a lot of recognition on her own. Today, things are different. Not only is Barbie a 2020 candidate, she also has in place a solid professional election team on her side as well. Along with her are a handful of cool, savvy and with the times staffers and election strategists. The early polls are already showing Walmart and Target segments are responding, carrying her entire campaign team on the shelves and selling them as a combined unit.
Examined up close and interested electorate fans will find Barbie's campaign manager as a key strategist, her campaign fundraiser to keep things paid and moving, and even a Barbie voter. Of course, her fans can add votes too. The entire team is set to hit the prime time. Barbie herself is positioned to show herself as a leader ready to hit the ground running, complete in business suit and with her telecom assortment of communication tools. And, let's not forget, every business jacket should have an American flag lapel pin too.
Her campaign manager is decked out in a professional ensemble as well, ready to manage the stage as well as cue to the poll analysts and computer graphics behind the scenes to support her candidate. And Barbie's fundraiser is hitting the road in blue denim and comfortable style, driving miles and miles to bring in the donors.
The key message from Barbie, however, is to prime young girls for politics. Girls and women can not only have their part in campaigns, they can be the lead candidate as well. And the idea of a real woman President is no figment of the imagination. While Barbie is, after all, just a toy, the reality of a woman President is very likely in the next two elections if not the third. In fact, the U.S. is behind the curve in this respect, as many countries around the world have already had women leaders and many still do. When that happens, given elections happen every four years, the next candidate in 20 years may have well be a young girl who had Barbie as her own special election candidate.
In the meantime, Barbie and her campaign team let girls practice for the future now, complete with all the accessories and campaign road style needed to win the big ticket.