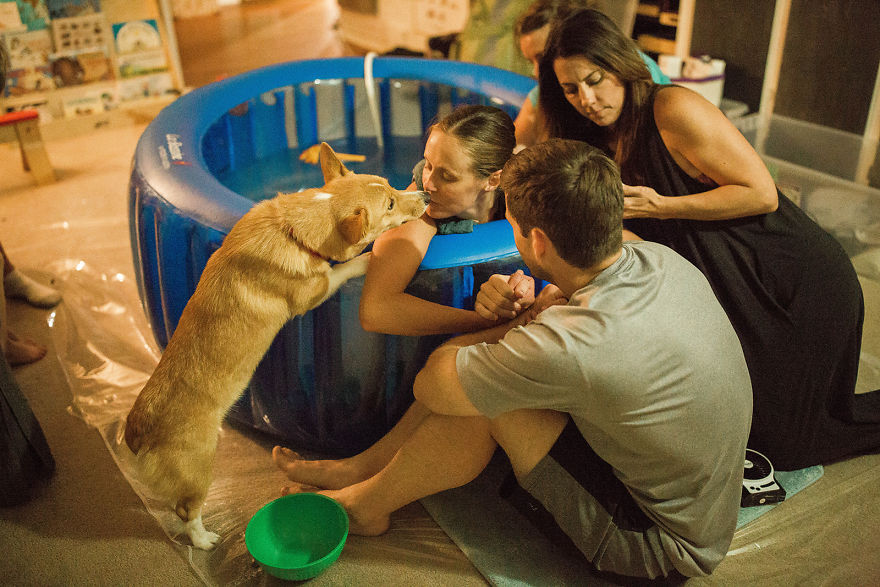 New Mom Sees Photos of the Cute Thing Her Corgi Was Doing As She Gave Birth
Dogs really are man's and woman's best friend, and the proof is in what this adorable corgi did while its owner was giving birth. The corgi, named Ranger, has spent years alongside the family and was around for Brooke's entire pregnancy. A photographer, Kristin Waner, had arrived at the family's home to take pictures of the birth of the third child after she had taken pictures of the family's first two children.
Ranger was pretty uneventful throughout the birth and it wasn't until Kristin was editing photos that she saw something. Ranger had stayed by Brooke's side the entire time and offered a peaceful presence throughout. The photographer says that as soon as she walked through the door to begin the photo shoot, Ranger was very excited and you could tell he knew something was going on. He came to greet Kristin and then went back to the bedroom where Brooke was.
When Brooke was laboring, Ranger wanted to comfort her by giving her nose nudges and kisses. He stayed by her side to make sure that she was okay. The photographer said that this was not something you see daily and that it was beautiful to watch. She wanted to take as many photos as possible of Ranger and Brooke interacting throughout the process, since she knew it was a special moment that the couple would look back on. Brooke's husband was there to help throughout her contractions, along with Ranger. Once Ranger's new sister Berkeley was born, he was so excited and watched her get weighed and changed into the first outfit.
Research has been done to show that dogs can sense a pregnancy and some believe they are able to sense it out even before the woman knows she is pregnant. Dogs have incredibly sensitive noses and are able to detect and remember scents, even a long time after being exposed to the odor. Pregnancy can alter the hormones in the body, which can change the scent. Dogs have 60 times more smell receptors than humans and much more brainpower dedicated to smell, which is what allows dogs to have such a great sense of smell. Since a huge part of the dog's brain is dedicated to smell, dogs can pick up on different scents that relate to cancer, drugs, chemical changes, and pregnancy. It's not sure at what point a dog can sense a pregnancy, but dogs are very sensitive and are in tune with even subtle changes. It can be hard to say how a dog will react to its owner's pregnancy, and some become more protective while others are more fearful of the situation. Other dogs are indifferent. However, many pregnant women say that their dogs can be more protective and affectionate while pregnant and it's likely due to the combination of the changes in scent, as well as changes in mood. It's likely that Ranger picked up on Brooke's scent early on in her pregnancy and then remained protective during those nine months. When he saw his owner in pain due to labor, all he wanted to do was be there for her and protect her.
Some dogs can take a while to warm up to new babies in the house and there is a lot pregnant women can do to prepare dogs before the arrival. Many dogs will have no problem adapting to the new routine and environment, although some may take longer than others. Ranger has been adjusting just fine to his new sister and has wasted no time in getting to know the new addition to the family.
American Couple's Kindness Shines in Snowy Adventure with South Korean Tourists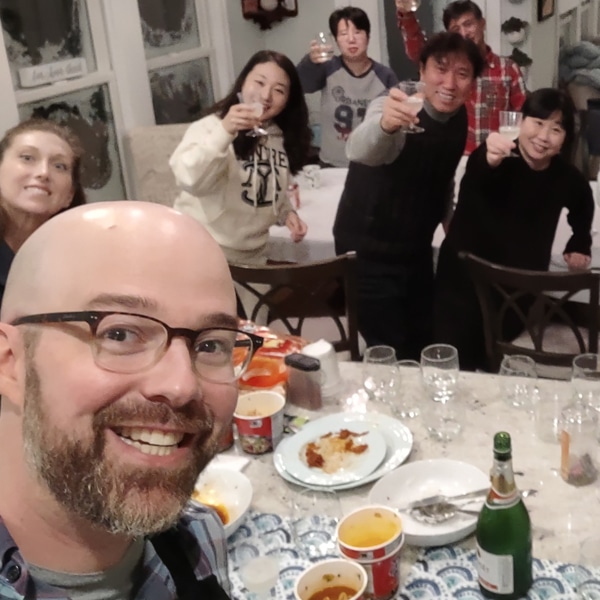 In a heartwarming tale of kindness and friendship, an American couple from Buffalo, New York, opened their home to a group of stranded South Korean tourists during a severe blizzard on December 23rd. What started as a simple request for shovels turned into a heartwarming story that went viral, bringing people together across borders. The couple's act of compassion not only provided shelter but also sparked an enduring bond that led to a special reunion in South Korea. Let's delve into this remarkable story and explore the lasting impact of their selfless act.
As the blizzard raged outside, ten South Korean tourists found themselves stuck in their van, unable to move through the heavy snow. Seeking assistance, they approached a nearby house and requested shovels to dig themselves out. However, they received much more than they had anticipated. The couple, who had prepared for a quiet Christmas at home, welcomed the strangers with open arms and invited them inside.
The storm had brought these strangers together, creating an opportunity for cultural exchange and friendship. During the two nights and three days they spent together, the couple and their unexpected guests bonded over stories, shared meals, and even watched American football. The couple, who had a deep appreciation for Korean cuisine, surprised their guests with an array of Korean food ingredients. The South Korean visitors were amazed to find soy sauce, mirin, chili powder, chili paste, a rice cooker, and Korean cookbooks, as if the couple had been preparing for their arrival.
News of the couple's kindness quickly spread across the internet, captivating hearts around the world. Social media platforms buzzed with messages of admiration and appreciation for their selfless act. Many people were inspired by their story and were motivated to perform acts of kindness themselves. The couple received an outpouring of support, with kind messages, cards, and generous gifts from various Korean groups, including a year of free fried chicken at Genesis BBQ.
Months later, in May, the couple embarked on a 10-day tour of Seoul, graciously invited by the Korea Tourism Organization. This visit was not merely a sightseeing adventure but a chance to reunite with the guests they had sheltered during the blizzard. Andrea, the wife, expressed her gratitude and joy, saying, "To see everyone in Korea again is such a blessing." The couple had always held an appreciation and interest in Korean culture, and their chance encounter had brought them closer to this beautiful country.
The bond forged during their time together in Buffalo proved to be strong and lasting. The couple and their South Korean guests became lifelong friends. The experience inspired not only the couple but also their guests, who felt compelled to pay it forward and spread kindness to others. Through their act of compassion, the American couple created a ripple effect of goodwill, reminding us of the power of empathy and humanity.