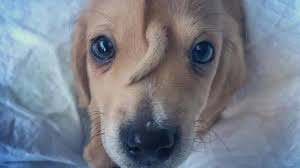 Narwhal The Unicorn Dog Is Teaching Kids That Being Different Makes You Magical
Mac's Mission is a Missouri animal rescue group that takes in animals in all kinds of conditions, including those who have special needs. One day, a tiny puppy was rescued from the side of the road by this organization. At first he didn't look much different from any other dog, but there was a serious difference. This puppy had a very small tail growing from its face, in between his eyes. Rochelle Steffen, the founder of the animal rescue organization, gave him a very special name- Narwhal the Magical Unicorn. She them took this puppy to a local vet to find out whether he needed treatment for this condition. He did have an injured foot from his adventures, but the secondary tail posed no threat to his health.
Then, pictures of little Narwhal were posted online, and the images immediately went viral. The cute puppy was not only adorable, he was different from any other puppy out there. Because Narwhal didn't need his second tail removed, the rescue group chose to leave it as it was. As the little puppy has grown, so too has his secondary tail. Luckily, there are no internal structures for moving the tail, so it cannot wag and will not interfere with the structure of his head. As it has grown, his head has grown in perfect proportion to the tail and continues to pose no problems to the little dog.
So, did someone adopt this little puppy? While plenty wanted to, Rochelle kept the dog at the rescue organization as part of the organization's own pack of dogs that live there permanently. And what to do with a dog this special? Let kids and dog lovers see him, of course! Narwhal being so different has made it possible to teach both kids and adults that being different and special is nothing to be worried about. Sometimes it is those differences that make us magical.
By using the story of this special puppy, more people have become aware of dogs that have special needs and how it's nothing to be afraid of for pet owners. Sometimes, those special dogs can be as magical as a unicorn. Narwhal has been attending events in the area that raise awareness of special needs dogs and the need to find them adoptive families. He also goes to birthday parties for kids to teach them about being different. He has been going through training to perform as a hospital therapy dog.
The future looks bright for Narwhal. He's kept his internet fame and has been involved in a number of special projects. There will soon be a kids' book that teaches kids about how magical it can be to be different. There are also plans to create a stuffed animal that looks like little Narwhal with the profits going to the rescue organization. Narwhal is now a healthy adult dog who is a cross between a dachshund and a beagle.
More than Three Decades After Adoption, DNA Reunites Mother and Son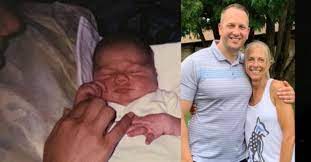 Melanie Pressley found out she was pregnant when she was 18 years old. Her boyfriend insisted on a termination, which she declined, but she worried that she wouldn't be able to give her kid the life he deserved. She gave her baby child up for adoption, but she never forgot about him. The mother and son have eventually reunited after 33 years apart.
Pressley described what lead her to explore adoption in an interview. "I simply knew I wouldn't be able to accomplish it financially," she explained. "And the second issue is that I wished him to have parents, so I thought it best to place him for adoption at that juncture."
During her pregnancy, Pressley engaged with an adoption center with the help of her family. She gave birth to her son in June of 1988 but didn't name him. After an initial objection, she convinced a nurse to hold the baby, and her sister snapped a photo.
Even after marrying and having three additional children, she pondered what her first child looked like while stressing every year on his birthday. After the death of Pressley's mother, she became overwhelmed with the desire to meet her son and cried since her mother never got the opportunity.
As a result, one of her daughters sent her a 23andMe kit as a surprise gift in May 2021. Meanwhile, her kid was doing the same activity approximately 300 miles away.
When Greg Vossler was nine years old, his parents informed him that he was adopted, but he was uninterested in learning more about his biological family. "I used to joke that 'I don't see a star who looks like me,' or 'No one who is a king or queen in some foreign nation looks like me,'" he remarked. "And I always claimed it was a joke. It was my method of getting that fast reply in my back pocket whenever someone asked; I'd never actually given it any serious thought."
But later, Vossler had his child, a son whom he named after himself. "One night, my spouse and I were relaxing and talking, and I remarked, 'I don't know anything about my medical records, heredity, or where I came from,'" he recalled. "And there was some 23andMe campaign going on." As a result, I took the exam."
Vossler did the test in 2019; therefore, when Pressley sent in her specimen in 2021, he was immediately identified as a match. Pressley stated, "I immediately sent a reply, and my first text was, I believe we're related." "I feel I am your birth mother," said the following message. And it just exploded up from there."
They started conversing, though Pressley stated that she didn't want to hear his voice until they met in person. They were ultimately reunited earlier this summer, and the bond was instantaneous. Vossler not only met his original mother, but he also received new family members. Meanwhile, Pressley has a recent photo of herself with her long-lost son.
"Everyone is emotional; they're all holding hands or hugging one other. 'Hey, I'm your half-brother, half-sister,' and so on. Melanie's elder sister, who was key in permitting Melanie to take that initial photo, approached me and touched my face. "It's the first time she's seen me in 33 years," Vossler said. "It's an incredible sensation. And that demonstrates that there's always space for families to develop and more love to share among them."