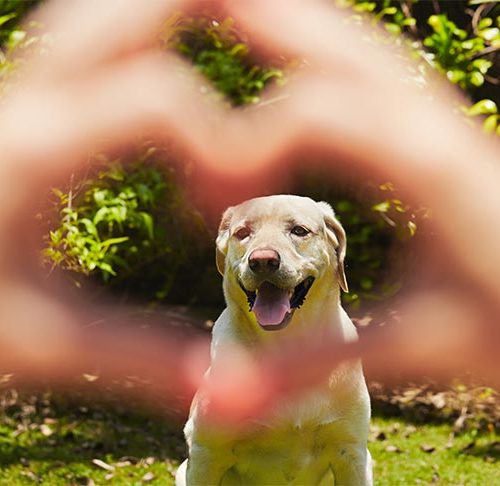 In 2019 Shawn and Rita Fitzgerald settled into the realization that they were never going to be parents. Rita had suffered multiple miscarriages. She found it difficult to spend time with friends who had children. It was painful for her to mingle among neighbors with children.
Their neighbors across the street, Martin and Leslie had a young son, Owen. Rita had heard through the grapevine that Leslie was now expecting another child. Rita was devastated to hear this news, which for most women would bring excitement and job. Shawn was worried about Rita.
On his way home from work one afternoon, Shawn stopped at the local animal shelter and met Mango. She was a sweet, quiet, caramel colored pit bull. Despite the negative stereotype pit bulls are known to have, Shawn filled out the application to adopt Mango. A week later, Shawn was driving home with Mango to surprise Rita. He was sure Rita would absolutely fall in love with her.
He was right. Rita and Mango became inseparable. Rita's melancholy demeanor dissolved slowly, despite having to watch Leslie's belly grow through her pregnancy. By the time Leslie's new baby, Aiden, was born, Rita was happy. Mango was exactly what Rita needed. As it turned out, Mango was exactly what Leslie needed, too.
Leslie was a bit of a neat freak. She liked a clean house. She was a big fan of candles to enhance the fragrance of cleanliness.
One quiet afternoon, after a long walk in the woods, Rita and Mango took a nap on Rita's couch. Rita was startled awake when Mango jumped from his slumber and raced to the front door. Rita followed, looking out. Mango was whining uncontrollably. Rita started to open the door when Mango pushed her aside and raced out and across the street to Leslie's house.
Mango nosed open the screen door of Leslie's house and disappeared inside. Rita wasn't sure what was happening. Then she saw the smoke billowing from the second story of Leslie's house. Leslie's car was in the driveway, so Rita assumed Leslie was home with the kids. She instantly called the fire rescue.
Rita let herself into the smoke-filled house, finding Leslie and the baby asleep on the couch. Owen was nowhere in sight. Rita was shouting waking Leslie. She ushered them outside to find the fire truck approaching. The firefighters disappeared for what seemed an eternity. They brought Owen out of the house, but not Mango.
Her fear about Mango turned into panic. She knew Mango was still in the house. The entire second floor was now entirely engulfed in flames. The firemen eventually retreated, without Mango and they continued working to extinguish the fire.
Hours later Rita sat in shock, knowing her beloved Mango was gone. She sat on her porch staring at the ruins of Leslie's house, too stunned to cry. In too much of a shock to hear Leslie's husband and toddler approach. The three of them sat in silence as Owen climbed into Rita's lap. He rested his head on Rita's chest and after a while he said softly, "Mango is my best friend".
It took Leslie and Martin more than a year to completely restore their home. During that time, Owen came to visit Leslie every day. He insisted on taking walks with Rita, asking questions about Mango. He got Rita to laugh, talking about her caramel colored hero.
On the anniversary of the perilous fire, Leslie and Martin accompanied Owen on his visit to see Rita. They brought a box which held a framed photo of Rita and Mango, Mango's collar that had been found among the ashes, and a check for $25,000 that Leslie and Martin were giving to the animal shelter.
It didn't bring Mango back to Rita, but it did make her happy that Mango saved this sweet boy Owen and that many animals would benefit from Martin and Leslie's gift of charity.

Man's Best Friend, Except When It's Time for the Weather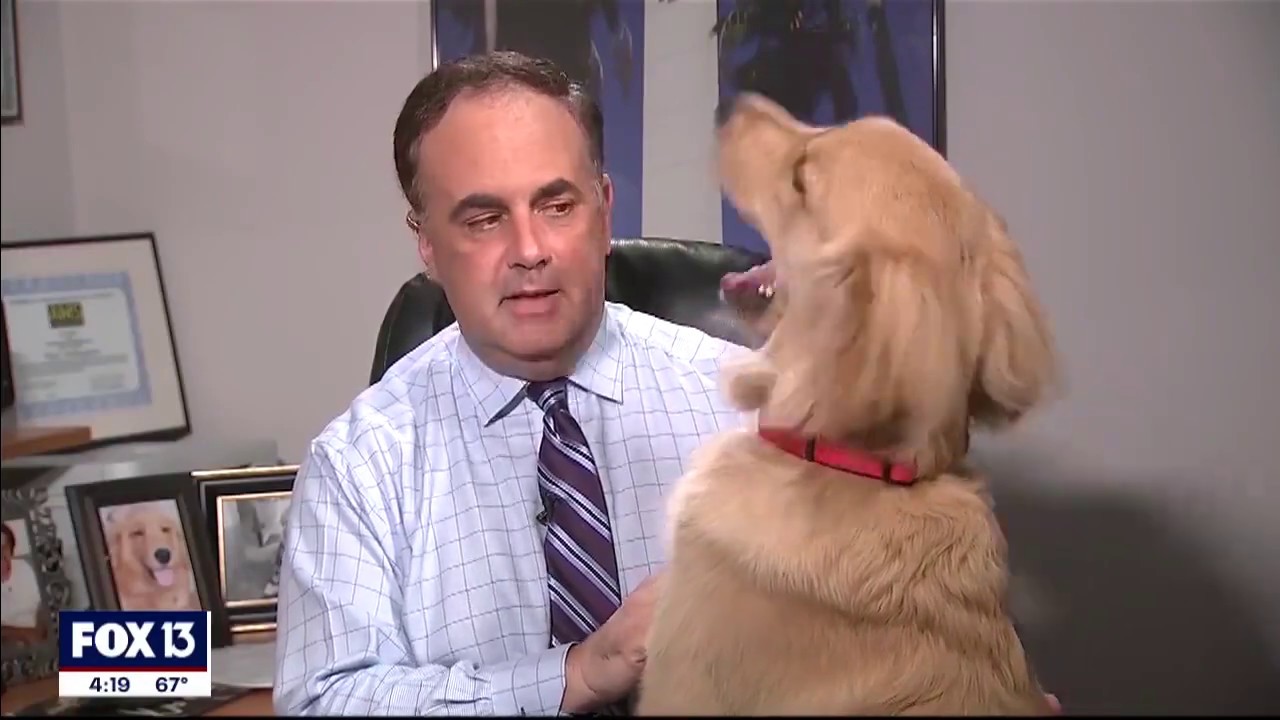 Working from home these days comes with a number of new challenges and risks that most never expected to deal with in their careers. But when the computer camera or conference video is placed in one's private accommodations, all sorts of issues can pop up that folks normally don't deal with in the office setting. Everything from what kind of photos, art or prints one has in the background to their furniture in a personal room to everything else the home is shared with becomes potentially exposed. And in the case of a particular weatherman trying to provide his meteorologist work online, man's best friend can be a notable interruption.
Paul Dellegato regularly works as meteorologist for Fox 13 based in Florida. However, like many others, Paul had to figure out in short notice how to relocate his work and his broadcast to his home to maintain social distance and health safety. While the access to his work networks and computer setups wasn't too hard, the readjustment to a home office and presentation place for his work took a bit of additional thinking. He had to pick a place in the house that would be free of distractions, walk-in surprises, problematic backgrounds, and not be invasive to his own home as well. What Paul didn't count on was that his own extended family might end up being the real disruption to Paul's broadcast.
In the clip provided, Paul is working as usual on his life TV broadcast and covering the weather for the day and the next few days' expectation. As he's going through the details and the changes in high and low pressures as well as the temperature predictions, someone doesn't want to let the weatherman continue. Paul's golden retriever, Brody, has decided to be a gate crasher and literally jump up in Paul's face and personal space. No matter how much Paul tries, his dog just keeps being persistent for his master's attention. Chances are the dog is probably hungry for dinner and is making a point about it. Doing so, however, Paul's dog is not only making a presence on the screen, the canine is goofing up the weather graphics on the nearby computer, making a ton of noise, and showing how useless it is for Paul to try to and stop the chaos. The audience loves it and Brody, and Paul's dog became the new digital mascot for Fox 13.
The weatherman's crisis resonates with all of us. We're all going through a big disruption, trying to reconstruct our professional work lives from home all over the country. So, to find a bit of humor in Paul's online dilemma with Brody provides a cathartic effect, helping us all find some humor and a bit of lightness in watching. Once you watch the show clip, you'll understand why Paul's situation went viral so fast.
Things didn't turn out bad for Paul. He earned big commendations for how patient he was able to stay under duress from Brody and the dog's insistent interruptions of his weather show. And it was clear Paul loves his furry buddy. So, the feeling now is the heck with the weather maps. How Brody behaves on camera will indicate if tomorrow will be a good weather day or otherwise.