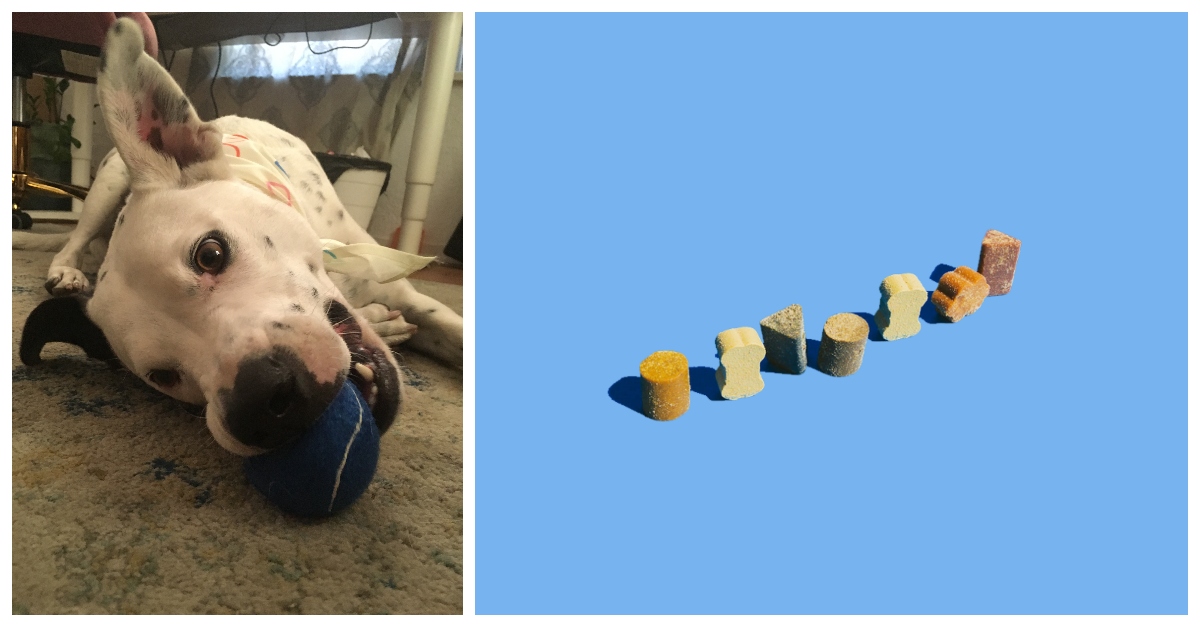 My Dog Loves Taking These Vitamins Every Day
I feed my canine dog food that contains healthy ingredients like lamb and garbanzo beans. I give him lots of people food on the sly, too. Since I never thought vitamins made for dogs were something my pet needed because his diet has always been nutritious, I never considered giving my dog a vitamin supplement.
Things changed when I became aware of Dandy. This is a company that does what it takes to tailor their vitamins to your dog's needs and your concerns about your pet's health. Using their expert knowledge and the information you give them about your dog, this company is able to create great tasting vitamins that are designed to enhance your dog's health in a customized manner.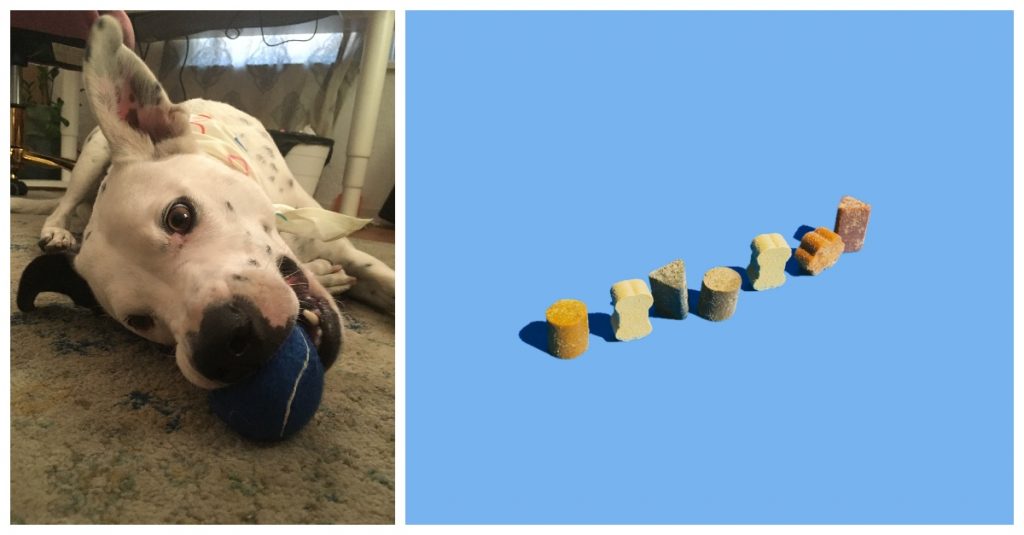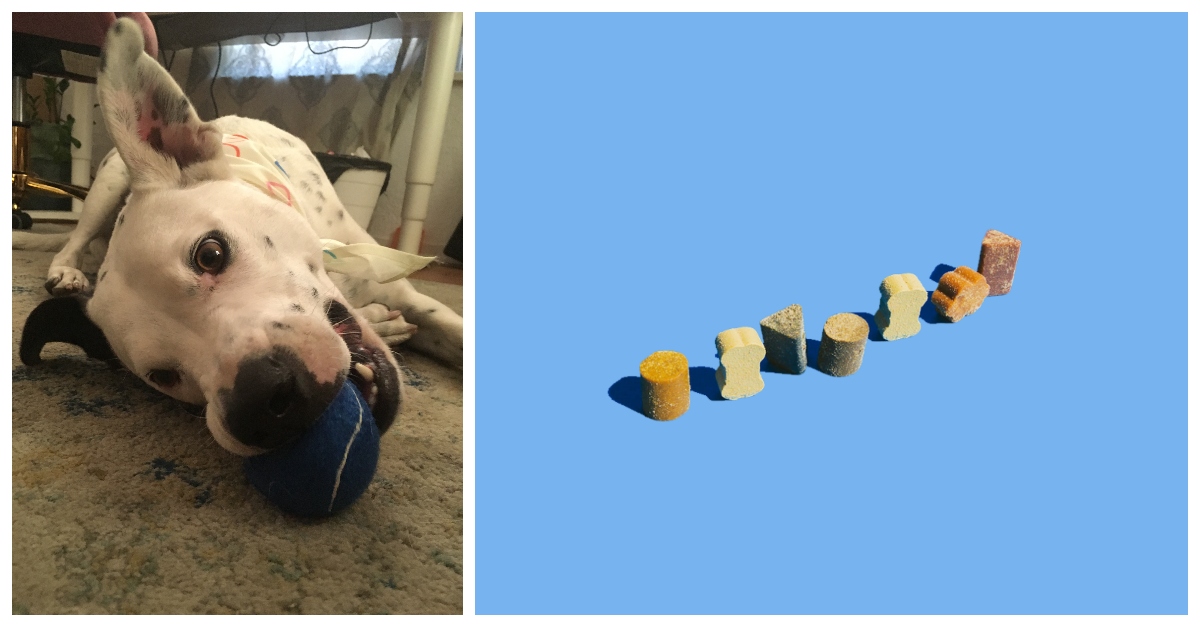 Since I began giving my dog, Zephyr, these vitamins on a daily basis, he walks up to the pantry I keep them in and cries out to me because he wants them.
If you would like to order dog vitamins from Dandy, know that you will be required to answer some questions. The information you submit will help the experts at the company create the best vitamin supplement for your canine. You'll be asked for your dog's age, and you will have to give Dandy your dog's weight. Your dog's level of activity may be needed, too.
It took me approximately five minutes to answer all the questions. In a couple of days, Zephyr was able to start taking the vitamins I had received in the mail. A ball and two other delightful goodies were included in the package that arrived. One of these other goodies was a cool bandana.
The vitamins that were delivered to me were separately packaged. This has made administering the supplements to my pet every day very convenient. I can honestly say your dog will go crazy over the yummy flavors these treats come in. When I throw these vitamin supplements into Zephyr's mouth, he really enjoys gobbling them up.
My dog is used to taking his vitamins every day now. He'll actually give me a sign to let me know it's time for his supplements. This typically happens when we return from our daily stroll. It's a time when he'll walk up to the cupboard I keep his vitamins in and wait for me to give him his treats.
I've noticed an improvement in the amount of energy Zephyr has now that I give him Dandy vitamins. I've also noticed that he doesn't scratch anymore because his skin is no longer itchy. The scratching stopped once I began giving him the Dandy supplements. My dog's health is good now, and he's full of life thanks to this amazing product.
You might as well give your dog a treat that has health benefits if your pet enjoys eating dog treats. You might as well give your pet Dandy vitamins.

Whales Adopt Other Whales, Even Between Species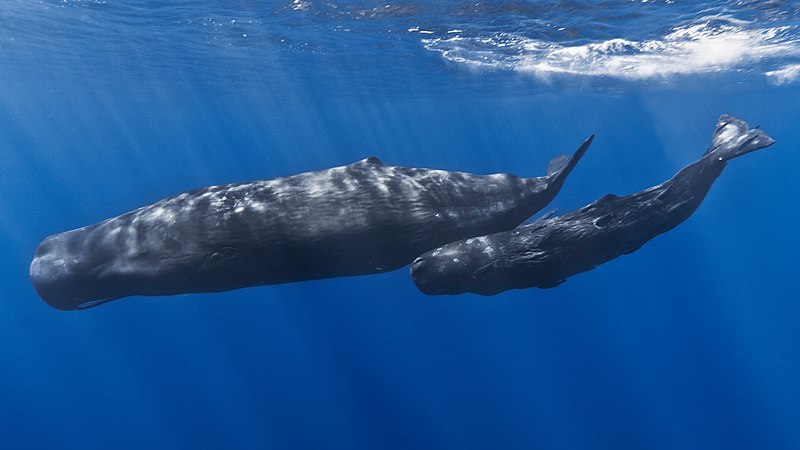 Do animals adopt young of other species? It's been known to happen among canines as well as raptors. However, for the first time, marine scientists have now confirmed whales are willing to adopt the young of different whale species as well.
As it turns out, an orphaned humpback whale has found a new parental figure with a southern right whale, completely mixing two different breeds of whale. Granted, both are large sea mammals, both breathe air and generally consume the same food groups, and they are technically both whales. But in the animal world, the differences are as distinct as a horse to a cow or a dog to a black bear. However, there the pair were, swimming together and clearly bonded right off the coast of an Esperance beach. From the researcher's perspective, the answer is clear; the adult southern whale has adopted the young and clearly smaller humpback whale.
Interestingly, the difference was caught immediately. Instead, it was Jess Wohling going over her work on a recent photography shoot who figured out what she was looking at was two different whales acting like mother and pup. At first, Wohling thought there was a camera glitch or a bad light exposure. However, as she studied the digital images from her camera, it became very clear, two different whales were swimming next to each other in tandem or like a parent and child whale pod. With the detail captured by the camera, Wohling compared the aspects of her image to whale images on the Internet, and she confirmed her hunch.
At that point, Wohling transmitted the digital image files to a whale researcher she knew, Katy Fannei. Looking at the images, Fannei not only confirmed Wohling's assumption, she was also shocked by the documented behavior and pretty much floored. The news hit the digital wire immediately as Fannei started sharing the news with everyone she knew in her professional circle. Everyone who got the communication and images, including researchers with far more experience than Fannei were also shocked by the apparent adoption behavior.
While it is quite possible for southern right whales to come into contact with humpback whales, they almost never converge with each other for any extended period of time. A lot of new hypotheses started getting thrown around. Was the southern right whale a female in mothering mode? Maybe it lost its own pup and the timing of finding a stray humpback child was a coincidence, or maybe some sort of protection in company perspective was going on. Most agreed on the idea of adoption taking place. Again, this wasn't unheard of in other species. Recently, an eagle pair adopted a falcon fledgling in Canada and have been raising it along with their eaglets.
The key behavior pattern arguing for adoption involves the close positioning of the humpback pup to the adult southern right whale in the water. It literally looks like a mother and child whale behavior. The major filter now is determining whether the pair are already tracked somewhere in the known southern right whale database the researchers use. If not, then the discovery will represent a unique and new biological finding.