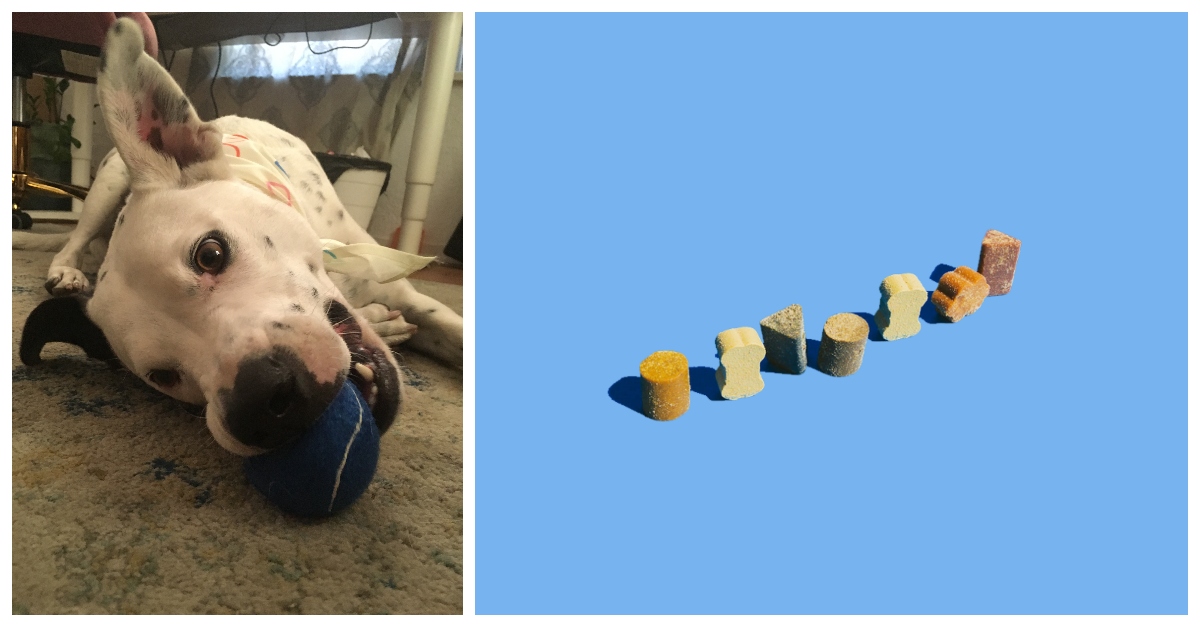 My Dog Loves Taking These Vitamins Every Day
I feed my canine dog food that contains healthy ingredients like lamb and garbanzo beans. I give him lots of people food on the sly, too. Since I never thought vitamins made for dogs were something my pet needed because his diet has always been nutritious, I never considered giving my dog a vitamin supplement.
Things changed when I became aware of Dandy. This is a company that does what it takes to tailor their vitamins to your dog's needs and your concerns about your pet's health. Using their expert knowledge and the information you give them about your dog, this company is able to create great tasting vitamins that are designed to enhance your dog's health in a customized manner.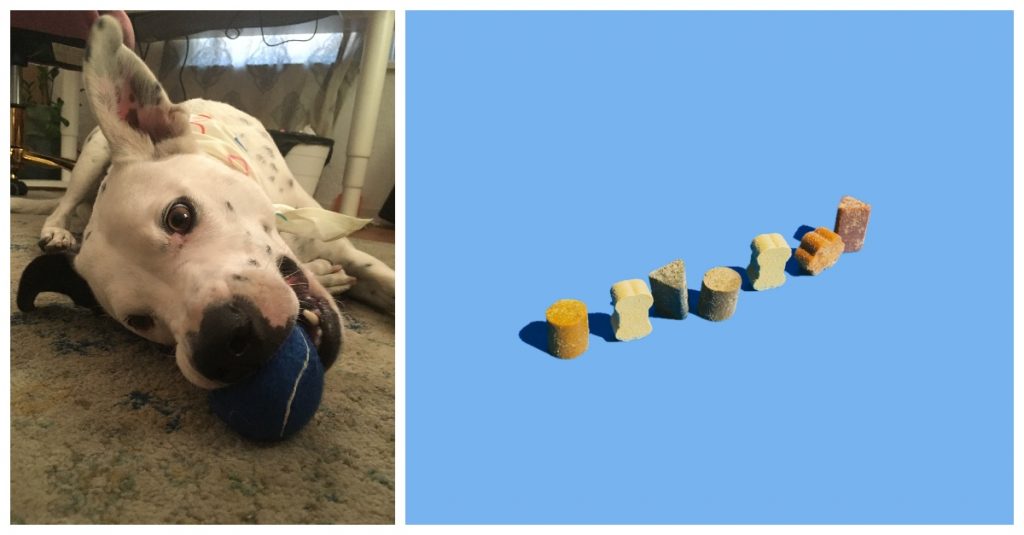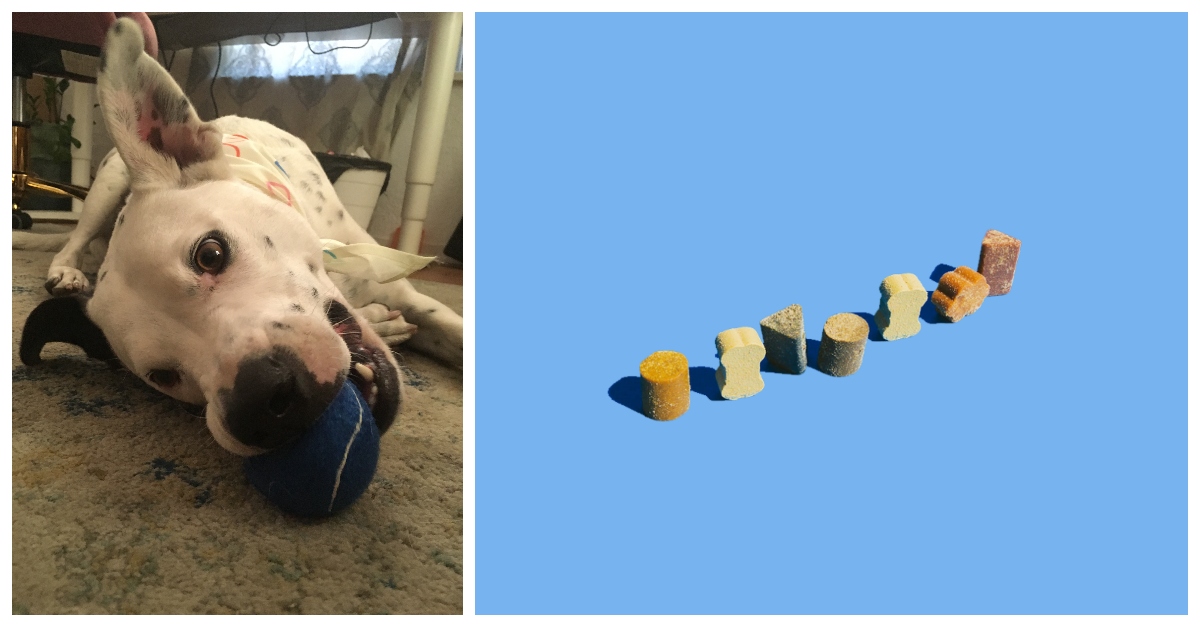 Since I began giving my dog, Zephyr, these vitamins on a daily basis, he walks up to the pantry I keep them in and cries out to me because he wants them.
If you would like to order dog vitamins from Dandy, know that you will be required to answer some questions. The information you submit will help the experts at the company create the best vitamin supplement for your canine. You'll be asked for your dog's age, and you will have to give Dandy your dog's weight. Your dog's level of activity may be needed, too.
It took me approximately five minutes to answer all the questions. In a couple of days, Zephyr was able to start taking the vitamins I had received in the mail. A ball and two other delightful goodies were included in the package that arrived. One of these other goodies was a cool bandana.
The vitamins that were delivered to me were separately packaged. This has made administering the supplements to my pet every day very convenient. I can honestly say your dog will go crazy over the yummy flavors these treats come in. When I throw these vitamin supplements into Zephyr's mouth, he really enjoys gobbling them up.
My dog is used to taking his vitamins every day now. He'll actually give me a sign to let me know it's time for his supplements. This typically happens when we return from our daily stroll. It's a time when he'll walk up to the cupboard I keep his vitamins in and wait for me to give him his treats.
I've noticed an improvement in the amount of energy Zephyr has now that I give him Dandy vitamins. I've also noticed that he doesn't scratch anymore because his skin is no longer itchy. The scratching stopped once I began giving him the Dandy supplements. My dog's health is good now, and he's full of life thanks to this amazing product.
You might as well give your dog a treat that has health benefits if your pet enjoys eating dog treats. You might as well give your pet Dandy vitamins.

The Ockendon Solar Farm's Remarkable Transformation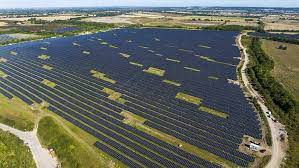 A once-neglected trash dump in England has undergone a breathtaking transformation into one of the United Kingdom's largest solar farms. The Ockendon solar farm, as it is now known, is set to provide electricity to an impressive 15,000 homes. With its 100,000 gleaming solar panels, it proudly stands as the third-largest solar farm in the entire UK.
This remarkable journey from waste ground to green energy oasis reflects the nation's growing commitment to renewable energy and sustainability. Frank Gordon, the director of policy at the Association for Renewable Energy and Clean Technology, highlighted the importance of projects like Ockendon solar farm in addressing the climate crisis. He told The Guardian, "We urgently need more solar in the UK to help meet our legally binding net-zero goals, and this summer's extraordinary global weather has further underlined the need for climate action."
The Ockendon solar farm is a shining example of the UK's transition to cleaner energy sources. Since 2020, nearly half of the nation's power has been sourced from a combination of wind, solar, bioenergy, and hydroelectric sources. This shift towards renewable energy not only reduces harmful emissions but also bolsters energy security and creates jobs in the burgeoning green energy sector.
The transformation of the Ockendon site is nothing short of inspirational. What was once a symbol of waste and environmental neglect has become a symbol of hope for a more sustainable future. As solar farms like Ockendon continue to sprout across the UK, they bring us one step closer to achieving our net-zero emissions goals and safeguarding the planet for generations to come.