Mother Goose Saves Her Babies from a Hungry Leopard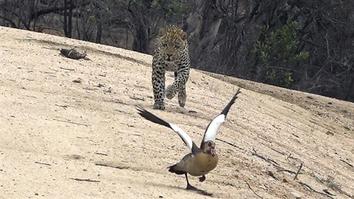 There is a saying down south that goes, "Don't mess with momma!" A mother will do anything they can to protect their offspring. It does not matter if it is a "David and Goliath" situation. Leopards are one of the quickest creatures on the planet. A hungry leopard cornered a family of Egyptian Geese, and the mother goose saved her babies with intelligence.
In South Africa, at the Sabi Sands Game Reserve, a male leopard was captured on video how he planned to have geese for dinner. The leopard was quickly outsmarted by the mother goose who separated herself from the flock and her young. She faked a wing injury and caught the attention of the leopard, forcing him to chase her instead of the others. The mother knew this was the only way to save her babies which was too young to run or fly away. This heroic act drew the leopard away so the other geese could take the babies to safety.
If an animal senses its prey is injured, it will be its choice of the kill. This mother goose timed it perfectly and was in the perfect environment. Leopards can only hold their speed and stamina for a short time. The mother goose kept the leopard chasing her through a water hole which wore out the leopard. When the mother goose saw the leopard was exhausted, she continued to fake the injury upon getting out of the water with the leopard on her tail. When the mother goose had the leopard far away from doing any harm to the flock and her babies, the tired leopard gave up the chase. The mother goose made her way back to the flock and mother and babies were reunited safe and sound.
There are different types of geese, but they all keep the same loyalty to their flock. For example, if one goose gets hurt or sick and falls out of formation, then a few geese will stay with the sick or injured for protection. They will not leave the goose until it dies or flies. The geese will remain with each other when they take off again. They may fly with another flock until they catch up to their own.
Geese are territorial creatures and can get vicious when people walk by their family or their babies. If they have a nest and someone walks by, rest assure, they will attack. Geese will not attack a predator. In the case of this leopard or another large predator, they use their intelligence to ward them off. It can be amazing to watch nature and how intelligent some animals are.
Here we learn of the heart of a mother and the loyalty of a flock of geese. We learned how instinct takes over fear, and this mother goose becomes the ultimate hero. The flock pulled together, and they all waddled away happy. The ultimate lesson is, in nature, it is the survival of the fittest, but it is also the survival of the smartest.
Doctors Debate a New Study That Puts Kids' Screen TIme in a Positive Light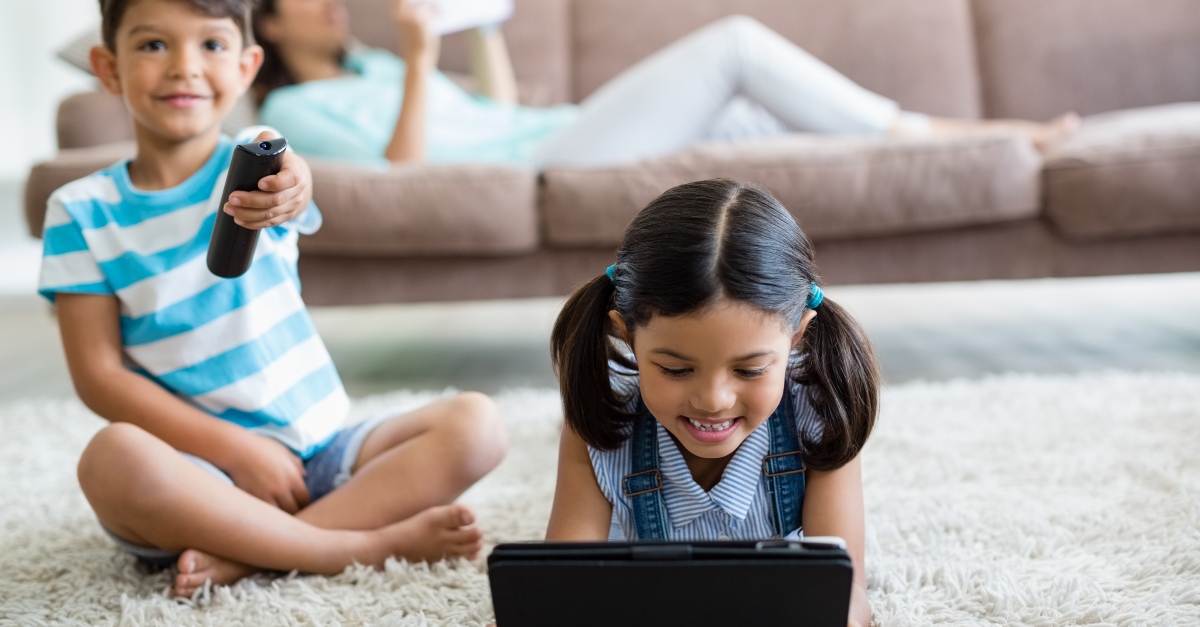 Is Screen Time A Common Sense Issue, Or Is There More To Learn From A Recent Study?
Children glued to their phones and tablets may give parents a break, but is the overall, long-term effect of "screen time" actually positive? On TV, the show "The Doctors" took on this question in response to a controversial study that seemed to claim that kids benefit from screen time more than they are harmed. Ironically, parents can go online and spend some screen time of their own catching up on this segment of "The Doctors" along with videos from well-known medical sources such as Kaiser Permanente and even the U.S. Government's NIH. Why did these doctors get heated about the results of the study?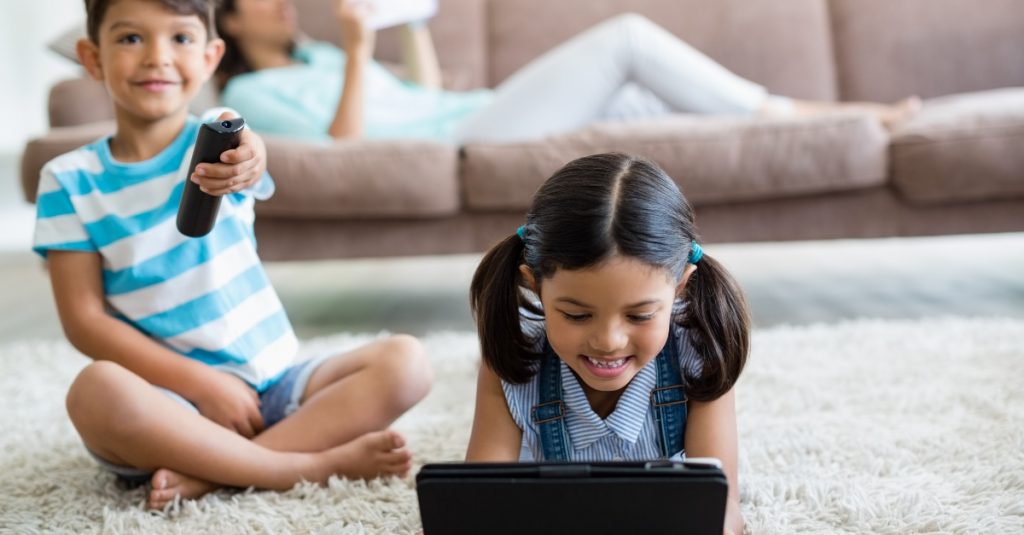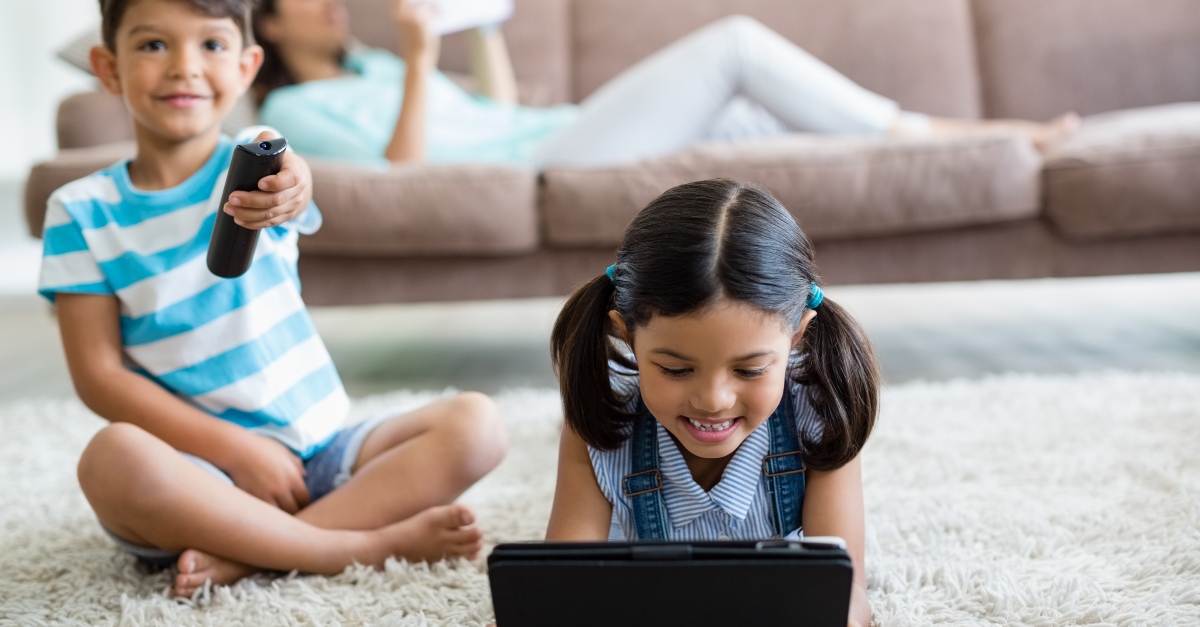 The Potential Dangers of Children Spending Significant Screen Time
Mental development of children involves diverse sensory inputs, problem-solving, interaction with others and managing of emotions. Screen time may help educate and entertain kids, but overall the brain and personality development of the child could be at risk if they spend too much time face-to-screen.
Is Erosion of Family Life Another Concern?
While studies often focus on screen time as a negative factor in children's school and developmental progress, the effect on family life as a whole is sometimes omitted. Kids who spend so many hours alone, not interacting with their families when they are at home, would in the past have been cause for concern. They might be depressed, have a developmental issue, or be holding in feelings about some difficult issue in their lives. Screen time is a distraction that could serve to mask these and other concerns. When kids participate in the family, physicians note, they not only grow but they have better access to interactive parenting.
Dr. Judy Ho And Her Analysis Of A Controversial "Study"
On "The Doctors," the team considered the positive spin on kids and screen time of a new but controversial study. Clinical psychologist Dr. Judy Ho, who had strong opinions on the subject, played the "bad guy" and asked tough questions, offering her own well-developed views. She noted that the study they were discussing was missing several key elements of a well-designed piece of research, and so the conclusions were unlikely to be useful as information for parents. The data simply served as an informal survey of interested parents, and the results were a compilation of general comments about kids' characteristics. There wasn't really any direct and scientific way to see cause and effect.
Boiling Down The Issue Of Screen Time For Kids
Parents may use decisions about gadget use as a teachable moment in their children's lives, but as always peer pressure is going to be a powerful force. Kids who aren't connected tend to miss out, as previous generations of TV-watching kids did, on social interactions with other kids which revolve around common media experiences.
Teaching Your Children to Grow into Adulthood
Parents have to weigh social "coolness" against developmental, family, and educational concerns. In the end, though it may be difficult for some parents, Dr. Patty's suggestions are a great starting point: have no-screen zones like the dining room with a basket by the door, have concrete limits for screen time — typically less than two hours a day — and try to make screen time a parent-child experience rather than a media consumption moment. Talk about screen-based experiences, think about them together, laugh at the funny stuff and ask questions about the serious stuff. Use screen time to help your child's mind grow.