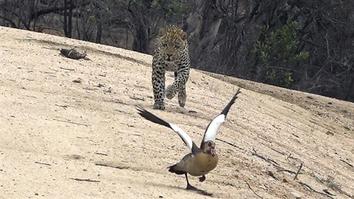 Mother Goose Saves Her Babies from a Hungry Leopard
There is a saying down south that goes, "Don't mess with momma!" A mother will do anything they can to protect their offspring. It does not matter if it is a "David and Goliath" situation. Leopards are one of the quickest creatures on the planet. A hungry leopard cornered a family of Egyptian Geese, and the mother goose saved her babies with intelligence.
In South Africa, at the Sabi Sands Game Reserve, a male leopard was captured on video how he planned to have geese for dinner. The leopard was quickly outsmarted by the mother goose who separated herself from the flock and her young. She faked a wing injury and caught the attention of the leopard, forcing him to chase her instead of the others. The mother knew this was the only way to save her babies which was too young to run or fly away. This heroic act drew the leopard away so the other geese could take the babies to safety.
If an animal senses its prey is injured, it will be its choice of the kill. This mother goose timed it perfectly and was in the perfect environment. Leopards can only hold their speed and stamina for a short time. The mother goose kept the leopard chasing her through a water hole which wore out the leopard. When the mother goose saw the leopard was exhausted, she continued to fake the injury upon getting out of the water with the leopard on her tail. When the mother goose had the leopard far away from doing any harm to the flock and her babies, the tired leopard gave up the chase. The mother goose made her way back to the flock and mother and babies were reunited safe and sound.
There are different types of geese, but they all keep the same loyalty to their flock. For example, if one goose gets hurt or sick and falls out of formation, then a few geese will stay with the sick or injured for protection. They will not leave the goose until it dies or flies. The geese will remain with each other when they take off again. They may fly with another flock until they catch up to their own.
Geese are territorial creatures and can get vicious when people walk by their family or their babies. If they have a nest and someone walks by, rest assure, they will attack. Geese will not attack a predator. In the case of this leopard or another large predator, they use their intelligence to ward them off. It can be amazing to watch nature and how intelligent some animals are.
Here we learn of the heart of a mother and the loyalty of a flock of geese. We learned how instinct takes over fear, and this mother goose becomes the ultimate hero. The flock pulled together, and they all waddled away happy. The ultimate lesson is, in nature, it is the survival of the fittest, but it is also the survival of the smartest.
A Police Dog Saves a Lost Mother and Baby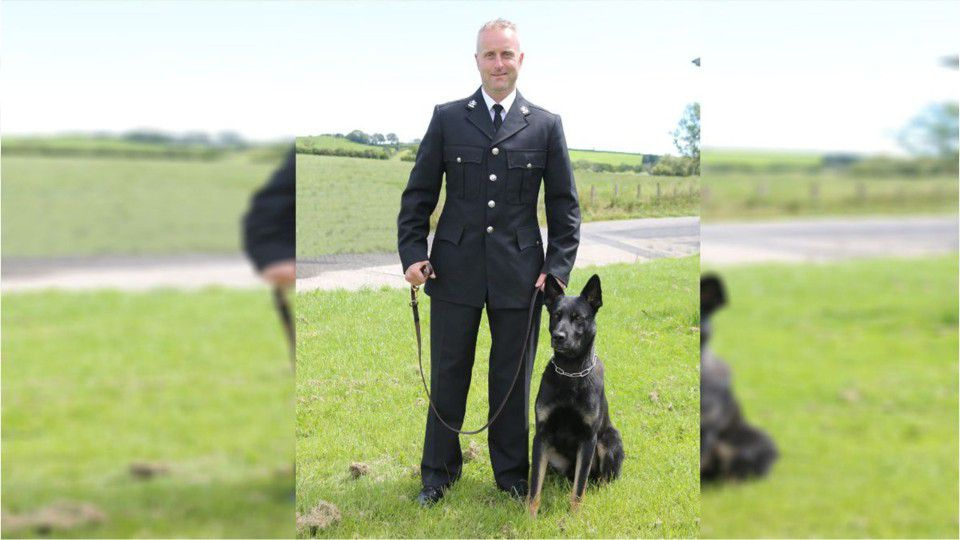 The police have been using dogs to help them for a long time. Max, a young German Shepherd in the Dyfed-Powys Police Department K-9 unit, successfully found a mother and her child.
These two people had been missing for two days. It gets harder and harder to find missing people, and it's important to locate them as quickly as possible. Max was certainly able to do so, and he's only two years old himself. He was only a rookie at the time, but has been given the Very Good Boy title already.
He'd literally only been on the police force for one shift when this happens, demonstrating that it's possible for someone to have an extremely productive and successful first day.
Dogs have abilities that humans don't, especially when it comes to sensing scents. Some dogs have particularly excellent senses, including German Shepherds. Max probably has a great sense of smell, even by German Shepherd standards. As such, he was able to successfully save two human lives.
The mother herself has not yet been identified, but that part of the process should not take long. The important thing is that she's safe. She was with her one-year-old child in the Powys area when they managed to become unexpectedly isolated. They were in a relatively remote area at the time, making the situation even more dangerous for them.
Fortunately, the mother in question was not the sort of person to fall out of touch with people for a long period of time, and other people were able to notice that she was not responding to her phone or communicating with anyone. The community was able to respond very quickly, with professional search officers, response officers, and local policing teams going to the lost mother's home. The professionals did what they could to try to track down and understand her whereabouts.
German Shepherds are among the smartest dogs in the world, which is also certainly helpful on the police force. Max had his license and the training necessary to be a police dog in the first place. However, he didn't have a great deal of experience at this point in time. In all likelihood, because of Max's early impressive success, he should only get more important assignments in the future. He'll certainly have plenty of experience then. At some point in the near future, he could be one of the most decorated members of the K-9 unit.
His handler is Peter Lloyd, a police constable who had not worked with Max previously. However, the two of them certainly have already made a great team. They were assigned to the organized search.
The searchers found some success when they were able to locate the mother's automobile, which was on a road in the mountains. They were then able to narrow down the possibilities. She was clearly in Powys, and specifically in an area that had a woodland ecosystem and little reservoir.
Max is a great tracker, and he was able to search throughout the entire open area very effectively. Woodland ecosystems are complex, and it can be difficult to effectively search through them without a dog's nose. Fortunately, that's what they had. It only took Max ninety minutes to find the two lost individuals.
The mother was brought to a safe place after being stranded near a frightening ravine. They were both cold, and they'd been in that location for far too long. However, a doctor was still able to see them quickly. This search operation was performed very effectively, demonstrating how important it is to have the right allies in these situations.