Mother Goose Saves Her Babies from a Hungry Leopard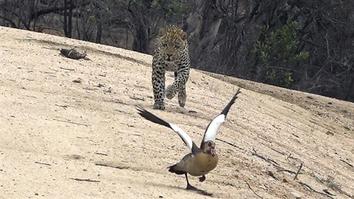 There is a saying down south that goes, "Don't mess with momma!" A mother will do anything they can to protect their offspring. It does not matter if it is a "David and Goliath" situation. Leopards are one of the quickest creatures on the planet. A hungry leopard cornered a family of Egyptian Geese, and the mother goose saved her babies with intelligence.
In South Africa, at the Sabi Sands Game Reserve, a male leopard was captured on video how he planned to have geese for dinner. The leopard was quickly outsmarted by the mother goose who separated herself from the flock and her young. She faked a wing injury and caught the attention of the leopard, forcing him to chase her instead of the others. The mother knew this was the only way to save her babies which was too young to run or fly away. This heroic act drew the leopard away so the other geese could take the babies to safety.
If an animal senses its prey is injured, it will be its choice of the kill. This mother goose timed it perfectly and was in the perfect environment. Leopards can only hold their speed and stamina for a short time. The mother goose kept the leopard chasing her through a water hole which wore out the leopard. When the mother goose saw the leopard was exhausted, she continued to fake the injury upon getting out of the water with the leopard on her tail. When the mother goose had the leopard far away from doing any harm to the flock and her babies, the tired leopard gave up the chase. The mother goose made her way back to the flock and mother and babies were reunited safe and sound.
There are different types of geese, but they all keep the same loyalty to their flock. For example, if one goose gets hurt or sick and falls out of formation, then a few geese will stay with the sick or injured for protection. They will not leave the goose until it dies or flies. The geese will remain with each other when they take off again. They may fly with another flock until they catch up to their own.
Geese are territorial creatures and can get vicious when people walk by their family or their babies. If they have a nest and someone walks by, rest assure, they will attack. Geese will not attack a predator. In the case of this leopard or another large predator, they use their intelligence to ward them off. It can be amazing to watch nature and how intelligent some animals are.
Here we learn of the heart of a mother and the loyalty of a flock of geese. We learned how instinct takes over fear, and this mother goose becomes the ultimate hero. The flock pulled together, and they all waddled away happy. The ultimate lesson is, in nature, it is the survival of the fittest, but it is also the survival of the smartest.
Vail's Newest Ski Patroller is a 9-Week-Old Puppy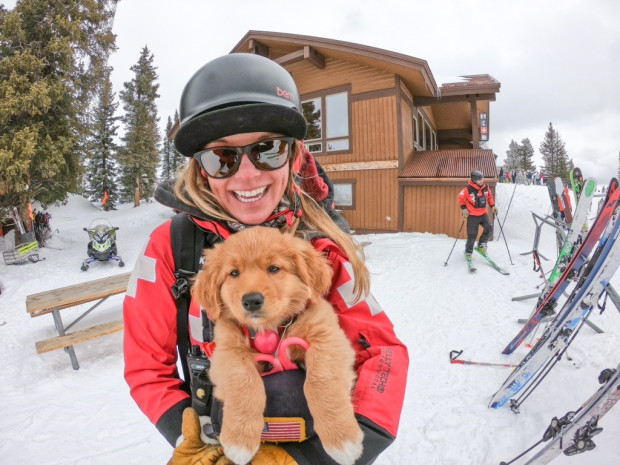 Vail Ski Resort has a new ski patrol trainee, a 9-week-old puppy named Cowgirl. Cowgirl is a Novia Scotia Duck Tolling Retriever born in Port Coquitland, B.C., a town near Vancouver. She and her handler Kori Landauer, will be training for the next two years to gain their Colorado Rapid Avalanche Deployment certificate and become the newest member to the ski patrol team. First though, she must get acquainted with one of the busiest ski mountains in America, and her four other canine co-workers.
Hannah Dixon, a spokeswoman for Vail Ski Resort, told the Denver post that Cowgirl did well on her first day and her first goal is to become desensitized to all of the things on the mountain to include snowcats, chair lifts and the mass of people.
Ski patrol dogs are needed on large mountains for avalanche rescues and for many other duties, like helping teach ski safety to guests and kids, assisting as therapy dogs for injured skiers, and more. With their speed, agility, and sense of smell, they are capable of locating buried avalanche victims. Luckily, avalanches within ski resort areas are rare. This is in part due to avalanche control measures that patrollers take part in, like firing explosives on risky slopes. Although avalanches are rare on ski resorts, ski patrol dogs continue their training and may even be called to help with off-site avalanche rescues by the county sheriffs. It is said, that one dog and its handler can do the job that 150 trained searchers can do in the same amount of time.
Colorado's Rapid Avalanche Deployment team aims for successful avalanche search and rescue. Cowgirl and Landauer will be trained for this and more to help save lives in case of an avalanche.
According to the American Kennel Club, Cowgirl's breed make good work dogs, so they are perfect for ski patrol. Novia Scotia Duck Tolling Retrievers are known for their intelligence, affection, are eager to please, and are hard-working. They also have a lot of energy and are strong, athletic, and agile.
Landauer grew up in Vail Valley and has worked as a patroller at Vail Ski Resort for the last six seasons. To become a handler, she has be training and working with the other patrol dogs, who have welcomed Cowgirl with open paws to their team.
Dixon said that Cowgirl "has been getting along great with the other dogs and is very smart, wide-eyed, and just taking it all in."
If you're wondering where the name Cowgirl came from, Landauer always wanted to be a cowgirl. She may not have lived up to that dream, but she now has a cowgirl in her life, in the form of her newest friend and puppy.