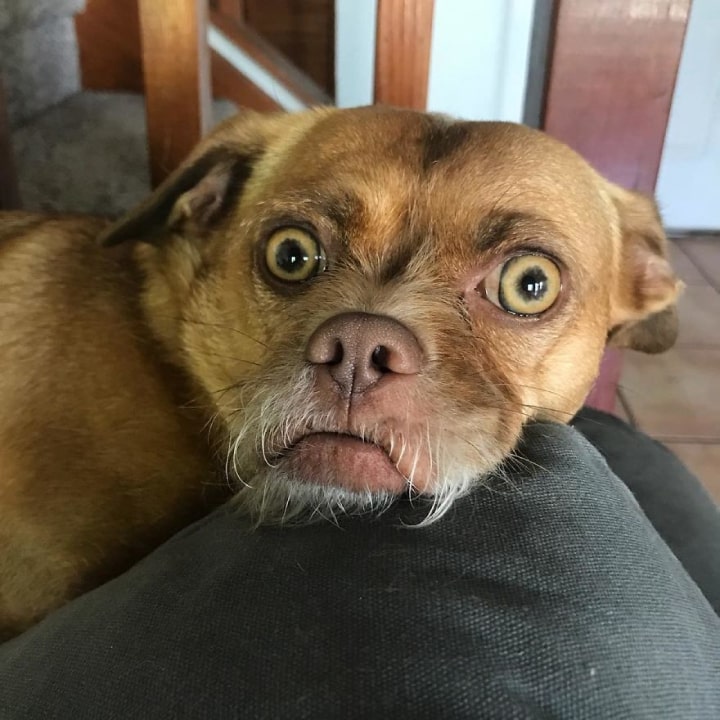 Meet Bacon: The Dog Whose Facial Expressions Will Have You Cracking Up
People can easily spend hours on YouTube and searching Google for adorable dog photos and videos. Who doesn't love the look of an adorable puppy? Or a video of a dog up to no good, but his adorable expression just melts your heart and you can't stay mad?
Then there's Bacon. Bacon is a Pekingese/Dachsund/Chihuaha mix who has everyone on the Internet in stitches from laughter because of his adorable facial expressions. With all of the adorable photos of animals on the Internet, it takes a special kind of dog to truly capture the hearts of Instagram users all around the world. Bacon has become a viral sensation.
Let's take a look at some of his facial expressions so you can see just how relatable and hilarious these expressions are.
Asking for a Bite
Have you always been curious if you make a face anytime your significant other, friend, or family member asks for a bite? Bacon makes a bit of a snarl that would cause even the angriest person to completely lose it and crack up. He literally, looks like an angry old man with his little grayish, white facial hair along the top of his mouth. Almost like a mustache.
The Start of the Work Week
I get it, it's Monday, and not everyone is excited to head to work. There's a new word to describe Sunday, and it's called having the Sunday Scaries, because you know the weekend is almost over and the work week is about to begin. Bacon, who is curled up in a comfortable blanket, pretty much sums up our feelings for the upcoming work week perfectly.
Last Minute Surprises
I'll admit, I'm not a fan of surprises. And it seems like Bacon is the same way. Or maybe, he just hasn't had his morning bowl of breakfast yet and that's why he's staring at you in that sort-of creepy / I'm not-so-secretly judging you way.
He also has the perfect facial expression that matches ours when we hear the juiciest gossip at work. While we all would probably do a full head turn before saying "what?" Bacon does this fashion-forward side heard turn that's too adorable not to share.
The Weekend Is Here
Everyone loves the weekend… including Bacon! He's out in the fresh air, the tongue is out, tail wagging in full swing, and he's happily enjoying life. This expression is just contagious! I dare anyone to look at this excitement for fun, attention, and adventures and not melt.
Bacon Feels What We Feel
People say dogs don't feel emotion but based all of the facial expressions Bacon is making while looking into the camera, you definitely see emotion. Whether he's annoyed, tired, or excited, he's always making faces that are relatable to everyone, which is what's causing everyone to crack up. You can follow Bacon and all of his hilarious facial expressions on Instagram @thebaconator.
Dog Trainer and Dog Groomer Get Married Accompanied By Their Best Friends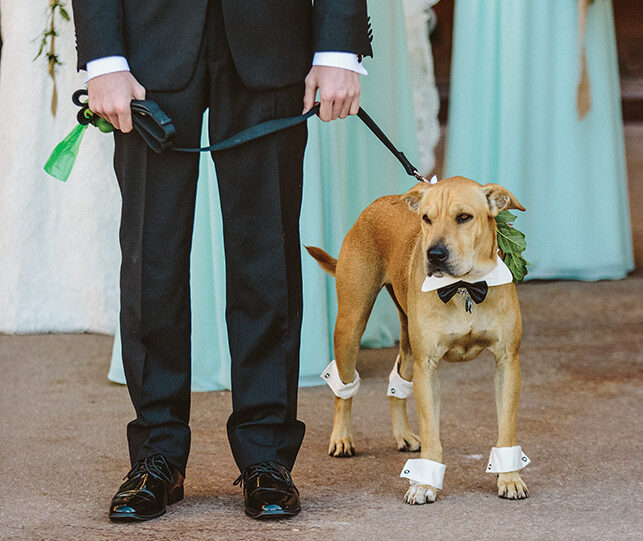 Weddings Are for Sharing With Loved Ones
When people get married, they spend one perfect day with their most loved friends and family. While many people only think about their human friends and family, there are a lot of people who could never imagine starting this important new chapter in their lives without their beloved pets. In fact, many people might have to admit, if they were being honest, that they loved their pets more than some of the relatives who came to the wedding, especially if they felt obligated to invite some relatives they rarely see and barely know.
Some People Already Spend Their Lives With Pets
Anyone who works full-time as a dog trainer or groomer already spends most of their working days with animals. They see dogs all day long, and they make the choice to do so because of many reasons. Working with pets is rewarding on many levels. Especially if you see the same dogs again and again, you form a close bond. Communicating with pets is therapeutic and generally far less stressful than dealing with humans. The people who work with dogs don't get sick of dogs and try to go home to a quiet house; they tend to have larger pet families than average.
A Dog Trainer and a Dog Groomer Tie the Knot
Paul and Annette Anthony are typical in that they work with dogs as a profession, and they have a large pet family. On the day they got married, their family consisted of 2 humans and 9 canines. Both Paul and Annette admitted that their pets were more to them than just fun — their beloved dogs also helped them get through rough times in their lives, including personal tragedies. Annette's German Shepherd Pesci is even an emotional support animal, helping her to deal with severe anxiety and depression. There was no way that their pets were going to be left out of the most important day of their lives going forward.
Canine Best Man
Paul's service dog Finn has earned his retirement. Finn has competed in over 40 events, earning titles and even setting records. He was also there for Paul when Paul developed PTSD after being at the scene of the deadliest plane crash in Pennsylvania's history. Finn was the one who helped with the proposal, giving Annette the ring with a note asking her to marry his dad. It was only fitting that Finn ended up being one of the best men at the wedding too.
A Family Affair
All 9 dogs walked down the aisle and stayed throughout the ceremony. Annette's dog Pesci even came to comfort her during the ceremony when she started to cry from happiness because he wanted to make sure his momma was all right. Whether you want to use your dogs in the ceremony as ring bearers, best men, or flower girls, or if you just want them to be present, it makes sense to have your pets help you celebrate such an important day in your life.