Meet Bacon: The Dog Whose Facial Expressions Will Have You Cracking Up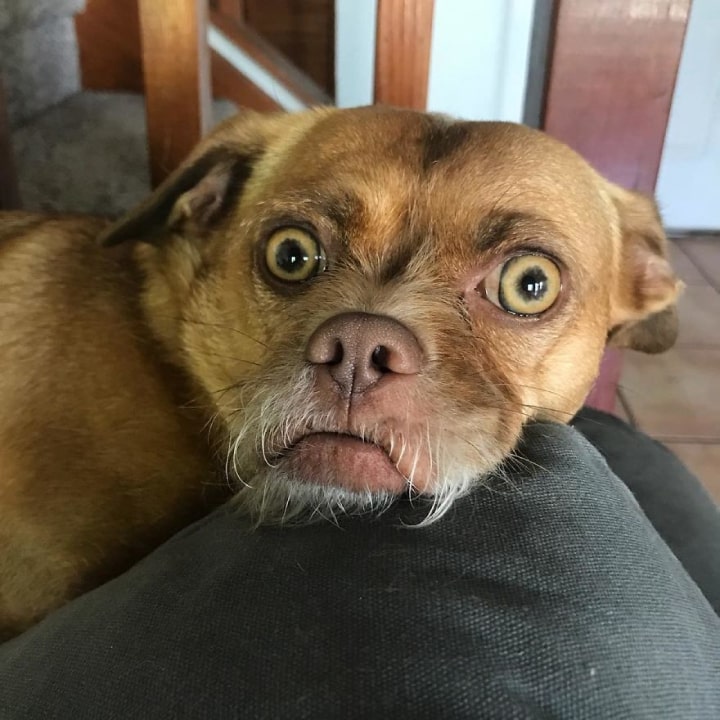 People can easily spend hours on YouTube and searching Google for adorable dog photos and videos. Who doesn't love the look of an adorable puppy? Or a video of a dog up to no good, but his adorable expression just melts your heart and you can't stay mad?
Then there's Bacon. Bacon is a Pekingese/Dachsund/Chihuaha mix who has everyone on the Internet in stitches from laughter because of his adorable facial expressions. With all of the adorable photos of animals on the Internet, it takes a special kind of dog to truly capture the hearts of Instagram users all around the world. Bacon has become a viral sensation.
Let's take a look at some of his facial expressions so you can see just how relatable and hilarious these expressions are.
Asking for a Bite
Have you always been curious if you make a face anytime your significant other, friend, or family member asks for a bite? Bacon makes a bit of a snarl that would cause even the angriest person to completely lose it and crack up. He literally, looks like an angry old man with his little grayish, white facial hair along the top of his mouth. Almost like a mustache.
The Start of the Work Week
I get it, it's Monday, and not everyone is excited to head to work. There's a new word to describe Sunday, and it's called having the Sunday Scaries, because you know the weekend is almost over and the work week is about to begin. Bacon, who is curled up in a comfortable blanket, pretty much sums up our feelings for the upcoming work week perfectly.
Last Minute Surprises
I'll admit, I'm not a fan of surprises. And it seems like Bacon is the same way. Or maybe, he just hasn't had his morning bowl of breakfast yet and that's why he's staring at you in that sort-of creepy / I'm not-so-secretly judging you way.
He also has the perfect facial expression that matches ours when we hear the juiciest gossip at work. While we all would probably do a full head turn before saying "what?" Bacon does this fashion-forward side heard turn that's too adorable not to share.
The Weekend Is Here
Everyone loves the weekend… including Bacon! He's out in the fresh air, the tongue is out, tail wagging in full swing, and he's happily enjoying life. This expression is just contagious! I dare anyone to look at this excitement for fun, attention, and adventures and not melt.
Bacon Feels What We Feel
People say dogs don't feel emotion but based all of the facial expressions Bacon is making while looking into the camera, you definitely see emotion. Whether he's annoyed, tired, or excited, he's always making faces that are relatable to everyone, which is what's causing everyone to crack up. You can follow Bacon and all of his hilarious facial expressions on Instagram @thebaconator.
Dirt Biking Couple Reunites Stray Dog With His Family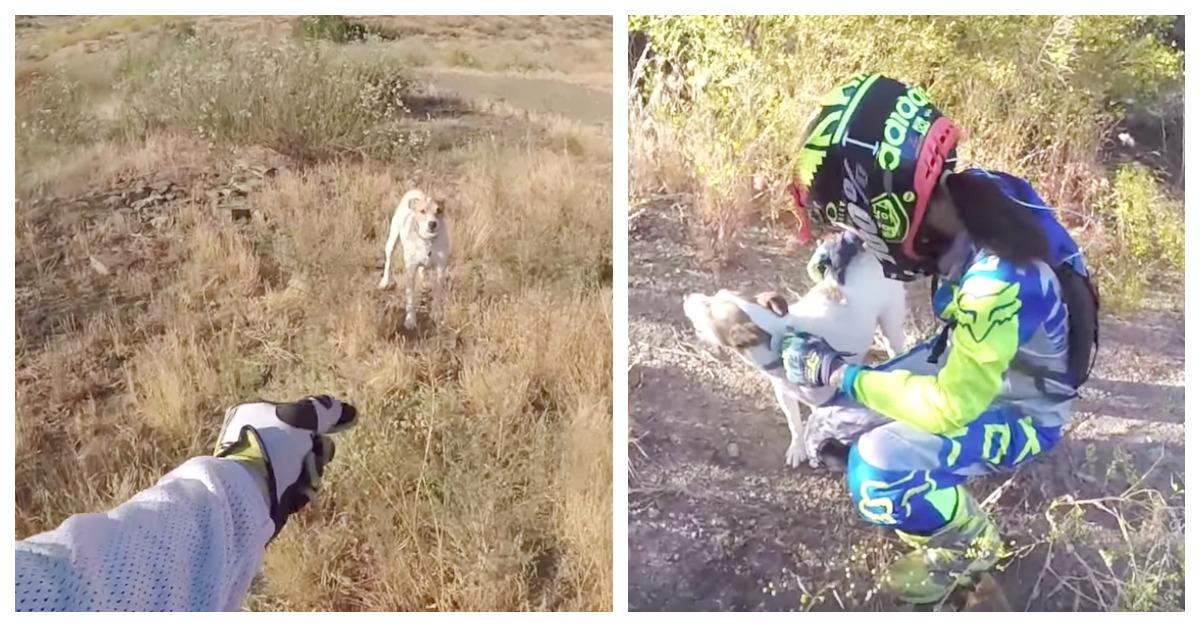 Southern California is a hotbed for people watching, But it is also a place where escaped dogs roam freely. One was reunited with his family thanks to the efforts of a couple out for a dirt bike ride. Gina and Dan were minding their own business, enjoying the Southern California weather. They took a video of their encounter with a dog that was out to have his own adventure.
When Gina and Dan first spotted the dog, they tried to approach him gently. Riding their dirt bikes, they began to trail behind the dog. Just as Dana was approaching him to grab him, he began to bark and promptly took off ahead of them. This didn't deter the couple, and they continued to trail him. When they eventually caught him, Dana read his dog tags to determine who his owner was.
Finding his name and a phone number on his tags, she promptly called it and left a voicemail message for the recipient. In the meantime, they took a seatbelt from their dirt bike and repurposed it to be a leash so that he couldn't run away from them again. They also gave Max some of their bottled water so the dog could keep cool and stay hydrated. The dog was so thirsty he drank the entire bottle, much to Gina's utter delight.
Gina and Dan looked after Max until his owner contacted them. Arrangements were then made for Max's owner to get him back. In the meantime, Max had made friends with Gina and Dan. Max liked them so much he promptly made the leap from the ground to the back of Gina's truck. Max is one dog with a strong intuition of his own, and that intuition told him when his owner was approaching Gina's truck to take Max back home.
This story illustrates how easy it is for people to bond with their dogs. It also shows that considerate people like Gina and Dan look out for others. With dogs getting away from their owners virtually every day, people are encouraged by stories such as this one. Anyone who has ever lost a dog knows how important it is to look out for others. Many stray dogs have been reunited with their owners due to the kindness of strangers. That kindness is something that dogs bring to the world, as dogs bring people together as nothing else can.
Max's story is an inspiring one with a happy ending. Seeing a lost dog reunited with his or her owner is something that everyone can appreciate. It tugs at the heartstrings of those who understand how important pets are to people. As members of the family, pets deserve to be looked after as much as anyone else does. People like Dan and Gina are invaluable in helping others reunite with the pets they love so much.