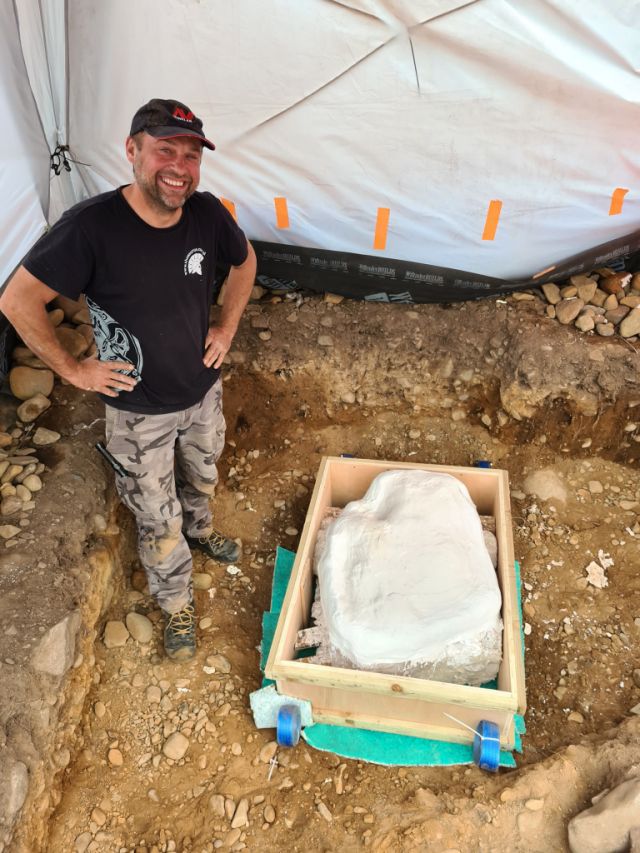 Man discovers Bronze Age antiques on Scottish soil
A haul of ancient antiques including a 900 BC Sword was uncovered by Mariusz Stepien in Peebles. 
Metal detectorists have had many field days since the inception of lockdown, sometimes quite literally, and Mariusz's discovery is another addition to the pile. In July, we saw amateur treasure hunters observing lockdown measures discover a bunch of precious and valuable items right in their backyard, so this comes as no surprise.
Barely a month later, a detectorist has now unearthed a stack of ancient items dated from the Bronze Age. Preserved wood and leather, and a complete horse harness are some of the uncovered items- and they were only Stepien's initial findings. An in-depth exploration by Treasure Trove further discovered a sword dating about 900 BC.
Metal detecting was a leisure thing for Stepien and he had been doing it with his friends for fun until his metal detector started picking up some strong signals from the earth. According to him, the moment of discovery was a very emotional one, and knew he had just discovered something significant to Scottish history from the very beginning.
The initially found objects were only buried half a metre underground, but after reporting his findings to the Treasure Trove unit, more ancient items were uncovered.
Experts took over the discovery site, but Stepien and his friends camped in the fields to witness the total excavation, which took about 22 days. "We wanted to be a part of the excavation from the beginning to the end," Stepien said. According to him, they discovered something new every day and that alone "changed the context of the mind."
"I'm so pleased that the earth revealed to me something that was hidden for more than 3,000 years," he said. The ancient sword was found unsheathed in a uniquely designed scabbard with buckles, straps, chariot-wheel axle caps, and pieces of rattle pendants to beautify. This type of design is the first of its kind discovered on Scottish soil, and only the third in the UK.
According to Treasure Trove, the discovery was a phenomenal one. The soil played a great role in preserving the integrity of the unearthed wood and leather, which made it possible for archeological experts to trace the fragments that made up the harness- never has this been discovered in the history of Britain.
Emily Freeman, head of the Treasure Trove Unit described the discovery as "nationally significant." According to him, the discovery made it possible to recover bronze antiques as well as ancient organic material, however, they have to put in more efforts to ascertain the possible circumstances that led to their deposition in that region.
Stepien's discovery is just one of many since the start of lockdown. Individuals started looking closer at their surrounding environments in search of artifacts, and mother earth did not disappoint in revealing treasures from the past. Finds liaison officer from Shropshire, Peter Reavill disclosed that since the start of lockdown, he has seen some pieces of ancient pottery, tobacco pipes, and prehistoric flint tools from the Stone Age. Simon Maslin, another finds liaison officer in Surrey and Hampshire, said some of these discoveries have answered some questions about local history, even though they look like garbage. 
Stepien's Bronze Age haul in Peebles has been moved to the National Museums Collection Centre in Edinburgh where experts will find answers to the mystery items through research and archeological operations.
Kind couple reunite homeless man with his family after 20 years apart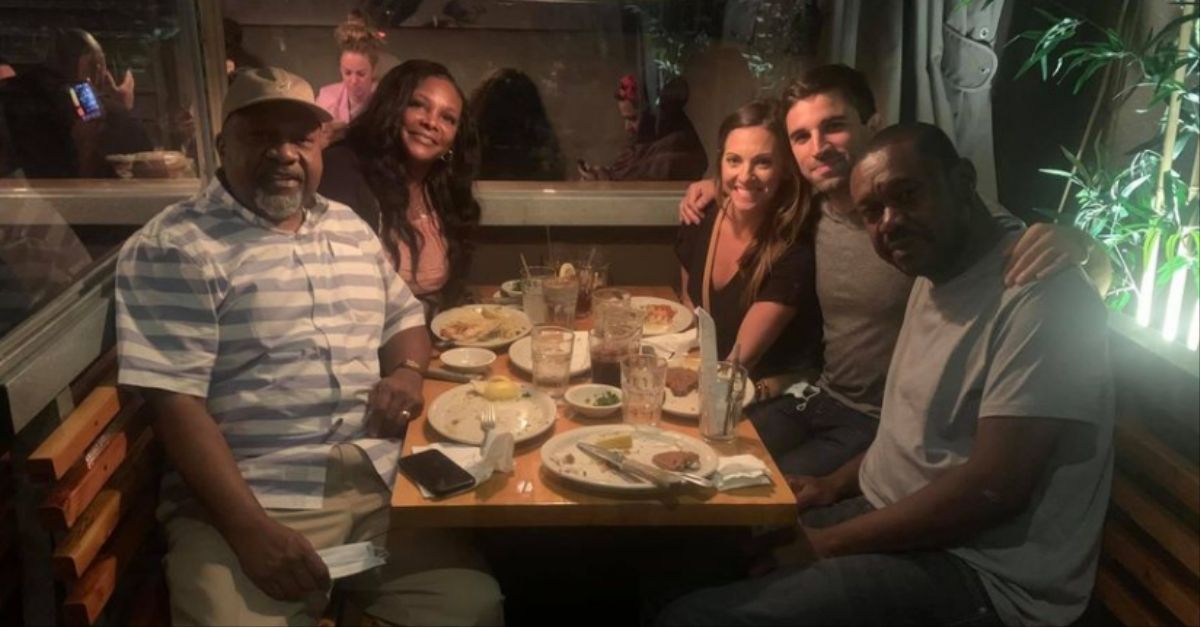 "Everyone just stares at me. I'm an educated man, but all they see is a person who doesn't have a home and doesn't have anyone to call."
These were the sad, heartbreaking words Randi Emmans heard as she stepped outside her apartment in Los Angeles to take her dog on a walk. 54-year-old Petro Reid was the man Emmans had just heard talking to himself, and he was in a bad place mentally.
She called up her boyfriend, John Suazo to jointly hold a conversation with Reid. He was quite surprised at first, because according to him, no one had ever taken interest in him, and he poured out his mind to them.
For a homeless man, the person they had just held a conversation with was very fluent in expressing himself.
"He was so impressive," said Suazo.
"The whole conversation really touched us."
From the conversation, they found out that Reid had left his family home in Charleston, S.C., and moved to L.A. in 1999 to live with an aunt. Barely a year later, he found himself going off the rails and homeless due to drug and alcohol addiction.
He became a popular figure in jail, from where he'd occasionally call home and send letters to his grandmother's house in Charleston.
"It was always for petty crimes, usually shoplifting to support my habits, food and things of that nature," he said. "That cycle continued for years, and whenever I got released, I was right back on the streets."
For more than two decades, Reid wandered the streets of L.A. in search of his family or some beacon of hope, and for those two decades he didn't find anything- until Emmans heard him.
He had lost all hope of living a decent life. He always thought of his family, but the chances of setting eyes on them once again were pretty dim, so he gave up.
He found Emmans and her boyfriend non-judgmental. They genuinely cared about his situation and that was why he opened up to them.
"John and Randi saw me as more than what everyone else saw me as — just a homeless person living on the streets," he said. "They believed in me, despite the situation they found me in."
After giving him food, water, and other basic human needs, the couple felt they hadn't done enough to truly take him out of misery and ridicule. Emmans made a post on Facebook, a public plea asking for donations to help cover the costs of a night or two at a hotel, so Reid could get rest up, recuperate, and have decent hot meals.
Her post received a lot of engagements, and in only 3 days, they were able to raise about $6,500 for Reid. The funds were used to lodge him in a hotel, get him a new mobile phone, and buy him some new clothes.
Although grateful for all Emmans and Suazo had done, Reid still wanted to find his family. He asked the couple for help and they decided to help him.
Reid took on the name Franklin Mitchell after an encounter with the police in L.A. He didn't have his identity card, so the name stood- that was why his family members could never reach him.
In the search for his family, Reid gave Emmans and Suazo some names he could remember, as well as his grandmother's address, without knowing if she was still living there or alive at all.
"Randi and I started plugging away on the Internet, and we were able to find his grandmother's name associated with the address," Suazo said. "We called wrong numbers until, finally, we got someone who was his uncle's ex-wife."
This was when all the dominoes started falling in place.
Reid's uncle, Pierre Grant was informed by his ex-wife of a certain contact about his nephew and he immediately called the couple to set up a meeting.
Grant said "For over 20 years, we had been praying and believing that one day we would find him, and the day finally came. This is a miracle."
He took a flight paid for by Emmans and Suazo to L.A. to link up with his nephew. The amazing couple were also able to pay for a covid-19 test for Reid, Grant, and themselves- all which came back negative.
The long awaited family reunion came on Friday, August 7. Mia Green, Reid's cousin was also present for the reunion. It was a touching and soulful moment for Reid as he tightly embraced his cousin and uncle after 20 years of wandering the streets of L.A.
Now that Reid has finally reunited with his family, he plans to get his life together and back on track.
"I believe I can help a lot of people that are still in the position that I was in," said Reid.
He plans to start the next chapter of his education and find himself a stable, paying job.