Lucky the Dog Wows the Internet With Amazing Facial Markings.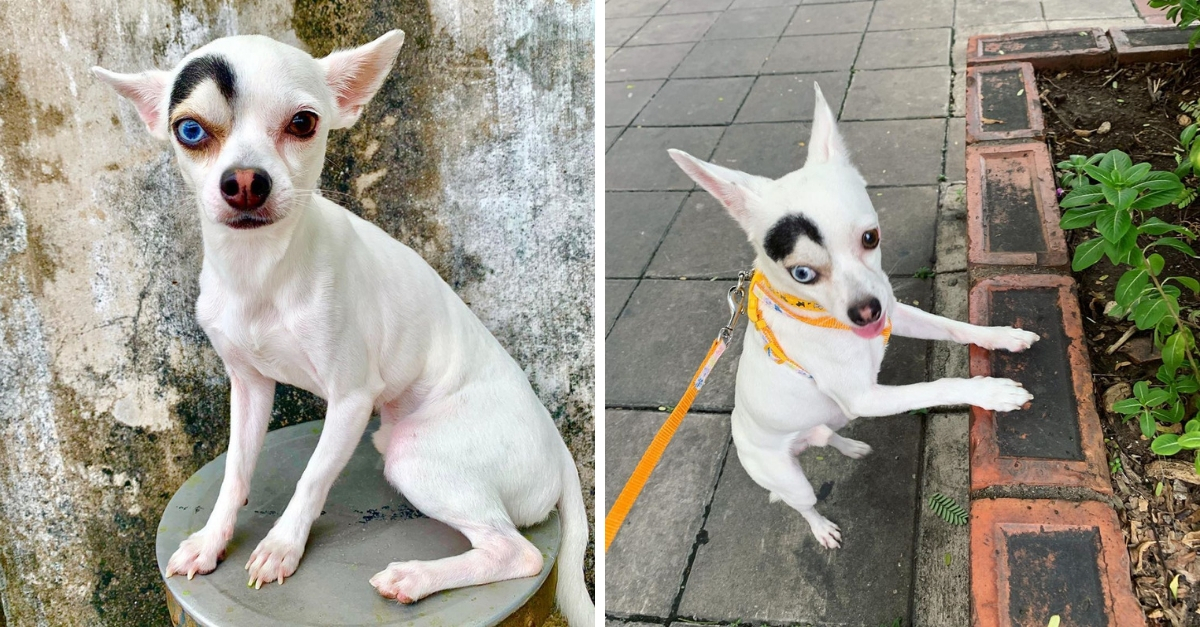 Have you ever seen an animal that was too cute to be real? If you've ever loaded up a Disney movie then you obviously know what we are talking about! With that being said, sometimes the most adorable creatures in the world can be found right on the internet. Lucky the Rescue Dog became a viral sensation thanks to his distinctive looks, trademark eyebrow, and his owner's willingness to share him with the world. If you want to see a little dog that would leave Disney swooning, you've come to the right place! Let's start from the beginning so that you can get to know, and summarily fall in love with, Lucky the Rescue Dog!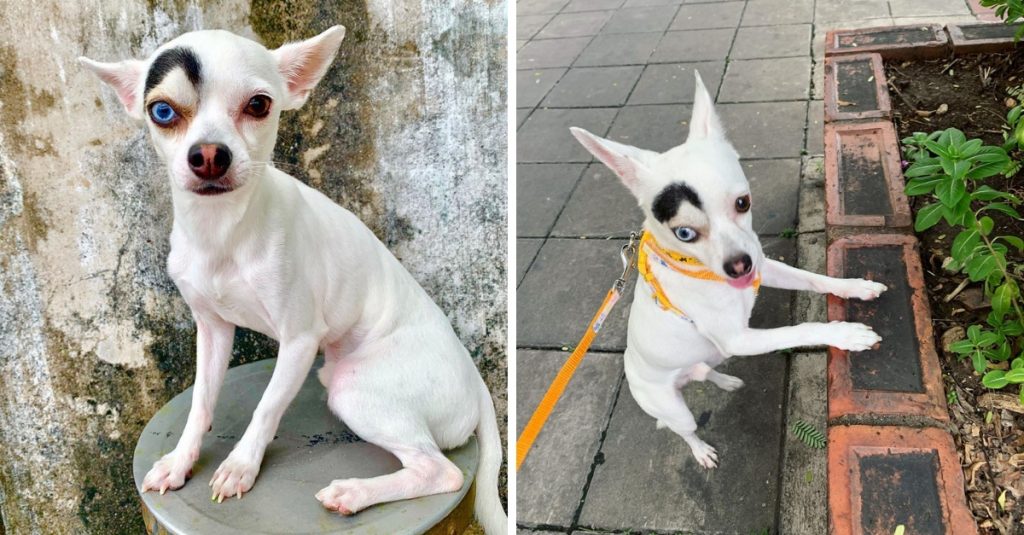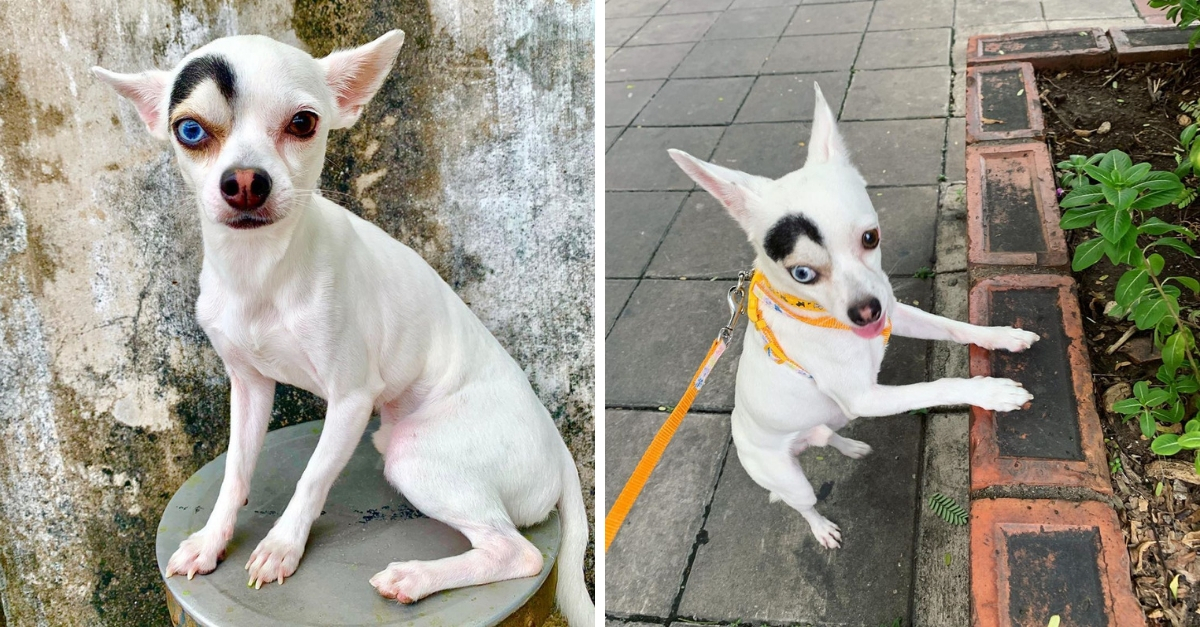 Lucky the Rescue Dog looks like a cartoon character come to life. Lucky is a mixed breed pup from Thailand with a prevalence of Chihuahua in his DNA. The two-year-old puppy is tiny enough to fit into your arms, but it isn't his diminutive size that has fans going crazy. Instead, Lucky the Rescue Dog would rise to viral fame thanks to his bright blue eye and the massive eyebrow that sits overtop it. Looking almost like Spot the dog, Lucky looks like he was pulled straight from the pages of a children's book.
Charice Fca Cha is the owner of Lucky the Rescue Pup. Charice spoke to the team at Bored Panda in order to discuss how she ended up with Lucky, as well as why he turned into such a viral sensation. According to Charice, there is nothing photoshopped about her dog. With that being said, we wouldn't blame you for thinking that photoshop came into play! Lucky has a feature known as heterochromia. Heterochromia is a condition that allows a person, or dog in this case, to have two different colored eyes. Lucky has a bright blue eye as well as a dark brown and black eye. Pretty wild, right?
According to Charice, she found Lucky while looking at local animal shelters in Thailand. After one look, Charice new that she had to bring the little furry boy home with her. Charice admitted that she couldn't believe that Lucky was still available, so she quickly scooped him up and brought him home. After sharing pictures of her unique looking furry friend, Lucky would quickly become a viral sensation. Within days, Lucky's photos were amassing thousands of likes, hundreds of comments, and countless shares. Can you blame all of Lucky's fans for his enthusiasm?
While Charice was drawn to Lucky thanks to his amazing markings and coloring, she has also gotten a wonderful member of the family. Lucky is a smart, well-trained, and incredibly good doggo. Charice would end up sharing dozens of photos on her public Instagram page titled Luckiry. Charice has also shared photos of her new puppy on the Facebook page, Dogspotting Society. So, what say you? Are you ready to add a furry friend to your family?
Routine Traffic Stop Turns into Heartwarming Occasion Thanks to Officer's Kind Gesture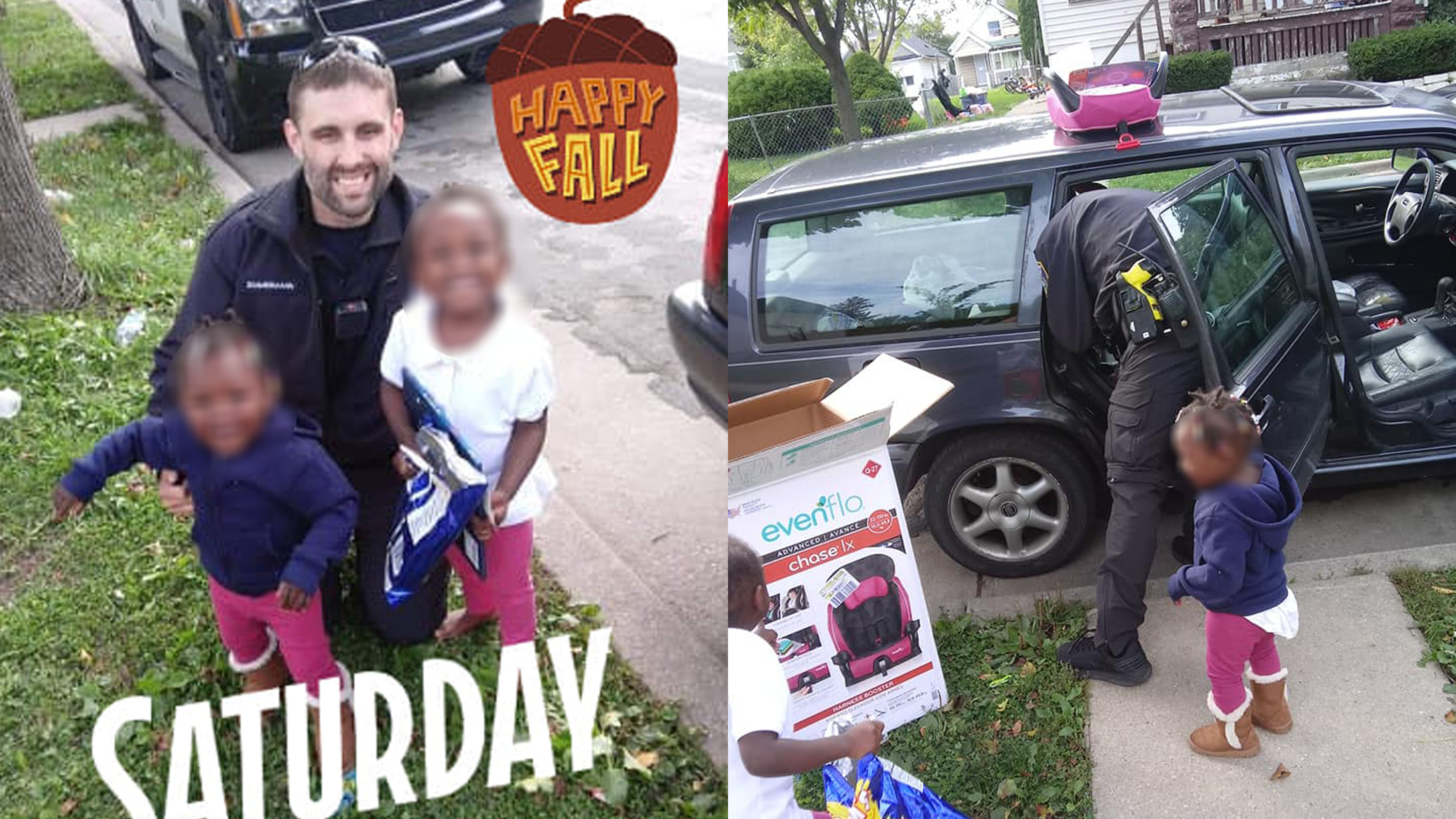 Getting pulled over can be a stressful situation. You may not know right away why you were asked to stop, but you probably have a good hunch that it's not for a good reason.
More often than not, that premonition we have about being pulled over turns out to be accurate and we have to be involved in a less than ideal situation. It's why many of us dread stopping to talk to an officer so much.
Andrella Jackson may now have different thoughts about being asked to stop by an officer though.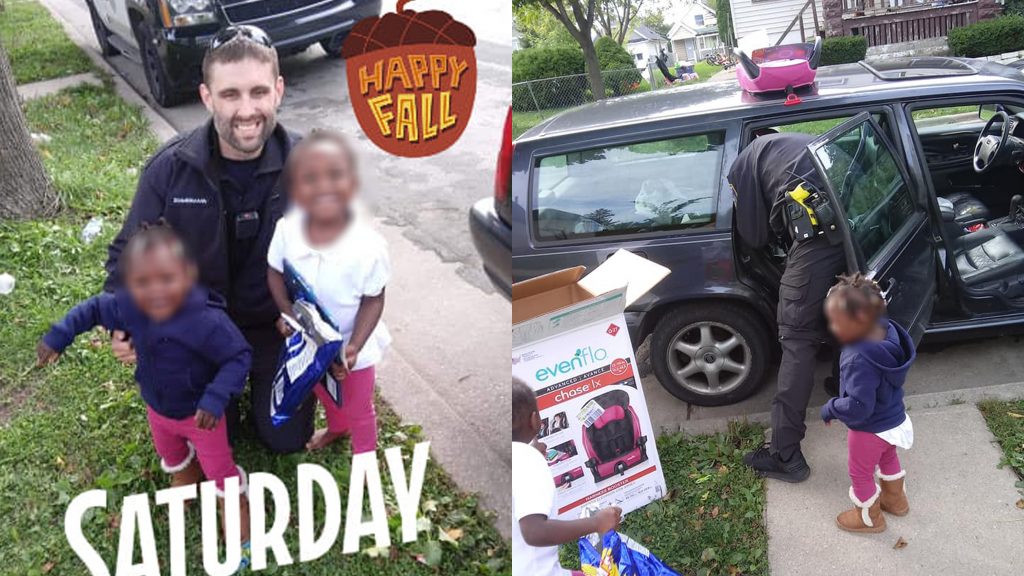 Not too long ago, Jackson was spotted by Milwaukee police officer Kevin Zimmerman and was asked to pull over. Officer Zimmerman requested that Jackson stop because she had the wrong registration for her car.
As he approached the vehicle though, something else caught the eye of Officer Zimmerman. To be more specific, he saw that there were three kids in the backseat of Jackson's car and two of them were still very small, WTMJ-TV reported. He also noticed that the two small children in question were not in car seats.
Officer Zimmerman then asked Jackson why the small kids were not placed in car seats and she said that she did not have the money to pay for those essential pieces of safety equipment at that time. Jackson mentioned that with winter on the way, she was saving up to buy her children new coats and boots.
A shortage of money is the same reason why Jackson had failed to get her vehicle registered properly.
Per the American Automobile Association (AAA), there are laws in every state dictating that children should be in car seats or restraints.
It would have been easy for Officer Zimmerman to issue Jackson tickets for her violations, but he opted to handle things a different way. Instead of adding to her problems, he went about solving one of them.
Officer Zimmerman soon made his way to a nearby Walmart, and after learning how much the kids weighed from Jackson, he went ahead and purchased two car seats using money out of his own pocket. He even stuck around to install the car seats himself.
By the way, the police officer did more than just give Jackson and her kids new car seats. According to this report from CNN, Officer Zimmerman also made a stop at the police department to pick up a few things – children's books and stickers – that he also gifted to Jackson's kids.
The police officer explained why he went the extra mile to help out Jackson. Officer Zimmerman shared that he has kids of his own. He hinted at how frightening the thought is of his own kids moving around in a vehicle with no car seats and how they can be placed in grave danger if an accident occurs.
Officer Zimmerman also said that he was always taught to "do the right thing even if no one is looking." In this case, both Jackson and the Milwaukee Police Department wanted to make sure that Officer Zimmerman would receive the recognition he deserved even if he wasn't looking for that.
The generous act touched Jackson, prompting her to shower Officer Zimmerman with numerous "thank yous." Her kids got in on the chorus of generosity as well.
Jackson called Officer Zimmerman "awesome" and that she is appreciative of the kindness he showed. She added that with the car seats now purchased and installed, she will be able to allocate a bigger budget that will then be used to buy those new coats and boots that her kids need.
What could have turned into an even more trying situation for Jackson and her kids became a shining example of humanity at its best and that is thanks to the generosity exhibited by Officer Zimmerman.