Lucky the Dog Wows the Internet With Amazing Facial Markings.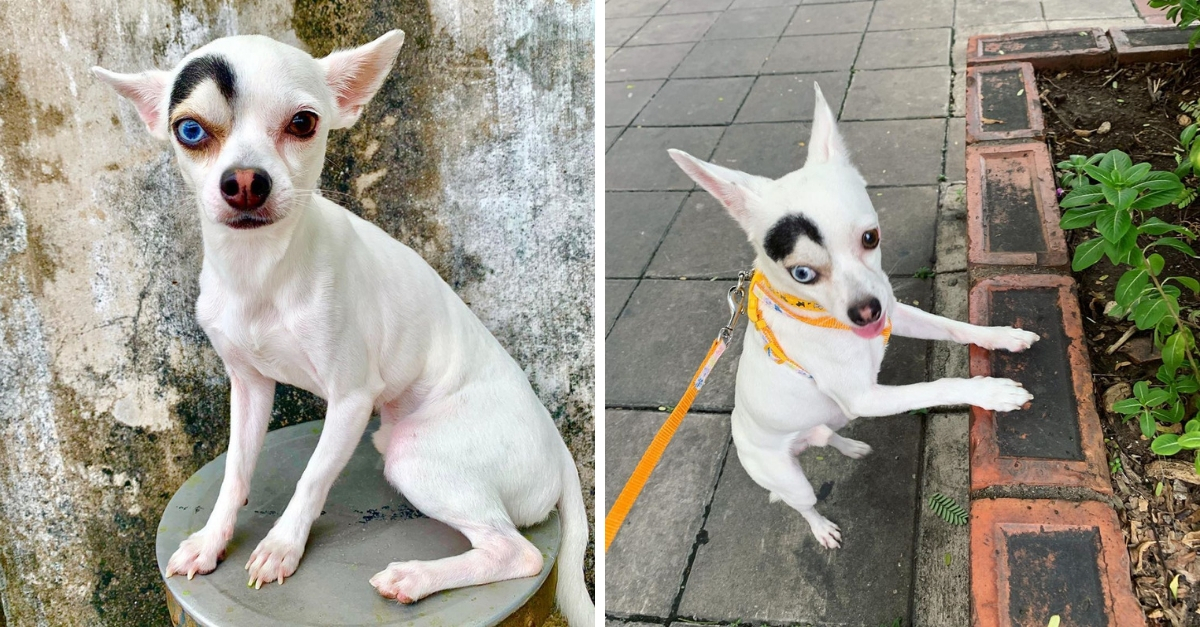 Have you ever seen an animal that was too cute to be real? If you've ever loaded up a Disney movie then you obviously know what we are talking about! With that being said, sometimes the most adorable creatures in the world can be found right on the internet. Lucky the Rescue Dog became a viral sensation thanks to his distinctive looks, trademark eyebrow, and his owner's willingness to share him with the world. If you want to see a little dog that would leave Disney swooning, you've come to the right place! Let's start from the beginning so that you can get to know, and summarily fall in love with, Lucky the Rescue Dog!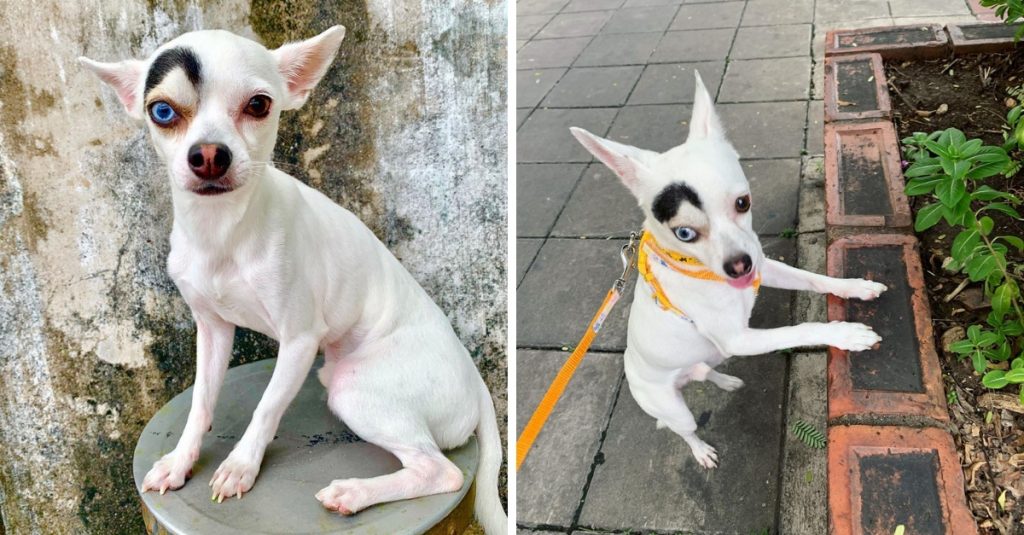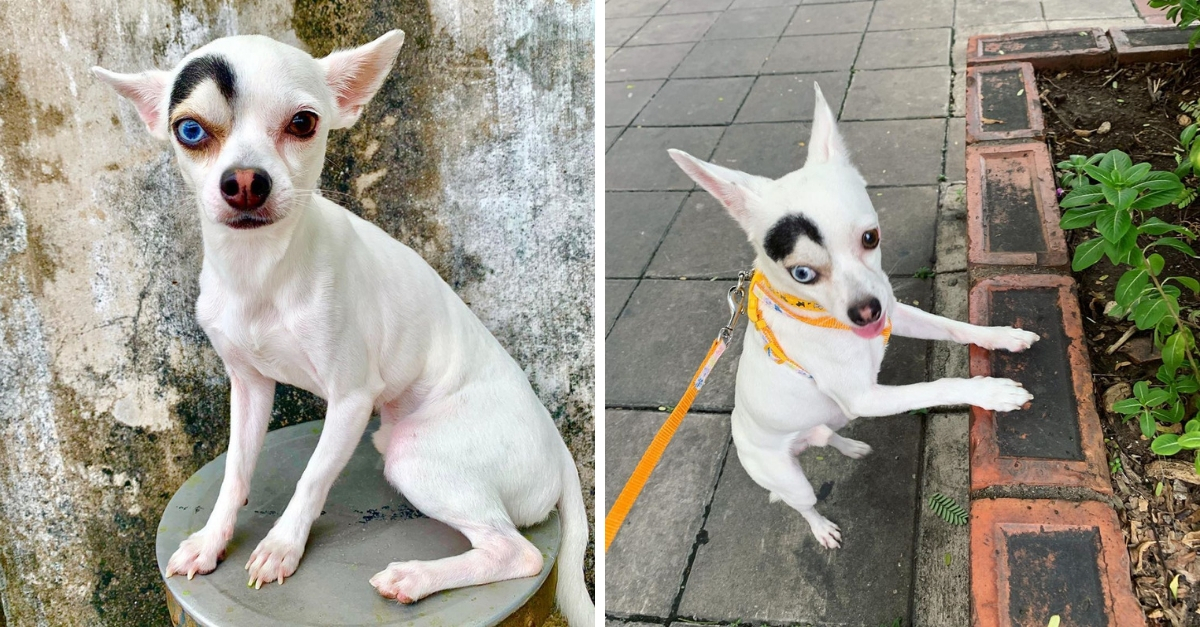 Lucky the Rescue Dog looks like a cartoon character come to life. Lucky is a mixed breed pup from Thailand with a prevalence of Chihuahua in his DNA. The two-year-old puppy is tiny enough to fit into your arms, but it isn't his diminutive size that has fans going crazy. Instead, Lucky the Rescue Dog would rise to viral fame thanks to his bright blue eye and the massive eyebrow that sits overtop it. Looking almost like Spot the dog, Lucky looks like he was pulled straight from the pages of a children's book.
Charice Fca Cha is the owner of Lucky the Rescue Pup. Charice spoke to the team at Bored Panda in order to discuss how she ended up with Lucky, as well as why he turned into such a viral sensation. According to Charice, there is nothing photoshopped about her dog. With that being said, we wouldn't blame you for thinking that photoshop came into play! Lucky has a feature known as heterochromia. Heterochromia is a condition that allows a person, or dog in this case, to have two different colored eyes. Lucky has a bright blue eye as well as a dark brown and black eye. Pretty wild, right?
According to Charice, she found Lucky while looking at local animal shelters in Thailand. After one look, Charice new that she had to bring the little furry boy home with her. Charice admitted that she couldn't believe that Lucky was still available, so she quickly scooped him up and brought him home. After sharing pictures of her unique looking furry friend, Lucky would quickly become a viral sensation. Within days, Lucky's photos were amassing thousands of likes, hundreds of comments, and countless shares. Can you blame all of Lucky's fans for his enthusiasm?
While Charice was drawn to Lucky thanks to his amazing markings and coloring, she has also gotten a wonderful member of the family. Lucky is a smart, well-trained, and incredibly good doggo. Charice would end up sharing dozens of photos on her public Instagram page titled Luckiry. Charice has also shared photos of her new puppy on the Facebook page, Dogspotting Society. So, what say you? Are you ready to add a furry friend to your family?
A baby bear, tiger, and a lion found in a basement 12 years ago are now best friends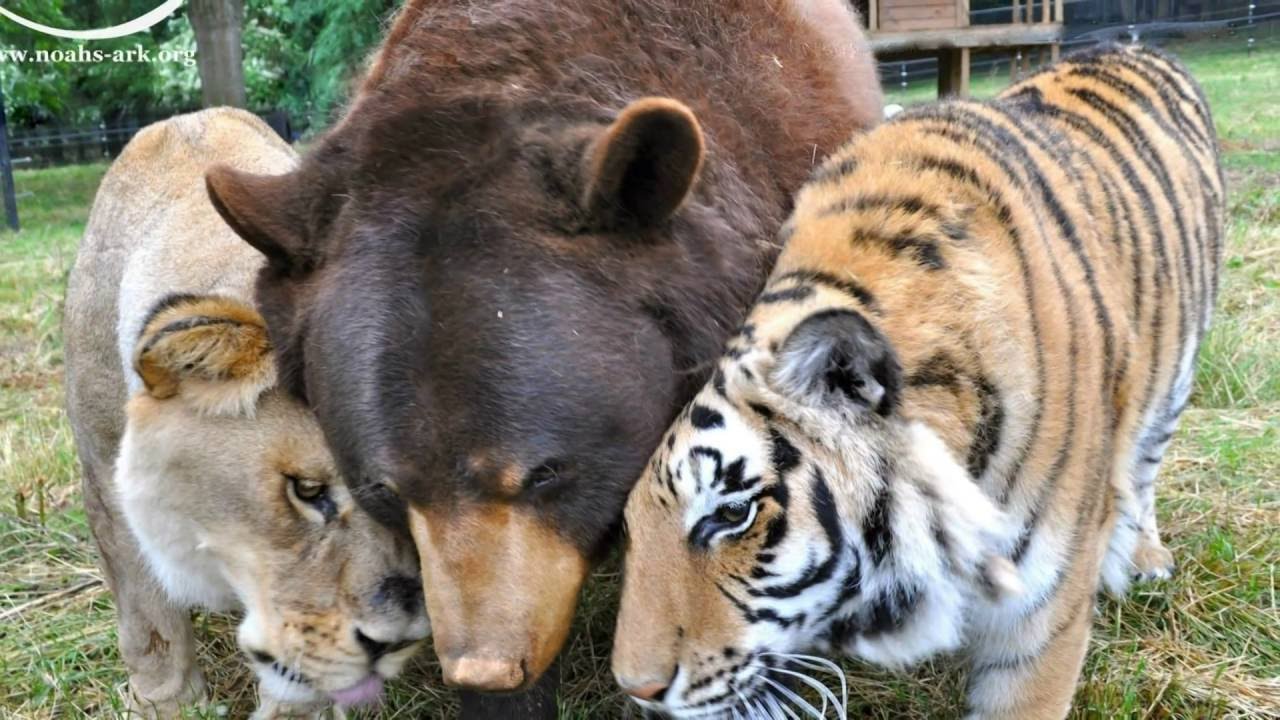 Wild animals try to stick to their natural habitat and they also tend to follow their natural social characteristics. For example, leopards are known to be very reclusive creatures and often prefer a solitary life. Bears and tigers are also not very social too.
In this fascinating story, a bear, a tiger, and a lion have grown up to become best buddies. In a video posted online, a 12-year-old Black Bear, named Baloo, walks over to his friend, Shere Khan, a Bengal Tiger, and cuddles with him as if they are brothers. Tigers don't even get along with their kin. So this friendship between the bear and tiger is even beyond kinship. To make things even more unbelievable, they have another friend, named Leo. You guessed it right, Leo is a lion.
What might explain this unusual friendship is their common history. 12 years ago, when these three animals were babies, they were being kept in terrible conditions in a basement. Fortunately, they were recovered by the police and bought to Noah's Ark Sanctuary in Locust Grove, GA. The three animals have cared for their entire life at the Sanctuary.
The staff at Noah's Ark Sanctuary have never heard of such friendship between a big cat and a bear. They do share the same habitat, especially in the Fat East, but any encounters between them as most aggressive or they just ignore each other and keep out of the way of the other. They don't walk up and cuddle each other. The staff at the sanctuary does point out that out of these three, Shere Khan has kept a little bit of natural wild mannerism but he is still very friendly. When it is sleep time, the trio shares the same room and cuddle together. They were kept as pets in that basement, which was legally not allowed. The owner of the basement was a drug dealer. They were confiscated and bought the sanctuary. Since then the owner of the sanctuary has looked after these three.
Unfortunately, Leo has passed away, leaving his loved ones with wonderful memories of him. He was 15 years of age when he passed away. He had been feeling sick and during surgery, his doctor found 80% of his liver was damaged. He could not have survived in such a condition. The difficult decision to let him go had to be made so that he does not suffer. His end in the world was peaceful.
Leo's best friends, Shere Khan and Baloo, were able to say a final goodbye to him. They have been doing all right since their best friend's departure. The staff at the sanctuary keeps a close eye to check off any worrisome signs of depression or change in behavior. The staff believes these two already knew Leo was terminally ill long before the staff was able to find out.
Leo's final resting place is located by the clubhouse at the sanctuary. Such compassion and bond in animals of different species are very rare. In the wild, they might have been foes, but at the sanctuary they were brothers. Their story is an example of when nurture overtakes nature. They grew up together and build a bond that went beyond the design of nature. Humans do not fully understand the communication or relationship dynamics of the animals. This story is an example of how wild animals can get along in the right environment.