Louie the Leopard kissed a Buffalo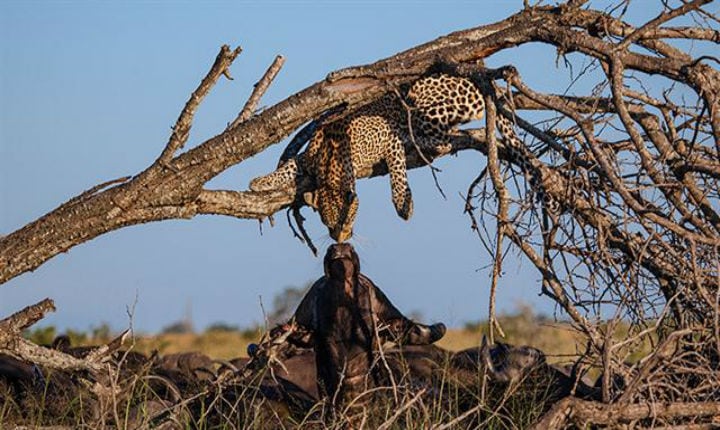 Louie the Leopard was a teenager, and full of confidence in the Sabi Sand Game Reserve, which is where he lived. He was the fastest leopard he knew, and any leopard is faster than any other animal in the game reserve. It's hard to blame him for being sure of himself as he made his rounds.
On this particular morning, he was feeling especially good about himself, and feeling a little bit hungry. He came across a heard of water buffalo, and wondered if he might be able to catch a straggler or a calf to eat.
He had heard all the warnings the adults gave of course. Water buffalo are slow by leopard standards, but they are very strong and have very sharp horns. He had been told hundreds of times to never ever attack a herd by himself. He had been told to always have a way out whenever planning an attack.
But he was hungry and wanted to do something that would impress the elders in his pack. Why the whole pack would be so proud of him, he thought. It would be a way for him to make a name for himself there in the game reserve by catching is own water buffalo.
Louie stayed out of sight of the herd as he studied how they were organized. He thought if he made a lot of noise suddenly, it would surprise them, and they would scatter. From there he could spot the slowest one and move in or the kill. He was already tasting the meat in his mind as he watched the herd.
As he started toward the herd he screamed in his loudest voice. Soon he realized they were not scattering. Not only were they not running away, but a few of the bigger ones were running toward him. He knew he was outnumbered badly, so he retreated and ran up a tree. It was the only tree anywhere in sight so he climbed up just in time to escape the horns of the buffalo.
He looked down at the buffalo, and the buffalo was looking up at him. One of the buffalo took a sniff at his paw that was hanging down over the edge of one of the tree limbs. Curiosity got the best of Louie though and he looked closer at the buffalo. There were still too many of them to fight, he was still outnumbered. Even so, there was a friendly looking buffalo sniffing his paw.
Louie meant to just sniff the buffalo, but he slipped a little bit. The buffalo licked his lips as buffalo often do. Maybe the buffalo didn't mean to either but they exchanged a kiss.
Soon the buffalo wandered back to the herd, and the herd then moved along leaving Louie alone up on the tree. He had hoped this would be something he would be able to brag about, but now he just hoped no other Leopard saw what had just happened. It was a story he would never tell.
Handicapped Puppy Befriends Flightless Pigeon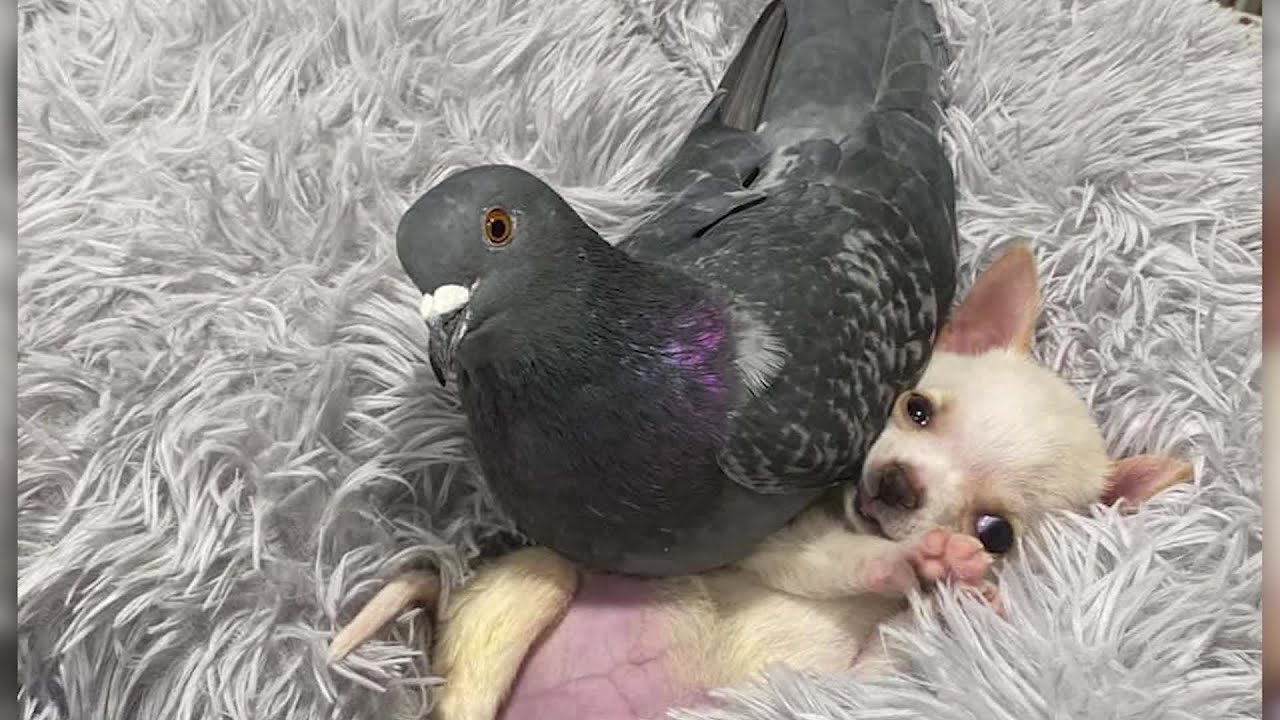 In Rochester, NY, Sue Rogers runs a non-profit called the Mia Foundation. The rescue organization rescues and rehabilitates animals who have birth defects or deformities and tries to find them a loving home. About a year ago, a pigeon was found unable to move in the parking lot of a car dealership. The pigeon was huddled and cowering on the ground. When a local wildlife rescue was called, they said the bird had neurological damage that caused him not to be able to fly. They thought that euthanization would be the best option for him.
Sue was having none of that. She stepped in and took the bird, who she named Herman, under her wing, so to speak. She made space for him in her shelter and kept him close where she could keep an eye on him. He liked to sit on a furry dog pillow and watch her work.
A couple months ago, a tiny Chihuahua was brought to the Mia Foundation. He was an infant, maybe a few months old, when his South Carolina breeders sent him to Sue. He's a teacup sized Chihuahua they named Little Lundy and he was born with spinal cord damage. Sue also determined that he was suffering from swimmers syndrome. Swimmers syndrome is a developmental deformity that causes the front and hind legs to be splayed out. This makes it almost impossible for Little Lundy to walk.
Although swimmers syndrome is thought to be untreatable, according to a few studies and an article in a veterinary journal, it can be treatable. With some physical therapy and at-home treatment, Little Lundy could live a long and happy life, which is exactly what Sue plans for him.
When Little Lundy arrived at the Mia Foundation he decided to get acquainted with his new surroundings and the other animals at the shelter. One particular encounter, created a friendship that has gone viral. Herman and Little Lundy, a puppy and a pigeon, are the unlikeliest of friends, but they have a lot in common. They both have trouble walking, or flying in Hermans case, and they were living in the same place. You could say, they were in the right place at the right time to become instant friends.
In the six weeks they have been together, Herman and Little Lundy have become inseparable. They do everything together, which is a lot of sleeping and snuggling. Mostly, with Herman sitting on top of Little Lundy, which doesn't bother him in the slightest. This friendship was so out of the ordinary that Sue had to document it. The viral sensation of the puppy and pigeon has brought attention to the Mia Foundation that was much needed. The rescue organization runs solely on donations to help cover the costs of taking care of the animals and for needed surgeries. So far, about $6000 was donated because of this unlikely friendship and over 100 adoption inquiries. Hopefully when they are adopted, they are able to stay together.