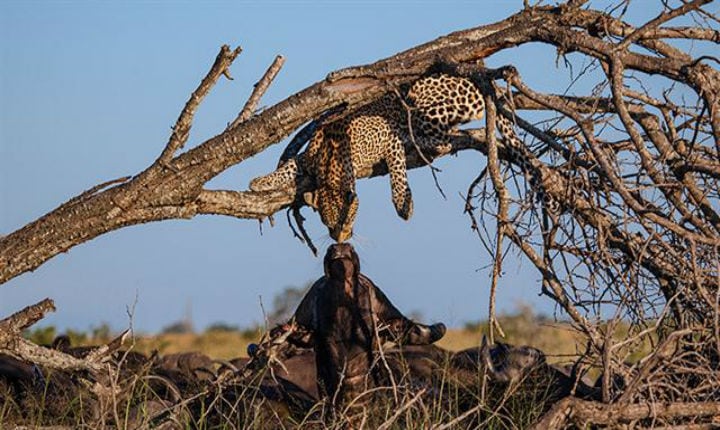 Louie the Leopard kissed a Buffalo
Louie the Leopard was a teenager, and full of confidence in the Sabi Sand Game Reserve, which is where he lived. He was the fastest leopard he knew, and any leopard is faster than any other animal in the game reserve. It's hard to blame him for being sure of himself as he made his rounds.
On this particular morning, he was feeling especially good about himself, and feeling a little bit hungry. He came across a heard of water buffalo, and wondered if he might be able to catch a straggler or a calf to eat.
He had heard all the warnings the adults gave of course. Water buffalo are slow by leopard standards, but they are very strong and have very sharp horns. He had been told hundreds of times to never ever attack a herd by himself. He had been told to always have a way out whenever planning an attack.
But he was hungry and wanted to do something that would impress the elders in his pack. Why the whole pack would be so proud of him, he thought. It would be a way for him to make a name for himself there in the game reserve by catching is own water buffalo.
Louie stayed out of sight of the herd as he studied how they were organized. He thought if he made a lot of noise suddenly, it would surprise them, and they would scatter. From there he could spot the slowest one and move in or the kill. He was already tasting the meat in his mind as he watched the herd.
As he started toward the herd he screamed in his loudest voice. Soon he realized they were not scattering. Not only were they not running away, but a few of the bigger ones were running toward him. He knew he was outnumbered badly, so he retreated and ran up a tree. It was the only tree anywhere in sight so he climbed up just in time to escape the horns of the buffalo.
He looked down at the buffalo, and the buffalo was looking up at him. One of the buffalo took a sniff at his paw that was hanging down over the edge of one of the tree limbs. Curiosity got the best of Louie though and he looked closer at the buffalo. There were still too many of them to fight, he was still outnumbered. Even so, there was a friendly looking buffalo sniffing his paw.
Louie meant to just sniff the buffalo, but he slipped a little bit. The buffalo licked his lips as buffalo often do. Maybe the buffalo didn't mean to either but they exchanged a kiss.
Soon the buffalo wandered back to the herd, and the herd then moved along leaving Louie alone up on the tree. He had hoped this would be something he would be able to brag about, but now he just hoped no other Leopard saw what had just happened. It was a story he would never tell.
Father in Bumblebee costume escorts his kid back to school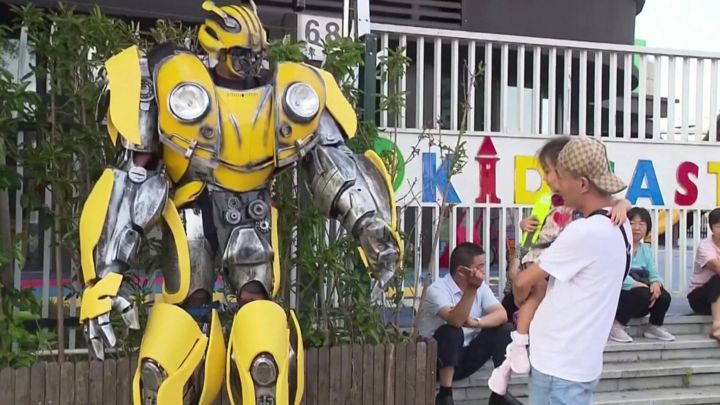 Bumblebee from the American sci-fi movie series Transformers never had a kid, but if he did, he'd have definitely escorted him to school.
A father in Shanghai, China has gone above and beyond to encourage his kid to go back to school after staying at home for months due to the Covid-19 pandemic. There's no way any child is refusing to walk with Bumblebee into school, and this man had that in mind when building his Autobot suit.
Just like the rest of the world, China had been on lockdown, and for months, kids had to stay away from school to prevent infection and spread of the deadly virus. However, some normalcy is being restored in some parts of the region, and schools now have the green light to open and allow children continue with their education.
The Bumblebee suit wasn't only for his kid, though. He built it to serve as some amusement and surprise to other kids at school- and that he did.
"I also want to bring happiness to other children. I didn't only wear it for my own child. All of them were preschoolers," he said in the video.
His suit looks like the real thing. The only things missing were metal, alien technology, and missiles- not much, right? Standing about 2.3-metre tall, the suit was built using soft materials to prevent touchy and curious children from getting injured- and he was right to have done that because he was rushed and hugged by children upon arrival at the school.
The excitement of the kids at the sight of Bumblebee could light up astronomical units of outer space, as the intergalactic warrior once again put smiles on the faces of humans. Kudos to this amazing dad for his efforts to make kids happy to resume back to school- he'd probably do it every day if he could.
The home-made suit seems to be inspired by the 2017 movie Bumblebee.