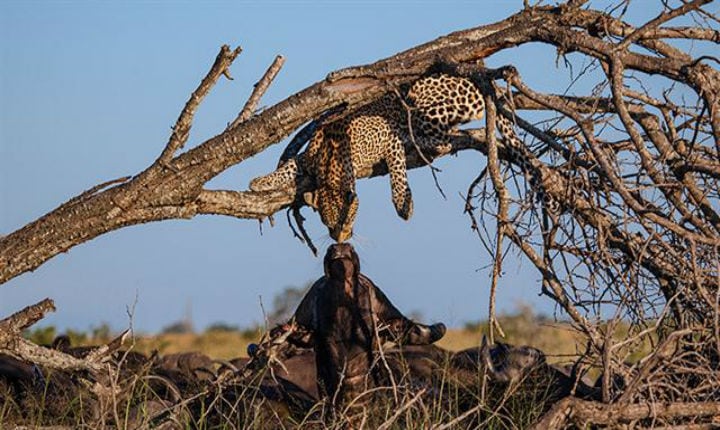 Louie the Leopard kissed a Buffalo
Louie the Leopard was a teenager, and full of confidence in the Sabi Sand Game Reserve, which is where he lived. He was the fastest leopard he knew, and any leopard is faster than any other animal in the game reserve. It's hard to blame him for being sure of himself as he made his rounds.
On this particular morning, he was feeling especially good about himself, and feeling a little bit hungry. He came across a heard of water buffalo, and wondered if he might be able to catch a straggler or a calf to eat.
He had heard all the warnings the adults gave of course. Water buffalo are slow by leopard standards, but they are very strong and have very sharp horns. He had been told hundreds of times to never ever attack a herd by himself. He had been told to always have a way out whenever planning an attack.
But he was hungry and wanted to do something that would impress the elders in his pack. Why the whole pack would be so proud of him, he thought. It would be a way for him to make a name for himself there in the game reserve by catching is own water buffalo.
Louie stayed out of sight of the herd as he studied how they were organized. He thought if he made a lot of noise suddenly, it would surprise them, and they would scatter. From there he could spot the slowest one and move in or the kill. He was already tasting the meat in his mind as he watched the herd.
As he started toward the herd he screamed in his loudest voice. Soon he realized they were not scattering. Not only were they not running away, but a few of the bigger ones were running toward him. He knew he was outnumbered badly, so he retreated and ran up a tree. It was the only tree anywhere in sight so he climbed up just in time to escape the horns of the buffalo.
He looked down at the buffalo, and the buffalo was looking up at him. One of the buffalo took a sniff at his paw that was hanging down over the edge of one of the tree limbs. Curiosity got the best of Louie though and he looked closer at the buffalo. There were still too many of them to fight, he was still outnumbered. Even so, there was a friendly looking buffalo sniffing his paw.
Louie meant to just sniff the buffalo, but he slipped a little bit. The buffalo licked his lips as buffalo often do. Maybe the buffalo didn't mean to either but they exchanged a kiss.
Soon the buffalo wandered back to the herd, and the herd then moved along leaving Louie alone up on the tree. He had hoped this would be something he would be able to brag about, but now he just hoped no other Leopard saw what had just happened. It was a story he would never tell.
Lost Dogs and Nuclear Wastelands: The Companions of Chernobyl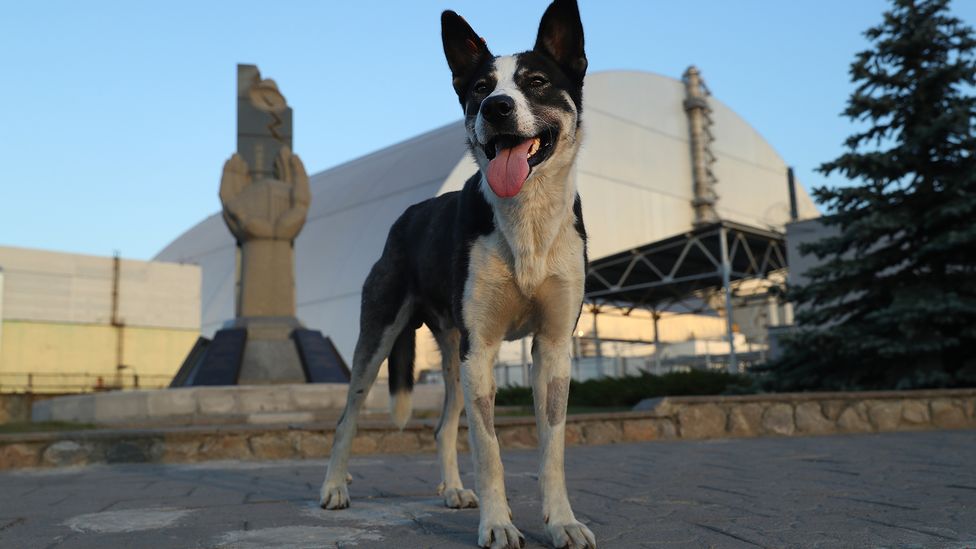 There is a massive swathe of land surrounding the site of the Chernobyl Nuclear Explosion. This area consists of the abandoned cities, villages, and natural areas adjacent to Chernobyl and within sight of its danger.
Enter the Chernobyl Exclusion Zone.
Walking into the closest approximation of a post-apocalyptic setting on earth can be a jarring moment, especially for visitors to the region not really understanding what they are stepping into. For one group of people, the workers and security guards of the Chernobyl Exclusion Zone, this apocalyptic setting would transform into something akin to a home thanks to newfound friends of the furry sort, dogs.
Stray Dogs of Chernobyl and the Guards Who Love Them
Consider your day-to-day operations at the office. No matter what you feel about your day or your duties, you likely aren't surrounded by the remains of a giant nuclear wasteland. Working in the Exclusion Zone surrounding the infamous Chernobyl Nuclear Power Plant is more than just a job, it's a way of life and one that is being studied by the University of Cambridge.
Jonathon Turnbull is a PhD Candidate for the Department of Geography at Cambridge. For his project, he would give disposable cameras to checkpoint guards working throughout the Exclusion Zone, as well as various workers running shops and convenience stores in the area. Turnbull's goal was simple, to allow these people to capture their daily life and to reflect upon it during an interview at a later date.
Turnbull lives in Kyiv where he operates as a geographer, studying human and animal relations emerging from the CEZ. Turnbull's work would lead him to utilize photovoice and photo-elicitation techniques, inviting his subjects to tell their stories while photographs are carefully inserted into the conversation to evoke more information, deeper memories, and stronger feelings.
Meet the Chernobyl Puppies
In the wake of the Chernobyl disaster, an area covering roughly,4200km2 between Ukraine and Belarus has been reclaimed by nature. A wildlife haven according to some researchers, this Exclusion Zone would become a haven for stray dogs known as the Chernobyl Puppies. These domestic animals were largely left behind by soldiers to prevent contamination during the initial event, instead left to their own devices to breed in the wild.
Chernobyl Puppies have an average lifespan of just five years and this is due to a few surprising consequences. First and foremost, hunger and thirst are the leading causes of death for these dogs followed by the harsh and cold winters of Ukraine. Radiation is last on the list. At the time of this writing, Turnbull's study suggests that there are more than 500 dogs throughout the Zone, considered descendants of the dogs left behind on the infamous date in 1986.
While the dogs that can be found around the Power Plant are easy enough to label as strays, the guards of Chernobyl wouldn't dare to call them as such. Turnbull noted that his interviews left him with the impression that the guards felt a sense of 'ownership' over the dogs, including feeling compelled to care for them with food, medicine, and human contact. In return, Turnbull suggests that the dogs provide entertainment, protection, and comfort of their own. One guard said, "We pull out ticks and even buy injections for rabies."
As the guards and puppies of Chernobyl grow more comfortable with one another, they provide a stark counterpoint to the longevity of damage that Chernobyl has caused. While dogs and humans have begun to come together in the area, the land within the Zone will remain uninhabitable for more than 20,000 years.