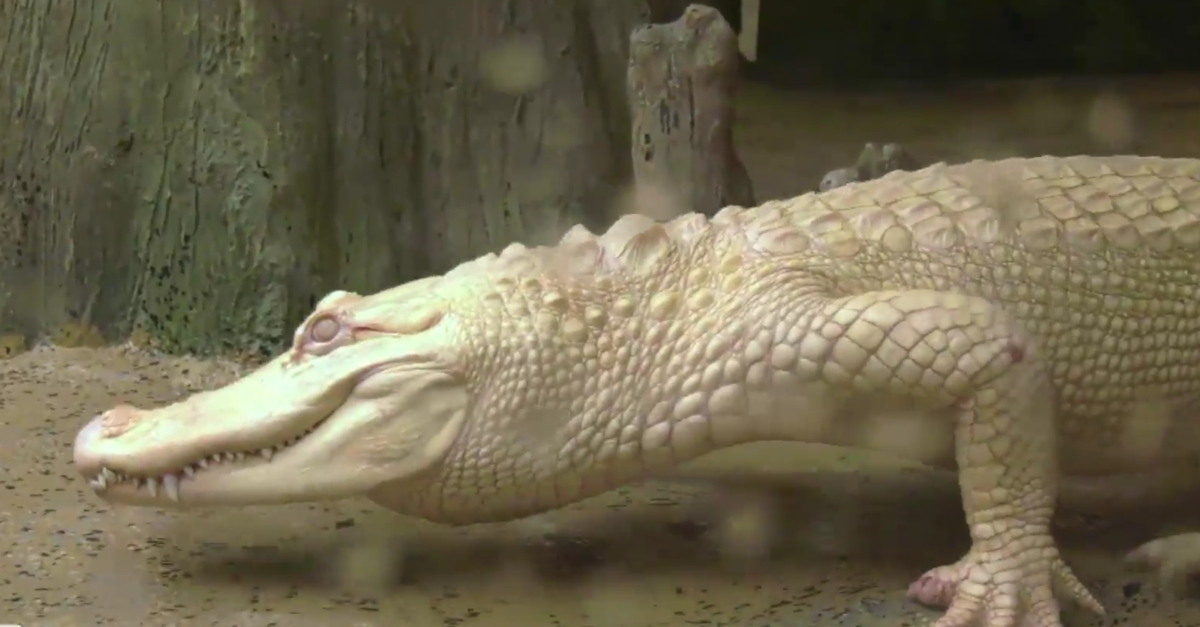 Looking Back at an Eventful Summer for Snowflake the Albino Alligator
The past few months have been quite eventful for one particular albino alligator.
In case you missed it, an albino alligator named Snowflake generated more than a few headlines in recent months.
Back in May, Snowflake was welcomed as a kind of guest of honor after arriving at the Brookfield Zoo in Illinois. It's easy to see why Snowflake caused a stir when she first made her way to the Brookfield Zoo.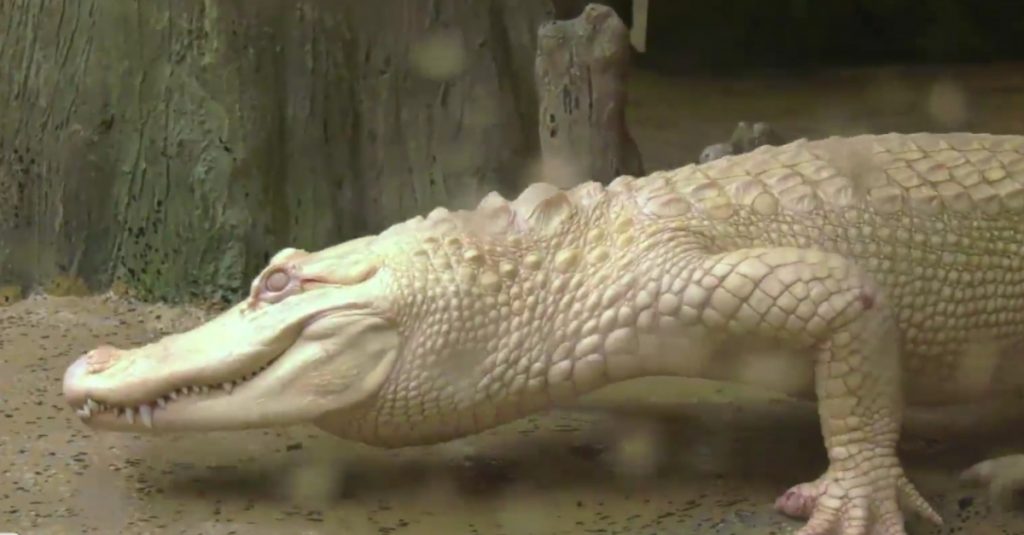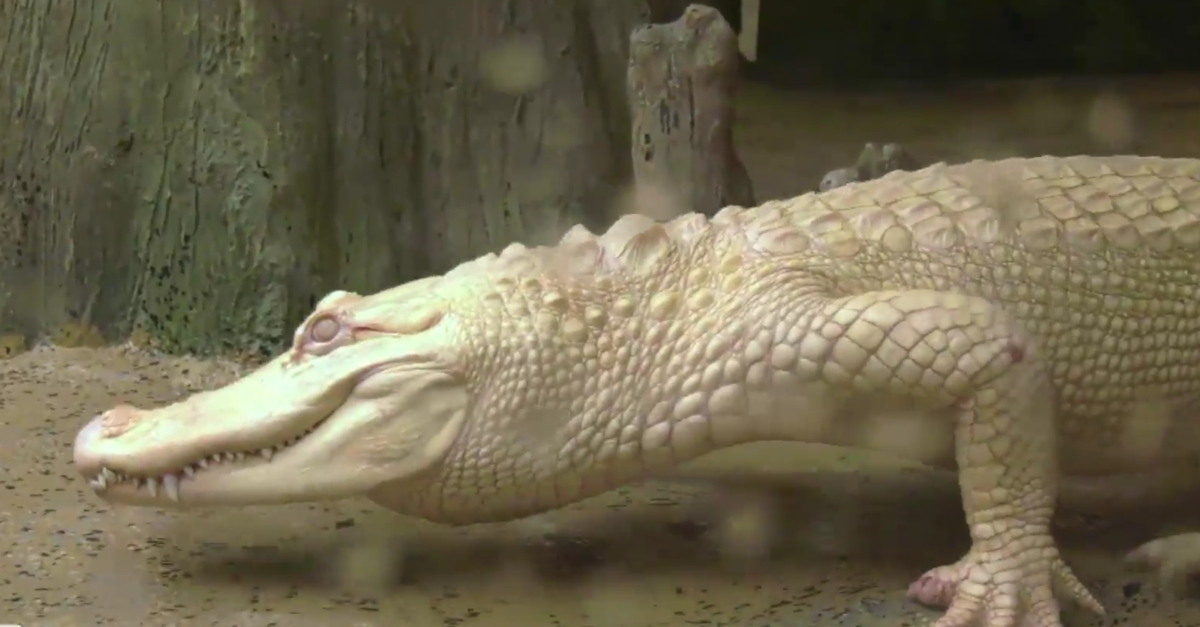 Due to her albinism, Snowflake can stand out easily even amongst a crowded congregation of alligators. She possesses noticeably white skin that can be likened very much to the look of ivory and her eyes also have a pinkish hue. Those characteristics are typical of an albino alligator.
It is worth noting that Snowflake is also significantly shorter than many of the other alligators that you may be able to see in zoos or swamps. Per ABC 7 Chicago, Snowflake measures about 7 feet long. An average adult female American alligator measures about 8.2 feet tall, according to the Smithsonian's National Zoo & Conservation Biology Institute.
While Snowflake was enjoying the attention from visitors at the Brookfield Zoo, an important and exciting discovery was made back at her home.
Snowflake Is Going to be a Mother
In June, Wild Florida announced that the caretakers of Snowflake and another albino alligator named Blizzard found eggs at the pair's shelter. A total of 19 eggs were found at Snowflake and Blizzard's exhibit, WFTV 9 reported.
Upon spotting the eggs, the caretakers acted fast to collect and move them to a more secure location.
Wild Florida co-founder and co-owner Dan Munns explained that moving the eggs out of the shelter was a necessary step due to some of the difficulties that the pair of albino alligators may encounter as parents. Munns explained that while alligators typically make for great mothers, Snowflake may not be as capable as some of her counterparts because of the blindness brought about by her albinism.
By securing the eggs themselves, the caretakers can shield them from any predators that may come snooping around. The eggs are being kept in an incubator in order so that they can be cared for in a more controlled environment. The caretakers mentioned that keeping the eggs in an environment where the temperature can remain at a stable level is essential to successful hatching.
Additional Facts about Albino Alligators
The fact that the eggs came from parents exhibiting albinism could very well turn out to be good news for the albino alligator population. Typically, albino alligators are born as a result of two normal alligators who carry the recessive gene for albinism mating, according to Safari Ltd. Since both Snowflake and Blizzard are albino alligators, the chances for them producing offspring that feature the same physical traits could be higher.
The albino alligator population could certainly use a boost. At present, biologists estimate that only around 100 albino alligators could be alive across the entire world.
Albino alligators are rare not just because they are the offspring of parents carrying some uncommon genes. It is also difficult for albino alligators to survive precisely because of their unique appearance.
Unlike the alligators that feature a more common skin color, albino alligators find it incredibly difficult to disguise themselves. That makes them easy prey for predators especially when they are younger.
Because of those struggles they could potentially face in the wild, you will often find zoos and farms caring for albino alligators to ensure that they can live out long and happy lives. While it's still unclear what kind of offspring Snowflake and Blizzard will produce, there is certainly a fair amount of optimism that they will bring more albino alligators into the world.
Man Dubbed a Hero After Saving a Baby Elephant With CPR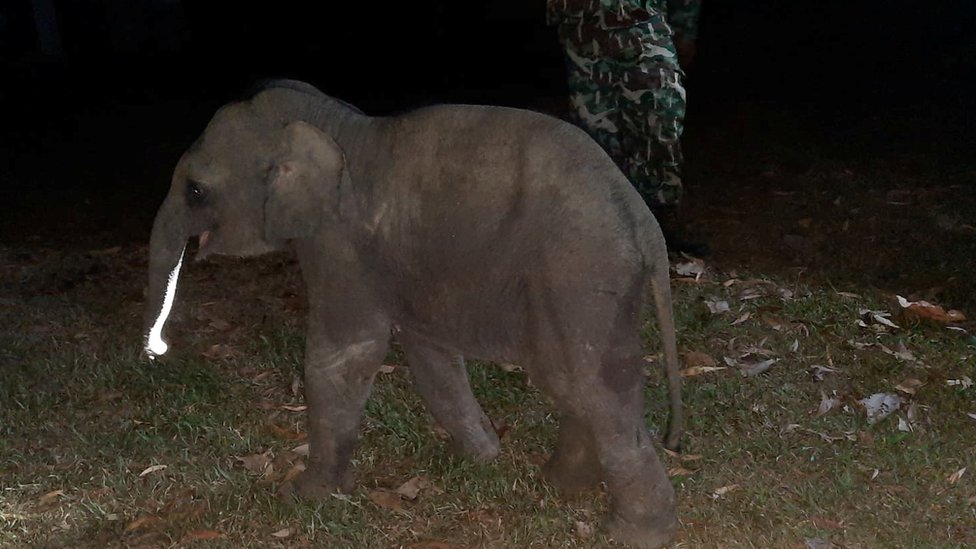 People who are trained to provide CPR to rescue others expect to be called upon in the odd moment to act. However, Srivate Mana never expected that his knowledge in how to save a life would be critical in saving a baby elephant. Yet, that is exactly what he found himself doing and was filmed in a video that went viral on the Internet shortly after. Savings a baby elephant left on the side of the road, Mana was able to bring the elephant back and it was standing again within 10 minutes.
Animals Can't Read Road Warning Signs
Like any animal, the baby elephant was simple moving from one part of the area to another looking for food and following its herd. However, unlike the older pachyderms, the young elephant was not yet used to the roads and vehicles that cut through roaming area of Chanthaburi. It had no idea what to make of the noise or the lights the vehicles had to signal they were approaching. And curiosity ultimately ended up being the animal's weakness. As a result, it had no idea what was hurtling towards the small animal when a motorcycle rider slammed into the creature at speed. The rider was okay, aside from scuffs and being thrown from the motorbike. Unfortunately, the baby elephant took the brunt of the impact and was laid out on the road.
Things Weren't Looking Very Good
When Mana arrived at the scene traveling the same path as his crew, he could see his coworkers taking care of the downed rider, but nothing was happening for the elephant. In the distance he could also hear the mother and adult elephants calling for the baby creature. Instinctually, Mana knows to jump into action to save a life, and even the elephant parents calling seemed to trigger his training. Trying to guess where the elephant's heart was, he got close to the creature on the road and started figuring out where to apply CPR. At the same time Mana was crying, feeling a wave of emotion for the junior pachyderm. Amazingly, the elephant began to move. He was in shock but for a good reason.
A Miracle on Four Legs, With a Trunk
After a few seconds of standing the baby elephant began to reorient itself and went right back to the same location where it was originally hit, probably looking for its mother. Amazingly, the baby elephant wasn't seriously injured, just completely dazed and confused. As the young elephant started calling out for any sign of its herd, the mother and the rest of the elephants came back out of the countryside to fetch it. Mana watched the reunion and smiled.