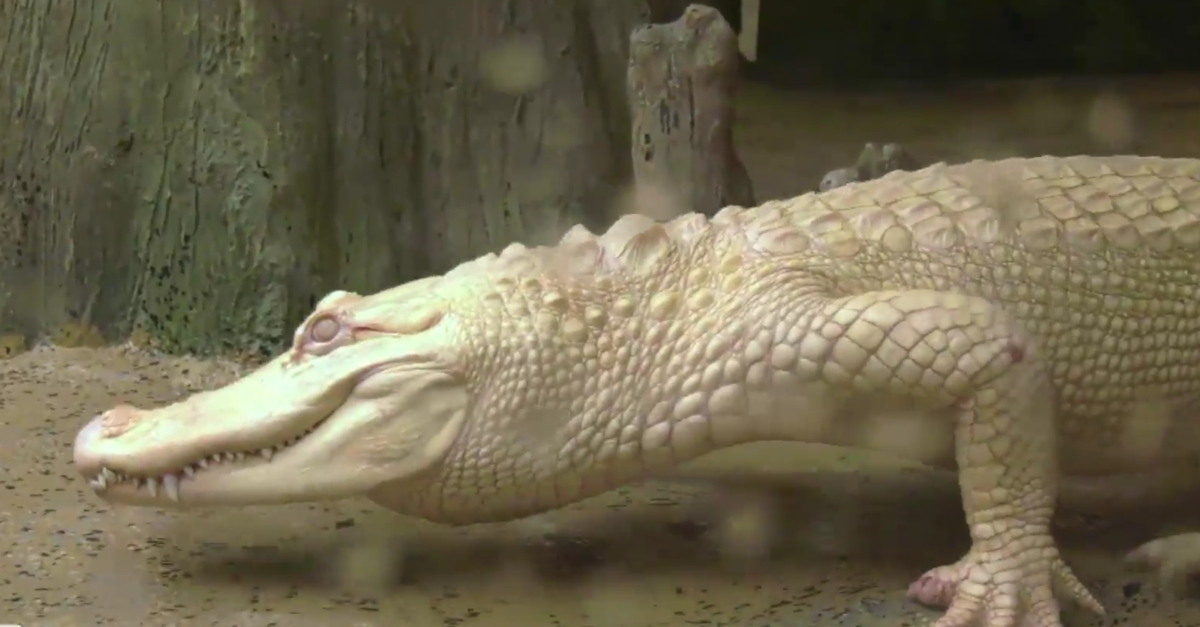 Looking Back at an Eventful Summer for Snowflake the Albino Alligator
The past few months have been quite eventful for one particular albino alligator.
In case you missed it, an albino alligator named Snowflake generated more than a few headlines in recent months.
Back in May, Snowflake was welcomed as a kind of guest of honor after arriving at the Brookfield Zoo in Illinois. It's easy to see why Snowflake caused a stir when she first made her way to the Brookfield Zoo.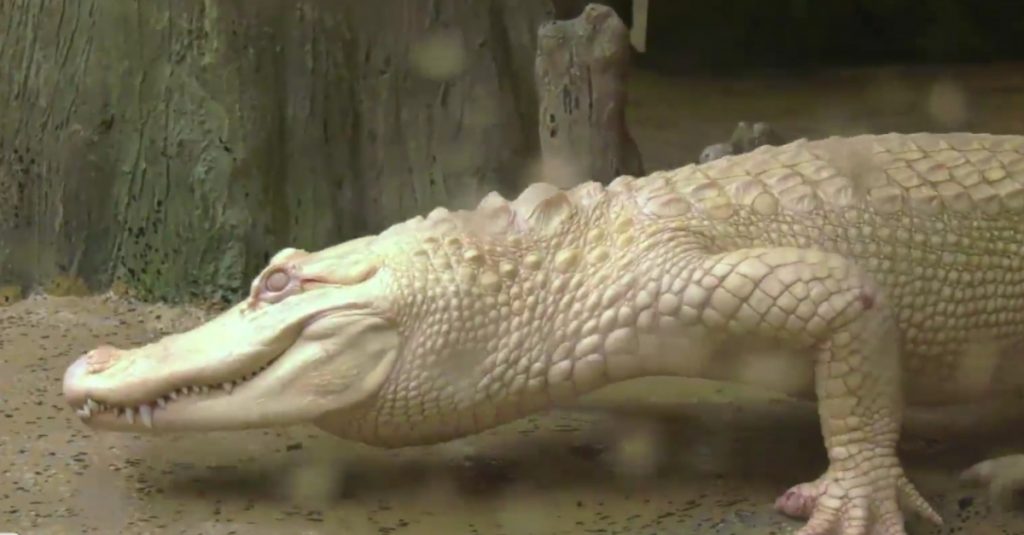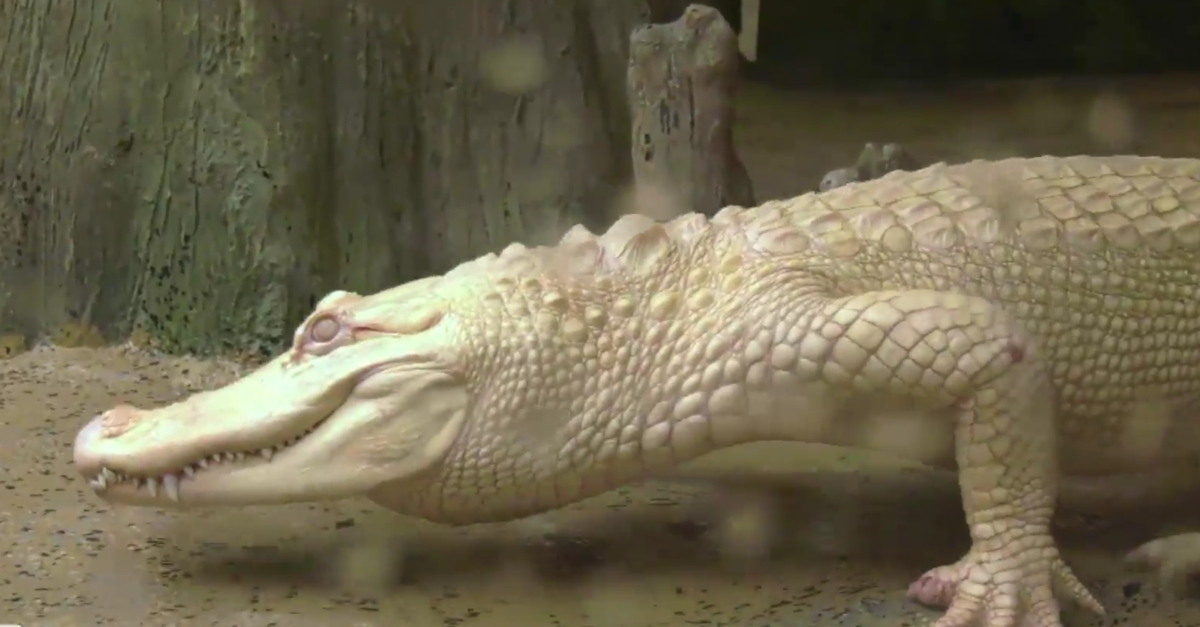 Due to her albinism, Snowflake can stand out easily even amongst a crowded congregation of alligators. She possesses noticeably white skin that can be likened very much to the look of ivory and her eyes also have a pinkish hue. Those characteristics are typical of an albino alligator.
It is worth noting that Snowflake is also significantly shorter than many of the other alligators that you may be able to see in zoos or swamps. Per ABC 7 Chicago, Snowflake measures about 7 feet long. An average adult female American alligator measures about 8.2 feet tall, according to the Smithsonian's National Zoo & Conservation Biology Institute.
While Snowflake was enjoying the attention from visitors at the Brookfield Zoo, an important and exciting discovery was made back at her home.
Snowflake Is Going to be a Mother
In June, Wild Florida announced that the caretakers of Snowflake and another albino alligator named Blizzard found eggs at the pair's shelter. A total of 19 eggs were found at Snowflake and Blizzard's exhibit, WFTV 9 reported.
Upon spotting the eggs, the caretakers acted fast to collect and move them to a more secure location.
Wild Florida co-founder and co-owner Dan Munns explained that moving the eggs out of the shelter was a necessary step due to some of the difficulties that the pair of albino alligators may encounter as parents. Munns explained that while alligators typically make for great mothers, Snowflake may not be as capable as some of her counterparts because of the blindness brought about by her albinism.
By securing the eggs themselves, the caretakers can shield them from any predators that may come snooping around. The eggs are being kept in an incubator in order so that they can be cared for in a more controlled environment. The caretakers mentioned that keeping the eggs in an environment where the temperature can remain at a stable level is essential to successful hatching.
Additional Facts about Albino Alligators
The fact that the eggs came from parents exhibiting albinism could very well turn out to be good news for the albino alligator population. Typically, albino alligators are born as a result of two normal alligators who carry the recessive gene for albinism mating, according to Safari Ltd. Since both Snowflake and Blizzard are albino alligators, the chances for them producing offspring that feature the same physical traits could be higher.
The albino alligator population could certainly use a boost. At present, biologists estimate that only around 100 albino alligators could be alive across the entire world.
Albino alligators are rare not just because they are the offspring of parents carrying some uncommon genes. It is also difficult for albino alligators to survive precisely because of their unique appearance.
Unlike the alligators that feature a more common skin color, albino alligators find it incredibly difficult to disguise themselves. That makes them easy prey for predators especially when they are younger.
Because of those struggles they could potentially face in the wild, you will often find zoos and farms caring for albino alligators to ensure that they can live out long and happy lives. While it's still unclear what kind of offspring Snowflake and Blizzard will produce, there is certainly a fair amount of optimism that they will bring more albino alligators into the world.
Africa's White Rhino Population Rebounds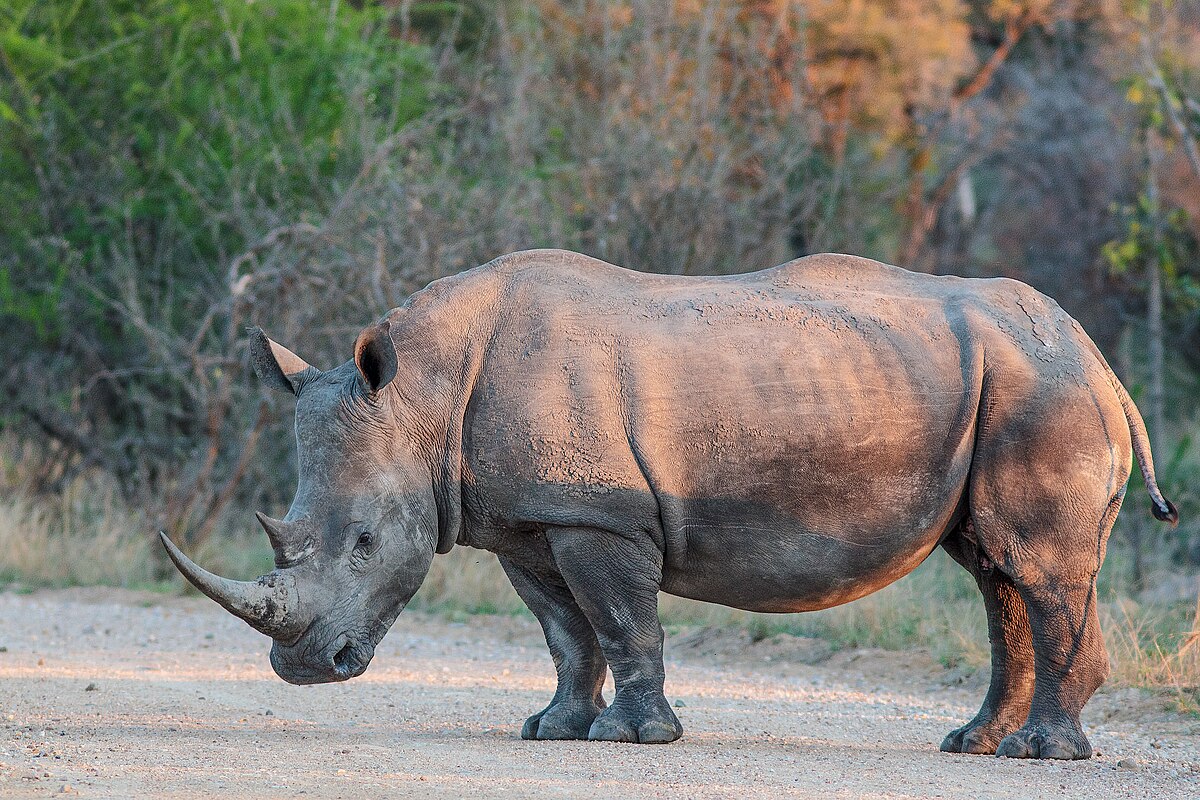 In a exciting turn of events, Africa's white rhino population has experienced a resurgence for the first time in a decade. At the close of 2022, there were 23,290 rhinos in total, marking a significant 5.2% increase from the previous year.
Rhinos are among the planet's most iconic and endangered creatures. These massive herbivores are known for their distinctive horns, which have unfortunately made them prime targets for poachers seeking to profit from the illegal wildlife trade. There are two main species of African rhinos: the white rhino and the black rhino. Both face grave threats to their survival.
The primary reason behind the perilous decline of rhino populations is poaching. Rhino horn, made of keratin (the same substance as human hair and nails), is mistakenly believed by some to have medicinal properties, and it is also highly sought after for its use in ornamental carvings. This misguided demand has led to a tragic increase in poaching activities, with rhinos being killed for their horns at an alarming rate.
Habitat loss is another significant threat to rhino populations. As human populations grow and expand, rhino habitats are encroached upon, leaving these animals with less space to roam and find food.
Despite these challenges, the recent increase in rhino populations is cause for celebration and renewed hope. The protection and biological management initiatives implemented by conservation organizations have played a pivotal role in this positive trend. Both black and white rhino populations have shown promising signs of recovery, with black rhinos increasing by 4.2% and white rhinos by 5.6%.
Dr. Michael Knight, chair of the IUCN's Rhino Specialist Group (AfRSG), expressed his relief, saying, "With this good news, we can take a sigh of relief for the first time in a decade. However, it is imperative to further consolidate and build upon this positive development and not drop our guard."
Nina Fascione, Executive Director at the International Rhino Foundation, emphasized that this rebound in rhino populations is not only a triumph for the rhinos themselves but also for the countless other species that share their ecosystems and the dedicated people who protect these lands.
The resurgence of rhino populations underscores the effectiveness of collaborative conservation efforts across Africa. Protected areas like Kruger National Park in South Africa have significantly boosted security measures to deter poachers, resulting in a decline in poaching incidents on their land. However, poachers have shifted their focus to smaller areas, such as the province-run Hluhluwe Imfolozi Game Reserve, which has borne the brunt of South Africa's rhino poaching in recent years.
Efforts to combat rhino poaching extend beyond national borders. U.S. Treasury Secretary Janet Yellen, during her visit to South Africa's Dinokeng Game Reserve, emphasized the need to follow the money trail associated with poaching, treating it as seriously as other crimes. This approach can help disrupt the illegal wildlife trade networks that drive rhino poaching.
While the increase in rhino populations is undoubtedly promising, significant challenges remain on the horizon. Competition over water resources and the resulting conflicts between communities and wildlife may bring humans and rhinos into closer contact, potentially leading to more poaching incidents. Poverty resulting from the loss of crops and livestock can also drive individuals to poaching as a means of income.
To ensure the continued recovery of Africa's rhino populations, it is vital to address these underlying issues and maintain unwavering commitment to conservation efforts. The rebounding rhino populations serve as a testament to what can be achieved when dedicated individuals, organizations, and governments work together to protect these magnificent creatures and the ecosystems they call home.