Look Into The Future and See How Your Favorite Celebrities Will Age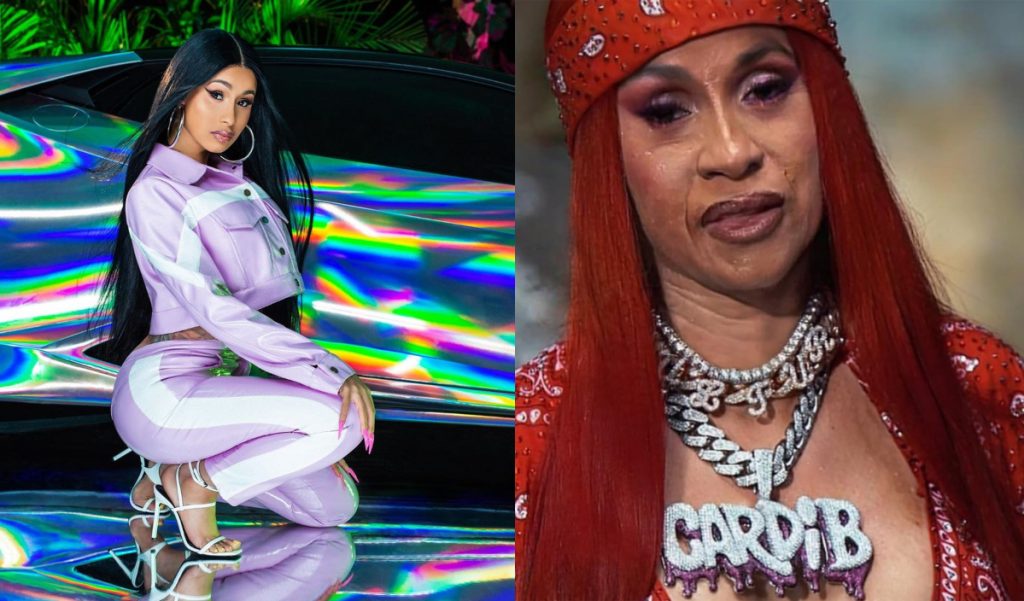 Time and age have been a blessing or curse for humanity through the ages. Regardless of being rich or poor, time eventually catches up with everyone. The effect is welcomed by some and feared by others, but we all get there eventually. Age has been reflected in the arts in thousands of ways which, ironically, has allowed images of people to live thousands of years longer than their biological form. Today, our celebrities are no different; they age just as much as anyone else. However, successful stars have a lot of tricks up their sleeve with cosmetics, exercise and similar to fend off the appearance of aging far better than most, which is not surprising given how much appearance matters in their industry. So, it was a bit of a shock for everyone when a computerized what-if via Face-App was displayed recently showing a number of the stars aged significantly. Some turned out okay, even more distinguished. Others, well, not so much.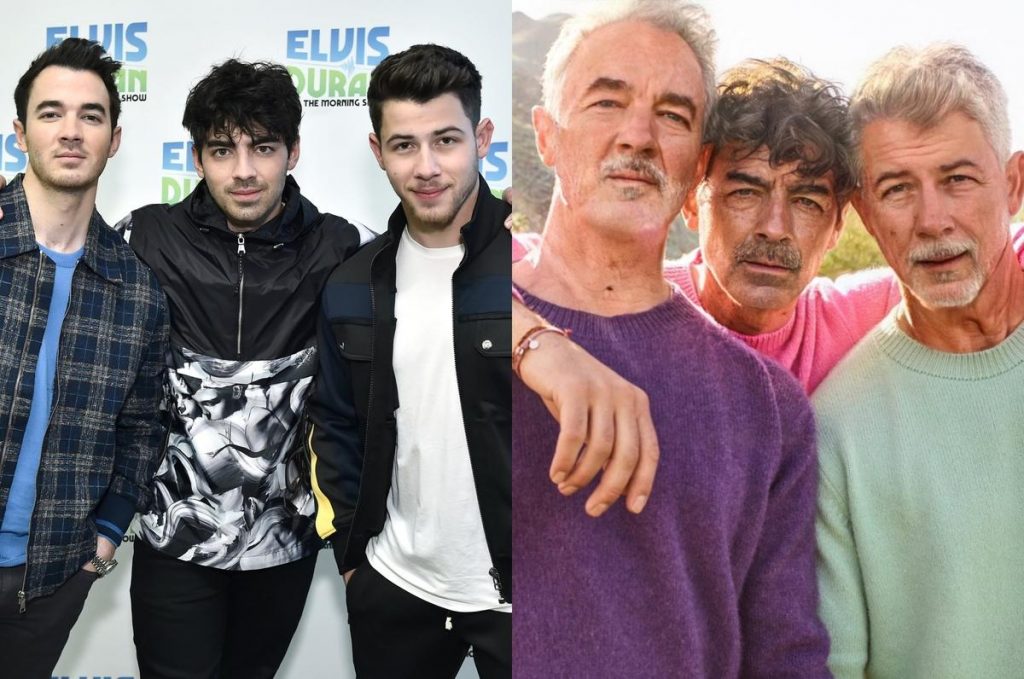 The Jonas Brothers
The singing trio won't be treated kindly by age, at least according to the Face App. Not only do they lose their rich dark hair, going completely gray or white, but their faces will reflect time and diet, pudging up and catching a mole or two. Most notably, their wide-eyed look will turn to squints. Not that the brothers will give much of a darn; they've been able to pull off a combined dream, living off their music and pulling down a handsome retirement account doing so.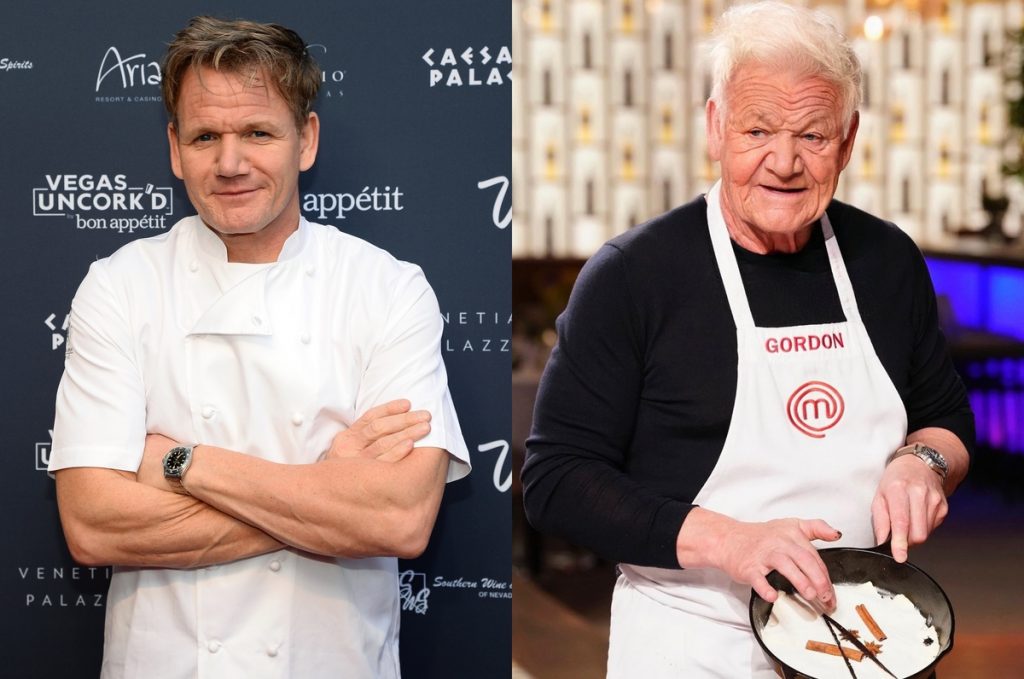 Gordon Ramsey
The famous British chef with a foul month and namesake for Hell's Kitchen is no stranger to wrinkles. Even in his prime, his face showed the effect of working in the kitchen on a regular basis, which is no spa treatment by any means. The stress he regularly goes through doesn't help, adding deep lines and wrinkles. Like most natural blondes, his hair turns white with the app, but what really stands out even more are his eyes. Age seems to bring them out more than before.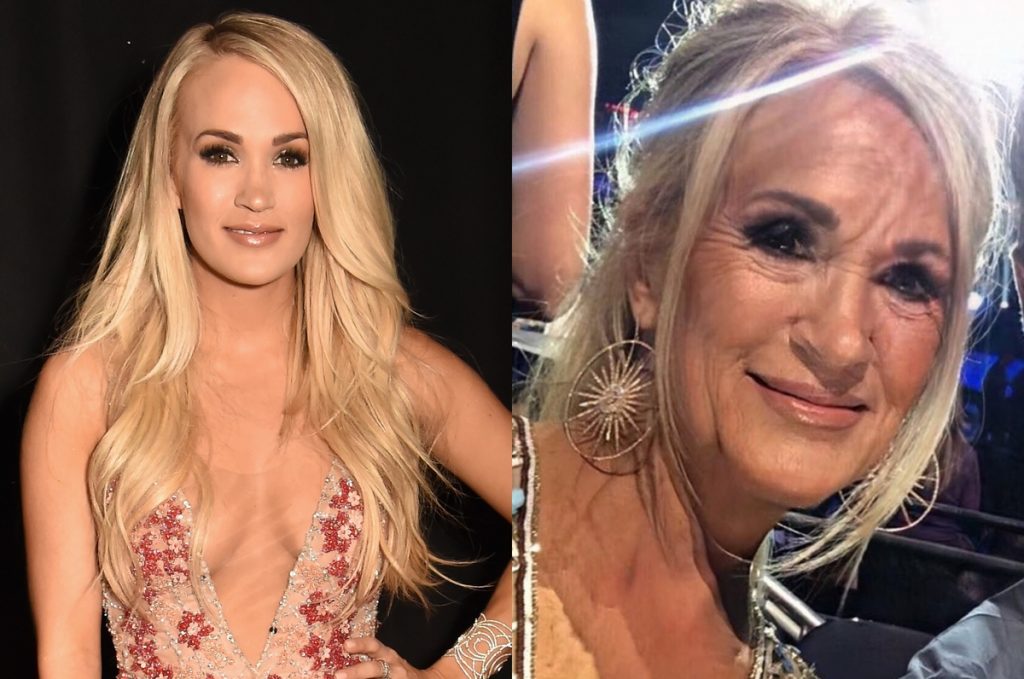 Carrie Underwood
The singer with a golden look in her 30s will carry on well just like a lot of women country singers do regularly. Yes, there might be some hair coloring involved, but overall Carrie Underwood will hold her own and age gracefully. And that aging thing probably won't have any affect on her singing voice. In fact, she might even produce a surprise or two with even more time and experience.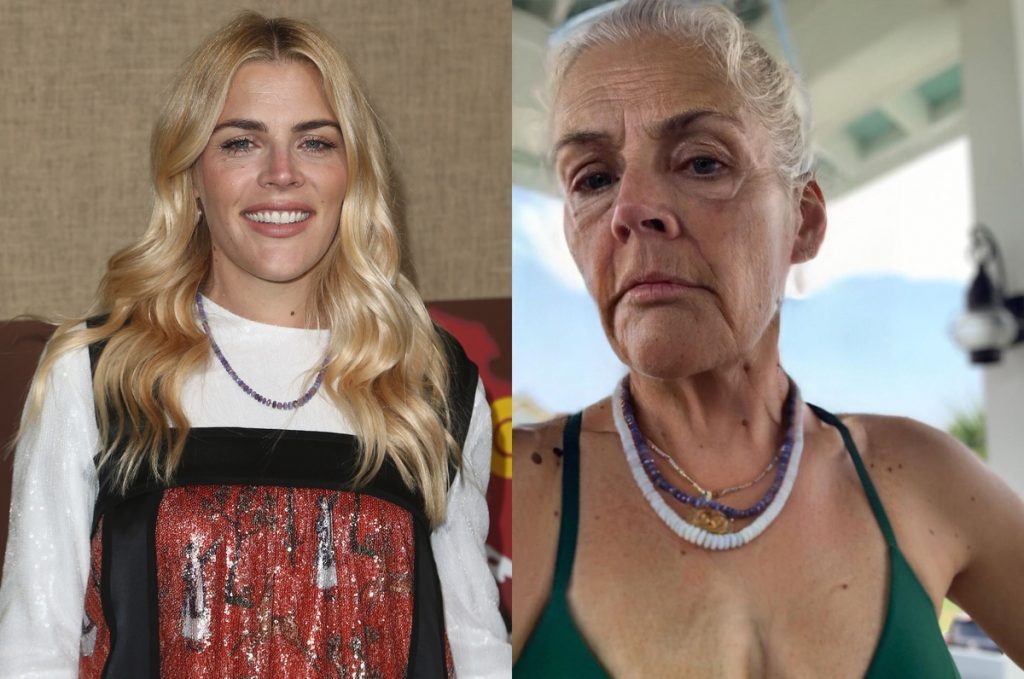 Busy Phillips
Some people are very good at not aging on the camera. They go from show to show without changing much. Busy Phillips is one of those celebrities. Sometimes it's a natural trait and part of their DNA, and other times it's due to the amazing work of a behind the scenes makeup artist. We'll never know with Phillips, and she'll still be in front of the camera for a while. That said, by the time she does age, she won't need to work in TV any longer.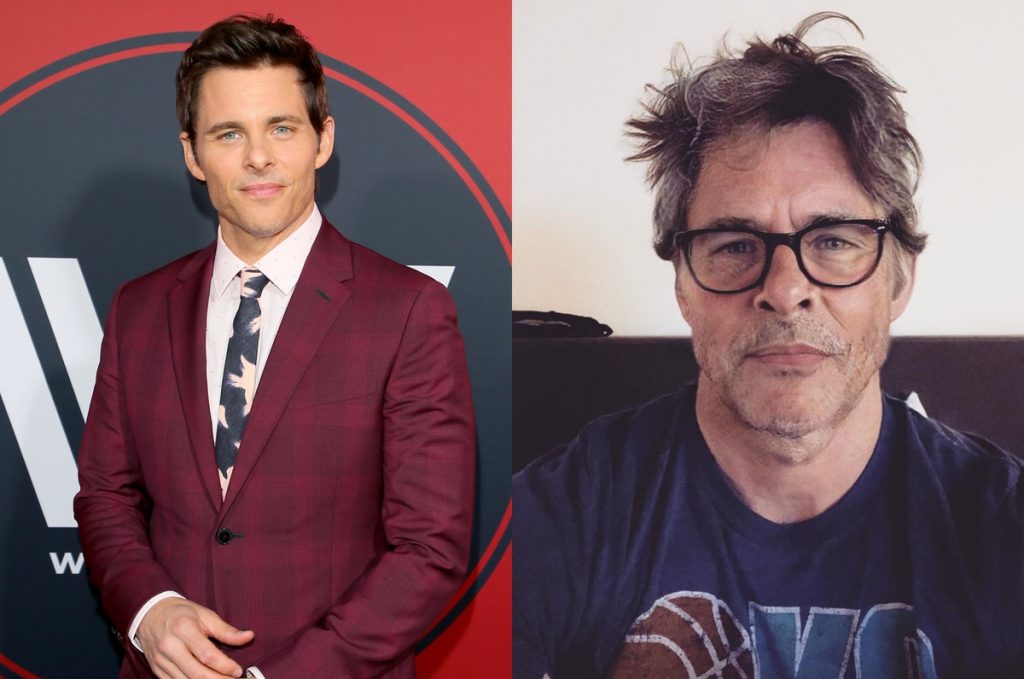 James Marsden
Many men have the wonderful benefit of actually looking more distinguished in their old age. James Marsden has already enjoyed a chiseled look with his younger self, and graying hair with some wrinkles probably don't detract from his looks. In fact, he might look even interesting in his older set, with a bit of a mystery about him that a young person's look cannot evoke.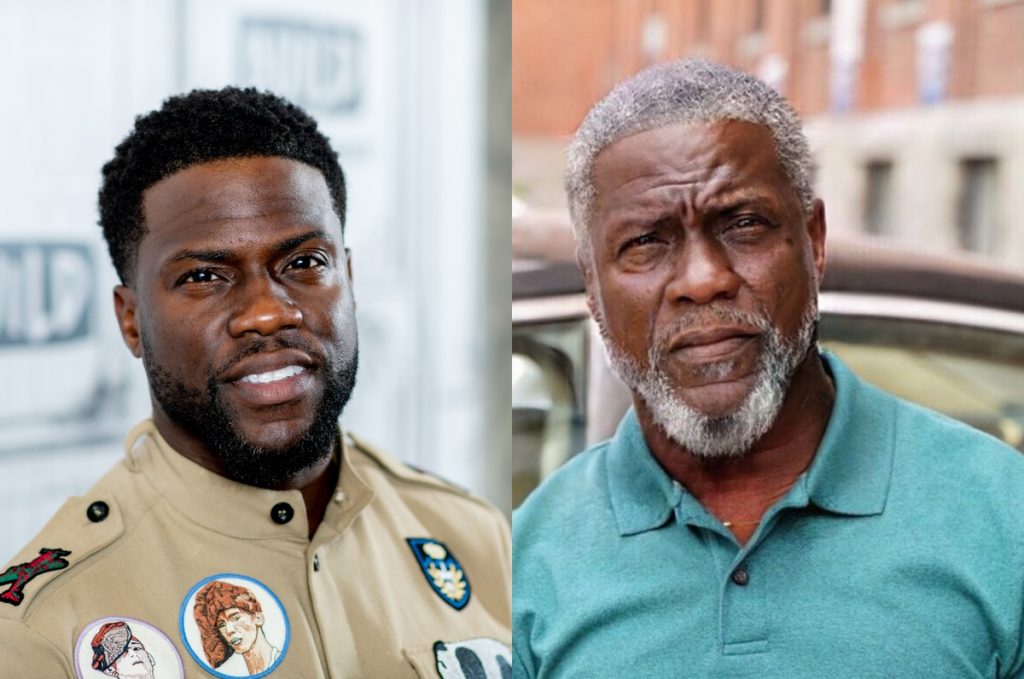 Kevin Hart
As a celebrity, Hart has never been known for his hair being meticulous or coiffed. Instead, he rocks the messy look on a regular basis. That works for a younger face, but with the effects of FaceApp, it might not be such a good think.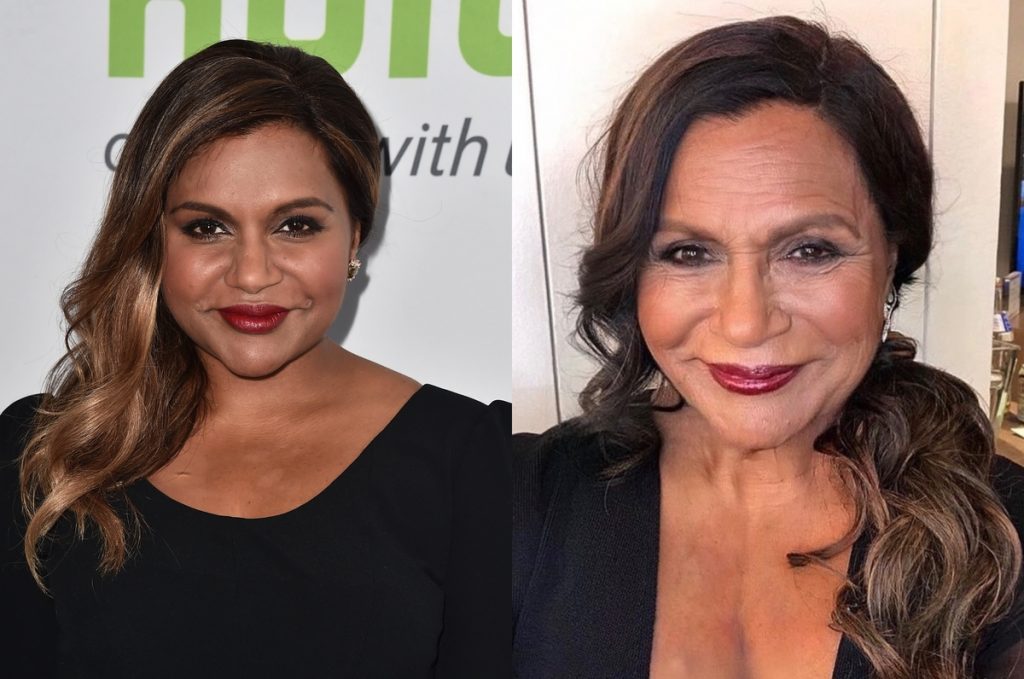 Mindy Kaling
Not really knowing what to do with her photo, she split the reaction down the middle with being scared and being comical. Then again, that's a bit of a normal human response. Mortality can be a bit of a heavy topic on a person, and humor tends to lighten things up. For Kaling, age is not such a bad thing. Her software-enhanced wrinkles work out fine and she still look beaming with her smile.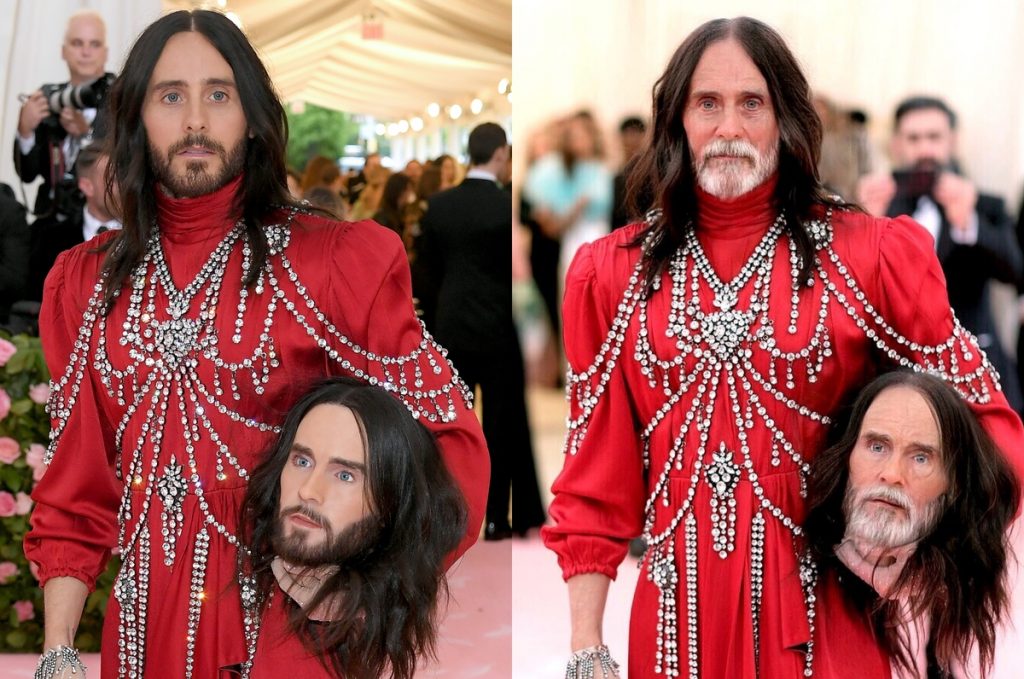 Jared Leto
There's a reason why he was such a good pick for the Joker. Leto in older age just takes things another step further. While his long locks will look a bit lifeless and hang a bit more losing their fluffy, Leto will still have that rabid dog look in his eyes, and he will still probably be that weird actor role in the movies that keep us up at night unable to sleep afterwards.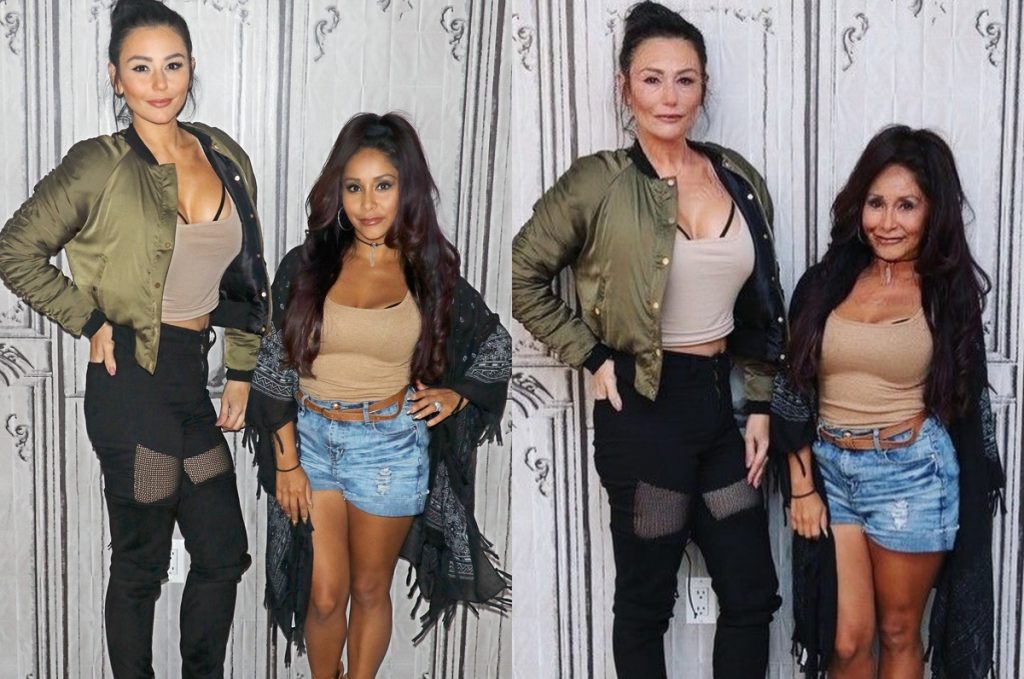 JWoww, Snooki & MTV Stardom
Born to fame with the Jersey Shore show that lasted for years on MTV, these two won't be letting the East Coast down anytime soon. Still bonded together through some universal fate, JWoww and Snooki might end up being on a Jersey Shore revisit in 2030, throwing beer cans at passerby's on the beach while whacking their grand kids with their canes.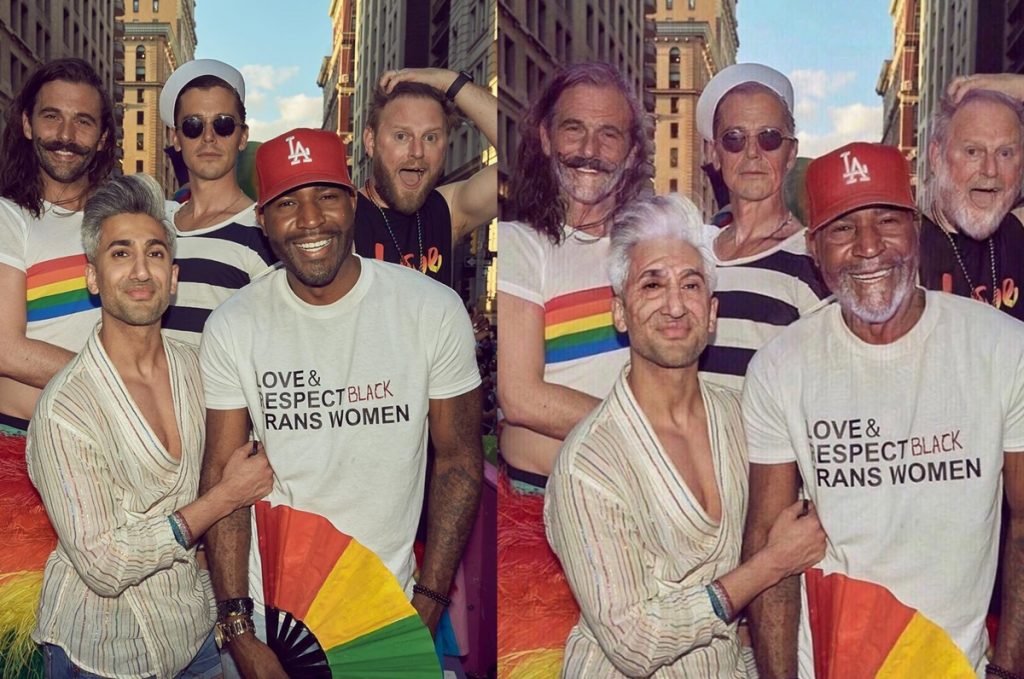 The Fab Five
From their first start with Queer Eye these five characters have been bouncing around with their youthful energy consistently. From episode to episode, they injected their flavor of zip and spark that made their TV show successful. Age probably won't stop them from the typical cracks and minor insults they constantly throw, but it will make them look like they are ready for a long vacation in Miami.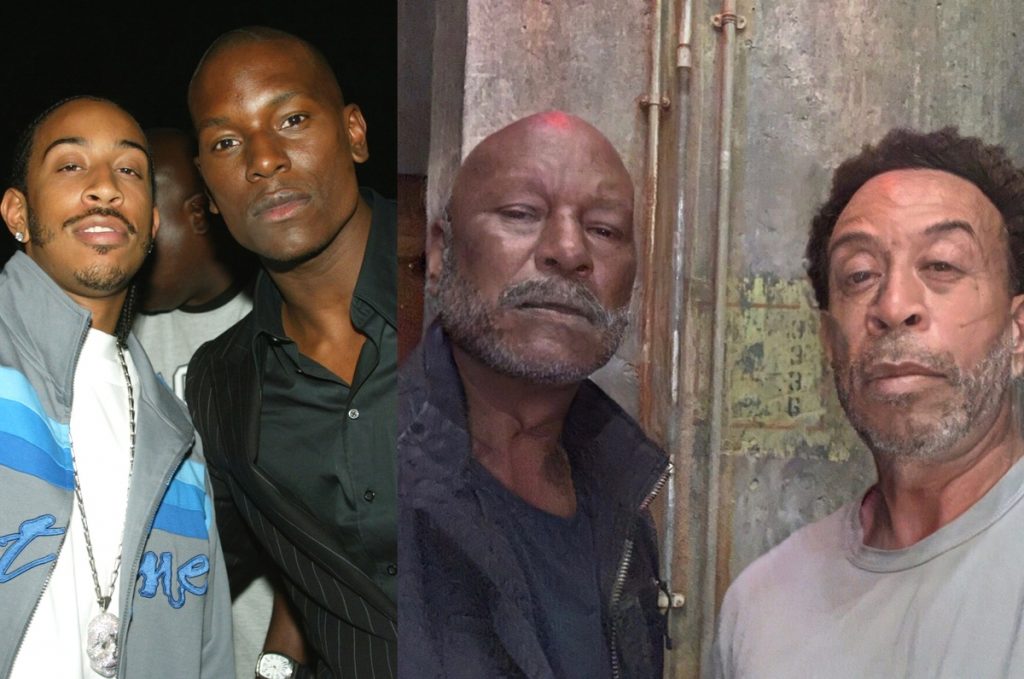 Ludacris & Tyrese Gibson
These two on FaceApp end up looking like a pair out of the old neighborhood barbershop. Tyrese Gibson and Ludacris will probably still be cracking jokes left and right, but they may have to slow down their high speed hijinks if they're wheeling around in senior citizen busses versus the sports cars they got to enjoy on the big screen.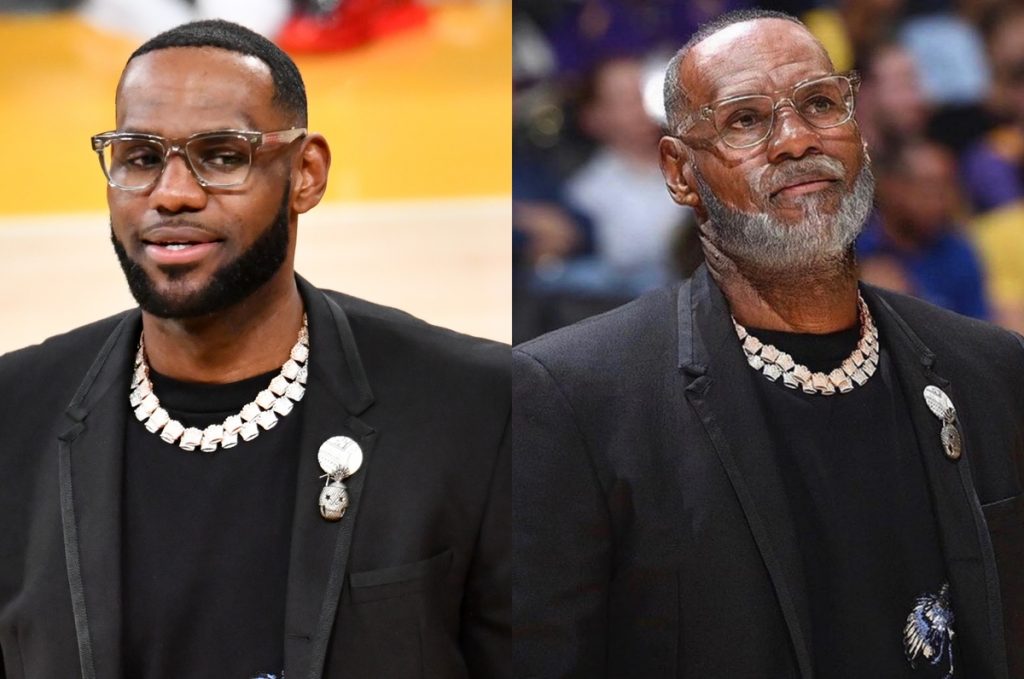 Lebron James
With gray hair on top and his beard, James will probably end up looking like someone's basketball team owner in his older age, which probably won't be too far off of a prediction. His physical fitness will fend off age far better than the average person, but unless he gets into hair die, his gray will put years on his face that don't actually exist yet.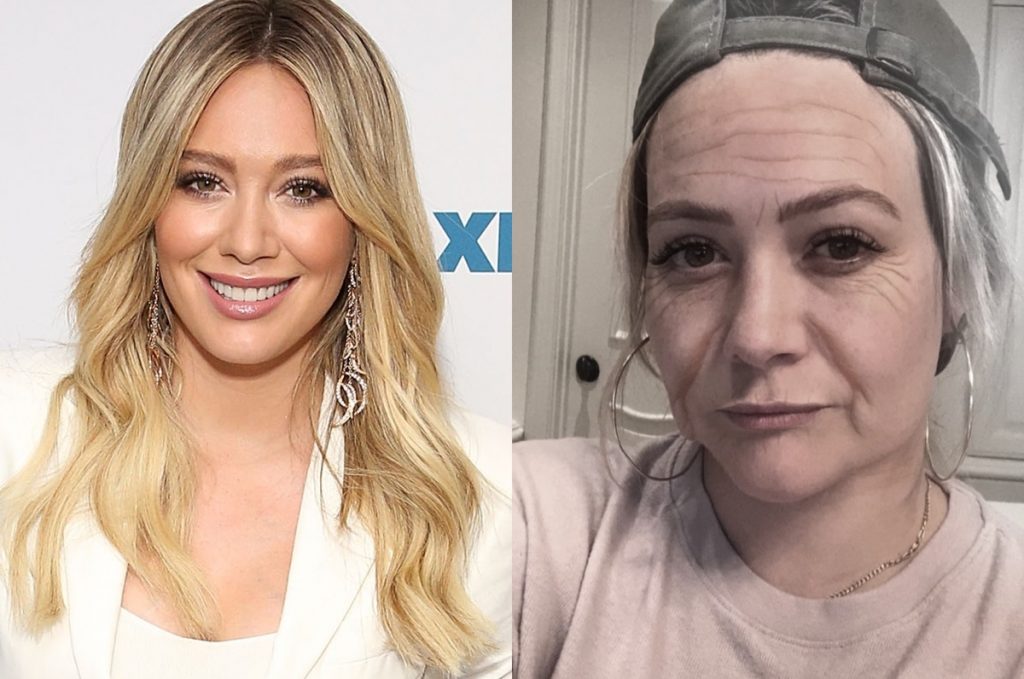 Hilary Duff
Her peach perfect face won't be treated well by time. Hilary Duff will be a prime candidate for wrinkles that will define her face in later years. That said, she's been so successful, even if the wrinkles get in the way of her later years career, Duff will be very comfortable in retirement.
From Teacher to TikTok Star: The Story of Mr. Hamilton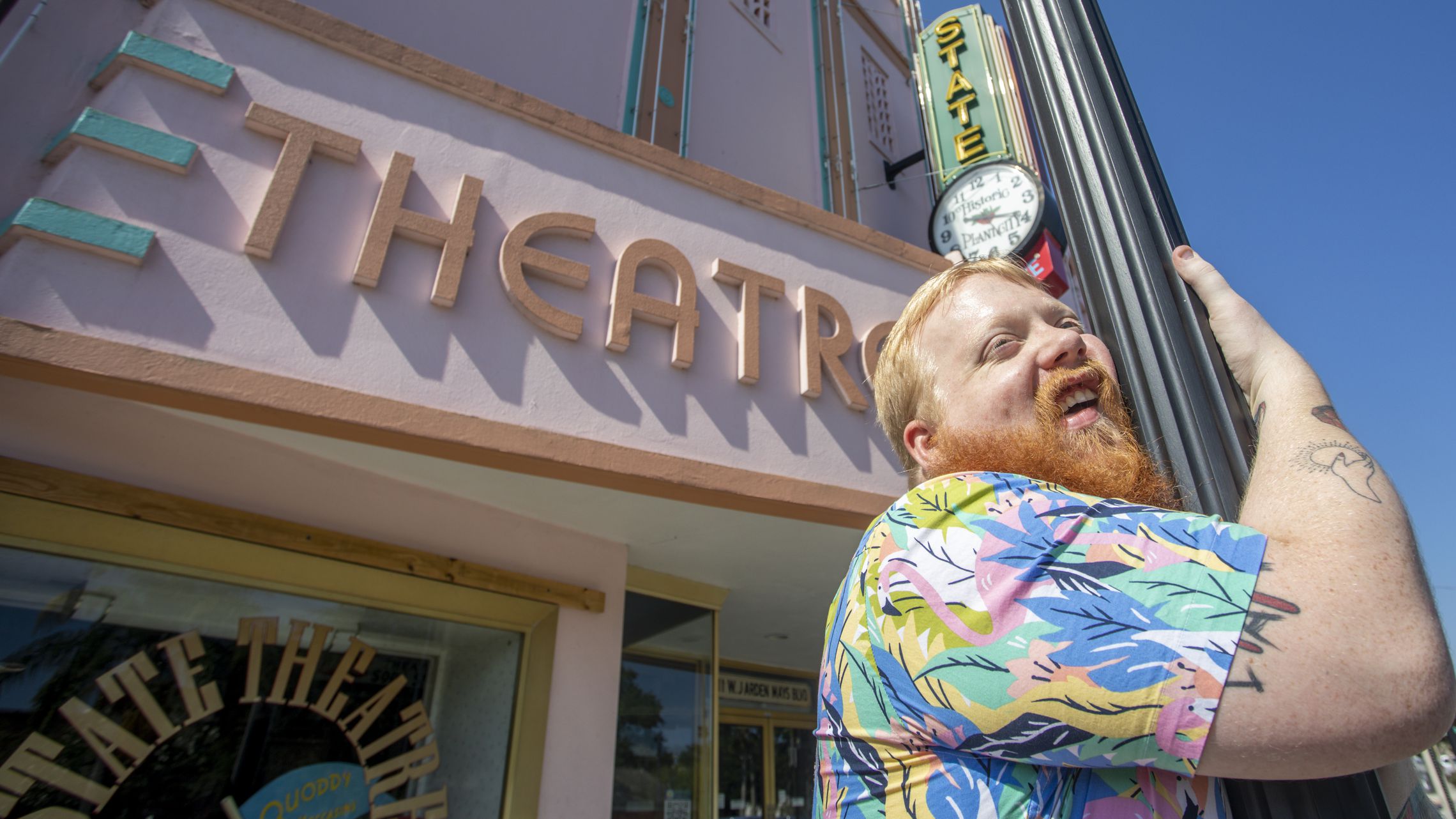 Technology has fundamentally changed the way that we connect with one another. The era of instant communication and social media outreach has made us more intertwined than ever, giving otherwise unknown faces the chance to shine in front of millions if not billions of people. For Casey Hamilton, aka @MrHamilton on TikTok, social media allowed the teacher to transition into one of the biggest performers on the internet.
Let's explore the rise of Mr. Hamilton and his journey from teaching in Plant City to winning over TikTok audiences around the world!
Casey Hamilton: Chaotic Positivity
Were you to run across one of Hamilton's TikTok videos on a whim, you'd likely not assume he was a teacher. The 25-year-old TikTok star began his career on the platform by selling what everyone loved about him in his classroom, his personality. Hamilton embodies the young-and-fun generation of TikTok stars that are taking over the pop culture world. Hamilton dresses in his favorite crocs, a joke in itself, while matching the rest of his outfit to the caricature of a cartoon-loving pre-teen.
Hamilton's TikTok currently has more than 5 million followers and that number is climbing by the day, but for what reason? More than just childish fun, Hamilton brings boatloads of energy to his impersonations and sketches. One sketch that garnered Hamilton millions of views was his version of Plankton, a hit with the Spongebob generation. Impersonations aren't restricted to celebrities, as Hamilton has made videos impersonating, well, everything.
When Hamilton isn't giving his fans a show through impersonations, he's sharing his soaring vocals. Covering All Star by Smash Mouth brought in views but so did Hey, Delilah – a song about a stripper. Dance moves of all types join these performances and one thing is certain throughout them all: Casey isn't afraid of being the center of attention.
From Plant City to Tik Tok Stardom
Hamilton worked at Plant City High School as a TV Production Teacher, developing a morning show with his students. The environment allowed Hamilton to flex his creative chops and amiable positivity, inviting students to fall in love with sketches, comedy, and creating artistic entertainment of all types. Students watched with glee as the morning news at school slowly transitioned into a fun mashup of entertainment.
Jennifer Hamilton is Casey's mother and she had more than enough to say about her son. Casey said, "I don't think it was everyone's cup of tea…" Still, Jennifer had to admit that the show was a hit with Casey's students. Jennifer said, "He turned our TV show around, the students appreciated the humor and would pay attention."
Still, Hamilton's electric personality caused him to become a quick favorite among students. It was only natural to transition into comedy outside of school. Born and raised in Plant City, Hamilton used his upbringing as well as the close-knit community from his hometown to build his brand, but in the most natural way possible. Perhaps that is the most intriguing thing about Hamilton. His success is organic from the ground-up.