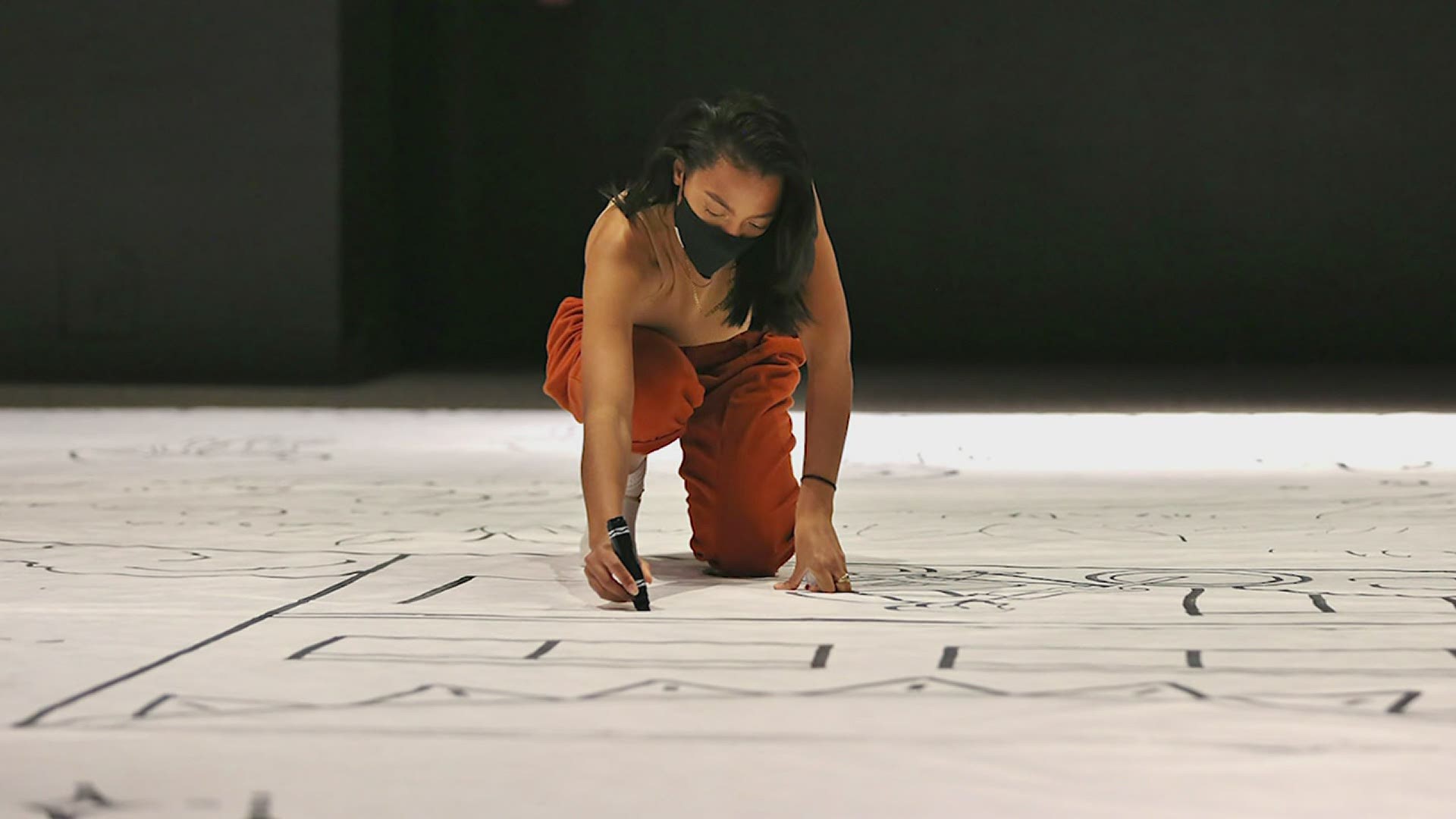 Local Artist From Philadelphia Sets Record For BIGGEST DRAWING in the WORLD
Are you the kind of person that likes to doodle in your spare time? Maybe you fancy yourself an artist and have put together a few pieces for a local art show. No matter what your background or familiarity with the art world, people like Dyymond Whipper-Young deserve to get some recognition for their work. Whipper-Young is an artist and art teacher from Philadelphia who set her sights on the largest drawing in the world created by a single person. In attempting this feat, Whipper-Young would have to outdo the work of Xiamoi Italia and FRA! who landed the record on November 3rd of 2020 in Altomonte, Italy.
The Old Record: Meet Francesco Caporale
Francesco Caporale, Italy (FRA!) is a graphic designer, illustrator, and art director operating out of Milan, Italy. Born and raised in Almonte, Francesco would become inspired by the varying drawings and images uploaded to the DoodleDream.it platform, a website crafted by Xiaomi Italia. Francesco would select his favorite pieces submitted through the platform before creating a massive, sprawling image featuring his rendition.
FRA would require five days to craft his record-breaking picture, first created in the central square located in Altomonte. More than 567 square meters were brimming with imagined characters, objects, and items inspired by artists from around the world. While massive in scope, FRA!s work was not permanent as the installation was removed upon certification for its place in the record books.
Following the completion of the project, the artwork itself was donated to Altomonte the municipality to parcel out sales to support the community. Individuals interested in bringing home history can purchase a piece from Altomonte at their convenience. Additionally, Xiaomi Italia would release a commemorative series of smartphones to remember the project thanks to a built-in artistic photograph application.
Dyymond Whipper-Young Breaks the Record
Heading back across the ocean we find ourselves in Philadelphia where Dyymond Whipper-Young has begun to work on her own dream project. Whipper-Young is an art teacher from Philadelphia who was inspired by the works of FRA! The 24-year-old art teacher knew that there was a ton of work ahead of her, but she was driven by her passion and love for the work. Whipper-Young stated in a video that was released to the press, "The purpose is to inspire people to find their own creative pulse." Whipper-Young would go on to detail how creativity is imbued 'in all of us' and that the exhibition was her outlet and her way of inspiring others.
For Whipper-Young, the project would not take place within a city square like FRA, and instead, it would be installed at the Mandell Center located within The Franklin Institute in Philadelphia. Whipper-Young would settle on working with Crayola Project XL Markers to create the art piece, a job that would take more than 63 hours spread across five days of effort. The final result was an image that spanned 6,500 square feet.
Upon completion, Whipper-Young would dub the piece, "Crayola IDEAworks: The Creativity Exhibition" The CEO at The Franklin Institute was effusive in his praise of the piece as Larry Dubinski would go on to say that the goal of the institute was to 'inspire and empower' people of every age and from every walk of life to create and explore their curiosities. These words were echoed by Whipper-Young after her piece was unleashed at the institute. Whipper-Young would go on to say, "It has sea, it has land, it has space. You'll really get to experience those things once you're in IDEAworks."

Lowest 48 States See Proliferation in Bald Eagle Population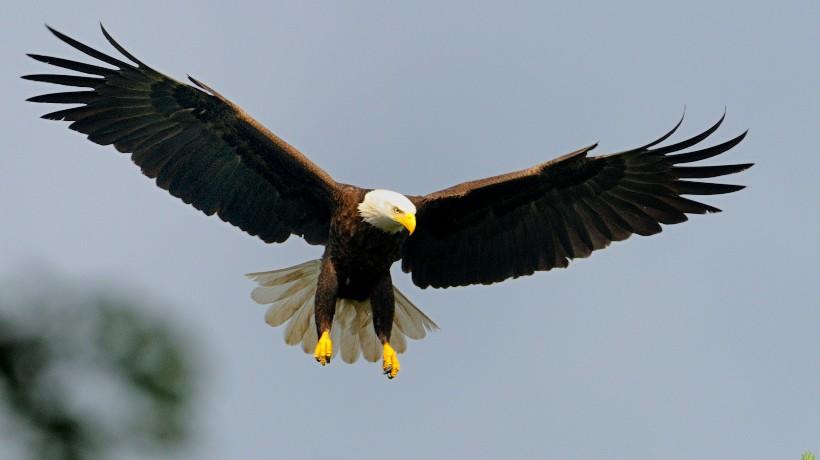 The bald eagle is a symbol of independence, courage, and strength in the United States. Who'd have guessed that a bird of such importance was on the brink of extinction just a few years ago?
Bald eagles have three or four times the vision of humans. They can fly up to 35 miles per hour and dive for prey at even higher speeds.
The bald eagle's name comes from the Old English word balde, that demonstrates white; the eagle's white head contrasts with its dark body, giving it the appearance of being bald. In the wild, the bald eagle survives for 20 to 30 years.
According to government scientists, the volume of American bald eagles has grown exponentially by about four times the 2009 number, now at a high of over 300,000 birds currently flying over forty-eight states.
The United States Fish and Wildlife Service announced that bald eagles, a national icon that was once on the verge of extinction, have soared in recent years, with over 71,400 breeding pairs and an estimated 316,700 individual birds.
Interior Secretary Deb Haaland praised the eagle's comeback in her first public appearance since taking office recently, noting that the magnificent bird with its white head has been deemed as sacred to Native American tribes and the country as a whole for eons.
The strong recovery of this beloved bird allows everyone to recollect the country's collective resilience, in addition to the value of being responsible guardians of the lands and waters that unite us, said Haaland, the first Native American Cabinet secretary.
In 1963, the number of documented breeding pairs of bald eagles in the lower 48 states reached a record low of over four hundred.
The bald eagle population has continued to expand through decades of protection, including the banning of the pesticide DDT.
They have also been included on the list of endangered species in more than forty states. In 2007, the bald eagle was delisted as an at-risk or endangered species.
The bald eagle community is thriving, according to Haaland, who described the bird's recovery as a "success story" that "testifies to the enduring value of the work of Interior Department researchers and conservationists."
This work would not have been possible without numbers of individuals accumulating and evaluating many years of scientific data… precisely estimating the population of bald eagles in the United States.
The bald eagle's birthday is also an excellent time to remember the Endangered Species Act, which is a critical tool in the fight to save America's wildlife, according to Haaland. The landmark 1973 law is necessary to counter the extinction of species like the bald eagle and American bison, he says.
According to Haaland, her unit would investigate measures taken by the Trump regime to weaken core aspects of the threatened species law, reiterating a promise made by President Joe Biden.
She didn't go into detail, but environmentalists and Democratic lawmakers have chastised the Trump administration for a number of decisions, including decreasing vital territory needed by the northern spotted owl and removing gray wolf safeguards.
The bald eagle is a raptor (bird of prey) that are located at the food chain's helm. It captures prey by darting over broad landscape or water with its sharply curved talons. It also absorbs the dead animals' bodies (carrion).
Eagles are carnivores (mmeat-eaters who hunt throughout the daytime (diurnal) from a high perch. Older eagles have a small range of hunters. Small bald eagles are preyed upon by owls. Fish, small rodents, snakes, as well as other birds are among their favorite foods.