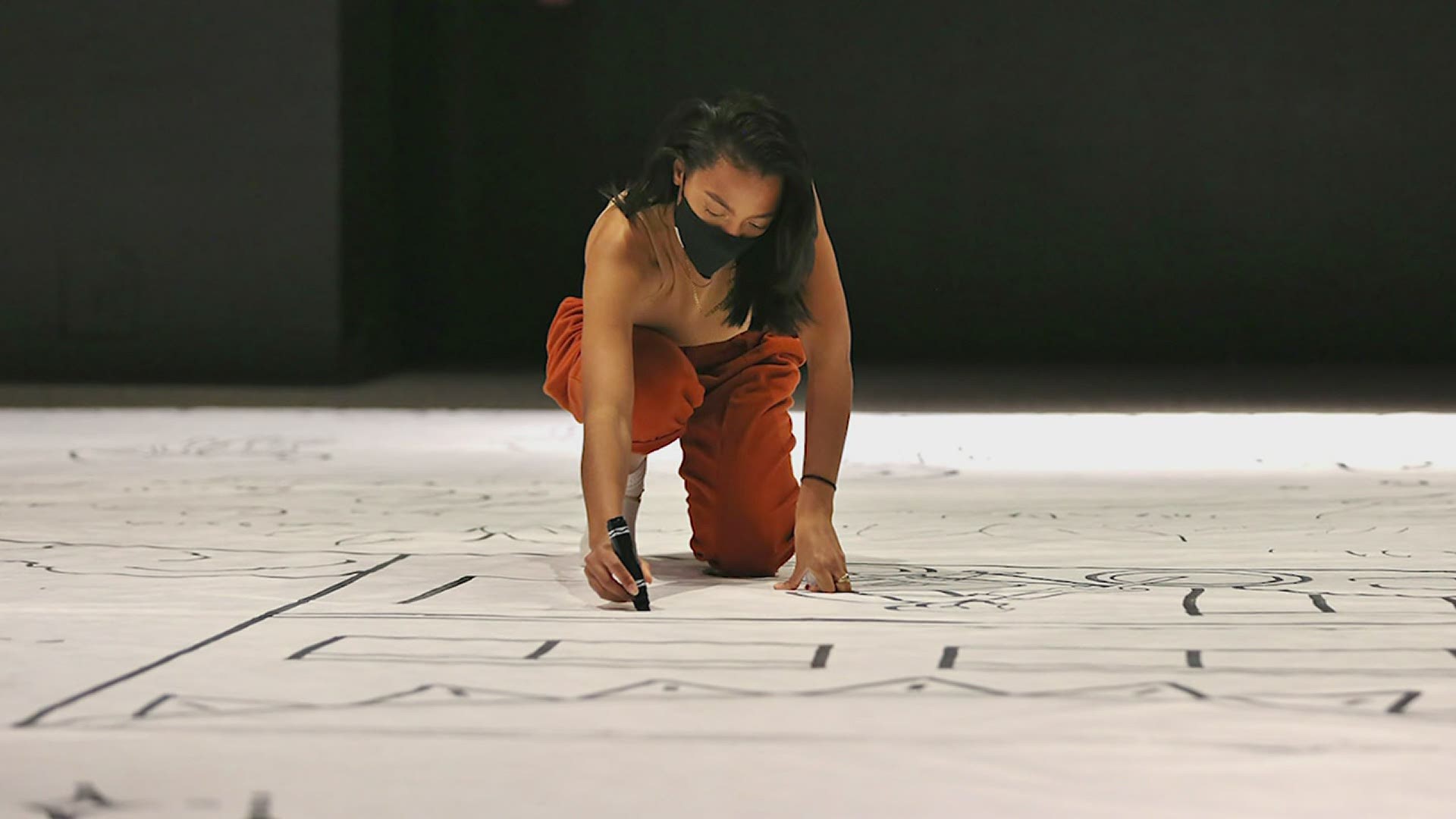 Local Artist From Philadelphia Sets Record For BIGGEST DRAWING in the WORLD
Are you the kind of person that likes to doodle in your spare time? Maybe you fancy yourself an artist and have put together a few pieces for a local art show. No matter what your background or familiarity with the art world, people like Dyymond Whipper-Young deserve to get some recognition for their work. Whipper-Young is an artist and art teacher from Philadelphia who set her sights on the largest drawing in the world created by a single person. In attempting this feat, Whipper-Young would have to outdo the work of Xiamoi Italia and FRA! who landed the record on November 3rd of 2020 in Altomonte, Italy.
The Old Record: Meet Francesco Caporale
Francesco Caporale, Italy (FRA!) is a graphic designer, illustrator, and art director operating out of Milan, Italy. Born and raised in Almonte, Francesco would become inspired by the varying drawings and images uploaded to the DoodleDream.it platform, a website crafted by Xiaomi Italia. Francesco would select his favorite pieces submitted through the platform before creating a massive, sprawling image featuring his rendition.
FRA would require five days to craft his record-breaking picture, first created in the central square located in Altomonte. More than 567 square meters were brimming with imagined characters, objects, and items inspired by artists from around the world. While massive in scope, FRA!s work was not permanent as the installation was removed upon certification for its place in the record books.
Following the completion of the project, the artwork itself was donated to Altomonte the municipality to parcel out sales to support the community. Individuals interested in bringing home history can purchase a piece from Altomonte at their convenience. Additionally, Xiaomi Italia would release a commemorative series of smartphones to remember the project thanks to a built-in artistic photograph application.
Dyymond Whipper-Young Breaks the Record
Heading back across the ocean we find ourselves in Philadelphia where Dyymond Whipper-Young has begun to work on her own dream project. Whipper-Young is an art teacher from Philadelphia who was inspired by the works of FRA! The 24-year-old art teacher knew that there was a ton of work ahead of her, but she was driven by her passion and love for the work. Whipper-Young stated in a video that was released to the press, "The purpose is to inspire people to find their own creative pulse." Whipper-Young would go on to detail how creativity is imbued 'in all of us' and that the exhibition was her outlet and her way of inspiring others.
For Whipper-Young, the project would not take place within a city square like FRA, and instead, it would be installed at the Mandell Center located within The Franklin Institute in Philadelphia. Whipper-Young would settle on working with Crayola Project XL Markers to create the art piece, a job that would take more than 63 hours spread across five days of effort. The final result was an image that spanned 6,500 square feet.
Upon completion, Whipper-Young would dub the piece, "Crayola IDEAworks: The Creativity Exhibition" The CEO at The Franklin Institute was effusive in his praise of the piece as Larry Dubinski would go on to say that the goal of the institute was to 'inspire and empower' people of every age and from every walk of life to create and explore their curiosities. These words were echoed by Whipper-Young after her piece was unleashed at the institute. Whipper-Young would go on to say, "It has sea, it has land, it has space. You'll really get to experience those things once you're in IDEAworks."

Kenyan Tree Planting Holiday: A Collective Effort Against Climate Change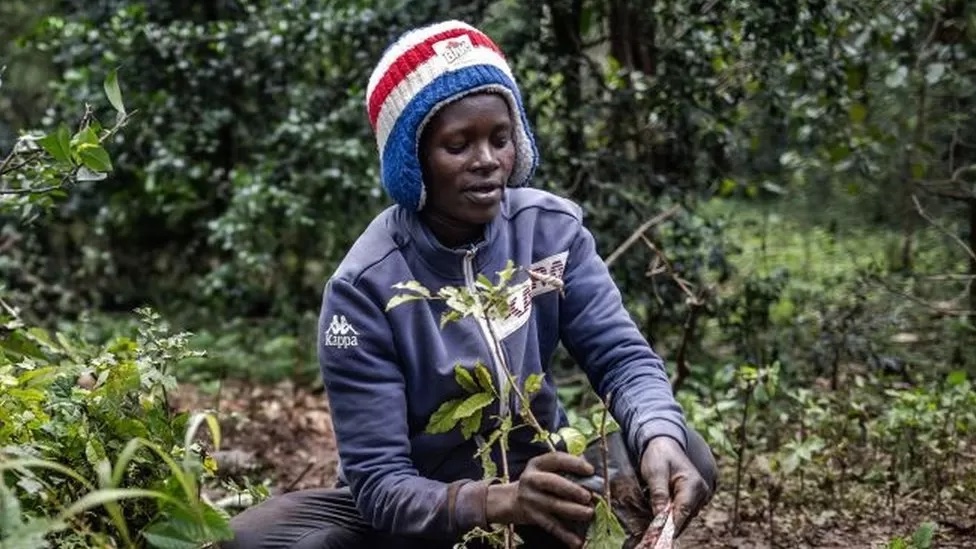 Kenya has embraced a unique and powerful approach to combating climate change with a national tree planting holiday. This initiative, led by Environment Minister Soipan Tuya, aims to involve every Kenyan in planting trees to contribute to a lofty goal of reaching 15 billion trees in the next decade. Recently, Kenyans came together to plant a staggering 100 million seedlings, demonstrating their commitment to a greener and more sustainable future.
The tree planting holiday allows "each and every Kenyan to own the initiative," as Minister Tuya emphasizes. This means that every citizen has a role to play in contributing to the ambitious goal of planting billions of trees. The target is for each Kenyan to plant at least two seedlings, a simple yet impactful way to make a difference.
The primary goal behind this massive tree planting effort is to fight climate change. Trees play a crucial role in mitigating climate change by absorbing carbon dioxide during photosynthesis. They act as natural carbon sinks, reducing the concentration of greenhouse gases in the atmosphere. Additionally, trees help regulate local climates, prevent soil erosion, and provide habitats for various species.
To encourage widespread participation, the Kenyan government is distributing tree seeds for free. However, there is also a push for planting trees in specific areas where they are more likely to thrive. This strategic approach ensures that the trees planted have a higher chance of growing into healthy, mature specimens.
While the initiative promotes free seed distribution, Kenyans are also encouraged to buy at least two seedlings for planting on their private land. This personal investment further engages citizens in the cause, fostering a sense of ownership and responsibility for the environment.
One notable tree planting site near the source of Kenya's second-longest river, Athi, saw active participation from various groups, including soldiers, residents, and families. The event showcased a collective effort to address environmental concerns.
To monitor the success of the tree planting initiative, an internet app has been introduced. This app allows individuals and organizations to record their planting activities, including details like plant species, the number of trees planted, and the date of planting. This technological aspect enhances transparency and accountability in achieving the set goals.
While the initiative has garnered widespread support, environmentalist Teresa Muthoni highlights some challenges. She notes that the effort is not organized in a way that ensures everyone is actively participating, as many individuals must prioritize their livelihoods. Additionally, Muthoni emphasizes the importance of planting the right trees in the right places, cautioning against the prevalence of exotic species in public nurseries.
Kenya's tree planting holiday exemplifies a collective and determined effort to combat climate change. By involving every citizen, the initiative seeks to make a significant impact on the environment. As the nation strives toward its ambitious goal of 15 billion trees in the next decade, the tree planting holiday stands as a beacon of hope for a greener and more sustainable future for Kenya and the planet.