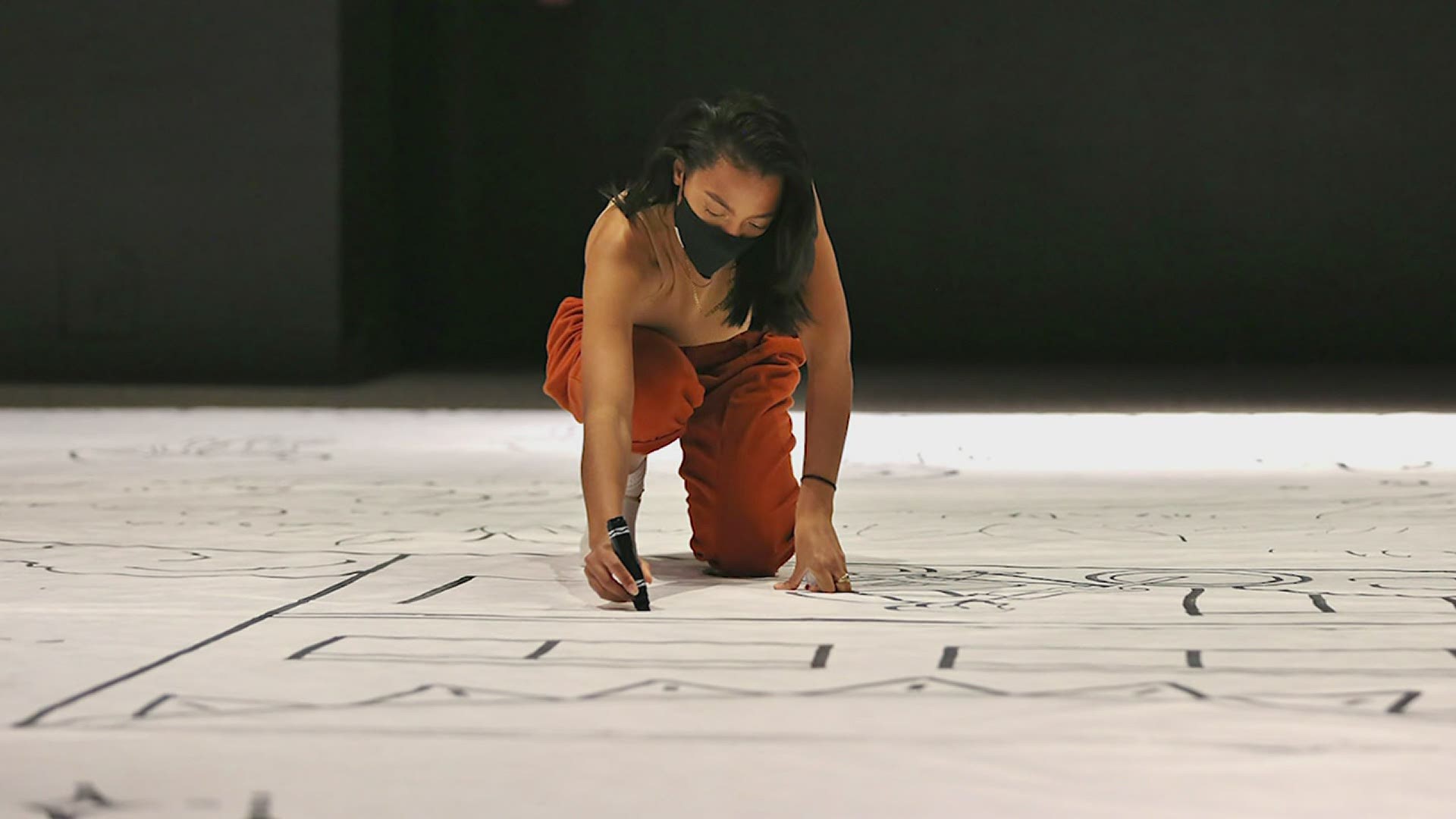 Local Artist From Philadelphia Sets Record For BIGGEST DRAWING in the WORLD
Are you the kind of person that likes to doodle in your spare time? Maybe you fancy yourself an artist and have put together a few pieces for a local art show. No matter what your background or familiarity with the art world, people like Dyymond Whipper-Young deserve to get some recognition for their work. Whipper-Young is an artist and art teacher from Philadelphia who set her sights on the largest drawing in the world created by a single person. In attempting this feat, Whipper-Young would have to outdo the work of Xiamoi Italia and FRA! who landed the record on November 3rd of 2020 in Altomonte, Italy.
The Old Record: Meet Francesco Caporale
Francesco Caporale, Italy (FRA!) is a graphic designer, illustrator, and art director operating out of Milan, Italy. Born and raised in Almonte, Francesco would become inspired by the varying drawings and images uploaded to the DoodleDream.it platform, a website crafted by Xiaomi Italia. Francesco would select his favorite pieces submitted through the platform before creating a massive, sprawling image featuring his rendition.
FRA would require five days to craft his record-breaking picture, first created in the central square located in Altomonte. More than 567 square meters were brimming with imagined characters, objects, and items inspired by artists from around the world. While massive in scope, FRA!s work was not permanent as the installation was removed upon certification for its place in the record books.
Following the completion of the project, the artwork itself was donated to Altomonte the municipality to parcel out sales to support the community. Individuals interested in bringing home history can purchase a piece from Altomonte at their convenience. Additionally, Xiaomi Italia would release a commemorative series of smartphones to remember the project thanks to a built-in artistic photograph application.
Dyymond Whipper-Young Breaks the Record
Heading back across the ocean we find ourselves in Philadelphia where Dyymond Whipper-Young has begun to work on her own dream project. Whipper-Young is an art teacher from Philadelphia who was inspired by the works of FRA! The 24-year-old art teacher knew that there was a ton of work ahead of her, but she was driven by her passion and love for the work. Whipper-Young stated in a video that was released to the press, "The purpose is to inspire people to find their own creative pulse." Whipper-Young would go on to detail how creativity is imbued 'in all of us' and that the exhibition was her outlet and her way of inspiring others.
For Whipper-Young, the project would not take place within a city square like FRA, and instead, it would be installed at the Mandell Center located within The Franklin Institute in Philadelphia. Whipper-Young would settle on working with Crayola Project XL Markers to create the art piece, a job that would take more than 63 hours spread across five days of effort. The final result was an image that spanned 6,500 square feet.
Upon completion, Whipper-Young would dub the piece, "Crayola IDEAworks: The Creativity Exhibition" The CEO at The Franklin Institute was effusive in his praise of the piece as Larry Dubinski would go on to say that the goal of the institute was to 'inspire and empower' people of every age and from every walk of life to create and explore their curiosities. These words were echoed by Whipper-Young after her piece was unleashed at the institute. Whipper-Young would go on to say, "It has sea, it has land, it has space. You'll really get to experience those things once you're in IDEAworks."

Roaming Buffalo and the Proposed Bison Bridge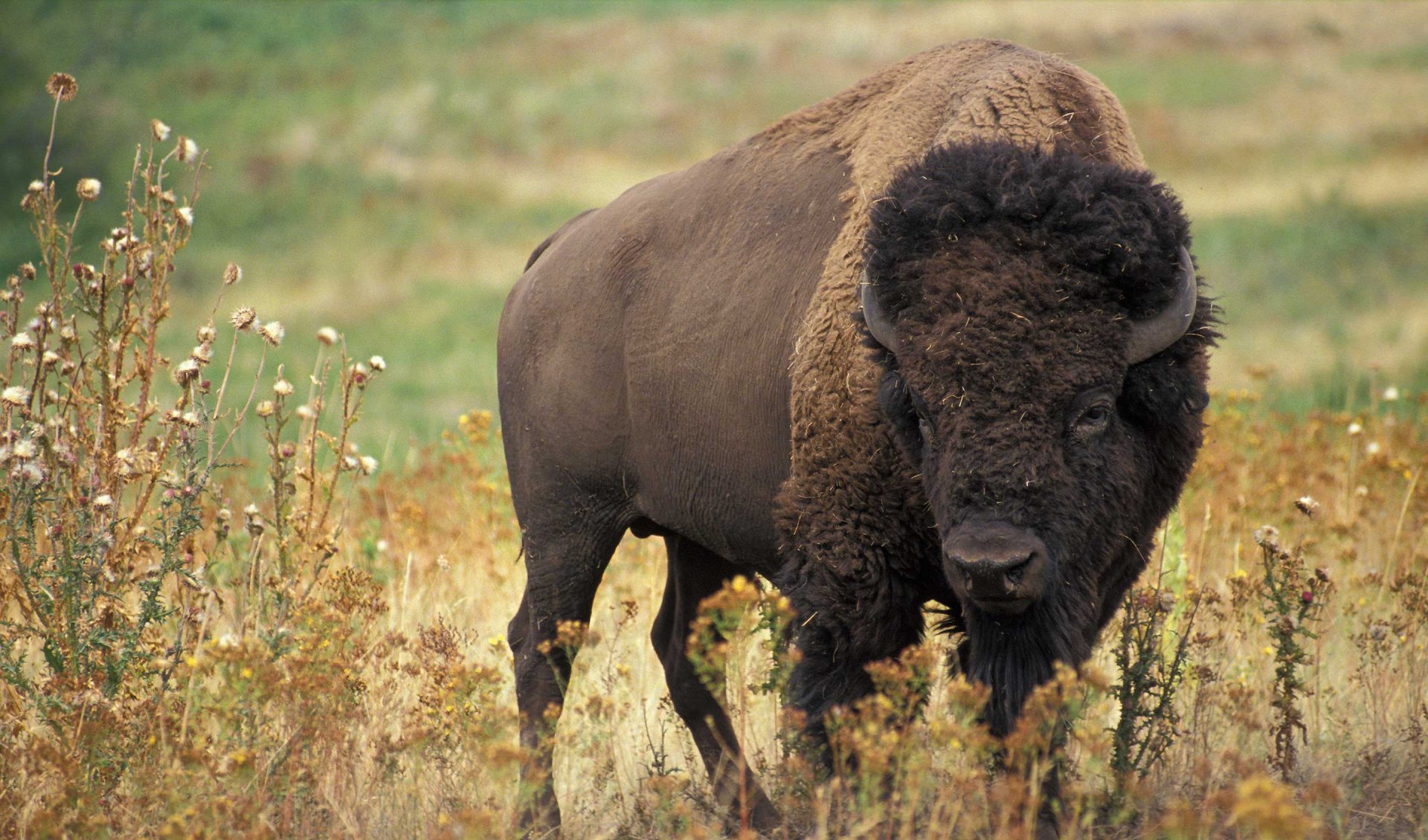 Chad Pregracke is what you would describe as both a conservationist and a pseudo-folk hero. A local to the Quad Cities nestled between Illinois and Iowa, Pregracke has dedicated the better part of his life to working with the river, aiding wildlife, and supporting his community. Recently, Pregracke has centered his focus on a 55-year-old concrete bridge spanning the Mississippi River, a bridge that sees more than 42,000 cars traverse its expanse every single day. Slated to be replaced with a newer bridge, the local conservationist decided that now was the right time to make a wildlife crossing.
Bison and the Mississippi River
Upon hearing that the old bridge was set to be torn down, Pregracke knew that he had to act quickly. Once considered a long-shot concept, his idea of turning the bridge into a valid wildlife crossing has started to acquire real momentum. According to the Illinois and Iowa Departments of Transportation, the concept suggested by Pregracke could end up going live within five years!
The goal of the bridge will be to provide the longest ever human-made wildlife crossing on the planet. The bridge would be converted for use by both American bison and humans alike. One side of the bridge would feature both a bike path and a pedestrian path while the other side would feature a secured and enclosed bison paddock where visitors can get safely get close to the animals. The herds wouldn't be consigned to the bridge either, they'd have free roam between Illinois and Iowa throughout the grassy feature. The proposed bison bridge crossing the Mississippi River would become the first national park or either state.
Even though this proposal seems out of the norm, it comes at a time when conservationists are working with urban designers to combine their renewal projects. We can look at the High Line of New York City as well as the raised railroad that was turned into a bike trial in Chicago. Los Angeles has already seen several proposals to turn the 101 freeway into a natural park setting.
Advocates continue to rally behind Pregracke and his Bison Bridge. The efforts to repurpose the bridge will go a long way toward saving costs, reducing waste, and even protecting the environment. Along the way, Pregracke believes that the bridge will help to elevate the Quad Cities into a truly world-class destination with the Mississippi River acting as a calling card. Pregracke said, "How could you not stop for bison?"
Bison and Native American History
The American Bison is also commonly referred to as a buffalo. This species of bison was once known to traverse across North America in truly gigantic herds. Stretching from Alaska to the Gulf of Mexico, bison would slowly be eradicated due to over-hunting during the 19th century. At the time of this writing, thanks to conservation efforts, the American Bison is hanging on with a Near Threatened status.
More than just an important feature in North American history, bison have been historically important to Native American groups throughout the country — including the Quad Cities. Native American Groups have said that restoring the bison population is a necessary first step toward reconnecting with local land and history while recognizing the various atrocities that have been committed against bison and indigenous people.
In 1800, there were an estimated 60 million bison roaming the Great Plains of North America. By the time the 19th Century came to an end, only 300 would remain.