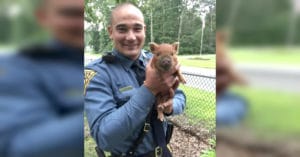 Little Piglet Takes Over Commercial Township in Wild Chase With State Police
Commercial Township is a small township nestled in Cumberland County, NJ. Located just outside of Port Norris, NJ, the sleepy Commercial Township is rarely busy with activity. After all, with a population of just over 5,000 people, there isn't very much to do! With all that being said, the kind state troopers from the State Police Department in Port Norris, NJ, had their work cut out for them on a sleepy summer afternoon! When news of a rampaging piglet made its way to their radio, Troopers Bryan Blair, Julio Ferrer, and Ray Coleman knew that they had their work cut out for them!
State police officers are charged with all manner of tasks, large and small. From corralling drunken parties to protecting lives when the time comes, troopers never know what they are getting into when they clock in for a shift. When Ray Coleman and his colleagues were called about a loose piglet running around on Magnolia Drive in Commercial Township, well, that was a welcome distraction! The Port Norris State Police department said of the event, "You may have a cool job, but you don't have to get dispatched to an animal complaint for a loose piglet!"
When Trooper Coleman arrived on the scene with his colleagues, they found that their perp was going to be harder to handle than normal! We don't know if you know, but piglets are fast, slick, and incredibly adorable. The State Police Department said of the eventual capture that they had to, "Run around Magnolia Drive in Commercial Township with a bunch of your squadmates until you corner the little critter, catch him, take him back to the station for a full-blown photoshoot session."
After capturing the little piglet, now named Norris, the troopers attempted to contact the owner of the animal. Due to the region, it was possible that Norris came from any number of directions. Unfortunately, an owner wasn't forthcoming immediately and this led the troopers to bring Norris back to their department for a quick photoshoot. The troopers told Norris that he had to "Meet the Sarge" and that was exactly what happened! The State Police department was thrilled with the work done by their young officers as they went on to point out that they hadn't trained their troopers in the art of pig catching. The head of the department admitted that, perhaps, it would be "cooler if they did" add that technique to the training material. Who knows how many piglets they'll have to corral in the future!
Port Norris is an unincorporated communicate with a population of just 1,377 people. With such a sparse neighborhood, we are sure that Norris the Piglet had quite the audience to his hijinks! We've heard of police officers having to detain dogs, help with deer, and even find cats — but piglets? That one is new to us and to Port Norris State Police. The Department commented on the idea of training for piglet catching, "Perhaps we'll think about adding that to training."
The little boy shares a special moment with a police officer during a protest rally for George Floyd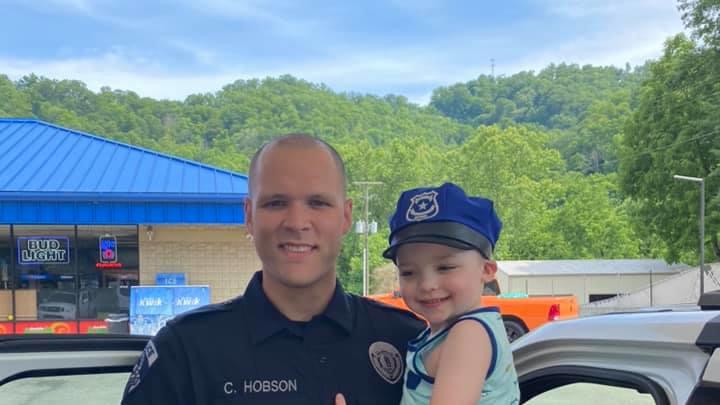 The ruthless killing of George Floyd has caused a thunderous uproar and rage throughout the world. In Winston-Salem, NC, hundreds of people gathered to protest against the killing of Floyd. They took to one knee for 8 minutes and 46 seconds that is the exact length of time former police officer Derek Chauvin had shoved his knee onto Floyd's neck which resulted in Floyd's death. The killing of George Floyd has become a symbol of injustice not only in American society but throughout the world. "Say no to racism" has been the most trending topic in all regions of the globe. In this particular incident, it was a black man who was the victim and this is not the only time it has happened. Several cases have occurred which demonstrated the lack of compassion and justice in the way law enforcement has dealt with individuals from minority racial groups.
Yolanda Williams Dickey, a resident of Winston-Salem, NC, was driving by the protest when she decided she wanted her family to be part of this protest as a sign of solidarity against discrimination against the minority groups. She went home to pick up her husband and son, who were glad they got a chance to be part of this historic protest. For her little son, Kamari it was quite the experience. He had never seen a protest rally before this. He saw a lot of anger and pain in the faces of the protestors. He could also see his parents being very emotional too. His parents had told him what the protest was about and how Floyd had been murdered. Kamari couldn't understand why the former police officer did what he did to George Floyd.
Kamari's attention went to the police officers on the sidelines. He watched them very closely as they stood by making sure there was no violence at the protest. Kamari had always wanted to a police officer himself but now his mother was concerned that after this incident, maybe he would not want to be one. Most of the toys that Kamari had were related to the police and he spent most of his days playing with them. He often told his parents that when he grows up he wanted to be a police officer so he could catch the bad guys. This unfortunate killing of George Floyd might have shattered the dreams of the little boy. At the protest, as the family moved closer to the police officers, Kamari approached Sgt. Dan Battjes, who was sitting on his motorcycle.
Kamari formally introduced himself to the police officer, who was very kind and friendly to the boy. After a few minutes of talking, Kamari said goodbye to the officer by a friendly fist pump. While the citizens of the country are demonstrating against the police and there is an unbelievable level of anger toward law enforcement, this little boy kept no hatred in his heart. The innocence of the little boy showed the resilience of the American community. One incident cannot dismantle years of peaceful coexistence. Yes, there have been cases where the minority communities have been discriminated and there should be strict actions and reforms against such incident but Americans still need to live together. The dream of Kamari to become a police officer might still be alive. The question remains, is the dream of a multi-racial America living with each other with love, compassion, and tolerance still alive? Only time will tell if this dream is alive.