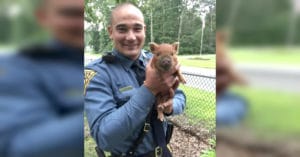 Little Piglet Takes Over Commercial Township in Wild Chase With State Police
Commercial Township is a small township nestled in Cumberland County, NJ. Located just outside of Port Norris, NJ, the sleepy Commercial Township is rarely busy with activity. After all, with a population of just over 5,000 people, there isn't very much to do! With all that being said, the kind state troopers from the State Police Department in Port Norris, NJ, had their work cut out for them on a sleepy summer afternoon! When news of a rampaging piglet made its way to their radio, Troopers Bryan Blair, Julio Ferrer, and Ray Coleman knew that they had their work cut out for them!
State police officers are charged with all manner of tasks, large and small. From corralling drunken parties to protecting lives when the time comes, troopers never know what they are getting into when they clock in for a shift. When Ray Coleman and his colleagues were called about a loose piglet running around on Magnolia Drive in Commercial Township, well, that was a welcome distraction! The Port Norris State Police department said of the event, "You may have a cool job, but you don't have to get dispatched to an animal complaint for a loose piglet!"
When Trooper Coleman arrived on the scene with his colleagues, they found that their perp was going to be harder to handle than normal! We don't know if you know, but piglets are fast, slick, and incredibly adorable. The State Police Department said of the eventual capture that they had to, "Run around Magnolia Drive in Commercial Township with a bunch of your squadmates until you corner the little critter, catch him, take him back to the station for a full-blown photoshoot session."
After capturing the little piglet, now named Norris, the troopers attempted to contact the owner of the animal. Due to the region, it was possible that Norris came from any number of directions. Unfortunately, an owner wasn't forthcoming immediately and this led the troopers to bring Norris back to their department for a quick photoshoot. The troopers told Norris that he had to "Meet the Sarge" and that was exactly what happened! The State Police department was thrilled with the work done by their young officers as they went on to point out that they hadn't trained their troopers in the art of pig catching. The head of the department admitted that, perhaps, it would be "cooler if they did" add that technique to the training material. Who knows how many piglets they'll have to corral in the future!
Port Norris is an unincorporated communicate with a population of just 1,377 people. With such a sparse neighborhood, we are sure that Norris the Piglet had quite the audience to his hijinks! We've heard of police officers having to detain dogs, help with deer, and even find cats — but piglets? That one is new to us and to Port Norris State Police. The Department commented on the idea of training for piglet catching, "Perhaps we'll think about adding that to training."
Brave 12-Year-Old Girl Saves Family from Carbon Monoxide Poisoning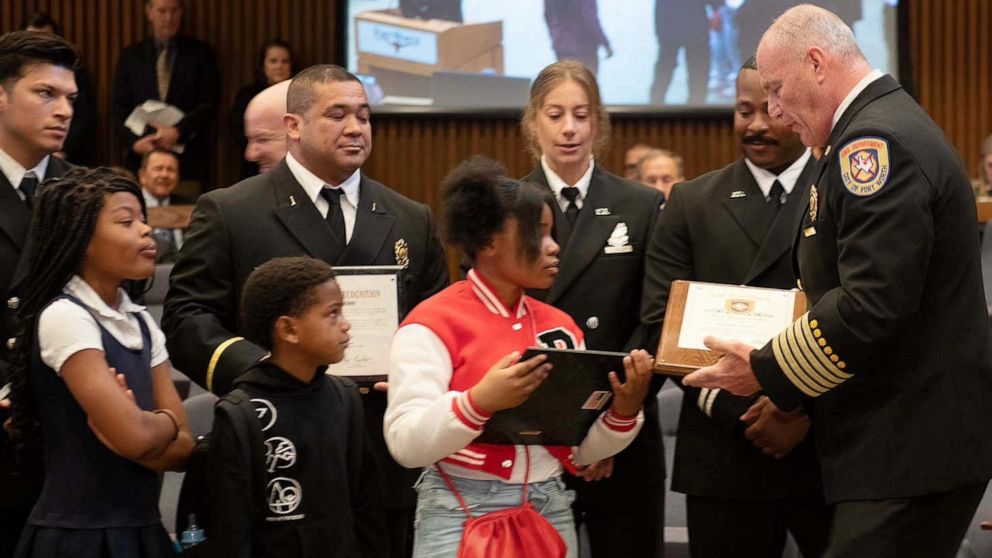 In a remarkable act of courage and quick thinking, 12-year-old Jaziyah Parker from Fort Worth, Texas, became a true hero when she saved her family from a dangerous situation. Jaziyah's keen observation and immediate action prevented a potential tragedy from unfolding.
One day, while Jaziyah was at home, she noticed something was wrong. Her mother and younger brother began to feel sick and lose consciousness. Jaziyah didn't panic but instead sprang into action. She grabbed the phone and dialed 911, desperately seeking help. In the recording of the 911 call, Jaziyah can be heard saying, "Something wrong with my mama. Can you hurry up and come?" Her plea for assistance was a crucial step that would ultimately save her entire family.
Little did Jaziyah know, her family's home was filling up with a silent but deadly gas called carbon monoxide. This odorless and colorless gas can be extremely harmful and even fatal when inhaled. But Jaziyah's sharp instincts and timely call for help prevented a tragic outcome. Her actions ensured that her family received the necessary assistance in time.
The Fort Worth Fire Department recognized Jaziyah's bravery and quick thinking during a special ceremony held on May 23, 2023. The firefighters honored her for her heroic act, commending her for the bravery she displayed in a challenging situation. Jaziyah's actions exemplify the importance of staying calm and taking action during emergencies.
Carbon monoxide poisoning is a serious concern, as it can occur in any home due to faulty appliances, heating systems, or ventilation issues. This incident serves as a reminder for everyone to have carbon monoxide detectors installed in their homes and to be aware of the signs and symptoms of poisoning. Symptoms such as dizziness, headaches, nausea, and confusion should never be ignored, as they could indicate carbon monoxide exposure.
Jaziyah's story is an inspiration to us all. Her courage and quick response saved her family from a potentially fatal situation. She serves as a shining example of how even young individuals can make a significant impact and help those in need. Her actions remind us that heroes can emerge at any age, and we should always be prepared to lend a helping hand in times of crisis.