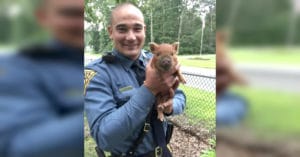 Little Piglet Takes Over Commercial Township in Wild Chase With State Police
Commercial Township is a small township nestled in Cumberland County, NJ. Located just outside of Port Norris, NJ, the sleepy Commercial Township is rarely busy with activity. After all, with a population of just over 5,000 people, there isn't very much to do! With all that being said, the kind state troopers from the State Police Department in Port Norris, NJ, had their work cut out for them on a sleepy summer afternoon! When news of a rampaging piglet made its way to their radio, Troopers Bryan Blair, Julio Ferrer, and Ray Coleman knew that they had their work cut out for them!
State police officers are charged with all manner of tasks, large and small. From corralling drunken parties to protecting lives when the time comes, troopers never know what they are getting into when they clock in for a shift. When Ray Coleman and his colleagues were called about a loose piglet running around on Magnolia Drive in Commercial Township, well, that was a welcome distraction! The Port Norris State Police department said of the event, "You may have a cool job, but you don't have to get dispatched to an animal complaint for a loose piglet!"
When Trooper Coleman arrived on the scene with his colleagues, they found that their perp was going to be harder to handle than normal! We don't know if you know, but piglets are fast, slick, and incredibly adorable. The State Police Department said of the eventual capture that they had to, "Run around Magnolia Drive in Commercial Township with a bunch of your squadmates until you corner the little critter, catch him, take him back to the station for a full-blown photoshoot session."
After capturing the little piglet, now named Norris, the troopers attempted to contact the owner of the animal. Due to the region, it was possible that Norris came from any number of directions. Unfortunately, an owner wasn't forthcoming immediately and this led the troopers to bring Norris back to their department for a quick photoshoot. The troopers told Norris that he had to "Meet the Sarge" and that was exactly what happened! The State Police department was thrilled with the work done by their young officers as they went on to point out that they hadn't trained their troopers in the art of pig catching. The head of the department admitted that, perhaps, it would be "cooler if they did" add that technique to the training material. Who knows how many piglets they'll have to corral in the future!
Port Norris is an unincorporated communicate with a population of just 1,377 people. With such a sparse neighborhood, we are sure that Norris the Piglet had quite the audience to his hijinks! We've heard of police officers having to detain dogs, help with deer, and even find cats — but piglets? That one is new to us and to Port Norris State Police. The Department commented on the idea of training for piglet catching, "Perhaps we'll think about adding that to training."
Joyous Return of Assumed Extinct Mini Pig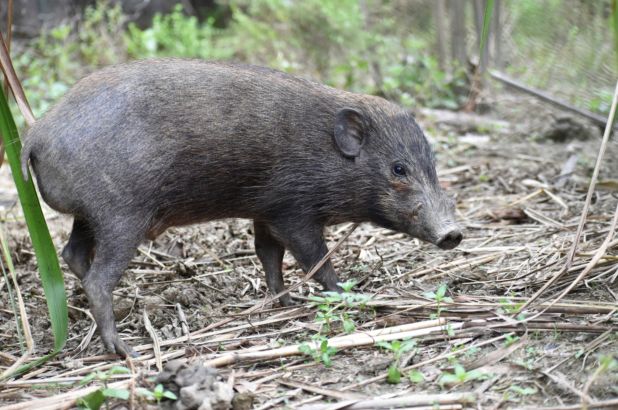 When animals go extinct, they become a footnote in history. The return of an assumed extinct species is not common. In fact, it's downright rare. So, in 1971, when the pygmy pig in India disappeared, many biologists and researchers expected the creature to be done for. The little creature normally lived in the foothills before the Himalayas reach up for the clouds and normally would reach a rocketing 10 inches in height off the ground. Given its natural size, the pygmy pig generally tried to stay out of sight to keep off the dinner menu of predators. It's own diet consisted of bugs and tubers, more than enough to keep the creature fed.
An Amazing Turnaround
However, after 100 years of human intervention and encroachment, by the 1970s the pig was written off. It wasn't until another 20 or so years later, researchers in the area managed to catch a few of the pygmy pigs alive. They nurtured them in captivity until they bred, and then the teams worked to continue increasing the pigs numbers. Finally, enough of a population was raised that the researchers could actually attempt to let the pygmy pigs go. The releases began in Assam, in the northeast part of India. And so began 25 more years of work trying to get the wild pigs to increase their number and avoid a complete wipeout. Today, some 300 to 400 creatures are estimated to be alive, running wild. Another 76 are held in reserve and continue to be raised in captivity, just in case. However, the best news is, the species is living again.
More Than One Colony Makes a Party
In addition to the original release in Assam, additional pigs have been released, with colonies established in Manas as well as Orang, both national parks in India, as well as a pair of animal sanctuaries.
The world can't afford to lose more species to extinction thanks to human development, including pigs. Currently, there are only 17 types of pigs left today. Without the efforts of conservationists, that number would drop further. Each extinction is like someone taking a giant eraser to a chalkboard of millions of years of evolution.
Of course, now the problem is nature itself as well. While the pygmy pig population has stabilized and is growing, the bigger problem is that they are still fragile. Swine flu and similar conditions can easily decimate these pigs before anyone can stop it simply through contagion. So, the conservationists have their hands full trying to keep the populations safe and separated from any carriers with potential viral threats.
Conservationism can be hard, and oftentimes it ends in disappointment trying to save an endangered creature. However, in India, this time the pygmy pig can be considered a win. And, if things stay on track, it should be able to re-establish itself very well.