Life Lessons From England's Grumpy Cat 2.0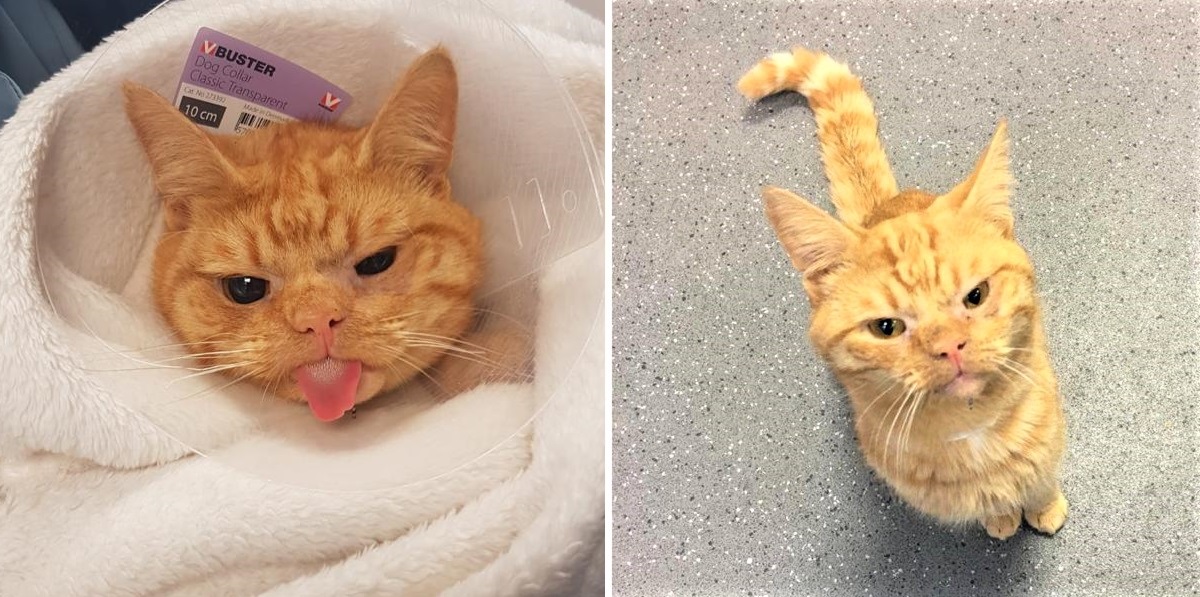 Life is hard for a cat on the street, as Saul, who has been dubbed grumpy cat 2.0, knows all too well. Before his grumpy face made internet headlines, he was wondering the streets of London. A good Samaritan spotted him injured, sick, and walking around in the rain on October 15th. He had injuries to his jaw, teeth, and one of his eyes. The man found him on High Street in Peckham, and called animal control. Saul was brought to the Putney Animal Hospital.
The man's identity hasn't been revealed, but he is certainly to thank for ultimately bringing grumpy cat 2.0 to the world. Saul would have likely been doomed to die from his injuries or, if he was lucky, continue to roam the streets otherwise.
Saul had injuries to his face that required his jaw to be wired shut, likely from being hit by a car. The staff of the hospital soon realized that Saul was a very sweet and loving cat, with a perpetually grumpy face. This led to them naming him Grumpy Cat 2.0, claiming that he was just as grumpy as the original grumpy cat that took the world by storm.
Saul maintains his grumpy expression at all times. It's unknown whether he was born with a grumpy face, or if its a result of his injuries. However, he loves snuggling and laying with the shelter workers, and even gets spoiled with treats. He has warmed the hearts of the staff with his grumpy face and sweet demeanor. He's proof that you can't judge a book, or a cat, by its cover. The Original Grumpy Cat
The original grumpy cat became a viral internet sensation. His name is Tardar Sauce, and he gets his grumpy look from an underbite and a form of dwarfism. He was recently named one of the richest pets in the world. He has merchandise including T-shirts and mugs, and is a film star as well. Grumpy cat 2.0 may well follow in Tartar's footsteps, however, he is likely more concerned with finding a good home than fame and stardom. Once Saul has fully healed, he'll go to the cattery in Southall before he is adopted With his grumpy face and winning personality, he's sure to find a loving family.
Grumpy Cat Lessons Everyone Should Learn
The average person who had been through the hardships Saul has endured would likely be grumpy and bitter. Saul is an inspiration with two important lessons for everyone. First, looks can be deceiving. It's easy to look at a cat (or a person) and judge them based on their outward appearance. Grumpy cat is proof that beneath a grumpy outside there can lie a very loving heart.
Second, grumpy cat reminds us all that there is always hope. Saul's story is one of survival. Perhaps more importantly, Saul isn't bitter about the bad times he's gone through. He hasn't let his challenges make him grumpy on the inside, despite outward appearances.
Saul is sure to find a happy home with a loving family, and his internet career has just begun. From street cat to celebrity, We haven't seen the last of grumpy cat 2.0.
These Hermit Crabs Will Blow Your Mind With Stunning Natural Ritual.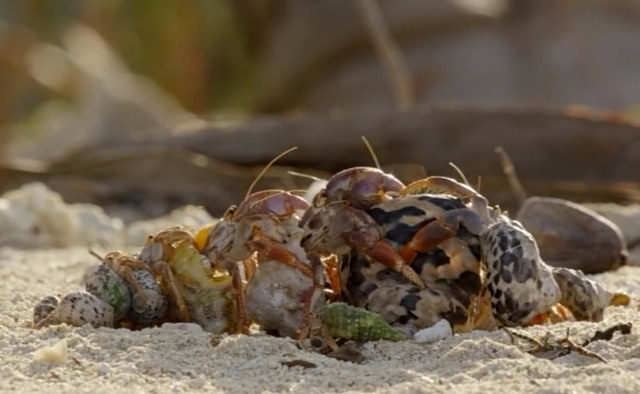 If you are like most people then you are likely fascinated with the ocean and all the creatures inside it. While we can talk forever about massive whales, scuttling squids, and scary sharks, we'd rather highlight a cute little crustacean known as the hermit crab. Now, you've likely heard of the hermit crab and, perhaps, you even know what it looks like. As a member of the superfamily known as the Paguroidea, hermit crabs manage to stand out all on their own. In fact, after learning about this natural ritual that hermit crabs complete, you might even want one of your own!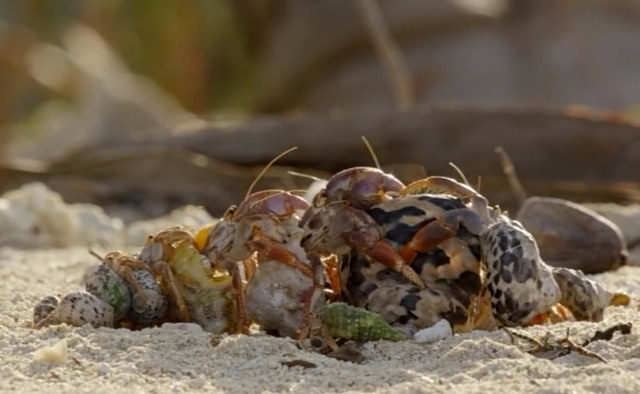 In a post shared on Facebook by a user named Melody Flowers, it was revealed that hermit crabs are always looking for bigger shells to live in. While you probably knew this already, what you didn't realize about this ritual is far more fascinating. According to the post, which has since been backed up by other scientific journals, hermit crabs like to line up next to shells that happen to be too big for them. Hermit crabs can wait for up to eight hours for another crab to come along and try the shell out. Why do these crabs wait next to shells that are too large for them? As it turns out, the first hermit crab is simply waiting for the second crab in line to discard its shell.
So we outlined a natural ritual that hermit crabs undertake when finding a new home. Why is this so fascinating? While you may have summoned up an image of two hermit crabs swapping shells, that isn't entirely accurate. As the second crab lines up behind the shell, more will come to follow. Before long, observers would be able to watch as dozens of hermit crabs all trade shells with one another to ensure that everyone has a comfortable home to live in. The smallest shell of the bunch gets left behind while the shell that started the queue will go to the largest hermit crab of the lot. That's pretty amazing, isn't it? The coordination and cooperation that these hermit crabs have to deploy is nothing short of impressive. If only humans could get along so well when it comes to making to sure everyone is comfortable and safe within their home.
Even though hermit crabs will work together in order to find homes, they are still a competitive species. Gastropod shells can become a limited resource due to a variety of natural and unnatural factors, such as climate change and pollution. When hermit crabs are of a similar size, they are more competitive and violent with one another. When hermit crabs vary dramatically in size, there are more resources available for every member of the group. Hermit crabs are a fascinating sort of creature because they can come in varying sizes with a lifespan ranging between 12 and 70 years. The next time that you see a hermit crab, make sure it has the perfect shell to call home. Maybe it will remember you a couple of decades later!