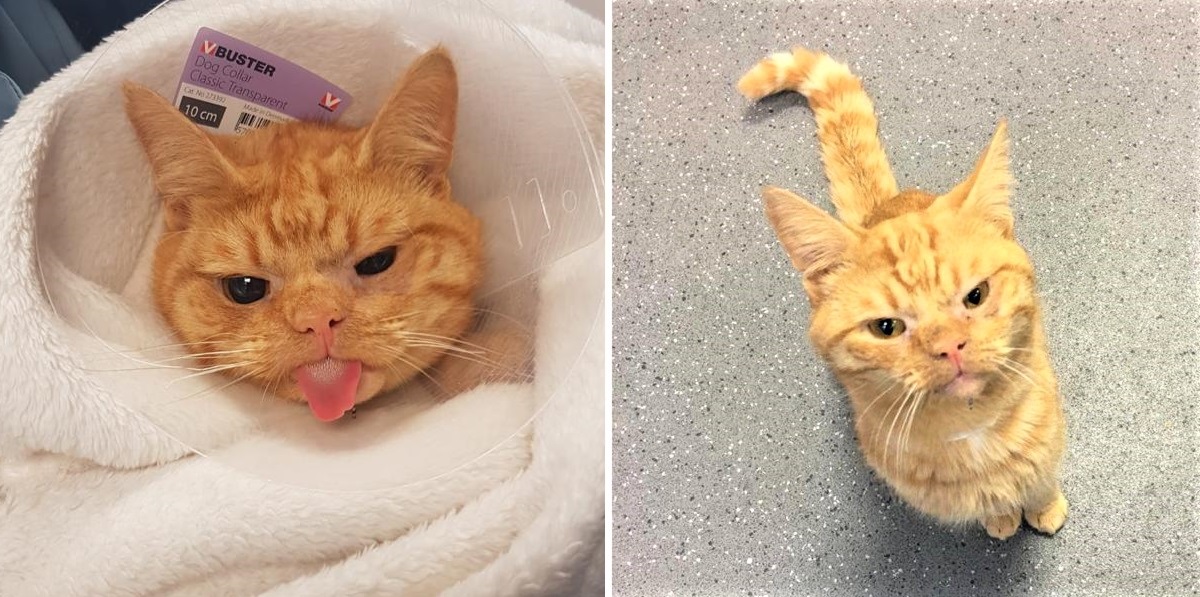 Life Lessons From England's Grumpy Cat 2.0
Life is hard for a cat on the street, as Saul, who has been dubbed grumpy cat 2.0, knows all too well. Before his grumpy face made internet headlines, he was wondering the streets of London. A good Samaritan spotted him injured, sick, and walking around in the rain on October 15th. He had injuries to his jaw, teeth, and one of his eyes. The man found him on High Street in Peckham, and called animal control. Saul was brought to the Putney Animal Hospital.
The man's identity hasn't been revealed, but he is certainly to thank for ultimately bringing grumpy cat 2.0 to the world. Saul would have likely been doomed to die from his injuries or, if he was lucky, continue to roam the streets otherwise.
Saul had injuries to his face that required his jaw to be wired shut, likely from being hit by a car. The staff of the hospital soon realized that Saul was a very sweet and loving cat, with a perpetually grumpy face. This led to them naming him Grumpy Cat 2.0, claiming that he was just as grumpy as the original grumpy cat that took the world by storm.
Saul maintains his grumpy expression at all times. It's unknown whether he was born with a grumpy face, or if its a result of his injuries. However, he loves snuggling and laying with the shelter workers, and even gets spoiled with treats. He has warmed the hearts of the staff with his grumpy face and sweet demeanor. He's proof that you can't judge a book, or a cat, by its cover. The Original Grumpy Cat
The original grumpy cat became a viral internet sensation. His name is Tardar Sauce, and he gets his grumpy look from an underbite and a form of dwarfism. He was recently named one of the richest pets in the world. He has merchandise including T-shirts and mugs, and is a film star as well. Grumpy cat 2.0 may well follow in Tartar's footsteps, however, he is likely more concerned with finding a good home than fame and stardom. Once Saul has fully healed, he'll go to the cattery in Southall before he is adopted With his grumpy face and winning personality, he's sure to find a loving family.
Grumpy Cat Lessons Everyone Should Learn
The average person who had been through the hardships Saul has endured would likely be grumpy and bitter. Saul is an inspiration with two important lessons for everyone. First, looks can be deceiving. It's easy to look at a cat (or a person) and judge them based on their outward appearance. Grumpy cat is proof that beneath a grumpy outside there can lie a very loving heart.
Second, grumpy cat reminds us all that there is always hope. Saul's story is one of survival. Perhaps more importantly, Saul isn't bitter about the bad times he's gone through. He hasn't let his challenges make him grumpy on the inside, despite outward appearances.
Saul is sure to find a happy home with a loving family, and his internet career has just begun. From street cat to celebrity, We haven't seen the last of grumpy cat 2.0.
Jacksonville Man Spreads Love and Positivity at the Beach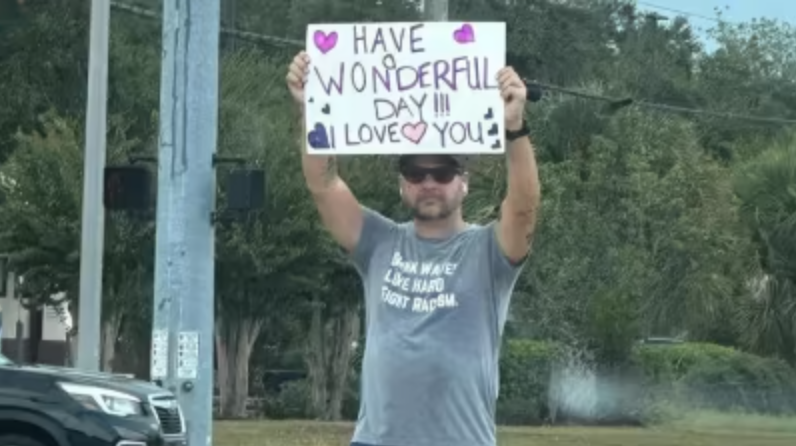 In Jacksonville, Florida, a man has been making waves of positivity and spreading kindness at the Beach Boulevard and San Pablo Road South intersection. With handmade signs that read, "Have a wonderful Day!! I Love You" and "You are Relevant," this man is on a mission to uplift the spirits of those who pass by. His heartwarming gestures have not gone unnoticed, and his actions are especially poignant during National Suicide Prevention Month.
Rika, a local resident, had a unique encounter with this compassionate individual. She was on her way to pick up her lunch when she saw a man standing in the median of the road, holding these uplifting signs. Most of us would just glance and continue on our way, but Rika decided to take a closer look. As she stopped at a red light, she took a few pictures to capture the moment. To her surprise, the man approached her car and handed her a sunflower.
"So picture this… you're out going to pick up your lunch, and there's this random guy walking by with a handmade sign," Rika recounted. "I'm sure like most of us, we'd glance and keep it moving, but I decided to read his sign since I was at a stop light. I snapped a few pictures because why not, but as I was doing this, he approached my car door to hand me a sunflower! Don't forget to appreciate the small things."
This simple act of kindness had a profound impact on Rika, as it has on many others who have encountered this man and his signs. His message of love and importance reminds us all to appreciate the small joys in life and to acknowledge our worth.
The man's efforts are not just a random act of kindness; they hold special significance during National Suicide Prevention Month. September is a time when people and organizations across the country work to raise awareness about mental health and suicide prevention. This Jacksonville man's compassionate actions align perfectly with the spirit of this month, as he strives to remind people that they matter and that there is goodness in the world.