Life Lessons From England's Grumpy Cat 2.0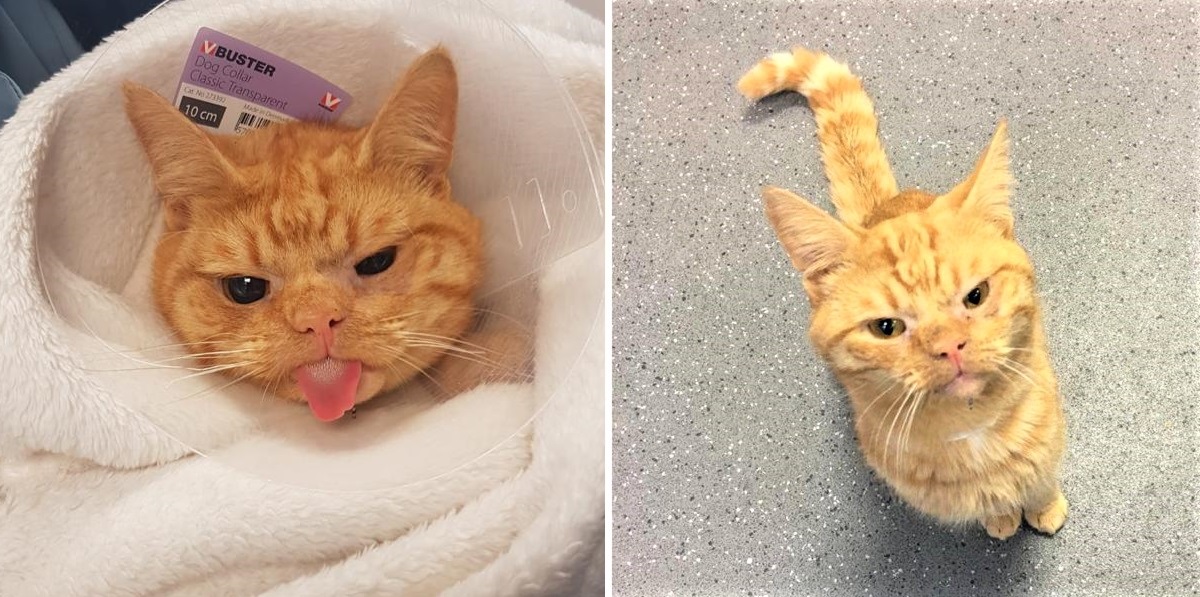 Life is hard for a cat on the street, as Saul, who has been dubbed grumpy cat 2.0, knows all too well. Before his grumpy face made internet headlines, he was wondering the streets of London. A good Samaritan spotted him injured, sick, and walking around in the rain on October 15th. He had injuries to his jaw, teeth, and one of his eyes. The man found him on High Street in Peckham, and called animal control. Saul was brought to the Putney Animal Hospital.
The man's identity hasn't been revealed, but he is certainly to thank for ultimately bringing grumpy cat 2.0 to the world. Saul would have likely been doomed to die from his injuries or, if he was lucky, continue to roam the streets otherwise.
Saul had injuries to his face that required his jaw to be wired shut, likely from being hit by a car. The staff of the hospital soon realized that Saul was a very sweet and loving cat, with a perpetually grumpy face. This led to them naming him Grumpy Cat 2.0, claiming that he was just as grumpy as the original grumpy cat that took the world by storm.
Saul maintains his grumpy expression at all times. It's unknown whether he was born with a grumpy face, or if its a result of his injuries. However, he loves snuggling and laying with the shelter workers, and even gets spoiled with treats. He has warmed the hearts of the staff with his grumpy face and sweet demeanor. He's proof that you can't judge a book, or a cat, by its cover. The Original Grumpy Cat
The original grumpy cat became a viral internet sensation. His name is Tardar Sauce, and he gets his grumpy look from an underbite and a form of dwarfism. He was recently named one of the richest pets in the world. He has merchandise including T-shirts and mugs, and is a film star as well. Grumpy cat 2.0 may well follow in Tartar's footsteps, however, he is likely more concerned with finding a good home than fame and stardom. Once Saul has fully healed, he'll go to the cattery in Southall before he is adopted With his grumpy face and winning personality, he's sure to find a loving family.
Grumpy Cat Lessons Everyone Should Learn
The average person who had been through the hardships Saul has endured would likely be grumpy and bitter. Saul is an inspiration with two important lessons for everyone. First, looks can be deceiving. It's easy to look at a cat (or a person) and judge them based on their outward appearance. Grumpy cat is proof that beneath a grumpy outside there can lie a very loving heart.
Second, grumpy cat reminds us all that there is always hope. Saul's story is one of survival. Perhaps more importantly, Saul isn't bitter about the bad times he's gone through. He hasn't let his challenges make him grumpy on the inside, despite outward appearances.
Saul is sure to find a happy home with a loving family, and his internet career has just begun. From street cat to celebrity, We haven't seen the last of grumpy cat 2.0.
Handicapped Puppy Befriends Flightless Pigeon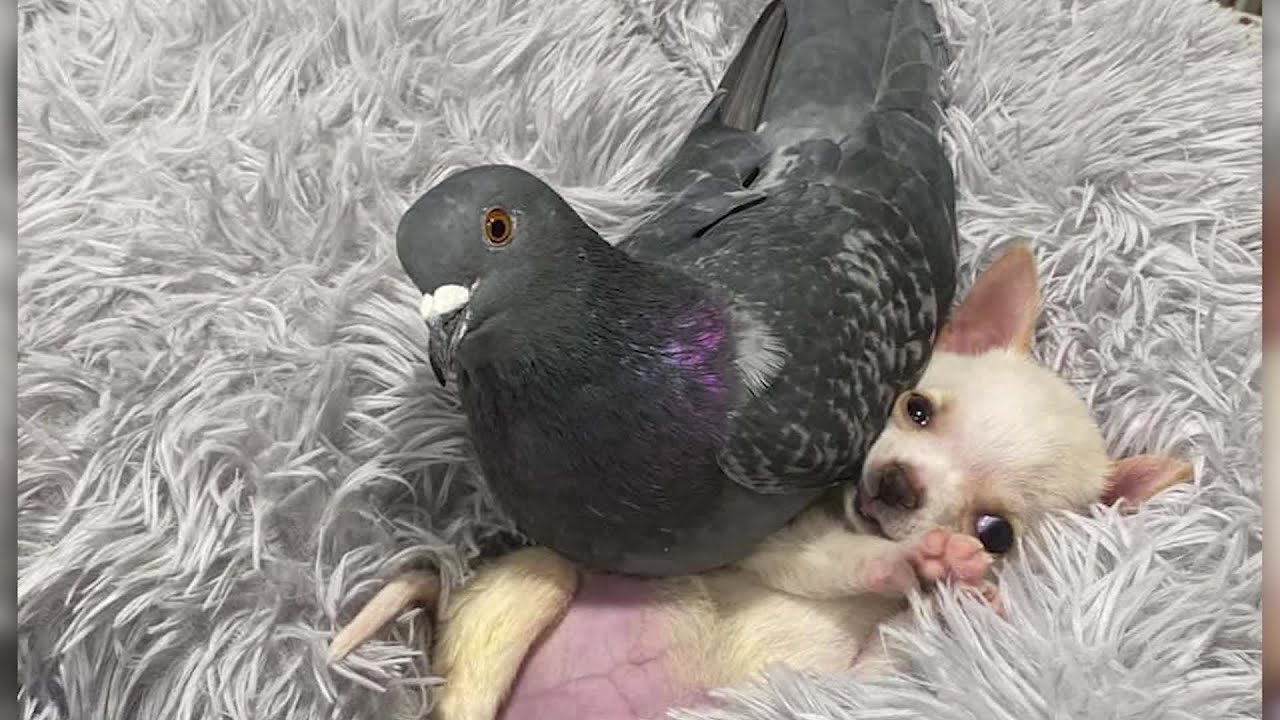 In Rochester, NY, Sue Rogers runs a non-profit called the Mia Foundation. The rescue organization rescues and rehabilitates animals who have birth defects or deformities and tries to find them a loving home. About a year ago, a pigeon was found unable to move in the parking lot of a car dealership. The pigeon was huddled and cowering on the ground. When a local wildlife rescue was called, they said the bird had neurological damage that caused him not to be able to fly. They thought that euthanization would be the best option for him.
Sue was having none of that. She stepped in and took the bird, who she named Herman, under her wing, so to speak. She made space for him in her shelter and kept him close where she could keep an eye on him. He liked to sit on a furry dog pillow and watch her work.
A couple months ago, a tiny Chihuahua was brought to the Mia Foundation. He was an infant, maybe a few months old, when his South Carolina breeders sent him to Sue. He's a teacup sized Chihuahua they named Little Lundy and he was born with spinal cord damage. Sue also determined that he was suffering from swimmers syndrome. Swimmers syndrome is a developmental deformity that causes the front and hind legs to be splayed out. This makes it almost impossible for Little Lundy to walk.
Although swimmers syndrome is thought to be untreatable, according to a few studies and an article in a veterinary journal, it can be treatable. With some physical therapy and at-home treatment, Little Lundy could live a long and happy life, which is exactly what Sue plans for him.
When Little Lundy arrived at the Mia Foundation he decided to get acquainted with his new surroundings and the other animals at the shelter. One particular encounter, created a friendship that has gone viral. Herman and Little Lundy, a puppy and a pigeon, are the unlikeliest of friends, but they have a lot in common. They both have trouble walking, or flying in Hermans case, and they were living in the same place. You could say, they were in the right place at the right time to become instant friends.
In the six weeks they have been together, Herman and Little Lundy have become inseparable. They do everything together, which is a lot of sleeping and snuggling. Mostly, with Herman sitting on top of Little Lundy, which doesn't bother him in the slightest. This friendship was so out of the ordinary that Sue had to document it. The viral sensation of the puppy and pigeon has brought attention to the Mia Foundation that was much needed. The rescue organization runs solely on donations to help cover the costs of taking care of the animals and for needed surgeries. So far, about $6000 was donated because of this unlikely friendship and over 100 adoption inquiries. Hopefully when they are adopted, they are able to stay together.