Life Lessons From England's Grumpy Cat 2.0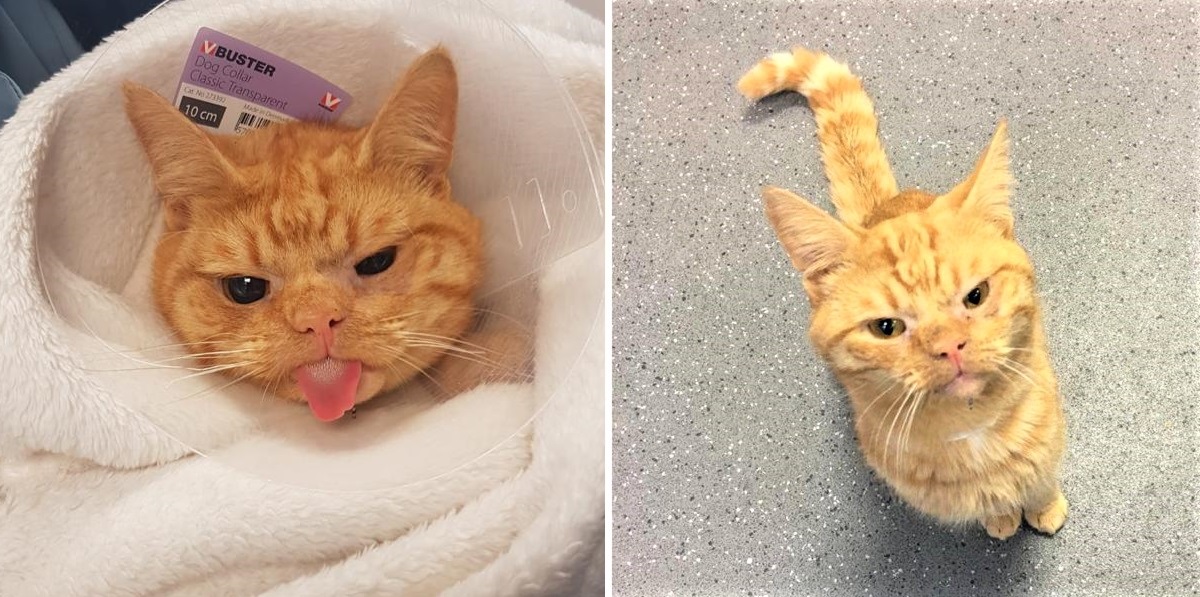 Life is hard for a cat on the street, as Saul, who has been dubbed grumpy cat 2.0, knows all too well. Before his grumpy face made internet headlines, he was wondering the streets of London. A good Samaritan spotted him injured, sick, and walking around in the rain on October 15th. He had injuries to his jaw, teeth, and one of his eyes. The man found him on High Street in Peckham, and called animal control. Saul was brought to the Putney Animal Hospital.
The man's identity hasn't been revealed, but he is certainly to thank for ultimately bringing grumpy cat 2.0 to the world. Saul would have likely been doomed to die from his injuries or, if he was lucky, continue to roam the streets otherwise.
Saul had injuries to his face that required his jaw to be wired shut, likely from being hit by a car. The staff of the hospital soon realized that Saul was a very sweet and loving cat, with a perpetually grumpy face. This led to them naming him Grumpy Cat 2.0, claiming that he was just as grumpy as the original grumpy cat that took the world by storm.
Saul maintains his grumpy expression at all times. It's unknown whether he was born with a grumpy face, or if its a result of his injuries. However, he loves snuggling and laying with the shelter workers, and even gets spoiled with treats. He has warmed the hearts of the staff with his grumpy face and sweet demeanor. He's proof that you can't judge a book, or a cat, by its cover. The Original Grumpy Cat
The original grumpy cat became a viral internet sensation. His name is Tardar Sauce, and he gets his grumpy look from an underbite and a form of dwarfism. He was recently named one of the richest pets in the world. He has merchandise including T-shirts and mugs, and is a film star as well. Grumpy cat 2.0 may well follow in Tartar's footsteps, however, he is likely more concerned with finding a good home than fame and stardom. Once Saul has fully healed, he'll go to the cattery in Southall before he is adopted With his grumpy face and winning personality, he's sure to find a loving family.
Grumpy Cat Lessons Everyone Should Learn
The average person who had been through the hardships Saul has endured would likely be grumpy and bitter. Saul is an inspiration with two important lessons for everyone. First, looks can be deceiving. It's easy to look at a cat (or a person) and judge them based on their outward appearance. Grumpy cat is proof that beneath a grumpy outside there can lie a very loving heart.
Second, grumpy cat reminds us all that there is always hope. Saul's story is one of survival. Perhaps more importantly, Saul isn't bitter about the bad times he's gone through. He hasn't let his challenges make him grumpy on the inside, despite outward appearances.
Saul is sure to find a happy home with a loving family, and his internet career has just begun. From street cat to celebrity, We haven't seen the last of grumpy cat 2.0.
Mother Goose Saves Her Babies from a Hungry Leopard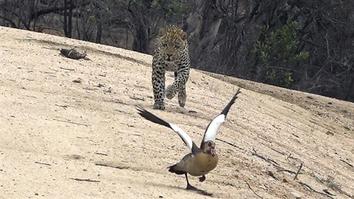 There is a saying down south that goes, "Don't mess with momma!" A mother will do anything they can to protect their offspring. It does not matter if it is a "David and Goliath" situation. Leopards are one of the quickest creatures on the planet. A hungry leopard cornered a family of Egyptian Geese, and the mother goose saved her babies with intelligence.
In South Africa, at the Sabi Sands Game Reserve, a male leopard was captured on video how he planned to have geese for dinner. The leopard was quickly outsmarted by the mother goose who separated herself from the flock and her young. She faked a wing injury and caught the attention of the leopard, forcing him to chase her instead of the others. The mother knew this was the only way to save her babies which was too young to run or fly away. This heroic act drew the leopard away so the other geese could take the babies to safety.
If an animal senses its prey is injured, it will be its choice of the kill. This mother goose timed it perfectly and was in the perfect environment. Leopards can only hold their speed and stamina for a short time. The mother goose kept the leopard chasing her through a water hole which wore out the leopard. When the mother goose saw the leopard was exhausted, she continued to fake the injury upon getting out of the water with the leopard on her tail. When the mother goose had the leopard far away from doing any harm to the flock and her babies, the tired leopard gave up the chase. The mother goose made her way back to the flock and mother and babies were reunited safe and sound.
There are different types of geese, but they all keep the same loyalty to their flock. For example, if one goose gets hurt or sick and falls out of formation, then a few geese will stay with the sick or injured for protection. They will not leave the goose until it dies or flies. The geese will remain with each other when they take off again. They may fly with another flock until they catch up to their own.
Geese are territorial creatures and can get vicious when people walk by their family or their babies. If they have a nest and someone walks by, rest assure, they will attack. Geese will not attack a predator. In the case of this leopard or another large predator, they use their intelligence to ward them off. It can be amazing to watch nature and how intelligent some animals are.
Here we learn of the heart of a mother and the loyalty of a flock of geese. We learned how instinct takes over fear, and this mother goose becomes the ultimate hero. The flock pulled together, and they all waddled away happy. The ultimate lesson is, in nature, it is the survival of the fittest, but it is also the survival of the smartest.