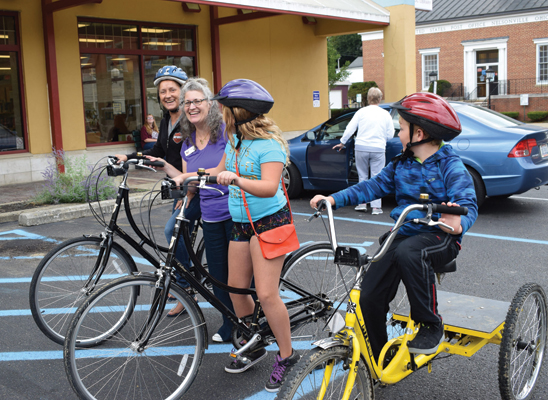 Libraries Are Branching Out To Include Bikes
Madison, WI has a total of nine public libraries. They stock everything from classic books to magazines to newspapers to digital reading assets, like audiobooks and ebooks. They also carry an extensive network of disk products such as movies and videos. Now, it turns out, they also lend electric bikes to their patrons as well.
Libraries across the country are looking for more creative ways to make themselves useful, branching out well beyond just books and encyclopedias of the past. Madison's libraries are no exception, but they may very well be the first library in the U.S. that provides electric bikes for borrowing, like a library book. Well, maybe not the first. There are now 35 other similar programs across the country, from Texas to Vermont. And, bikes may very well just be the tip of the iceberg in whatever else libraries get into the business of lending.
The odd thing is, lots of people avoid cycling for an assortment of reasons. Some think that it's a pastime only adult white men engage in. Others can't find anything viable to ride a bike on, whether it be a public sidewalk or a dirt trail. Still others think it's too dangerous altogether, especially with traffic and uncaring vehicle drivers. And, finally, simply having a place to park and lock a bicycle is a convenience people enjoy in big cities but it tends to be a rarity in smaller towns. Money is a barrier as well; a decent bicycle today averages a couple hundred dollars in cost out the door. And an electric bike is well over $1,000 in most locations they are available.
So, Madison's library network and management decided that an electric bike was going to be the next big asset in their inventory of things residents could borrow. Partnering with Madison BCycle, the libraries set up a borrowing system, providing a total of 300 different bike units across the town. Similar to what people see with e-scooters in big cities, those with a library card can now rent a bicycle to get around Madison, but without any charge to a credit card. All the patrons need to activate the bike is a key fob they get from a library. Since the start of the program, almost 280 fobs have been borrowed.
From the library's perspective, the e-bike program has multiple benefits. Instead of having to use Uber or similar at a cost, borrowers can use an e-bike for free. They get exercise which they would not realize with a car. E-bikes connect people and allow them to be more social. E-bikes also help people stay healthier, which avoids medical costs and eventually community costs associated with sickness, lost productivity and public health problems. It also lets patrons try something new around their town and travel more instead of just using a car.
A key factor of success was the fact that Madison City had already put in the infrastructure for the e-bikes all over town. So, they had plenty of docking stations and lockups near libraries and elsewhere. The grid is strategically placed, so no one person has to walk too far to get to an e-bike easily. The only slowdown to the new bike borrowing program was COVID, but since that has passed, bike borrowing is up and running again in Madison.
Smallville: A Social Village Simulator That's Advancing AI Research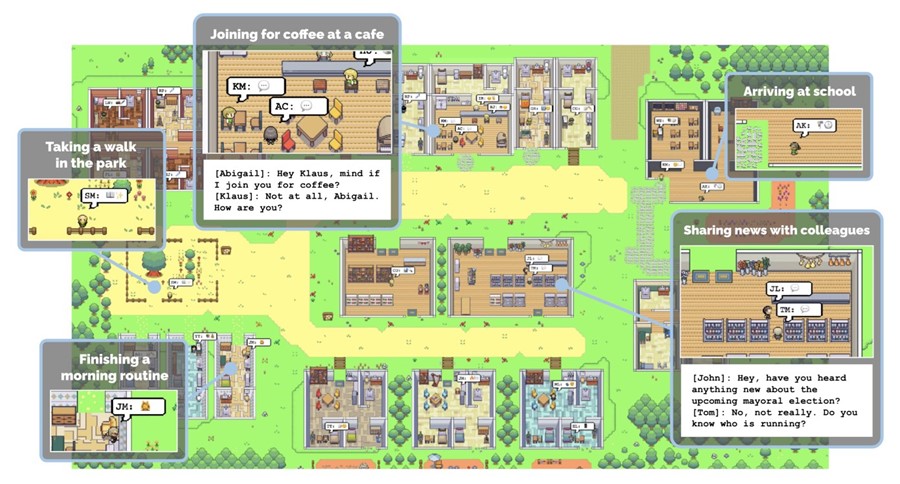 Researchers created a world where an entire village thrives with inhabitants who are not human but AI-driven characters exhibiting intricate human social behavior. This fascinating experiment is called Smallville, and it's turning heads in the world of AI research. A collaborative effort between Stanford University and Google, Smallville is pushing the boundaries of what artificial intelligence can achieve.
Last August, Stanford and Google published a groundbreaking paper titled "Generative Agents: Interactive Simulacra of Human Behavior," which shed light on their ambitious project, Smallville. At its core, Smallville is designed to simulate a small city environment, complete with local shops, a college featuring dormitories, a library, a café, and a handful of houses. Notably, there's also a co-living space housing 25 generative agents – the AI characters that make this simulation so unique.
What sets Smallville apart is the remarkable depth of its AI characters. Each generative agent is imbued with its own identity, goals, and roles, essentially becoming "characters" within this simulated world. The objective? To explore what a world entirely populated by AI would look like and how these AI beings would interact with one another.
The results have been nothing short of astounding. Smallville has provided valuable insights into AI's ability to mimic complex human social interactions. The agents within this simulated world engage in intricate relationships, reminiscent of real-life social dynamics. They rely on their memory to remember past interactions and nurture connections, demonstrating a level of sophistication that was once considered science fiction.
However, this advancement in AI research comes with a mix of excitement and apprehension. The potential of AI agents participating in complex social interactions has numerous applications, from improving customer service to enhancing virtual worlds and even aiding in mental health support. On the flip side, it raises questions about ethics, privacy, and the boundaries of AI's capabilities.
Smallville is a testament to the ever-evolving landscape of AI research, where the line between the artificial and the human becomes increasingly blurred. As the development of AI agents like those in Smallville progresses, it challenges us to navigate the exciting and, at times, unsettling frontier of AI's potential impact on our society.